MUTEK x NVA: LADA (DashaRush & Hemmerling), Anthony Linell, Aleksi Perälä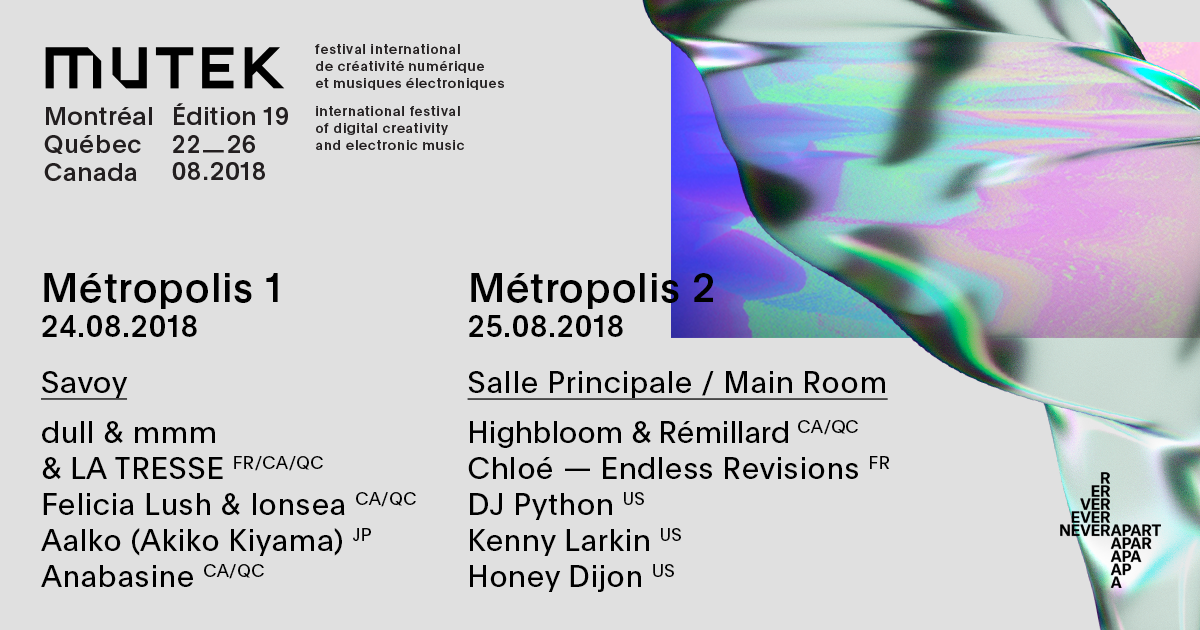 ◣ Métropolis 1 ◥
In collaboration with
Never Apart
Main Room
━ Edna King (CA)
━ Aleksi Perälä (FI/UK)
━ Anthony Linell / Abdulla Rashim (SE)
━ LADA (Dasha Rush & Lars Hemmerling) (RU+DE)
Savoy
━ dull & mmm & LA TRESSE collective (FR/CA/QC)
━ Felicia Lush & Ionsea (CA/QC)
━ Aalko aka Akiko Kiyama (JP)
━ anabasine (CA/QC)
Bios ➤ http://bit.ly/mutek2018-metropolis1
As with last editions, Friday is reserved for rarified and body-inciting strains of techno.
Edna King from Toronto debuts with her low end, trippy techno concoctions, Aleksi Perälä the artist formerly known as Ovuca graces us with his mystical, galactic sonics, built entirely from his invented microtonal tuning system, the Colundi Sequence, Anthony Linell, the artist also known as Abdullah Rashim trades in ominous dronologies that unfurl into widescreen beatscapes, and joins a lineup already bursting with corporeally affecting technoid styles, both subtle and gigantic, while Dasha Rush makes a triumphant third visit—as LADA, her long running, live techno project with Lars Hemmerling.
Delicate mumble-house from dull, an A/V adventure with Felicia Lush (Alicia Hush) and visual partner Ionsea, the discombobulated, off-grid beats, experimental Aalko, a new alias for Akiko Kiyama, and the sometimes acidy, always googly grooves of anabasine take up residence here.
▬▬▬▬▬▬▬▬▬▬▬▬
$44 (tx incl.)
Full festival program
➤ bit.ly/mutek2018-program
Tickets
➤ bit.ly/MUTEK2018-box-office
Also on sale at Atom Heart, musique alternative (364 Sherbrooke E) and at La Rama (77 Bernard W)
MUTEK does not tolerate harassment, discrimination or hateful language.
Anthony Linell is presented thanks to the support of Insomnia Festival, The Nordic Council of Ministers and The Nordic Council, Gouvernement du Québec