NVA & Artgang Montreal Present:
Awesome Tapes From Africa / Andy Williams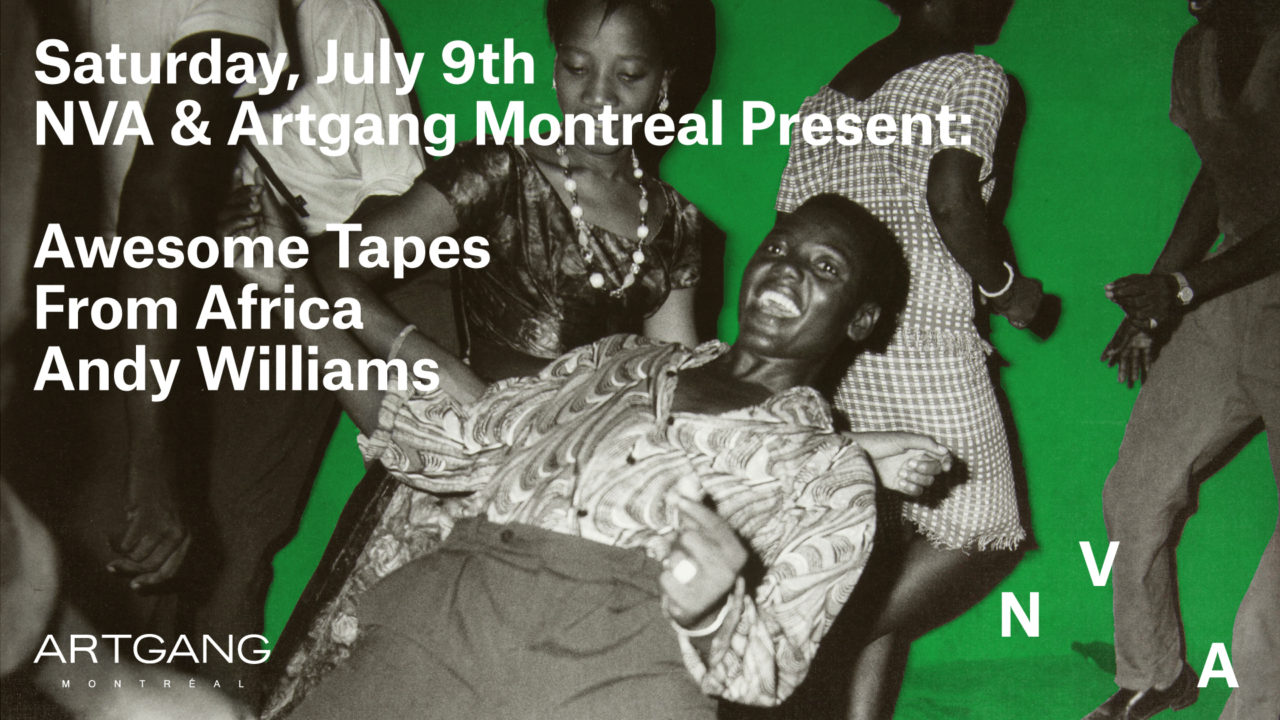 NVA & Artgang Montreal are extremely proud to present to you a performance by Brian Shimkovitz, the mastermind behind cult reissue label turned quasi-cultural movement, Awesome Tapes From Africa.
With his label, Brian has been able to reignite or shed light on the careers of artists as diverse as Ata Kak, Aby Ngana Diop, and Hailu Mergia; artists who have largely never been heard outside of West Africa before now. He has been able to find music from across the continent, spanning multiple genres; repurposed, and delivered in the medium from which they were originally found: the cassette.
We are very excited to have Brian play alongside Andy Williams (DJ), perhaps one of the most knowledgeable selectors our city has to offer, for what should be an incredible night of song, dance, and celebration.
Brian and Andy will also be taking part in a free panel discussion at Never Apart at 3pm the day of the show, where they will be discussing the following topics: musical movements born of historical circumstance such as globalization, the ethics of reissues, and the influence musical diffusion within the African diaspora has had on club music.
AWESOME TAPES FROM AFRICA
ANDY WILLIAMS
_____________
NVA et Artgang Montreal sont très fiers de vous présenter une performance de Brian Shimkovitz, le fondateur du label de réédition rendu quasi-mouvement culturel Awesome Tapes From Africa.
Avec sa maison de disque, Brian réussi à rendre actuel et donner une plateforme intéressante aux carrières d'artistes comme Ata Kak, Aby Ngana Diop et Hailu Mergia; des musiciens qui n'avaient jamais auparavant été entendus en dehors de l'Afrique de l'Ouest.
Sa mission est de trouver de la musique de tous genres partout sur le continent africain en les redistribuant sur cassettes afin de respecter leur médium d'origine.
Pour l'occasion, Brian Shimkovitz sera accompagné d'Andy Williams (DJ), l'un des DJ les plus respectables de la métropole, pour ce qui s'annonce être une incroyable soirée de musique, de danse et de célébration.
Brian et Andy seront les invités d'une table ronde gratuite à la Centre Never Apart à 15h le jour du spectacle où ils tiendront une discussion autour des sujets suivants : la naissance des mouvements musicaux dans le contexte de la mondialisation, l'éthique de la réédition et l'influence qu'a eu la diffusion musicale chez la diaspora africaine.