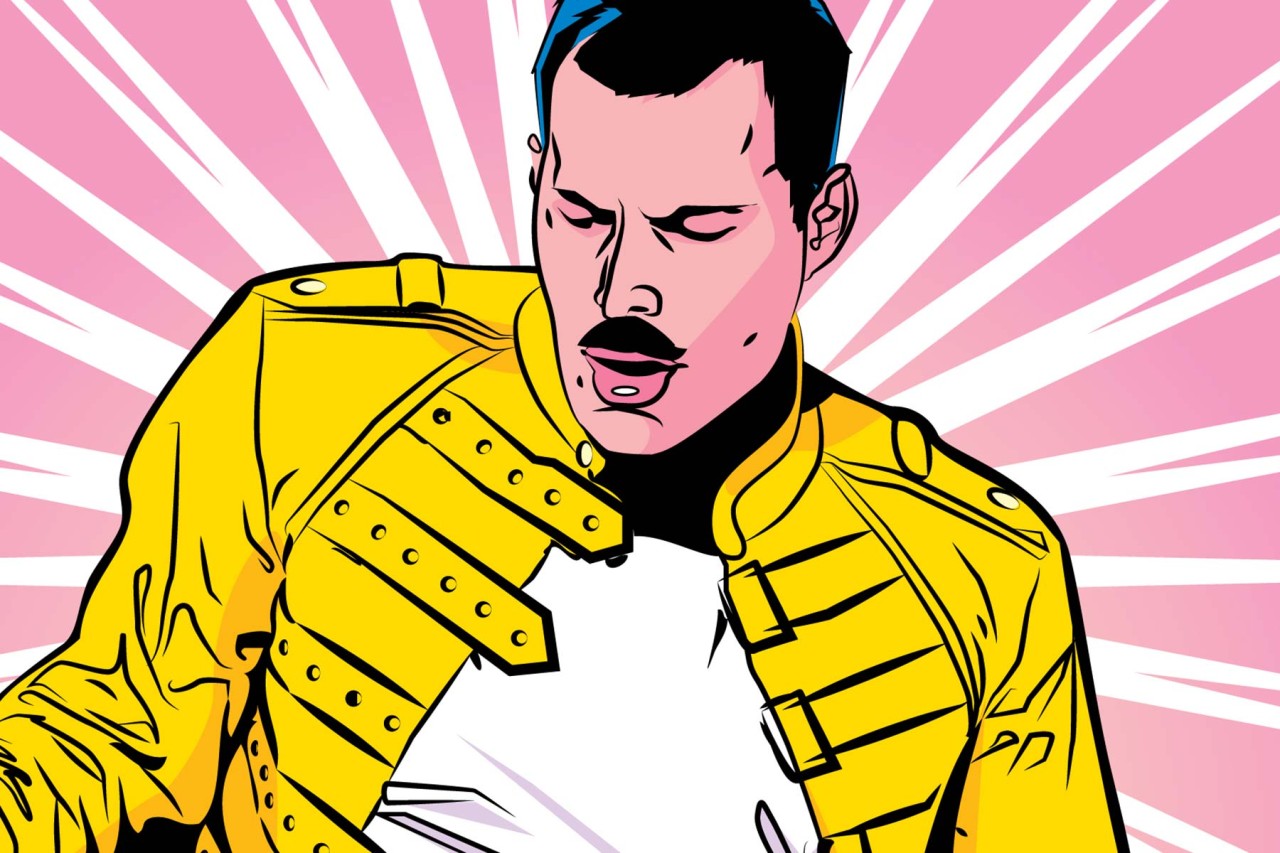 Colour by Icons is a colouring book project and gallery exhibit that aims to restore the importance of queer history and role models through an educational device that fills in some of the gaps of our past while colouring inside the lines.
The Never Apart LGBT Historic Colouring Book is a fun and retro-kitsch project that also serves as an educational tool. So much of queer history has been erased and is not something we are taught in school. Growing up, many of us did not have queer role models. In this cool, collectible art book, we celebrate some of queer history's most colourful trailblazers: legends and heroic symbols of our struggles, talents, and achievements. In Colour by Icons, it's up to you to colour inside or outside the lines.
There are 25 iconic images found inside and bound in the 1980's Colouring Book style. We also collaborated with a number of artists who took on the task of colouring a page in the book. Their collaborative works are on display as a part of our first ever art exhibition in our Never Apart Gallery
There is also an interactive element to the exhibition where people are encouraged to colour in their favourite Icons and put their artwork on the wall.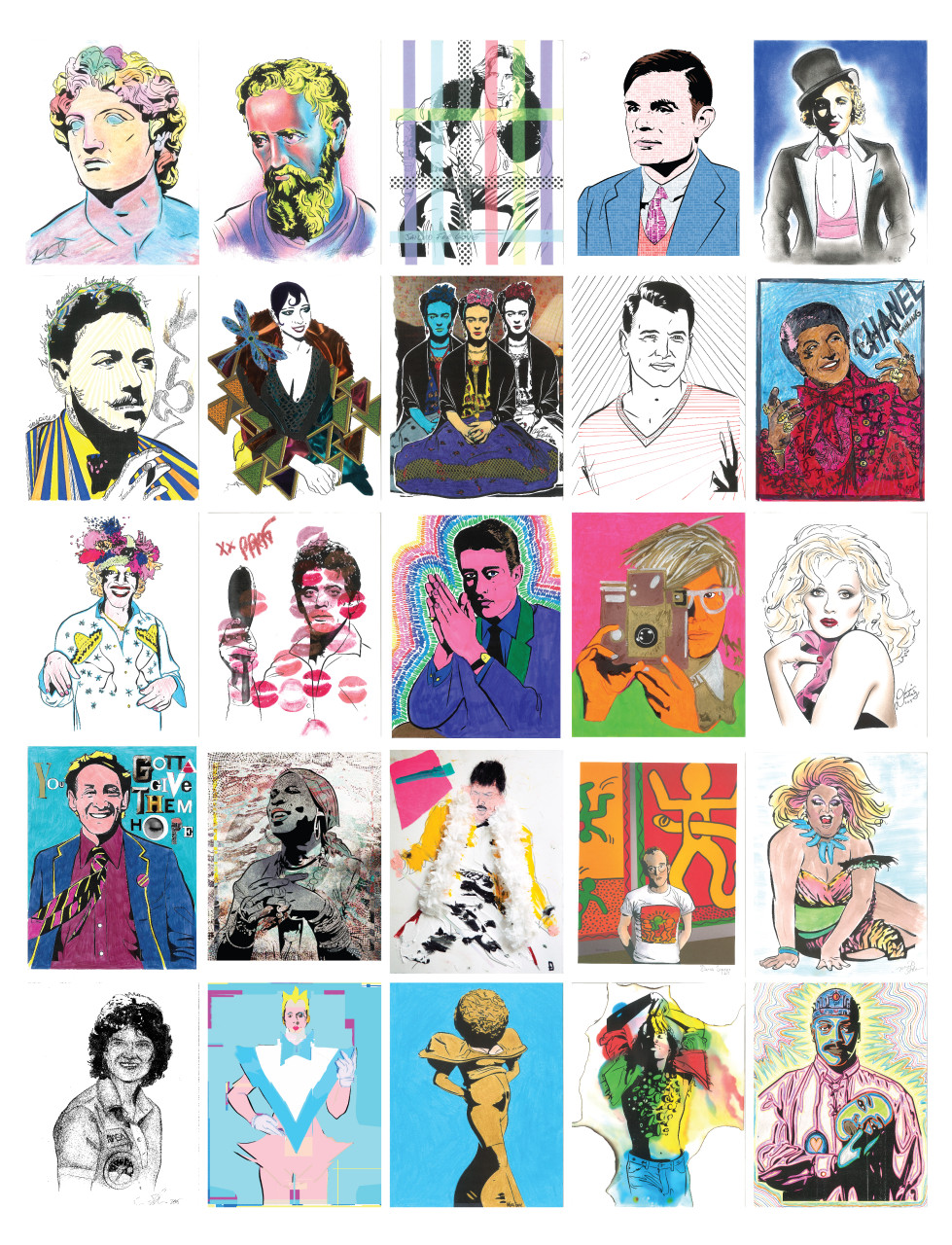 Exhibit Artists
Alexander The Great by Kevin Calero — Film and video director (Montreal) website
Michelangelo by Brad Firmino — Graphic designer, artist, and illustrator for "Colour by Icons" (Montreal) website
Oscar Wilde by Greg Dalianis — Fashion expert (Montreal)
Alan Turing by Mark Kenneth Woods — Film, video, and television maker (Toronto) website
Marlene Dietrich by Candis Cayne — Actress, trans activist, and celebrated icon (Hollywood) twitter
Tennessee Williams by Sylvain Brochu — Costumer and visual artist (Montreal) website
Josephine Baker by Sheldon Gerbrandt — Hair stylist and decorator (Montreal) website
Frida Kahlo by Christopher DiRaddo — Writer and artist (Montreal) Facebook
Rock Hudson by Thomas Dozol — Visual artist (NYC / Berlin / France) website
Liberace by Dior — Famed stylist and personality (Montreal)
Marsha P Johnson by Antonio Bavaro — Academic and drag artist (Montreal) Facebook
Lou Reed by Plastik Patrik — Gender—bending DJ and rock 'n roll legend (Montreal) Facebook 
Halston by Miss Cotton — Drag personality Facebook
Andy Warhol by Michael Venus — Multi—dimensional artist and Executive Director of Never Apart (Montreal) website
Candy Darling by Darian Darling — Nightlife personality and glamour girl (NYC) website
Harvey Milk by Jason Kreigburg — Hair stylist and owner of Helmet Salon (Montreal) website
Sylvester by YSO South — Fashion designer and stylist (Montreal)
Freddie Mercury by François Lalumiere — Multi—media artist (Quebec) flickr
Divine by Mink Stole — Singer and artist most known for her roles in all the John Waters films (Baltimore) website
Keith Haring by Damien Siqueiros — Photographer and artist (Mexico / Montreal) website
Sally Ride by Suzanne MacRury — Painter (Montreal) website
Klaus Nomi by Pedram Karimi — Multi—media and interdisciplinary artist (Montreal) Facebook 
Leigh Bowery by Miss Guy — Lead singer of NYC legendary punk band "The Toilet Boys" and celebrated DJ and icon (NYC) website
Willie Ninja by Andrew Tay — Dancer and artist (Montreal) website
Frankie Knuckles by Joseph Gabereau — Multi—media artist (Montreal) Facebook
LGBT Icons
Marlene Dietrich
This German silver screen siren defied conventions of gender and sexuality with elegance and sophistication.
Divine
The world's most famous drag queen continues to inspire with his films, music and larger-than-life persona.
Rock Hudson
This Hollywood hunk was the leading man in 1950s films. His death of AIDS-related complications in 1985 led to public discussion of the disease.
Leigh Bowery
A colourful performance artist and fashion designer, and one of the most influential figures of 80's and 90's London and New York art circles.
Candy Darling
A multi-talented beauty, Warhol superstar, and one of the first transsexuals in pop culture.
Keith Haring
An American artist who came out of The Big Apple in the early 80's and forever changed the art world with his iconic style of paintings.
Frida Kahlo
Born in Mexico, she was a feminist and bisexual who is best known for her beautiful paintings.
Alexander The Great
This undefeated Greek king was a great lover and fighter. He ruled!
Michelangelo
A man of the Renaissance who created many homoerotic masterpieces, including the famous statue of David.
Oscar Wilde
An extremely talented dandy poet and playwright who did Victorian time for who he was.
Alan Turing
Considered the father of computer science and artificial intelligence, he helped the Alies win WWII but was later prosecuted for homosexual acts in 1952.
Tennessee Williams
A celebrated 20th century playwright who penned numerous stage classics.
Josephine Baker
This triple threat star, who loved both men and women, was a leading force in many realms, including the civil rights movement.
Liberace
The glitzy pianist was known as much for his over-the-top glamorous costumes as his undeniable musical talent.
Marsha P Johnson
A groundbreaker and brickthrower at the Stonewall Inn Riots that fought her whole life for all of us to be who we are.
Lou Reed
One of the innovators of alternative rock and roll who wasn't afraid to walk on the wild side.
Andy Warhol
The mid-century pied piper of the art world made everythign POP!
Harvey Milk
A patron saint of the LGBT movement and the first openly gay politician in the USA, who spearheaded many positive changes for our community.
Sylvester
This disco diva dazzled and captivated legions of fans with his voice and stage performances while defying gender norms.
Freddie Mercury
One of the first major rock stars to die of AIDS, the lead singer of Queen is considered to be one of the greatest performers ever and lives on through his music.
Sally Ride
The first American female and first known LGBT person to ever go to space.
Klaus Nomi
This German-born avant-garde pop sensation was out of this world!
Willie Ninja
The Godfather of "Voguing" who forever changed dance and what it means to be legendary!
Frankie Knuckles
The Godfather of "House" music who created magic on the dance floor as a DJ and producer.