Alban Pilard: Let The Games Begin!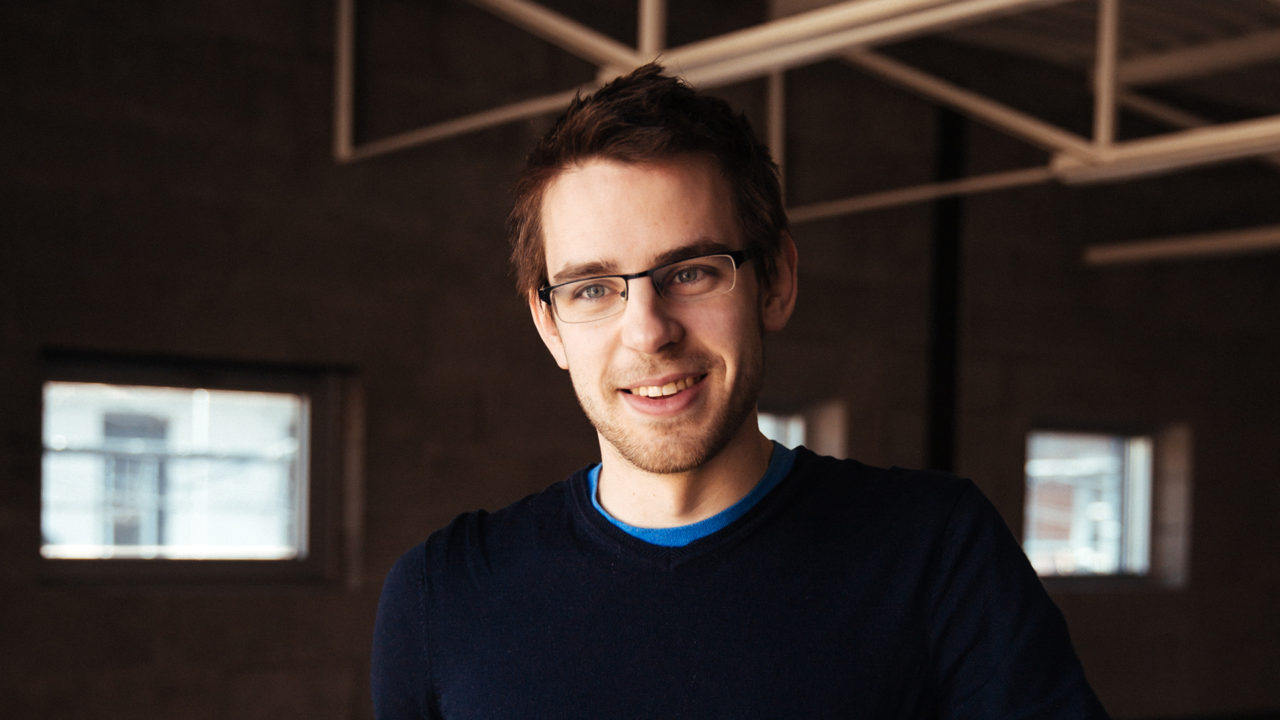 Les Ateliers Évolution, the french-language monthly lifestyle workshop based on community education and progressive practices has focused on such current hot-topic subjects as zero waste consumption and management, as well as the integral connection between nourishment and spirituality. Returning for the last of this season's series, creators Steffi Nicole Goulet and Maude Pascale offer a rather playful addition inviting WASA Games creator and practitioner Alban Pilard to lead the way in the Never Apart environment, this upcoming April 1.
"Coffee shops are really good places to meet people," states Pilard. "They are also a great hub in which a lot of people and personalities converge. Ask a barista if they know someone involved in sustainability awareness, they will probably come up with a few names. I was at Café Larue & Fils when Steffi asked the barista that very question. He pointed me out to her, we smiled and started to talk. Within minutes into the conversation our non-profit organisation was involved in the workshop series."
Jeux WASA creates educative games and facilitates workshops about sustainable living, while aiming to bring awareness to the participant's own built environment and urban living practices through an optimistic and cooperative approach. Quartier Durable, the game, invites players to build together a sustainable neighbourhood, to compromise between perceived 'shoulds' and 'woulds', also between individual and collective needs. Yet, Pilard reminds, it is key to continue to dream big. "We quickly recognized the value of Quartier Durable, from the first time it was tried out in parks to the moment it was developed at Eco2Fest and facilitated in workplaces. We noticed people learning while having fun challenging themselves and one another both intellectually and creatively. Quartier Durable is like a sustainable and educative Lego game, with the potential to be played by kids and adults, is never redundant, and is empowering."
Pilard has been surprised to discover the results engaging different groups of people, while noticing that as adults the tendency is to think quite a bit, yet recognizing that kids actually know more about the environment than we may realize. "They both get stimulated when given responsibilities in groups. For example, we've seen parents amazed by their kids' sensibilities, we've heard groups of 8 years old bring up solutions to food deserts, we've seen co-workers come up with ideas together to imagine a greener workplace. Who knows best about urban organization than the people who live in urban spaces? Force strangers of different age groups to come up with sustainable solutions together and let them dialogue. Arguing and compromising often lead to smiles and satisfaction."
Although this will be Pilard's first experience of the Never Apart environment, Jeux WASA's co-founder and head-designer Julie Tremblay has exhibited at NVA in Winter 2016 as part of the Art Matters Festival. Her piece 'Consume' was showcased in the group exhibition 'Never Again', a digital installation criticizing rape culture. Pilard hopes participants will see the value of creativity, as well as the importance of dialoguing and questioning to reach successful sustainable living modalities. "We hope they will become more attuned to their built environment and more sensitive to their peers' needs. Most importantly, we want them to have fun in re-inventing the idea of a city! Empowerment is the take-away."
As a non-profit, Jeux WASA has been selected to represent Canada at Jeux de la Francophonie 2017 taking place in the Ivory Coast at the end of July. Following that, within months Pilard and his crew will organize WASA Nights, where participants will be able to stop by to try out their games, meet the team and help them change the world. Food, waste, water, energy and transportation are five themes addressed within the game, integrated within the realm of sustainable development as well as economic, social and environmental spheres. These days, computer games run the gamut from simple alphabet games for toddlers to chess, treasure hunts, war games, and simulations of world events. Born out of a desire and a need to prepare generations to come for sustainable daily life, the origin of WASA Games' mandate is purely educational. Its primary activity is to go to schools in various districts of the city of Montreal promoting sustainable development in a positive way by proposing alternatives to lifestyle. With the implicit understanding that today's children will become tomorrow's responsible adults of a society that is ideally informative, collective ambitions call for commitment applying the principles of sustainable development of open-source and collaborative economics.
In the summer of 2015, Alban traveled across Canada in his van, The WASA Bus, a literal traveling lab filled with games and experiences to show the world how to create a sustainable world. WASA Lab, the founding idea of WASA Games, will aim to offer educational activities within an inspiring and attractive vehicle by 2020. The vehicle will allow the companies services to be literally moved directly into user communities, but above all immersion into a sustainable universe as it effects everyone. These neighbourhood games teach people how to create substainable urban planning, and how to lay out a city creating a more involved citizenry. As we continue to learn about community, human nature, and the interweaving of being codependent and interdependent upon one another, it is becoming clearly more obvious that as societies we are not meant to live alone.
ALBAN PILARD: QUE LES JEUX COMMENCENT!
Les Ateliers Évolution, les ateliers lifestyle mensuels francophones basés sur l'éducation communautaire et des pratiques progressives, mettent en lumière des sujets d'actualité comme la consommation et la gestion zéro déchet et la connexion intégrale entre l'alimentation et la spiritualité. Pour le dernier atelier de la saison, les créatrices Steffi Nicole Goulet et Maude Pascale nous proposent un complément plutôt ludique en invitant Alban Pilard, praticien et créateur des Jeux WASA, pour nous montrer le chemin, le 1er avril, dans l'espace Never Apart.
« Les cafés sont d'excellents endroits où faire des rencontres, » explique Pilard. « Beaucoup de gens et de personnalités y convergent. Demandez aux serveurs s'ils connaissent quelqu'un d'impliqué dans la sensibilisation à la durabilité, ils pourront probablement vous donner quelques noms. J'étais au Café Larue & Fils lorsque Steffi a posé cette même question au serveur. Il m'a pointé du doigt, nous nous sommes souri et avons commencé à discuter. Seulement quelques minutes ont suffi pour que notre organisme à but non lucratif soit impliqué dans la série d'ateliers. »
Jeux WASA crée des jeux éducatifs et anime des ateliers sur le mode de vie durable, tout en visant à sensibiliser les participants à leur propre environnement bâti et leurs pratiques de vie urbaine à l'aide d'une approche optimiste et coopérative. Le jeu Quartier Durable invite les joueurs à bâtir ensemble un quartier durable, à trouver des compromis entre les devrais et vais perçus et entre les besoins collectifs et individuels. Pilard nous rappelle cependant que voir grand demeure un élément clé. « Nous n'avons pas tardé à reconnaître la valeur de Quartier Durable, du premier essai dans des parcs jusqu'à sa mise au point à Eco2Fest et son intégration en milieux de travail. Nous avons remarqué que les gens apprenaient tout en s'amusant à se stimuler les uns les autres intellectuellement et de façon créative. Quartier Durable est comme un jeu de Lego durable et éducatif qui est susceptible d'être utilisé par des enfants et des adultes, n'est jamais redondant et est responsabilisant. »
Pilard a été surpris de découvrir les résultats obtenus en impliquant différents groupes de personnes, tout en remarquant que les adultes ont tendance à réfléchir beaucoup et que les enfants en savent beaucoup plus sur l'environnement que l'on pense. « Ils sont tous stimulés lorsqu'on leur donne des responsabilités en groupe. Nous avons vu des parents être épatés par les sensibilités de leurs enfants, des groupes d'enfants de 8 ans introduire des solutions aux déserts alimentaires, des collègues collaborer de manière à imaginer un lieu de travail plus vert. Qui en connait plus sur l'organisation urbaine que les individus qui vivent dans des milieux urbains ? Forcez des étrangers d'âges différents à concevoir ensemble des solutions durables et laissez-les échanger. L'action d'argumenter et d'arriver à des compromis mène fréquemment à des sourires et de la satisfaction. »
Bien que ceci soit la première expérience de Pilard dans l'environnement de Never Apart, la cofondatrice et designer en chef de Jeux WASA Julie Tremblay a exposé une de ses œuvres à NVA durant le festival Art Matters. Sa pièce Consume, une installation digitale critiquant la culture du viol, a été présentée à l'hiver 2016 dans le cadre de l'exposition de groupe Never Again. Pilard espère que les participants comprendront la valeur de la créativité, ainsi que l'importance du dialogue et de la réflexion pour atteindre des modalités de vie durable efficaces. « Nous espérons qu'ils deviendront plus sensibles à leur environnement bâti et aux besoins de leurs pairs. Et surtout qu'ils s'amusent à réinventer l'idée d'une ville ! La responsabilisation est l'idée essentielle à retenir. »
En tant qu'organisme à but non lucratif, Jeux WASA a été sélectionné pour représenter le Canada au Jeux de la Francophonie 2017 qui auront lieu en Côte d'Ivoire à la fin de juillet. Dans les mois qui suivront, Pilard et son équipe organiseront WASA Nights, où les participants pourront essayer les jeux, rencontrer les membres de l'équipe et les aider à changer le monde. Les thèmes de l'eau, du gaspillage, de l'énergie et les méthodes de transport sont abordés par l'entremise de jeu et intégrés dans le domaine du développement durable et des sphères économiques, sociales et environnementales. De nos jours, les jeux d'ordinateurs vont du simple jeu éducatif destiné aux tout-petits à des jeux d'échecs, des chasses au trésor, des jeux de guerre et des simulations d'événements internationaux. Née du désir et du besoin de préparer les générations à venir à accéder à une vie quotidienne durable, à l'origine le mandat de Jeux WASA est purement éducatif. Sa principale activité est la promotion du développement durable à travers diverses écoles de la ville de Montréal en proposant des alternatives au mode de vie. Avec le sous-entendu que les enfants d'aujourd'hui seront les adultes responsables de la société éducative de demain, les ambitions collectives préconisent un engagement qui applique les principes du développement durable de l'ouverture économique et de l'économie collaborative.
Au cours de l'été 2015, Alban a sillonné le Canada à bord du bus WASA, un véritable laboratoire sur roues rempli de jeux et d'expériences pour montrer à tous comment créer un monde de vie durable. WASA Lab, l'idée fondatrice de Jeux WASA Games, visera à offrir des activités éducatives à l'aide d'un véhicule inspirant et attrayant d'ici 2020. Le véhicule permettra aux services de la compagnie d'être placés dans les communautés utilisatrices, mais permettra surtout à son immersion dans un univers durable puisque tous sont concernés. Ces jeux de quartier apprennent aux gens comment créer de l'urbanisme durable et planifier une ville avec des citoyens plus impliqués. En continuant à en apprendre sur la communauté, la nature humaine et l'entrecroisement d'être codépendant et interdépendant les uns des autres, il devient de plus en plus évident que nous ne sommes pas censés vivre seuls dans nos sociétés.