Christian Carrière: Practice Makes Purrrfect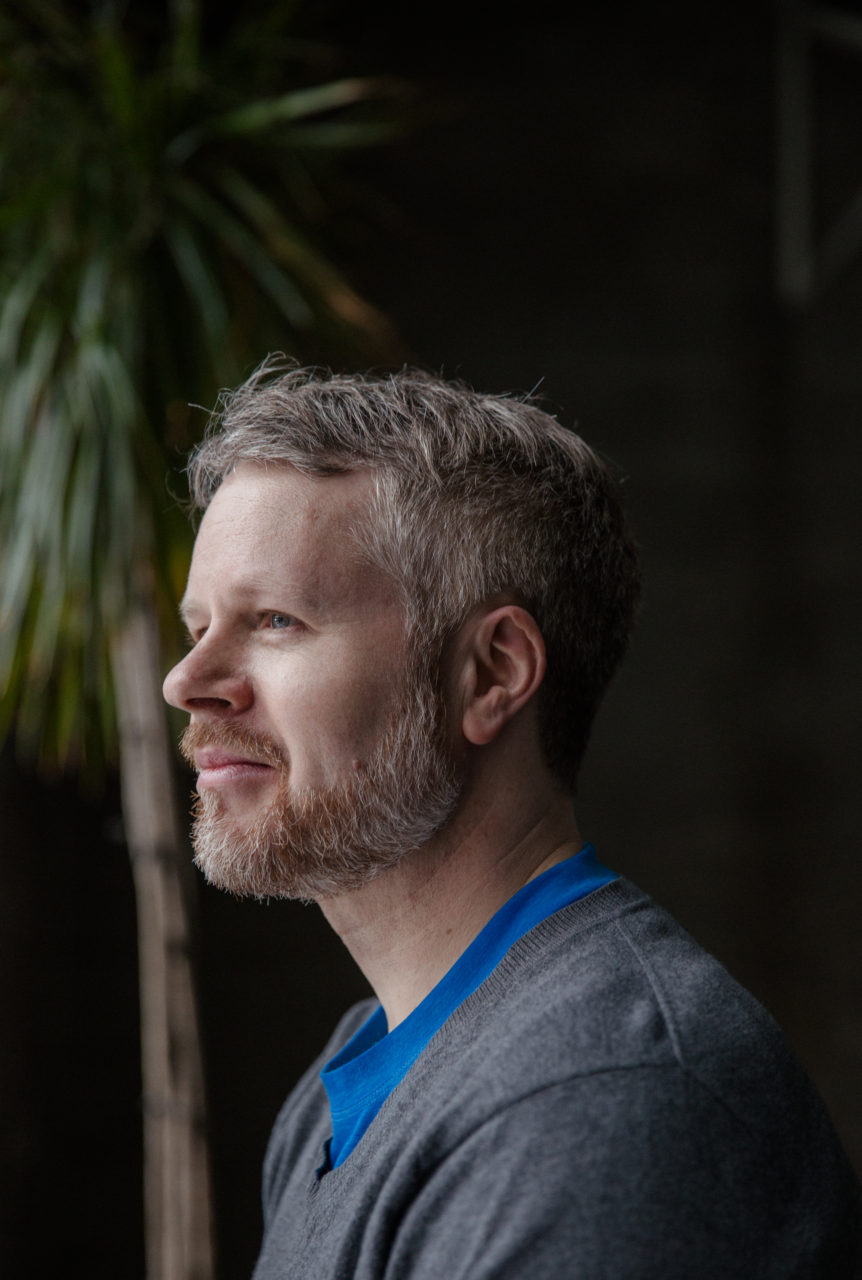 'Practice', Jann Tomaro's monthly sound meditation series, continues to echo throughout the halls of Never Apart in February 2017. Providing participants with opportunities to aurally investigate the transcendental properties of sound, each session of 'Practice' features two sets of 25 minutes with a different guest practitioner sharing their knowledge of the principles of transformative noise. While creating and designing soundscapes intended to alter different states of consciousness, practitioners will guide group meditations to explore the experiential applications of psychoacoustic theories, cymatics, music therapy, sound healing, brain entrainment, and binaural-beat perception. This month, NVA and 'Practice' welcomes guest sound artist Montreal-based Christian Carrière to lead the audio journey, happening February 25th.
As a creator of improvised soundscapes, Carrière's work invites listeners to experience deep and careful listening. Using a no-input console, or tuned feedback as his main instrument, he creates rhythmical layers and evolving melodies. Part of the independent music scene in Montreal for more than 15 years, Carrière was a founding member of former experimental group 'Interceiving'. He's released several albums, scored independent film, and creates sound art installations for gallery and museum projects. "I'm a musician, composer and sound artist, yet I'm also a sound engineer by trade," shares Carrière. "I've worked in recording studios, in television, and in film for 20 years. Throughout my life, I've learned to play drums, guitar, piano and voice. That, in combination with my long-time fascination with all things audio has led me to where I am now. Channeling my musicality, along with a propensity towards melody, layering and rhythms, into art that is sometimes musical, sometimes more like sound art, sometimes almost pure noise, depending on the context." In addition, Carrière has continued to be an active member of multi-disciplinary artist collective CRUM (Centre de Recherche Urbain de Montréal) for the past 10 years. "CRUM consists of a builder/sculptor, a painter, an architecture historian, an information sciences specialist who is also a painter, and myself as the resident sound artist. We've done performative projects, residencies, interventions as well as collaborative projects with many artists and galleries. I'm also a founding member of the Lanark Land Art Recording Group, a collective of artists focused on exploring nature through innovative sound capturing techniques."
It was while working as a TV broadcast sound engineer that Carrière first imagined the audio console as a performative device. The sounds of singing circuits he found to be quite fluid and takes inspiration from the multi-disciplinary work of Brian Eno, while recently seeking to combine these electronic textures with more traditional instruments such as the kalimba and the harmonium. It's been discovered that sound frequencies impact physical phenomena, transforming the molecular structure of matter. Sound healers aware of how natural vibrations of the body may be affected by various frequencies of sound, are discovering that the physicality of noise has great potential to influence our bodies and minds, altering our mental states, and able to induce a connected sense of spirituality. In relation to these findings, sound frequencies have been discovered to encourage experiential states of balance, focus and divinity, apparent with traditional Gregorian chanting. Brainwave entrainment theory reveals brain waves corresponding with mental states are influenced by rhythms, pulsations, and specific frequencies. It's clear as a bell, that through sound we can alter our cognitive and emotional states, and with awareness it appears we are able to bend our sense of reality as well.
"I've always been very audio-focused, but also have long-standing meditation and qi gong practices," states Carrière. "Combining these elements is a natural progression for me. I've experienced massages accompanied by the sound of Tibetan bowls, mantra classes and chanting, the therapeutic power of singing, etc. This curiosity about the beneficial effects of audio sometimes manifests as audio experiments, experimental music or art projects." Carrière mentions a couple of examples to highlight this phenomenon, such as the frequency of the earth rotating (7hz) having an important effect on us, or the 50hz fundamental frequency of a cat's purr as having a therapeutic value. Carrière, and collaborator Marcin Padlewski who happens to be a naturopathic doctor, used modified stethoscopes to record the lowest frequencies of a cat's purring. It was only by applying the stethoscope/microphone directly to certain parts of the cat's anatomy that the fundamental frequency could be fully captured.
"Most recently, I've developed a fascination with the ways in which the patterns of nature transposed to audio or music create something special," he adds.
Carrière's first introduction to NVA was ironically through reading my article on Jann Tomaro, when she first began to introduce the 'Practice' series last year to the public and practitioners alike. "I was immediately struck by her openness and presence as a curator. I got in touch with her right away and made a pitch. We met and both felt I could contribute something interesting to the series," explains Carrière, and hopes people will experience something new and different pertaining to sound meditation. Understanding that although the vast majority of people are more visual than auditory, he believes the power of sound is immense. "We can see it in positive ways (sound as healer), and negative ways (audio combat devices such as sound cannons). My advice is for people to come with an open mind, to have the patience and presence to take in the experience of the 'Practice' sets. Take a break from the relentlessly visual art offerings. Let another part of your mind take in some inspiration."
Inspiration is not something Carrière is soon to run out of, with a new EP of no-input console music due out soon, as well as an EP of audio fractals, and is currently working on the completion of a sound piece for Canada's 150th Celebration (Sounds of the Lachine Canal) with fellow artist Douglas Scholes, followed by a new collaboration with baritone saxophonist Ida Toninato and soundscape artist Joël Lavoie.
Links for more information on Christian Carrière's works:
http://www.christiancarriere.com/

https://vimeo.com/christiancarriere
CHRISTIAN CARRIÈRE: Une carrière qui sonne bien
Practice, la série mensuelle de méditation sonore de Jann Tomaro, revient se répercuter à travers l'espace Never Apart en février 2017. Offrant aux participants la chance d'explorer les propriétés transcendantales du son de manière auditive, chaque séance de Practice comprend deux sets de 25 minutes, guidés par un différent artiste sonore qui partage ses connaissances des principes transformateurs du son. Tout en créant des paysages sonores destinés à altérer les états de conscience, les praticiens invités guideront des méditations de groupe vers l'exploration de l'application expérimentale de théories psychoacoustiques, le cymatique, la musicothérapie, la guérison par le son, l'entraînement cérébral et la perception de rythmes binauraux. Ce mois-ci, NVA et Practice accueille l'artiste sonore montréalais Christian Carrière, qui mènera l'exploration sonore du 25 février.
En tant que créateur de paysages sonores improvisés, Carrière invite les auditeurs à faire l'expérience d'une écoute profonde et attentive. À l'aide d'une console 'no-input' (larsens accordés) comme instrument principale, il crée des effets rythmiques et des mélodies évolutives. Faisant partie de la scène musicale indépendante montréalaise depuis plus de 15 ans, Carrière est un des membres fondateurs du groupe expérimental Interceiving. Il a lancé plusieurs albums, réalisé la trame sonores de films indépendants et a créé des installations sonores de projets d'art dans des galeries et des musées. « Je suis un musicien, un compositeur et un artiste sonore, mais j'ai également une formation d'ingénieur du son, dit Carrière. Je travaille en studio, à la télévision et au cinéma depuis 20 ans. Au cours de ma vie, j'ai appris à jouer de la batterie, de la guitare et du piano, ainsi qu'à chanter. Conjugué à ma fascination de longue date pour tout ce qui a trait à l'audio, voilà ce qui m'a mené où je suis maintenant. Je canalise ma musicalité, ainsi que mon penchant pour la mélodie, la superposition et les rythmes, en un art qui est parfois musical, parfois sonore, ou même parfois du son pur, selon le contexte. » De plus, Carrière demeure un membre actif du collectif artistique multidisciplinaire CRUM (Centre de Recherche Urbaine de Montréal), et ce, depuis 10 ans. CRUM est composé d'un sculpteur-bâtisseur, d'un peintre, d'un historien en architecture, d'un spécialiste des sciences de l'information et de moi-même, en tant qu'artiste sonore du groupe. Nous avons fait des projets, résidences et interventions performatifs, de même que des collaborations avec de nombreux artistes et galeries. Je suis également un des membres fondateurs du Lanark Land Art Recording Group, un collectif d'artistes centré sur l'exploration de la nature à l'aide de techniques improvisées de captation de son.
C'est en travaillant comme ingénieur de son en télédiffusion que Carrière a imaginé se servir d'une console audio console comme d'un dispositif performatif pour la première fois. Il trouve les sons de circuits chantants très fluides et s'inspire de l'artiste multidisciplinaire Brian Eno, tout en cherchant récemment à unir ces textures électroniques à des instruments plus traditionnels comme le kalimba et l'harmonium. Les fréquences sonores sont reconnues pour avoir un impact sur les phénomènes physiques au point de pouvoir transformer la structure moléculaire de la matière. Sachant que les vibrations naturelles du corps peuvent être affectées par les fréquences sonores, les guérisseurs par le son ont découvert que la physicalité du son a le potentiel d'influencer nos corps et nos esprits. Les fréquences sont reconnues pour encourager divers états expérimentaux comme l'équilibre, l'attention et la divinité, comme le chant traditionnel grégorien. Des recherches supplémentaires sur la théorie de synchronisation des ondes cérébrales ont également révélé que des ondes cérébrales correspondant à nos états mentaux peuvent être influencées par des rythmes, des pulsations et des fréquences spécifiques. Les sons peuvent également altérer nos états cognitifs et affectifs, ainsi que notre sens de la réalité.
Les fréquences sonores sont reconnues pour avoir un impact sur les phénomènes physiques au point de pouvoir transformer la structure moléculaire de la matière, les vibrations naturelles du corps étant affectées par les fréquences sonores. La physicalité du bruit a le potentiel d'influencer nos corps et nos esprits. Les sons peuvent également altérer nos états cognitifs et affectifs, ainsi que notre sens de la réalité.
"J'ai toujours été très axé vers l'audio, mais je médite et pratique le Qi Gong depuis longtemps, explique Carrière. Réunir ces éléments est pour moi une progression naturelle. J'ai fait l'expérience de massages accompagnés par le son de bols tibétains, des chants de mantras, le pouvoir thérapeutique du chant, etc. Cette curiosité pour les effets bénéfiques de l'audio se manifeste parfois en expérimentations audio, en musique expérimentale et en projets d'art. Carrière mentionne quelques exemples pour souligner ce phénomène, comme les impacts thérapeutiques de la fréquence de la rotation de la Terre (7hz) et de la fréquence fondamentale du ronronnement d'un chat (50hz). Carrière et son collaborateur, le médecin naturopathe Marcin Padlewski, se sont servis de stéthoscopes modifiés pour enregistrer les fréquences les plus basses du ronronnement d'un chat. Ce n'est qu'après avoir posé directement le stétho-micro sur différentes parties de l'anatomie du chat que les fréquences fondamentales ont pu être réellement captées. Tout récemment, j'ai développé une fascination pour la façon dont les schémas dans la nature, transposés en audio ou en musique, créent quelque chose d'unique.
L'ironie du sort est que Carrière a pris connaissance de Never Apart pour la première fois l'an dernier en lisant mon article sur Jann Tomaro, alors qu'elle lançait sa série Practice. "J'ai tout de suite été frappé par sa franchise et sa présence en tant que commissaire. J'ai pris contact avec elle pour lui faire une proposition de projet. Après s'être rencontrés, on a tout deux pensé que je pouvais apporter quelque chose d'intéressant à la série, explique Carrière. Il espère que les participants vivront quelque chose de nouveau et de différent quant à la méditation sonore. Bien que la majorité des gens sont plus visuels qu'auditifs, il estime que le pouvoir du son est immense. On peut voir ses applications positives (le son guérisseur) et négatives (des dispositifs sonores de combat comme des canons sonores). Je conseille aux gens de venir avec l'esprit ouvert et d'avoir la patience et la présence de venir faire l'expérience des sets de Practice. Sortez du train-train habituel des arts inexorablement visuels et laissez une autre facette de votre esprit s'inspirer.
Christian n'est pas prêt de manquer d'inspiration; il nous livrera sous peu un nouvel EP de musique de console sans input et un EP d'audio fractal, et s'emploie présentement à achever une pièce sonore pour la célébration du 150e du Canada (Sounds of the Lachine Canal) avec l'artiste Douglas Scholes. Suivra ensuite une nouvelle collaboration avec la saxophoniste bariton Ida Toninato et l'artiste de paysages sonores Joël Lavoie.
Pour plus d'information sur les oeuvres de Christian Carrière, consultez:
http://www.christiancarriere.com/

https://vimeo.com/christiancarriere