A Celebration of its People: An Interview with Maxine Walters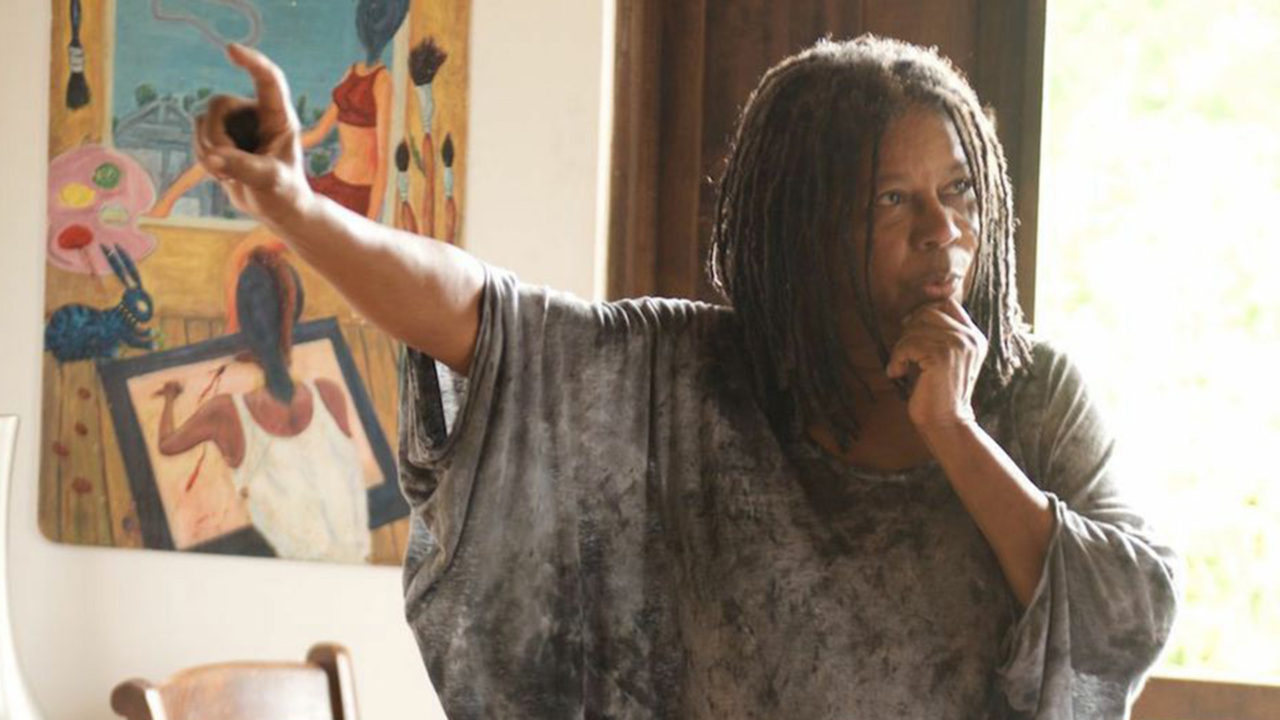 Based on her archival work in pursuit of the preservation of Jamaican art, many consider Maxine Walters as the "Queen of Dancehall". Over the past forty years, her contributions in championing Jamaican culture cannot go unnoticed.
Maxine has run the gamut in Jamaica's dancehall scene, having thrown events in the early '70s, written tracks released on 45s— but now she plays caretaker to some 4,000 signs: beautiful hand-painted street posters which are finally becoming recognized outside of the island she calls home. With her first book 'Serious Things A Go Happen' now being published (available for sale at our Centre) and offers from galleries around the world, Jamaican street art is getting a different sort of time in the sun thanks to her. We spoke to Ms. Walters ahead of her free talk at our Centre this Saturday alongside Andy Williams.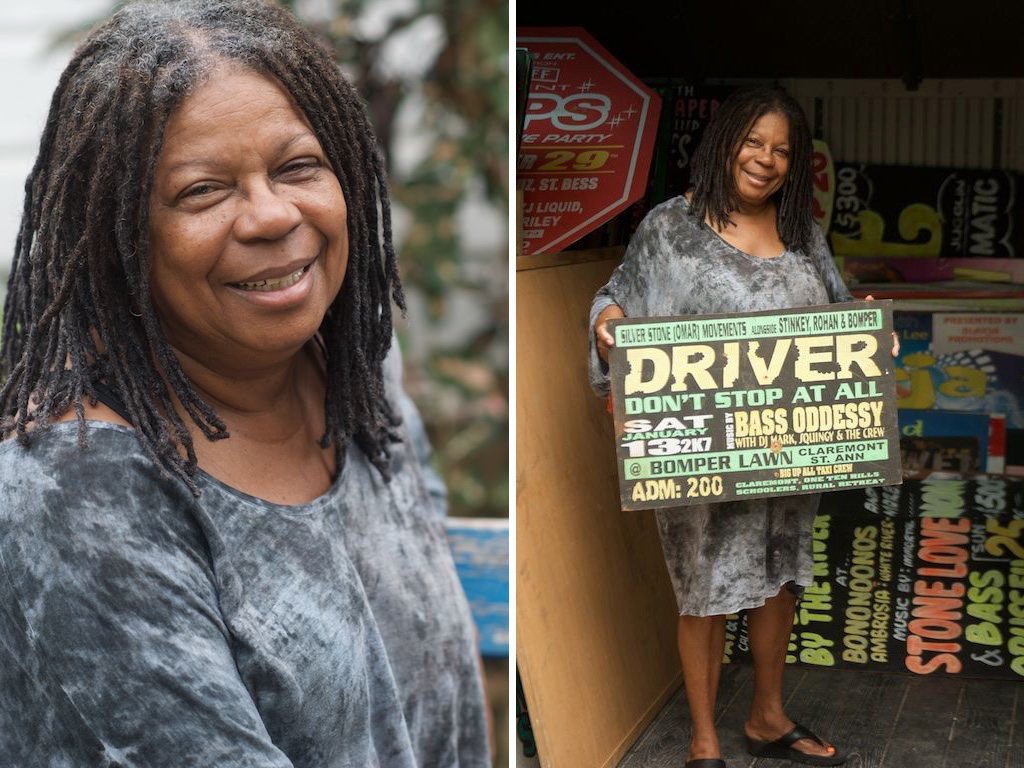 When did you start collecting these signs and what was the impetus for you to start your collection ?
I started collecting the signs intensely at the end of 1999, but had collected a few previously. Hence I do have signs from the '80s Reggae Sunsplash, and a few other events. My collecting of the signs was triggered, when an artist friend visited from the USA . On her departure, she presented me with a hand painted Dancehall sign, and I immediately fell in love!
What eras of dancehall do they run ?
From the '90s through today.
Does the "look" of certain signs pertain to different types of dancehall ?
The term 'Dancehall', describes three specific areas:
The place The Dancehall, which always existed. They were often open spaces attached to a house or shop or other building, which was enclosed by either a bamboo, or corrugated Iron/Zinc fence, where dances were held usually on weekend nights.
Then there is the music which found its legs in the late '70s with artistes like Michigan & Smiley, Yellow Man, Eek A Mouse and Tenor Saw.
Thirdly, there is the dance form which has had so many versions, e.g. Thunder Clap, Butterfly, Dutty Wine, Jiggy, Log On, Gully Creeper and they continue to change regularly.
So the signs which usually are about the events, rarely depict the actual dancehall location, but usually refers to more current events, or popular songs, as in 'Pon the River/Pon the Bank', or 'Driver Don't Stop At All'.
Rarely are the signs dated by year, but if one researches when a particular song was popular, you can often figure it out  by remembering the dates when those events took place.  
How do you go about procuring these signs ?
There are still many signs in the streets, and I usually collect them after the event has taken place.
The signs are temporary advertising, and as such, have no protection, and are often left on the light poles once the event has passed. No one comes back to collect them, or preserve them, as their lives and significance ends with the event.
The City considers them litter, and takes them down and burns them, so in collecting these signs, I am actually saving them from the fires, as well as archiving Jamaica's popular culture.
Are there particular styles which you prefer ?
I love them all, but the hand painted signs are usually aesthetically more interesting, in that manner self taught artists'  work is  so unique.
Who are the artists behind the signs ?
Usually painters who have more of an interest in fine arts, but who accept the promoter's commissions in order to support their families.
Are they unsung heroes ?
I certainly think so, and the painters I know, are so excited that through my collection, they are now recognized  as art.
Have you met many, and have they received any sort of critical acclaim ?
I have only met a few, as they do not sign their work, and I do believe that their acclaim is soon coming.
Can you tell us a little bit about your reggae career ?
Wow! I have always been a lover of all our Jamaican music, but got flung into the business, when I attended a concert of my friends Third World's 'Explanitations' in the mid '70s.
The performance was amazing, but the audience was sparse. So I employed my PR skills, and managed to fill the house for the next 10 nights of their performance. From that experience, I got the bug and ever since have been involved in  the business of music in one way or another
Can you tell us about the song 'One Light Four Wheel' ? How did that collaboration with Jahnet Enright come about, and given its success, how come you didn't pursue doing more music after that ?
Yellow Man was my hero at the time, I was also doing appearances at tourist events, promoting my sarongs  by DJ'ing over a track while my models demonstrated 21 ways to wear a sarong. One of the girls commented on a dangerous car with one light which nearly crashed into us one night, as a "one light four wheel". I was so taken with the phrase, that I went home and wrote a song about it. I then took the song to my friend Jahnet Enright, who had written and produced Michigan & Smiley, and she wrote the music, tidied up the song, engaged Sly & Robbie and off we went to Channel One studios and recorded the track.
It was an instant winner with it's distinctive soundtrack, but I was soon on to the next thing. I am a firm believer that I want to take a shot at everything at least once, so the rest is history. I didn't pursue a career as a singer as really I can't sing, and simply did that song as I felt good about it, and in the manner of the dancehall, wanted to bring the dangers of cars with one light only to public attention. I remember being particularly overjoyed when I went to court about a traffic ticket some years later and heard the judge berating a man who had been charged with driving with one light only as having a "one light four wheel".
There are rumours circulating around the web about some association to Island Records, and I just wanted to clarify here whether or not those were true ?
There is no association with Island Records, except that Chris Blackwell has been a friend for many years, and has always been supportive of my successes in any area.
Given the amount of interest in these signs and the recent publication of your book, do you see these relics becoming legitimized art forms soon enough ?
I certainly do, as many of them are in fact true intuitive art, and deserve to be recognized as such. Also I plan to tour them and take them into gallery spaces. What is art? I remember seeing an A-frame ladder with a hammer on the third step, given pride of place at the Tate Modern in London. Well these signs took a lot more effort than that.
As of now, the National Gallery of Jamaica has invited me to exhibit, the Cité de la Musique in Paris is showing the signs in an exhibition opening April 4, and I have been invited to exhibit in a gallery in Berlin in the fall. I am also considering enquiries from Japan.
What do you hope the signs communicate to people who know nothing about dancehall or Jamaica ?
That here is yet another unique way of looking at the creativity, music and culture of our amazing island,  Jamaica. That they will recognize that even the seemingly simple efforts of our uncelebrated people can actually make it and become loved and accepted in the wider world, and make a great story in the New Yorker as my book of signs 'Serious Things a Go Happen' did a few weeks ago.
One Love.