Interview: Sylvain Tremblay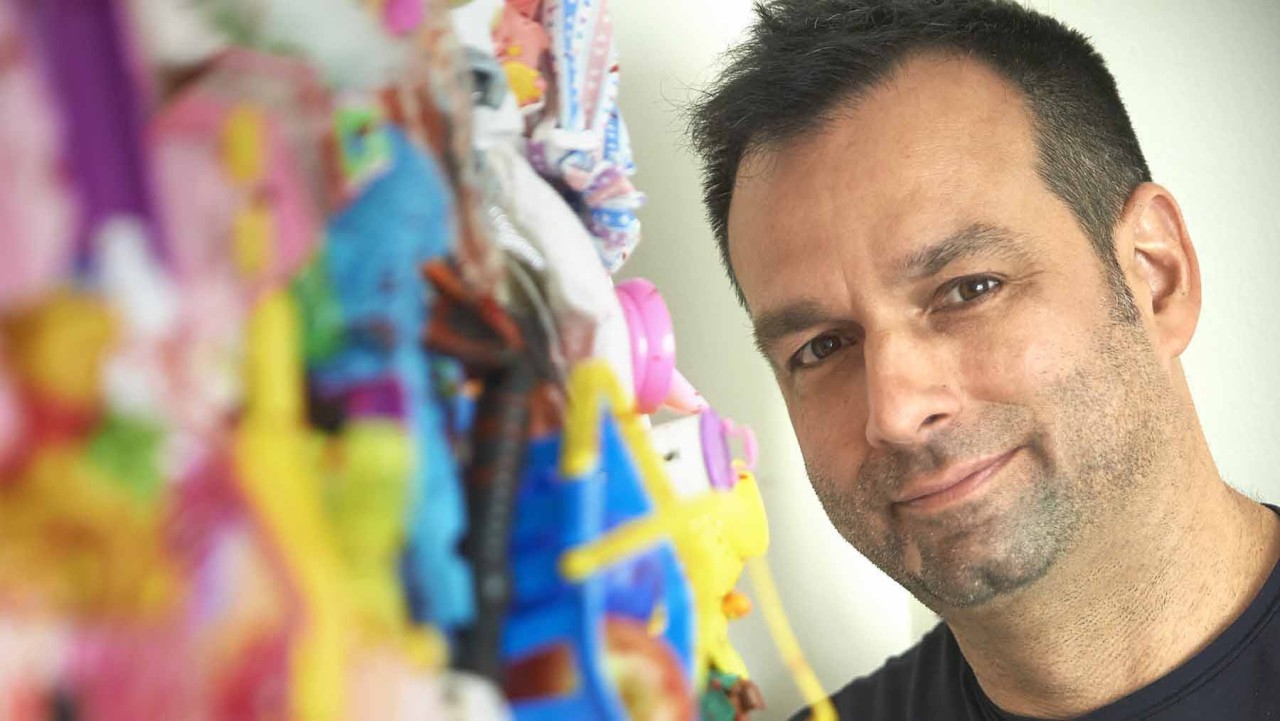 Sylvain Tremblay is a multi talented Montreal based painter celebrated internationally for his distinct practice. He will be premiering his "No Gender" exhibition in our galleries as the subject matter was the perfect fit with our programming. We talk with him about the importance of this series as we prepare for his exhibition.
Never Apart: Tell us about the NO GENDER series…
In this series, I use art to educate and raise public awareness about an issue that's really close to my heart! It's also my way of saying that all bodies are beautiful, whatever shape they may be. I don't like to see the suffering felt by people cast aside in our society and this project is also a way for me to show that there's room for everyone.
Why is this subject matter important to you and how did you begin this project?
It all started out in Vietnam over fifteen years ago when I accompanied an adoption agency to an orphanage. A baby said to be hermaphrodite was placed in my arms. All around us, doctors from the orphanage were discussing its case and whether they would make it a boy or a girl. That moment had a great impact on me, and a few years ago I decided to dig deeper on the subject.
It's important to me because I believe that everyone is the sole master of his or her body and that no one has the right to choose for someone else. Especially when it comes to a child. This child is the only one who should get to decide his or her sex based on his or her sexual identity. In my opinion, no important decision should be made without the child's informed consent, as gender assignment surgeries are irreversible.
What do you hope to achieve with this body of work?
That people become more aware that this reality exists. And that it would help bring legislation forward to stop sex assignment surgeries at birth or even to remove gender on passeports, birth certificates, and other official documents.
Why did you choose Never Apart to show these paintings?
Never Apart's mission perfectly aligns with NO GENDER's. We both want and both fight in our own way to not exclude people in our society.
What can people expect to see at the exhibit and vernissage?
People should expect to be moved and affected by the pieces.  That they'll ask questions as well, will question themselves, that certain people will want to know more, and that others will come to realize that this is the reality of someone they know. This series of paintings is made up of six generic pieces and six portraits stemming from meetings that occurred over different continents. The paintings are loaded with red, evoking blood which symbolizes life and death. Nudity is also quite present in this series, as it represents the integrity of the human body. It is also possible that some people get mad or feel upset… Every reaction is legitimate. Furthermore, I would like to commend the models who took part in this project for their courage… I feel, in a way, like a megaphone…
How and when did you become a painter?
I think I became a painter at about eleven years old, when my grandfather gave me my grandmother's painting kit. She painted very often and shortly before passing away, she had made my grandfather promise that he would hand me her painting supplies when he felt I was ready to receive them. My grandmother had seen in me, at a young age, what I discovered in myself during my teens, and even more so in my early thirties. It's only in the last few years that I've fully grasped the significance of her action.
What have been some of your career highlights?
First off, I'm proud that this project been showcased in two festivals (Douarnenez, France and Burlington, Vermont) and is now shown in Montreal.
In 2015,  I donated a piece to a charity auction hosted to raise funds for two foundations in London. The Duchess of York, Sarah Ferguson, purchased the painting.
To have had my work shown at Expo 2010 Shanghai China in the Canadian pavilion, which eventually lead me to relocate to Beijing for over two years. A wonderful experience during which I rubbed shoulders with great Chinese artists. The work had been selected by Canada Council for the Arts and the Cirque du Soleil.
Having lived in Dubai for over three years, I'm still very happy to soak up the culture and to be able to give back something special to my new home. In 2014, with the help of a number of people, I created in the Dubai desert the biggest portrait ever made of Dubai's founding Sheikh. For that event, I experimented with a new technique using sand and glue. The result was really interesting.
I like to get out of my workshop and off the beaten paths in order to gain experience, and I find myself continually learning. Each time I try out a new technique, or use new materials or tools, I feel that my career evolves.
You spend much of your time in Dubai- tell us about that…
Over three years ago, Canadian University Dubai offered me an artist residency in order for me to contribute to the University's artistic development and its curriculum. This has allowed me to refamiliarize myself with art history and to interact with numerous other areas of study taught at the University.
Dubai is an incredibly vibrant city boasting with a wide variety of nationalities. It continues to be wildly interesting to me and brings me a different energy for creating my work.
What are your hopes and goals for the NO GENDER project in the future?
My team and I – because I'm not alone in this effort – hope that this installation travels to as many cities across the globe as possible. Naturally, we would love for this exhibit to be featured in museums… The more visibility it gets, the more awareness can be raised, and people who have been excluded will suffer less.
What else can we expect from you in the future?
I've been working on a new project for a year. It remains in the embryonic stage, and therefore don't want to reveal any spoilers for now, but I think people will really like it. And as I naturally continue to collaborate with art galleries, some new work should soon be showcased!
Lastly, a first book on Sylvain Tremblay was published in 2008, and I now feel ready for Volume II. We're hoping to release it by the end of 2016, making it a great gift for next year's holiday season.. Haha! 😉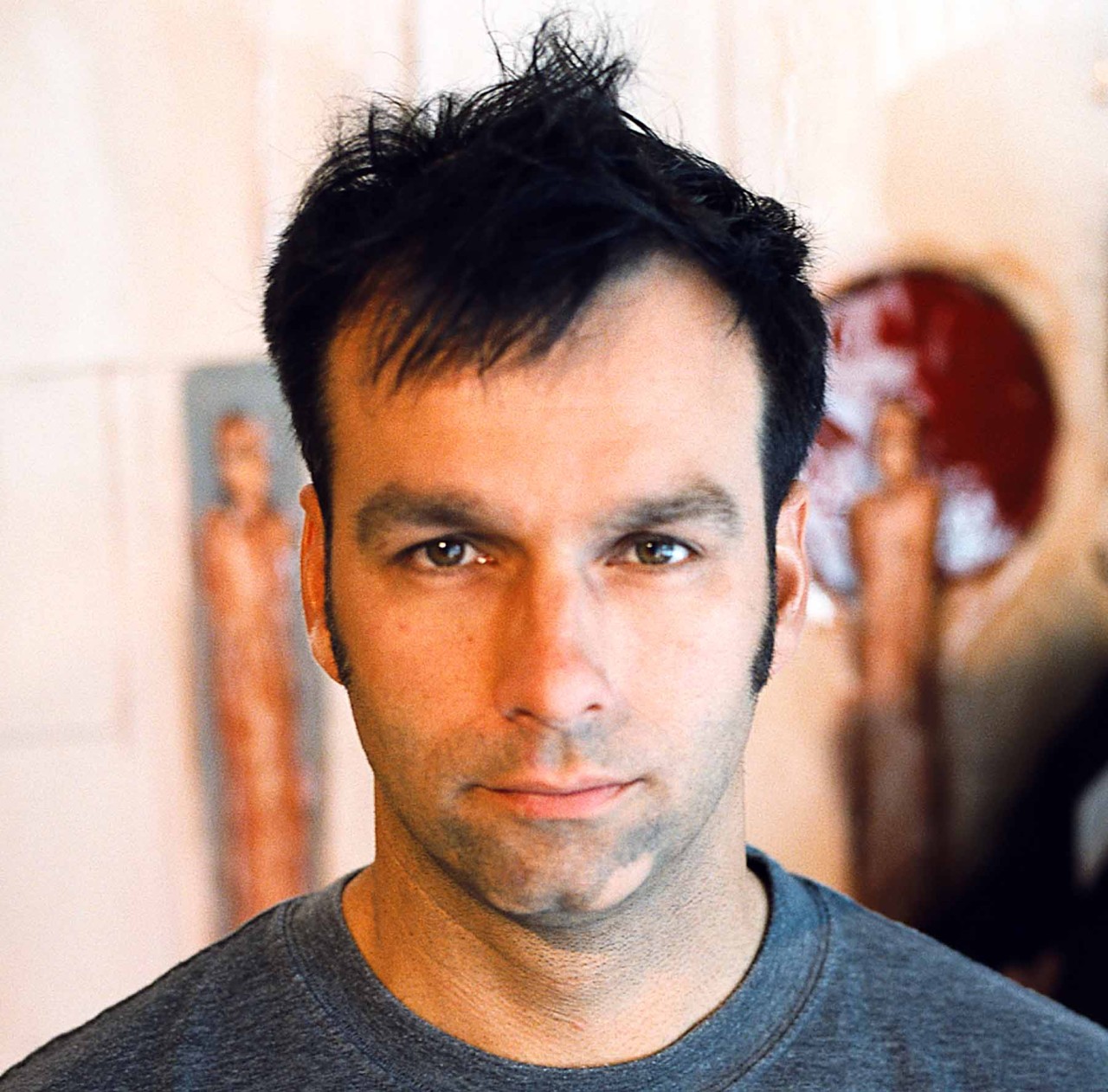 Basé à Montréal, Sylvain Tremblay est un peintre aux multiples talents reconnu internationalement pour ses méthodes distinctes . Il lance en grande première son exhibition "No Gender" dans notre gallerie, le sujet allant de pair avec notre programmation. Nous profitons des derniers préparatifs de l'exposition pour discuter avec lui de l'importance de cette série.Never Apart : Parlez-nous de votre série de peintures NO GENDER.
Dans cette série, j'utilise l'art pour informer et conscientiser la société sur un sujet qui me touche beaucoup ! C'est aussi ma façon de dire que tous les corps sont beaux, quels qu'ils soient. Je n'aime pas voir la souffrance des gens exclus dans notre société et ce projet est une façon pour moi de démontrer qu'il y a une place pour tout le monde.
Pourquoi ce sujet vous tient-il à coeur et de quelle manière avez-vous commencé ce projet?
Tout a commencé au Vietnam il y a plus de quinze ans, alors que j'accompagnais un organisme d'adoption dans un orphelinat. On m'a mis dans les bras un bébé dit hermaphrodite. Autour de nous, les médecins de l'endroit discutaient de son cas : Qu'allaient-ils en faire, une fille ou un garçon ? Cet événement m'a toujours marqué et il y a quelques années j'ai décidé de m'y intéresser de plus près.
C'est important pour moi car je crois que chacun est maître de son corps et nul n'a le droit de décider pour autrui. Surtout lorsqu'il s'agit d'un enfant. C'est à lui seul de décider de son sexe en fonction de son identité sexuelle. Selon moi, aucune décision importante ne devrait être prise sans son consentement éclairé, car les opérations d'assignation sexuelle sont irréversibles.
Qu'espérez-vous accomplir avec l'ensemble de cette oeuvre? 
Que les gens soient déjà un peu plus conscients que cette réalité existe. Et que ça permettra de faire adopter certaines lois, entre autres cesser les opérations de sexes à la naissance ou encore d'éliminer la mention sexe sur les passeports, certificats de naissance et autres documents officiels.
Pourquoi avoir choisi Never Apart pour exposer ces peintures?
La mission de Never Apart cadre tout-à-fait avec celle de NO GENDER. On veut et on se bat chacun à notre façon pour ne pas exclure les gens dans notre société.
À quoi les gens peuvent-ils s'attendre du vernissage et de l'exposition?
Les gens doivent s'attendre à être touchés et troublés par les œuvres. Aussi ils se poseront des questions, se questionneront, certains chercheront à en connaitre davantage et d'autres réaliseront que c'est la réalité qui entoure une personne qui est près d'eux. Cette série de tableaux est composée de six œuvres génériques et de six portraits issus de ces rencontres sur plusieurs continents. Les toiles sont chargées de rouge évoquant le sang qui représente la vie et la mort. La nudité est également très présente dans cette série. Elle exprime l'intégrité du corps humain. Aussi, il se peut que certaines personnes soient choquées… Chaque réaction reste légitime. Je salue le courage des modèles qui ont participé au projet… Je me sens, en quelque sorte, comme un portevoix…
À quel moment et de quelle façon êtes-vous devenu peintre?
Je crois que je suis devenu un peintre autour de mes onze ans lorsque mon grand-père m'a offert les « kits de peinture » de ma grand-mère, qui peignait beaucoup. Peu de temps avant de mourir, elle a fait promettre à mon grand-père de me remettre son matériel lorsque ce dernier jugerait que je serais prêt à le recevoir. Ma grand-mère avait vu en moi très jeune, ce que j'ai découvert à l'adolescence, mais davantage dans ma jeune trentaine. C'est seulement depuis quelques années que je vois toute l'importance de son geste.
Parlez-nous de quelques faits saillants de votre carrière.
Déjà avec ce projet, je suis fier qu'il ait été présenté dans deux festivals, à Douarnenez en France et à Burlington au Vermont et maintenant à Montréal.
En 2015, j'ai offert une œuvre pour l'encan d'un  événement pour amasser des fonds pour deux fondations à Londres. C'est la Duchess of York, Sarah Ferguson qui a acheté l'oeuvre.
D'avoir pu être exposé à l'Exposition Universelle de Shanghai dans le pavillon du Canada, ce qui m'a amené à m'installer plus de deux ans à Pékin. Une belle expérience où j'ai côtoyé de grands artistes chinois. L'oeuvre avait été sélectionnée par le Conseil des Arts du Canada et le Cirque du Soleil.
Comme je vis à Dubaï depuis plus de trois ans, je suis heureux aussi de m'imprégner d'une autre culture et de pouvoir offrir en échange à ma « terre d'accueil » quelque chose de spécial. En 2014,  j'ai fait dans le désert de Dubaï le plus grand portrait du Sheikh fondateur de Dubaï avec l'aide de plusieurs personnes. J'ai utilisé et expérimenté une nouvelle technique, utilisant du sable et de la colle, pour cet événement. Le résultat a été vraiment intéressant.
J'aime sortir de mon atelier et des sentiers battus pour acquérir de l'expérience et de cette façon j'apprends beaucoup. À chaque fois que je tente une nouvelle technique, que j'utilise du matériel qui est nouveau pour moi, je sens que ma carrière évolue.
Vous passez la majorité de votre temps à Dubai, dites-nous en plus.
Il y a maintenant plus de trois ans, l'Université Canadienne de Dubaï m'a proposé de m'installer en tant qu'artiste afin de contribuer au développement artistique de celle-ci et également de contribuer à l'enseignement. Cela me permet de replonger dans l'histoire de l'art et d'être en interaction avec plusieurs autres domaines enseignés à cette université.
Dubaï est une ville qui bouge beaucoup, il y a plusieurs nationalités qui vivent ensemble dans la même ville, ce qui devient fort intéressant pour moi et m'apporte une énergie différente pour la création de mes œuvres.
Quels sont vos espoirs et vos attentes pour le projet NO GENDER?
Mon équipe et moi… car je ne suis pas seul dans ce projet, nous désirons que cette installation se promène dans le plus de villes à travers le monde. Naturellement, nous aimerions beaucoup voir cette exposition dans les musées… Plus elle sera vue, plus les gens seront conscients et moins les exclus souffriront.
Que pouvons-nous attendre d'autre de vous dans un avenir proche?
Je travaille depuis un an sur un nouveau projet, le tout est encore embryonnaire, je ne veux pas dévoiler mon punch pour le moment, mais je pense que ça plaira beaucoup. Bien sûr je continue à collaborer avec les galeries d'art, quelques nouveautés se trouveront en galerie d'ici peu !
Finalement, un premier livre sur Sylvain Tremblay a été publié en 2008 et je me sens prêt pour le Tome II; on espère pouvoir le sortir d'ici la fin de l'année 2016, ce sera un beau cadeau à offrir aux fêtes l'an prochain… Ahahah ! 😉