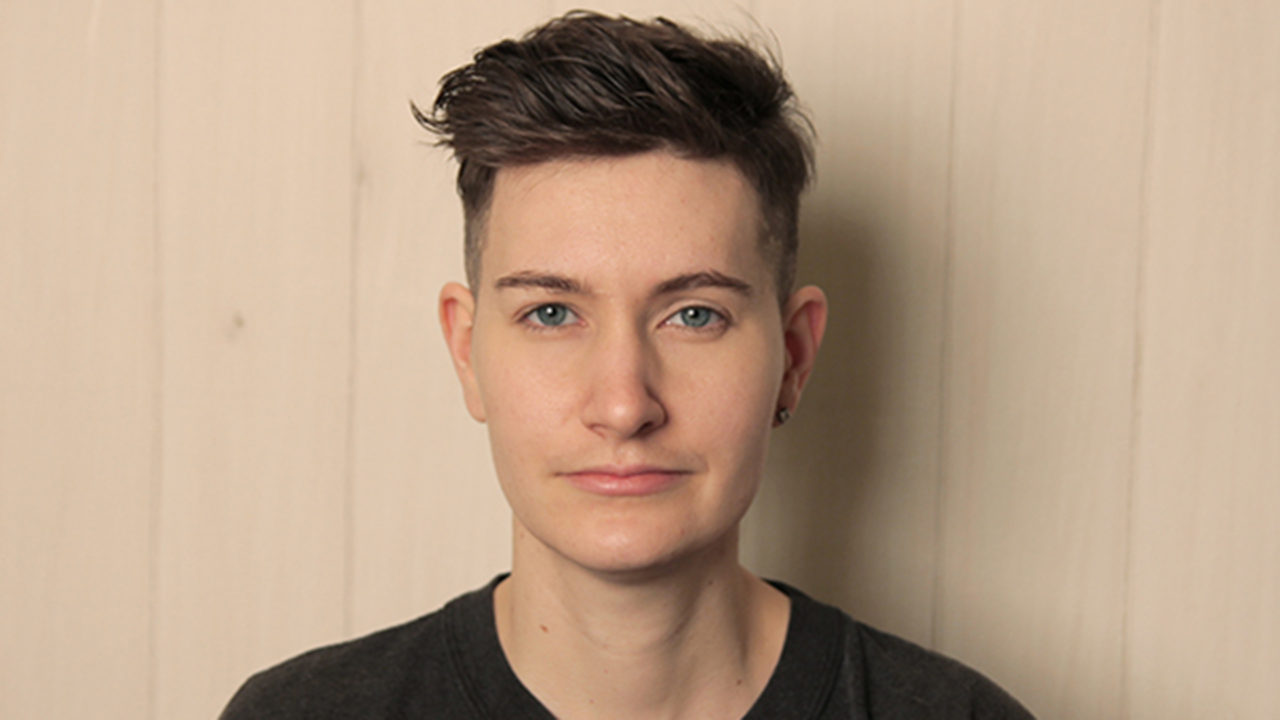 Like a prism, the concept of 'non-binary' shines light on the multitude of gender expressions existent throughout humankind. As the saying goes, we are like snowflakes. Kindred to the trans and intersex communities, those self-identified as non-binary are the living embodiment beyond the traditional and often toxic ideas of what it means to be either 'male' or 'female'. Montreal based artist JJ Levine is yet another example of authentic and creative  uniqueness, with six photographs from their series 'Alone Time', now on until January 2017 as part of the 'Non-Binary' exhibit at Never Apart. Three pieces are from the original 2007 incarnation of the project, and for the first time newer images are being exhibited in Montreal. To Levine, the concept of non-binary means "thinking around, between, outside, and beyond the rigid categories of male and female". Levine's practice balances a radical agenda with a strong formal aesthetic.
Approached by Olivier Gagnon from NVA to participate in the exhibition, Levine had heard of the gallery, though hadn't previously been in the space. Happy to have the opportunity to work with the curatorial team at NVA and to see this particular exhibition through from early planning to fruition, Levine thinks different people will take different things away from the exhibit. "I want trans, gender-queer, and non-binary people to feel a connection to my work. To see aspects of their identity and experience of gender represented in my images. I want straight, cis people to call into question their preconceived assumptions about bodies, attraction, sexuality, and gender essentialism. And to expand their understanding of the gender binary. I want everyone to question the stability of their own gender."
Levine's work is having that very affect with shows opening in Mexico City at the Spanish Cultural Centre with the theme of trans and gender non-conforming subjects, as well as other images from their series 'Alone Time' currently on display at Confluences Gallery in Paris as part of an exhibit called 'Trans Time'. "What I'm working on at the moment, however, is a solo show at La Centrale Powerhouse Gallery in Montreal, which is very different, more personal work." 
Citing friends, family, queer and non-binary people everywhere as inspiration, 'Alone Time' is a series of brightly coloured photographs of couples sharing intimate interactions of domestic life. The images of each 'couple' is actually a single model appearing as both the male and female character. "My project questions the mainstream depiction of binary gender roles. This conceptual decision to double the gender presentation of a single body challenges normative ideas surrounding gender presentation and instead implies that gender expression can be fluid and multiple." Capturing complex emotional relationships with friends, lovers, and siblings, Levine's work explores questions about queer space often marginalized within the public sphere.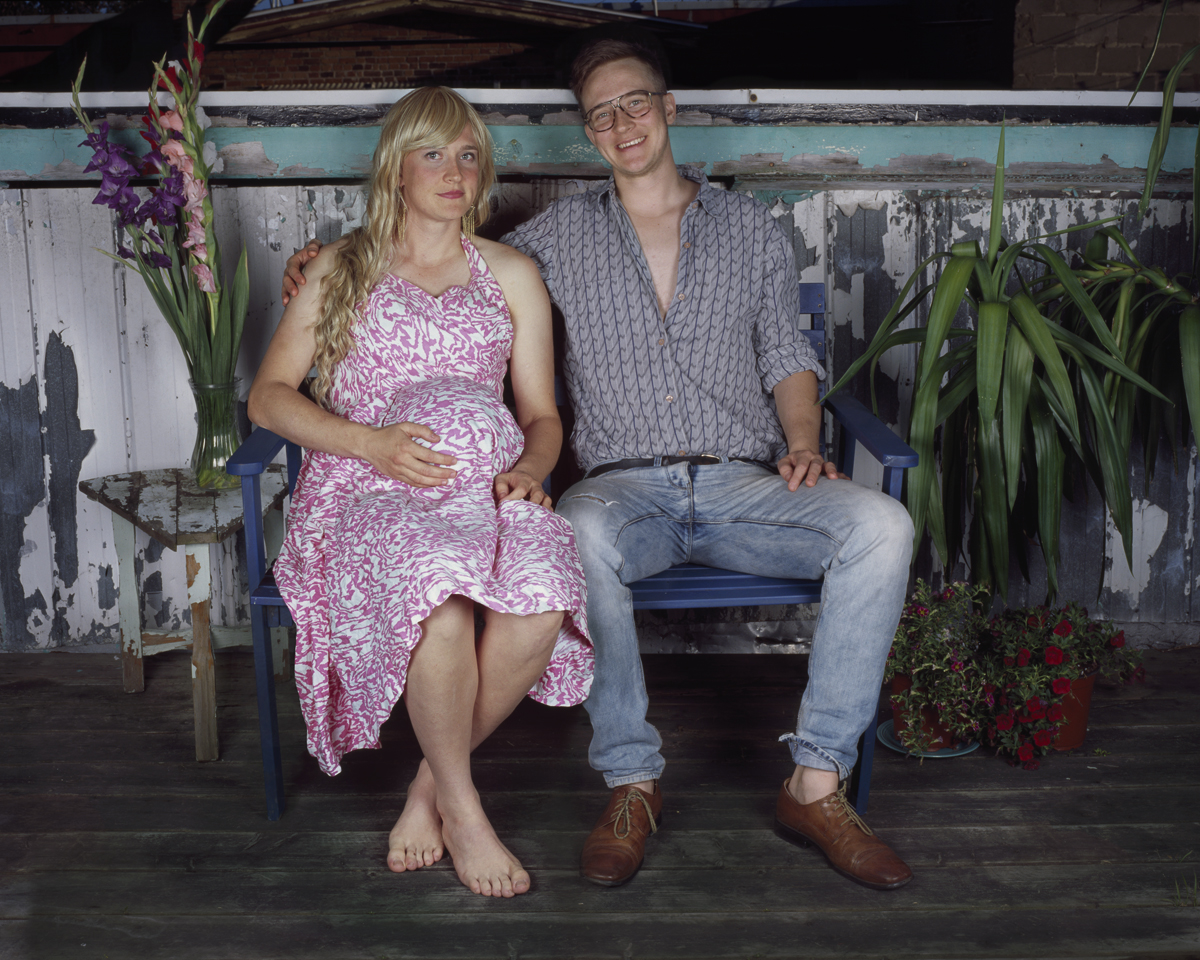 Comme le fait un prisme, le concept de non-binaire met en lumière la multitude d'expressions de genre qui existent à travers l'humanité. Tel que le dit l'expression, nous sommes comme des flocons de neige. Apparentés aux communautés trans et intersexes, ceux qui s'identifient comme non-binaires sont l'incarnation vivante qui va au-delà des idées classiques et souvent toxiques de ce qui constitue être mâle ou femelle. L'artiste montréalais JJ Levine se trouve à être un autre exemple d'unicité authentique et créative, avec six photographies tirées de leur série Alone Time, à l'affiche jusqu'en janvier 2017 dans le cadre de l'exposition Non-Binary à Never Apart. Trois pièces proviennent de la première présentation du projet en 2007 et de nouvelles images seront présentées pour la toute première fois à Montréal. Pour Levine, le concept de non-binaire signifie de « penser autour, entre, en dehors et au-delà des démarcations rigides de masculin et féminin. » L'ensemble de l'oeuvre de Levine fait l'équilibre entre un programme radical et une forte identité esthétique formelle.
Avant l'invitation d'Olivier Gagnon de NVA à participer à l'exposition, Levine avait déjà entendu parler de la galerie, mais n'y avait pas encore mis les pieds. Heureux d'avoir l'opportunité de travailler avec l'équipe de NVA et de voir l'évolution de cette exposition, de sa conception jusqu'à son lancement, Levine croit que des personnes différentes en retireront des choses différentes « Je veux que les gens trans, gender-queer et non-binaire ressentent un lien avec mes oeuvres. Qu'ils reconnaissent des facettes de leur identité et leurs expériences dans mes images. Je veux que des personnes hétérosexuelles et cissexuelles remettent en cause leurs notions préconçues à propos des corps, de l'attirance, de la sexualité et l'essentialisme de genre. Et également d'approfondir leur compréhension de la binarité de genre. Je veux que tout le monde remette en question la stabilité de leur propre genre. »
Les oeuvres de Levine ont précisément cet effet, avec une exposition au Spanish Cultural Centre de Mexico ayant pour thème des sujets non-conformistes sexuels et trans et certaines images de la série Alone Time présentement à l'affiche à la Galerie Confluences à Paris dans le cadre d'une exposition intitulée Trans Time. « Mais en ce moment, je travaille en fait sur une exposition solo à La Centrale Galerie Powerhouse de Montréal, qui s'avère être très différente et très personnelle. »
Citant ses amis, sa famille et des gens queer et non-binaires de partout comme source d'inspiration, Alone Time est une série de photographies aux couleurs vives qui présentent des couples partageant des moments intimes de la vie domestique. Les images de chaque couple sont composées en fait d'un seul et même modèle qui apparaît sous les traits du personnage masculin et aussi ceux du personnage féminin. « Mon projet remet en cause la représentation courante des rôles binaires de genre. Ce choix conceptuel de doubler la présentation de genre d'un même corps défie les idées normatives qui entourent cette présentation et sous-entend plutôt que l'expression de genre peut être fluide et multiple. » Capturant des relations affectives complexes avec des amis, des amants et des membres de sa famille, l'oeuvre de Levine explore des questions au sujet de l'espace queer, souvent marginalisé dans la sphère publique.