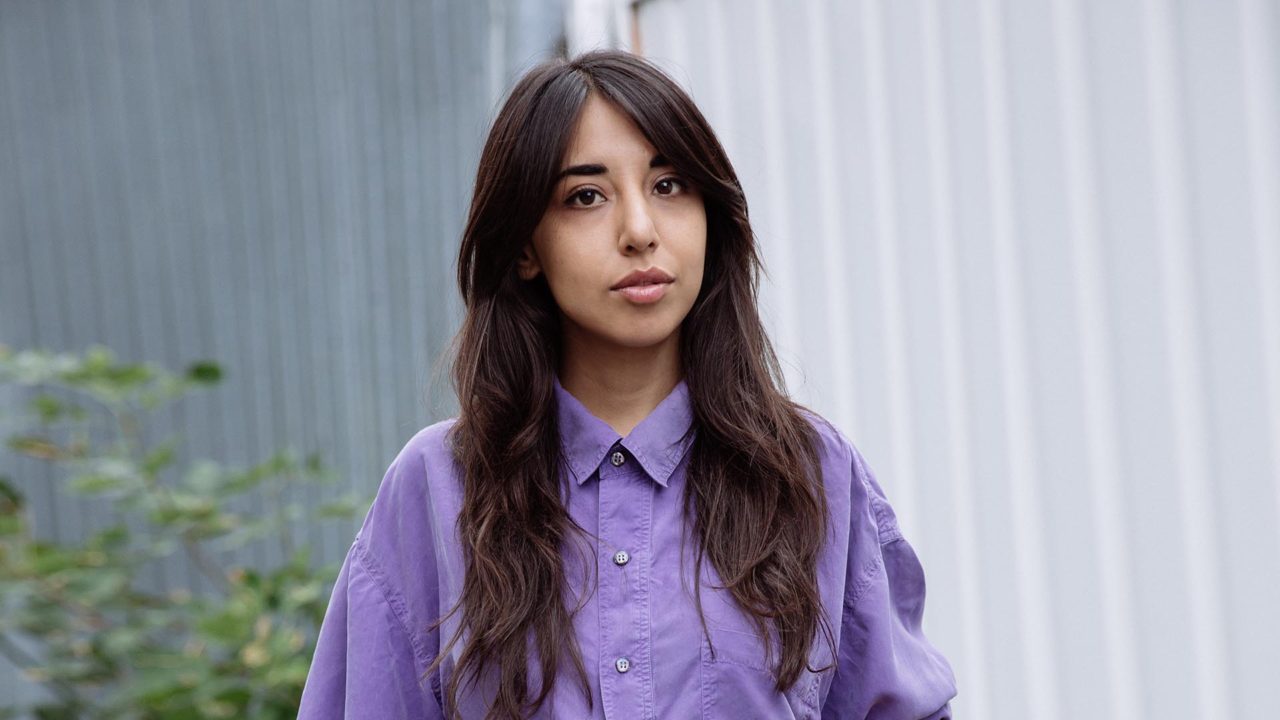 'Word of the Pig' is an audiovisual experiment that attempts to generate temporary autonomous zones. It borrows the language of performance art, film and installation to either excuse or explain various outcomes. Laura Acosta's series of 'street operas' have been performed in public spaces around Montreal and compiled into a short film that will be shown at Never Apart, with an opening vernissage October 6th. Each performance follows a structure composed of an 'object', a 'subject' and a 'trigger', interacting with each other with undetermined outcomes. Executed in places of transit, with artificial lighting and no permission, Lacosta investigates how space can be negotiated and appropriated through play.
"'Word of the Pig' is the aesthetic result of an investigation about spatial relations, fictions of public and private, difference and equality, limits and translation. The absurd relations we have with things that are near and far from us; how we obey and how we resist an imposed system." Play and dislocation are central themes of Acosta's work, with the act of viewing the film being a performance in itself. "The screening of 'Word of the Pig' will attempt to challenge the audience to inhabit space subjectively. The performance will take shape when everyone is a bit confused, giggles a little and chooses what to do next." Both the film and the installation in the Upstairs Gallery Vitrine are the traces of the street operas, physical regurgitations of the impulse to take over public space with surrealism, colour, sound and movement.
"As an immigrant Colombo-Canadian woman, I am fascinated (entrapped) by the notion of how we choose to represent ourselves and how identity is built." After completing an undergrad focused on textiles and sculpture at NSCAD University in 2011, Acosta began using fiber techniques such as crochet, knitting and embellishment in order to decorate and distort the body. Time spent in South America (Argentina, Uruguay, Colombia, Peru) exposed her to live arts and street theatre. "I assembled a cast of forms that prevented the body from navigating space coherently. You couldn't see, breathe or hear properly with them on. These became tools for unscripted performances that intervened public spaces." Captivated with the perfection of everyday life, Acosta is interested in how a place can become a different space when an uncanny element is introduced. "When confronted with an irregularity in a familiar place, the public not only sees that space differently but begins to assess how to navigate it differently as well. The masks became attractors of expectation, exposing what expectations tell people about themselves. Although I am a maker I believe my work is about relations and interaction, which is why I was drawn to the multi-disciplinary experimental platform NVA provides."
Lacosta's work is progressively moving from a search of cultural identity into a realm of absurd liminality. Whichever objects she makes or aesthetic she pursues, she likes to craft things and make connections between them and the context they are in through games. "After creating a series of masks, I became uncomfortable with the fact that they were regarded as costumes. I looked at them as sculptures that appropriated the body and used it as a nomadic podium in order to be exhibited. In the end however, the forms couldn't escape their idiosyncrasy of being masks."
During her completion of an MFA at Concordia, Acosta envisioned how a sculpture or object could be activated through a person without it being worn or used functionally. She crafted forms with arbitrary functions, such as spinning or sliding, which could only be triggered as a consequence of the movements of a person. "I really like working with regular people instead of dancers or actors as a means to eradicate virtuosity and achieve an honest performance. I used to perform myself but now I am more interested in stimulating others in order to see how different bodies react to different contexts."
The action of an irregular or unknown form navigating a space playfully, has cinematic qualities that Acosta decided to indulge in by documenting and editing performances into an audio-visual product. "Lately, I have been really interested in playing with how these short films can be presented; what that experience can be like for the viewer, how many senses can be reached without providing any specific narrative."
Influenced by Disney, telenovelas, and pedestrians, Acosta hopes to delve more into video and sound work, as well as direction and production of experimental performances, such as participating in Wiggle with her collaborator Danica Olders under their performance collective VanGo. "It was an unforgettable night. Wiggle is an event that groups together avant-garde performance and costume design in an inclusive and extremely fun way. Usually in exhibition spaces the audience attends to see art and then mingles to speak about it. Wiggle flips that structure on its head as it felt like a party where art itself attended to mingle with the crowd. VanGo's performances are bizarre and a little disruptive, and during Wiggle we had a chance to bounce off the walls while being surrounded by talent. The work that Michael Venus and NVA are doing as far as building community around art that lays at the fringe of the contemporary sphere is inspiring."
Word of the Pig est une expérience audiovisuelle qui tente de générer des zones autonomes temporaires. Elle reprend le language du spectacle, du cinéma et de l'installation artistique pour excuser ou expliquer divers résultats. La série d'opéras de rue de Laura Acosta a été réalisée dans des endroits publics montréalais et a été compilée en court-métrage qui sera présenté à Never Apart, à la suite d'un vernissage d'ouverture le 6 octobre. Chaque prestation suit une structure composée d'un objet, d'un sujet et d'un élément déclencheur qui interagissent vers des résultats indéterminés. Prenant place dans des lieux de transit, avec de la lumière artificielle et sans aucune permission, Lacosta examine comment un espace peut être négocié et approprié par le jeu.
Word of the Pig est le résultat créatif d'une recherche sur les relations spatiales, les fictions du publique et du privé, la différence et l'égalité, les limites et la traduction. Les relations absurdes que nous avons avec les chose qui sont près ou loin de nous, comment nous obéissons et résistons à un système imposé ». Le jeu et la dislocation sont des thèmes centrals des oeuvres de Lacosta, l'action de voir le film étant une prestation en elle-même. « La projection de Word of the Pig tentera de défier l'audience à occuper l'espace de manière subjective. La prestation prendra forme lorsque tout les spectateurs seront confus, ricaneront un peu et décideront de leurs prochains gestes. » Le film et l'installation dans la vitrine de la Galerie supérieure découlent des opéras de rue, des régurgitations physique de l'impulsion de prendre d'assaut un espace public avec surréalisme, couleurs, sons et mouvements.
« En tant qu'immigrante Colombo-canadienne, je suis fascinée par comment nous choisissons de nous représenter et comment notre identité est construite. » Après avoir complété un premier cycle à l'université NSCAD axé sur les textiles et la sculpture en 2011, Lacosta a commencé à utiliser des techniques de fibres comme le crochet, le tricot et l'enjolivement pour décorer et déformer le corps. Du temps passé en Amérique du Sud – en Argentine, en Uruguay, en Colombie, et au Perou – ) lui a fait connaître l'art vivant et le théâtre de rue. « J'ai réuni un ensemble de formes qui empêchaient le corps de se mouvoir de façon cohérente. On ne pouvait ni voir, ni respirer, ni entendre normalement en les portant. Ils sont devenus des outils pour des prestations improvisées dans des espaces publics. » Captivée par la perfection du quotidien, Lacosta est intéressée par comment un endroit devient un tout autre espace lorsqu'un élément étrange y est introduit. « Lorsque confronté avec une irrégularité dans un lieu familier, le public ne voit pas seulement l'espace différemment, mais commence aussi à déterminer comment y naviguer différemment. Les masques deviennent des attracteurs d'attente, exposant les attentes que se disent les gens à leur propre sujet. Mais si je suis un créatrice, je crois que mon oeuvre est directement lié aux relations et à l'interaction, ce qui est pourquoi je suis attirée vers la plateforme expérimentale multidisciplinaire que NVA offre. »
Les oeuvres de Lacosta ont évolué progressivement de la recherche d'un identité culturelle au domaine de la liminarité absurde. Peut importe l'objet qu'elle fabrique ou l'esthétique qu'elle cherche à atteindre, elle aime créer des choses et faire des rapprochements entre ces derniers et le contexte dans ils existent à travers le jeu. « Après avoir créé un série de masques, j'ai été mise mal à l'aise par le fait qu'ils soient vus comme des costumes. Ils étaient pour moi des sculptures qui s'étaient approprié le corps et l'utilisaient comme un podium nomade pour être exposés. Malgré cela, ces formes ne pouvaient pas échapper l'idiosyncrasie d'être des masque. »
Durant sa maîtrise en beaux-arts à Concordia, Lacosta a imaginé la manière dont une sculpture ou un object pouvait être activé par une personne sans être porté ou utilisé de façon fonctionnelle. Elle a fabriqué des formes aux fonctions arbitraires, comme de tournoyer ou de glisser, qui ne pouvaient être déclenchées qu'en conséquence aux mouvements d'une personne. « J'aime vraiment travailler avec des gens ordinaires plutôt qu'avec des danseurs ou des acteurs en tant que moyen d'éliminer la virtuosité et d'obtenir une interprétation honnête. J'avais l'habitude de participer, mais je suis maintenant plus intéressée à stimuler les autres pour voir comment de différents corps réagissent à des contextes différents. »
Une présence irrégulière ou inconnue naviguant joyeusement dans un espace a des qualités cinématographiques auxquelles Lacosta a décidé de s'adonner en documentant et en montant des prestations en un produit audio-visuel. « Ces derniers temps, j'ai été très intéressée par comment ces courts-métrages peuvent être présentés de façon différente; ce que l'expérience peut être chez le spectateur, combien de sens peuvent être touchés sans fournir de récit défini. »
Influencée par Disney, les telenovelas et les piétons, Lacosta espère aller de l'avant avec d'autres oeuvres vidéo et audio, de même qu'avec la réalisation et la production de prestations expérimentales semblables à sa participation à Wiggle avec sa collaboratrice Danica Olders pour leur collectif artistique VanGo. « C'était une soirée inoubliable. Wiggle est un événement qui regroupe des prestations avant-gardistes et de la création de costume d'une manière inclusive et vraiment amusante. Le processus habituel dans un espace d'exposition est que les gens y vienne pour regarder de l'art et en discuter en petits groupes. Wiggle chamboule le tout en étant une fête où on a l'impression que l'art lui-même prend un bain de foule. Les prestations de VanGo sont étranges et subversives et nous avons eu la chance de nous éclater à Wiggle tout en étant entourés de talent. Le travail que Michael Venus et NVA font en termes de construire une collectivité autour de formes d'art en marge de la sphère contemporaine est inspirant.