Saladinsane Sally and Leah McFly: Look at Ha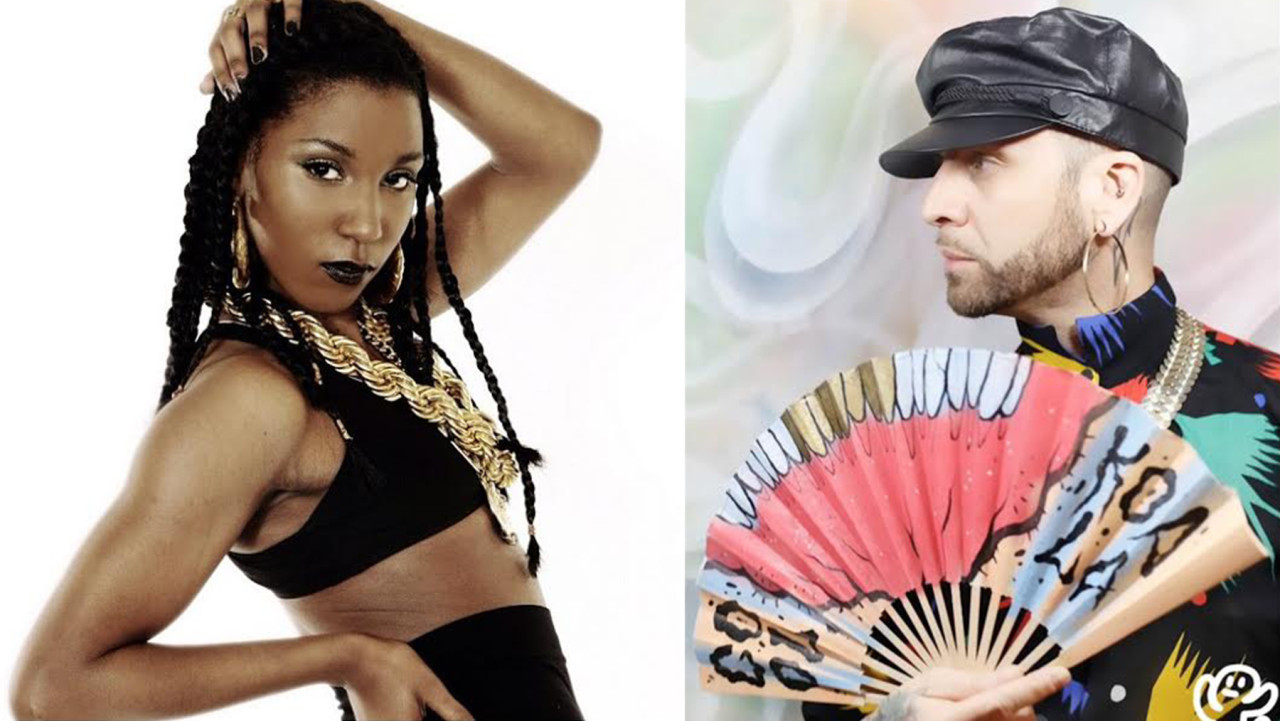 Never Apart's Vogue event with organizers Sally (Motherdust Productions) and Leah (McFly Productions)
What happens when dance moves from an underground culture make it to the mainstream? Voguing was born in Harlem's black and latino drag queen ballroom scene as early as the 1960's and 70's, but many young people (or anyone who hasn't explored contemporary dance history) still think it's a dance that Madonna made popular in 1990–outrageous!
Voguing was inaugurated by New York drag queens, but has been appropriated by pop stars the world over. It's something people from all walks of life can get into, but it's always better when new fans of Voguing get their facts straight and learn the history from credible sources. It's for this reason Never Apart, in collaboration with Motherdust Productions and McFly Productions, is proud to present Montreal's first ever Voguing workshop called Look at Ha, a name that honors famed 1960's Ballroom Queen, Crystal LaBeija (Google immediately if you don't know her).
Vogue balls certainly aren't a common sight in Montreal despite the city's progressive LGBT culture–but that's about to change. Look at Ha will be Montreal's very first Vogue workshop, and will be hosted and organized by professional dancer Leah McFly, AKA Waakeisha, and Sally Saladin, affectionately known in the club world as Motherdust. The event pays homage to all the trailblazers who knew how to strike a pose long before Madonna made it mainstream.
Guests attending Look at Ha (a two-day experience) will get to learn from some seriously credible talent. The workshop will kick off with an artist talk and Q&A with famous Voguers Javier Ninja (from House of Ninja), Leiomy Maldonado (the inspiration behind Beyonce and Willow Smith's head whipping moves). Guests will then get a coveted dance lesson to the beat of famous Vogue DJ, MikeQ. The weekend ends with a ball party that's sure to include dance battles, and, well, probably a little bit of everything that happens when a party features the world's best Voguers and nightlife experts.
"We're organizing this event to bridge the gap between what people know about the old style of Voguing as well as the new style," says Leah. "This is all about shining the light on the roots of Vogueing and introducing it to people in Montreal…it also gets people out of the house! Too many people are staying in and watching Netflix these days, and maybe that's because parties and nightclubs haven't been offering a unique experience. This one will be highly entertaining."
Leah and Sally know a thing or two about bringing life to a party. Leah, a professional dancer known for Waacking (a dance style with close ties to Voguing) has choreographed dances for Karl Lagerfeld and Vivienne Westwood during London and Paris Fashion weeks, and manages the dance troupe Imperial House of Waacking. She also founded the Montreal 90's party called Chocolate Jungle.
Waacking emerged during the Motown disco era (think funky backup dancers grooving behind Diana Ross) and Leah says it lended her a more "feminine edge" to her previously more aggressive hip hop style. You can watch Leah and the Imperial House of Waakingkick off the after party following the workshop. "What's great about Voguing and Waacking is that even though these are getting more commercial and the music is changing, dancers are still really true to the classic roots. Yes, it's evolving, but a lot of the moves and styles are preserved from the 80's and 90's which is kind of the golden era of Voguing."
Sally, our other host and organizer for the weekend, hails from Paris, London and Madrid, and is well known in Montreal for founding the notorious GayBash parties along with partner Tyler Crissy Clarke. An honourable mention goes out to her other hit parties: OCHO, Mugshot, Dazzle. "My mom used to throw mega parties back in the 70's…I think I got the passion for this from my mother. The GayBash parties I used to put on were really free spirited, and all kinds of people came and just let loose…I notice lately there's a bit of an uptight vibe at a lot nightclubs–where are all the people dancing and getting freaky? I really want to bring back the feeling of freedom that existed when I was a fixture in Europe's nightlife scene back in the 80's and 90's."
So what can people expect from the Look at Ha workshop and party? "It's about fun! Just have a good time and let your colours shine without caring what people think–love is the message, let's bring people together," says Sally. Guests can also expect some fashion and frivolity, as attendees are encouraged to rock their most outrageous outfits–fashion plays a significant part in Vogue culture.
This event is all about education and self expression. "People are really into learning about what's new, but I think they'll gain a lot more if they know about the old school styles. I'm excited to work with people who are passionate, and who are hungry to learn and to express who they are. Hopefully some people will really get into it and dress up, and fire up the Vogue scene in this city!" expresses Leah.
For those who are wondering, can authentic Voguing finally start to happen in Montreal? Here's a chance to channel your inner Crystal Labeija, your inner Vogue Queen, and playfully throw a little shade as you strike a pose and say, Look at ha!
Due to unforeseen circumstances, "Look at Ha" Vogue Experience Weekend has been cancelled. We apologize for any inconvenience. If you have purchased the weekend pass, your payment has been refunded.
Événement Vogue de Never Apart organisé par Sally de Motherdust Productions et Leah de McFly Productions
Qu'arrive-t-il quand des mouvements de danse d'une culture underground deviennent connus de tous? Le Voguing est né à Harlem dans les bals de drag queens noires et latines dans les années 60 et 70, mais beaucoup de jeunes gens, ou même quiconque peu versé dans l'histoire de la danse contemporaine, continuent de croire que c'est une danse que Madonna a popularisé en 1990- scandaleux!
Le Voguing a été crée par des drag queens de New York, mais des vedettes de musique pop à travers le monde se l'ont approprié. Les gens de tous horizons peuvent s'y mettre, mais c'est toujours mieux lorsque les nouveaux amateurs de Vogueing ont l'heure juste et apprennent son histoire de sources crédibles. C'est pour cette raison que Never Apart, en collaboration avec Motherdust Productions et McFly Productions, est fier de présenter le tout premier atelier montréalais de Voguing intitulé Look at Ha, un nom qui rend hommage à Crystal LaBeija, célèbre Ballroom Queen des années soixante. Si elle vous est inconnue, de grâce faites immédiatement une recherche Google.
Les bals Vogue ne sont certainement pas spectacle courant à Montréal malgré la culture LGBT progressive de la ville, mais ceci est sur le point de changer. Look at Ha sera le premier atelier de Vogue à Montréal et sera animé et organisé par la danseuse professionnelle Leah McFly, également connue sous le nom de Waakeisha, ainsi que par Sally Saladin, ou Motherdust pour les initiés du monde club. L'événement rend hommage à tous les précurseurs qui savaient comment poser avec attitude avant que Madonna ne le démontre au grand public.
Les invités participant à Look at Ha (d'une durée de deux jours) pourront apprendre de talents sérieusement crédibles. L'atelier débutera par une discussion et une séance de questions avec les célèbres Voguers Javier Ninja de l'House of Ninja et Leiomy Maldonado qui est l'inspiration derrière les mouvements de tête endiablés de Beyoncé et Willow Smith. Les participants recevront ensuite une leçon de danse très prisée aux rythmes de MikeQ, célèbre DJ Vogue. La deuxième journée se terminera avec une soirée bal qui est garantie d'inclure des dance battles et, disons-le, probablement un peu de tout ce dont on peut attendre d'une fête qui réunit les meilleurs Voguers du monde et des experts de la vie nocturne. 
« Nous organisons cet événement pour combler le fossé entre ce que les gens connaissent de l'ancien style de Voguing et le nouveau, dit Leah. « Pour faire la lumière sur les racines du Voguing et y initier les gens de Montréal… et ça fait sortir les gens de chez-eux! De nos jours, beaucoup de personnes restent à la maison et regardent Netflix; la raison est peut-être que les fêtes et les boîtes de nuits n'offrent pas une expérience unique. Celle-ci sera infiniment divertissante. »
Leah et Sally s'y connaissent un peu sur ce qui met de la vie dans une soirée. Leah, une danseuse professionnelle connue pour le Waacking (un style de danse qui entretient d'étroits liens avec le Voguing), a chorégraphié des danses pour Karl Lagerfeld and Vivienne Westwood durant les Semaines de la Mode de Londres et Paris, et gère la troupe de danse Imperial House of Waacking. Elle a aussi créé la soirée montréalaise Chocolate Jungle, inspirée des années 90.
Le Waacking est né durant l'ère disco de Motown (pensez aux danseurs branchés se mouvant derrière Diana Ross) et Leah racontequ'il a apporté une touche féminine à son style hip hop qui était auparavant plus agressif. Vous pourrez regarder Leah et l'Imperial House of Waaking qui ouvriront la soirée de clôture suivant la fin de l'atelier. « Ce qui est génial du Voguing et du Waacking c'est que même si ces styles deviennent plus commerciaux et que la musique change, les danseurs restent très fidèles aux racines classiques. Oui, il y a une évolution, mais beaucoup des mouvements et des styles des années 80 et 90, sensiblement l'âge d'or du Voguing, sont préservés. »
Sally, aussi animateur et organisateur de l'atelier, nous vient de Paris, Londres et Madrid et est bien connu à Montréal pour avoir fondé les soirées notoires GayBash avec son partenaire Tyler Crissy Clarke. Une mention honorable doit être émise pour ses autres soirées réussies: OCHO, Mugshot, Dazzle. « Ma mère avait l'habitude d'organiser des énormes fêtes dans les années 70… Je pense que c'est d'elle que j'ai hérité de cette passion. Les soirées GayBash que j'organisais étaient très libérées et toutes sortes de gens y venaient pour y lâcher leur fou. J'ai remarqué dernièrement qu'il y a une ambience plutôt coincée dans beaucoup de boîtes de nuit… Où sont passés les gens qui dansent et qui s'éclatent? J'ai vraiment envie de relancer cette sensation de liberté qui existait dans la vie nocturne européenne des années 80 et 90 quand j'y étais un habitué.
À quoi les gens peuvent-ils donc s'attendre de l'atelier Look at Ha et de la soirée? « C'est avant tout pour le plaisir! Amusez-vous et laissez libre cours à votre individualité sans vous soucier de ce que les gens pensent. L'amour est le message, rapprochons les gens. » dit Sally. Les invités peuvent aussi s'attendre à de la mode et de la frivolité puisque les participants sont encouragés à porter leurs tenues les plus extravagantes, la mode ayant toujours joué un important rôle dans la culture Vogue.
Cet événement est destiné à l'éducation et l'expression personnelle. « Les gens sont toujours intéressés à découvrir ce qu'il y a de nouveau, mais je crois qu'ils gagneront davantage s'ils sont familiers avec les styles de la vieille école. J'ai hâte de travailler avec des gens qui sont passionnés et ont soif d'apprendre et de s'exprimer. En espérant que certaines personnes en deviendront mordus, s'habilleront et exalteront la scène Vogue dans cette ville! » explique Leah.
Pour ceux qui s'interrogent si du Vogueing authentique peut enfin commencer à se produire à Montréal? Voici la chance de réveiller la Crystal Labeija et la Vogue Queen en vous, de s'amuser à se la jouer tout en prenant la pose et de dire Look at ha!