Village Paradise at Fierté Montreal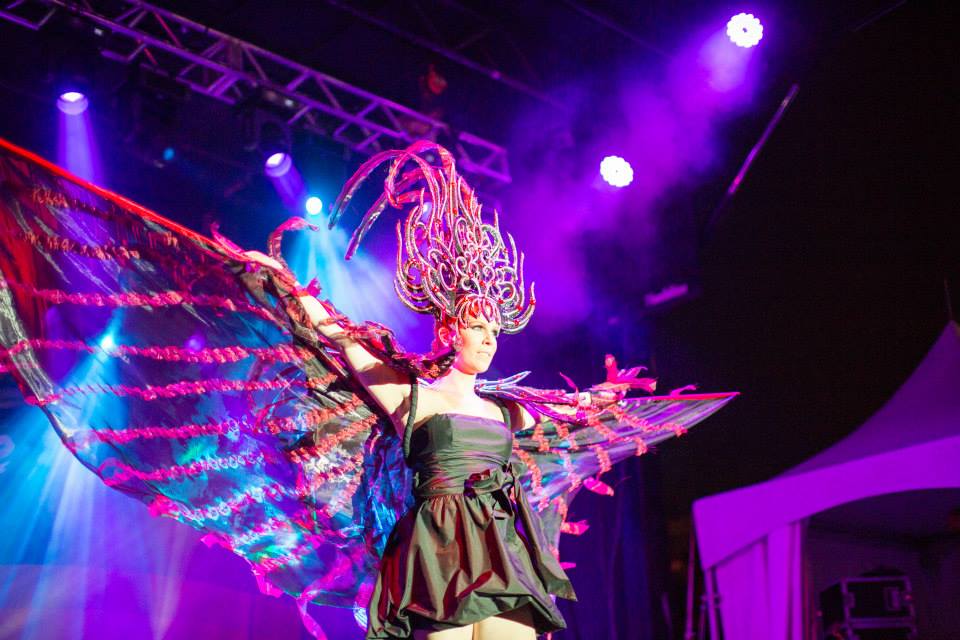 Never Apart was lucky enough to work with Fierté (Pride) this year, and we had our very own stage called "Village Paradise" that took place on Friday August 14th at Place Émilie-Gamelin. Our stage theme was based on Paradise Garage (the Legendary NYC House club) and we also celebrated diversity with another theme – "Birds of Paradise". Birds of Paradise are beautiful shape-shifting birds, and we thought the idea of these birds related well to our Village Paradise stage.
The stage featured a dynamic cast of entertainers, both local and international, who represented many different facets of Never Apart. Our hosts for the evening were local gender blender and punk rock legend Plastik Patrik, and Trans Icon Candis Cayne, who was also one of the Grand Marshals for Montreal Pride Week. We also had the amazing Barbara Tucker come all the way from Ibiza, and NYC's Cazwell and Amanda Lepore who performed many of their hit songs. From Toronto, Regina of Light Fires came blazing in as did Scott Fordham and his fabulous dancers. It was quite the spectacle!
Some of the most noteable eye-catching attractions were the intricate "Birds of Paradise" costumes. Three performers, Plastik Patrik, Mikela Jay, and Jordan King, donned the feathery creations and dazzled the crowd as they came on stage during the dramatic intro. The costumes were created by Sylvain Brochu, a local designer.
"When the Never Apart team offered me this project, I was instantly thrilled. I jumped into my research of images and inspirations, and then built this mood board to guide the creation process. We came up with this idea of fabricating hand-made, environmentally friendly vegan feathers. The three artists who wore them really embodied the unique and flamboyant nature of Birds of Paradise," says Sylvain.
As an artist and designer, the ultimate satisfaction is seeing the creation in action, and watching people enjoy it, or so it is for Sylvain. "It was such an honour for me to see my costume creations on stage at Fierté. 'Flawless' is definitely the perfect word to describe how they were flowing and moving. To see how those one-of-a-kind wings and those famous hand-made vegan feathers (as we called them) were so beautifully catching the wind while the artists were performing was pretty moving. I just love working with eccentric people, it's so inspiring!"
Montreal's Pride was a great way for NVA to announce our presence within the community, and an incredible opportunity to meet and work with wonderful people and volunteers. It was important for us to offer the city an alternative, with high profile names and a showcase to remember.
Guests at NVA can still enjoy Sylvain's brilliant costumes, as they are on display in the museum-style showcase on the second floor as a semi permanent installation. "What a treat for a designer to be able to see his creations being admired in a dedicated glass cube space. They're so beautifully installed in such a stunning modern building and gallery," expressed Sylvain.
Never Apart hopes to be involved in Fierté every year, as it is such a jubilant yet important celebration. Although LGBT rights have come so far, we believe that they still have a long way to go for complete acceptance and equality.
See more photos!