In Spirit: The Journey Begins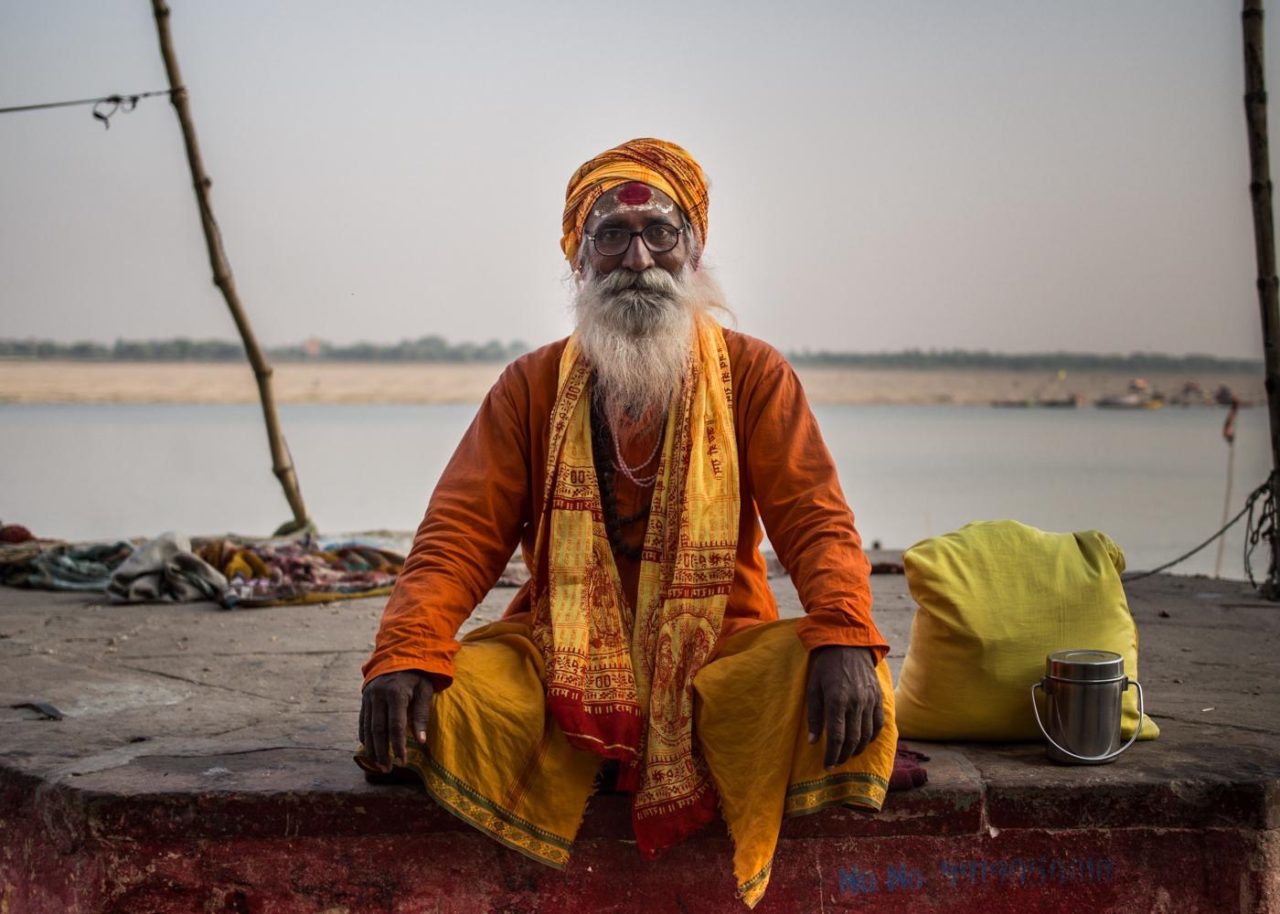 What is striking in India, is how people look at you… They look at you right in the eyes and in most cases they don't smile. They are here. The kids have the shape of children, but their look is the one of a human being who has lived so many things already. In adults' gaze, you can feel the weight of time and experiences. Some are here for tourists and extort money from them, others are just doing their life activities – going about one's business – and you happen to cross their path on the way to a small village in the mountains.
I went to India during the winter of 2015 for three months in order to make some anthropological research in sites that brought my attention and study with knowledgeable scholars. My main interest: the non-dual tradition from Kashmir and the esoteric teachings of the yoginis.
For most of my journey I travelled alone. I like being alone, because it allows you to be swallowed by the culture. And, as my one of my great friends said to me before leaving : "India is a jealous mistress… go by yourself, she'll tell you all her secrets, go with someone else, she'll become impenetrable…"
Along my trip, I met Indians and foreigners, in the cities and in villages, around "modernity" and "tradition". I met people who experience India from the outside as if they were travelling through a tunnel made of glass and never really got involved with another way of thinking the world, and others, who experience it from the inside, getting to the hard way of living in India. I met locals rooted in their traditions, and other wishing to leave the country. But nothing black or white. I heard that India can be shocking, disturbing… I simply found it fascinating for its richness and generosity, because each time it gives you a chance to learn something. It takes your mind, shakes it up and makes you think upside down. As a westerner, you have no more references. Suddenly you see all your cultural patterns and inner mechanisms on every level, such as intimacy, relationships, ways of dealing with emotions, ideas on what is good/bad/ugly/poor, etc. The senses get mixed up. So, you decide to superimpose your personal grid of judgment that you have built up through your contextual life experiences, or you forget everything and let yourself dive into another way of seeing Reality.
There is not one India, there are many Indias, as many Indias as people who travel in this country. So, my perspective is my own, coloured by my intimate journey and personal sensibility.
It's 10 pm, I am in Varanasi. I can hear the sewing machines jiggling from the tailors' room the floor right under mine. They are working late. There are two young boys, perhaps 17 and 20 years old, it's hard to tell. One evening, I went to see them to ask if they could fix my bag. They were lying on the ground among mountains of fabrics and dust, mere cushions for the only bed. When I knocked to the open door, the eldest stood right away. I showed him my bag, he sat and started pedalling on his antique sewing machine. His hands were quick and precise. He fixed it… "kitne?" I asked, "how much?" He took out his cell phone, and wrote: 10 rupees. I give him 20, he smiles and I left.
In India you do not really say, "thank you". Westerners are culturally shaped in politeness, but for Indians this is not perceived the same way. I remember my friend at Manikarnika Ghat, telling me – while I thanked him for offering me chai (tea) for an umpteenth time – "stop saying 'thank you' all the time Parvati! I am not doing anything for you… It comes and go, someone gives you, you give to another one. This is just natural circle of things, there is no need to thank." Suddenly, I realized how much nothing in life is personal. There is just a constant movement. I was not important,  nor was he, or anyone else… What is left if there is no story? There is no identity to defend. It is fascinating to observe, through our thoughts, words or gestures, how many times during the day we need to prove that "I exist". When an identity remains, everyday movement points toward a goal, an expectation. But if there is nothing at stake, then nothing can be gained of failed, and nothing is never given nor offered. It just comes and goes… movement is the essential dynamism of life, whether one exists or not.
India is not spiritual, not more than any other place, because spirituality doesn't exist, there is only life. Life with an intense curiosity for its dynamism. Who I am, what do I perceive in the moment? India is just like any other country, with its own colours, smells and traditions. This country has left tremendous scriptures and philosophies, cosmologies and teaching, which built up the attraction. Even until today there are still many things that have not been studied or understood.
This series of articles will present my journey in India, each month focusing on one aspect of my anthropological journal. From yoginis to Tantrism, from The Kullu Valley with its stone deities worship to the teyyam rituals of Kerala, this is a travel that we are going to make together…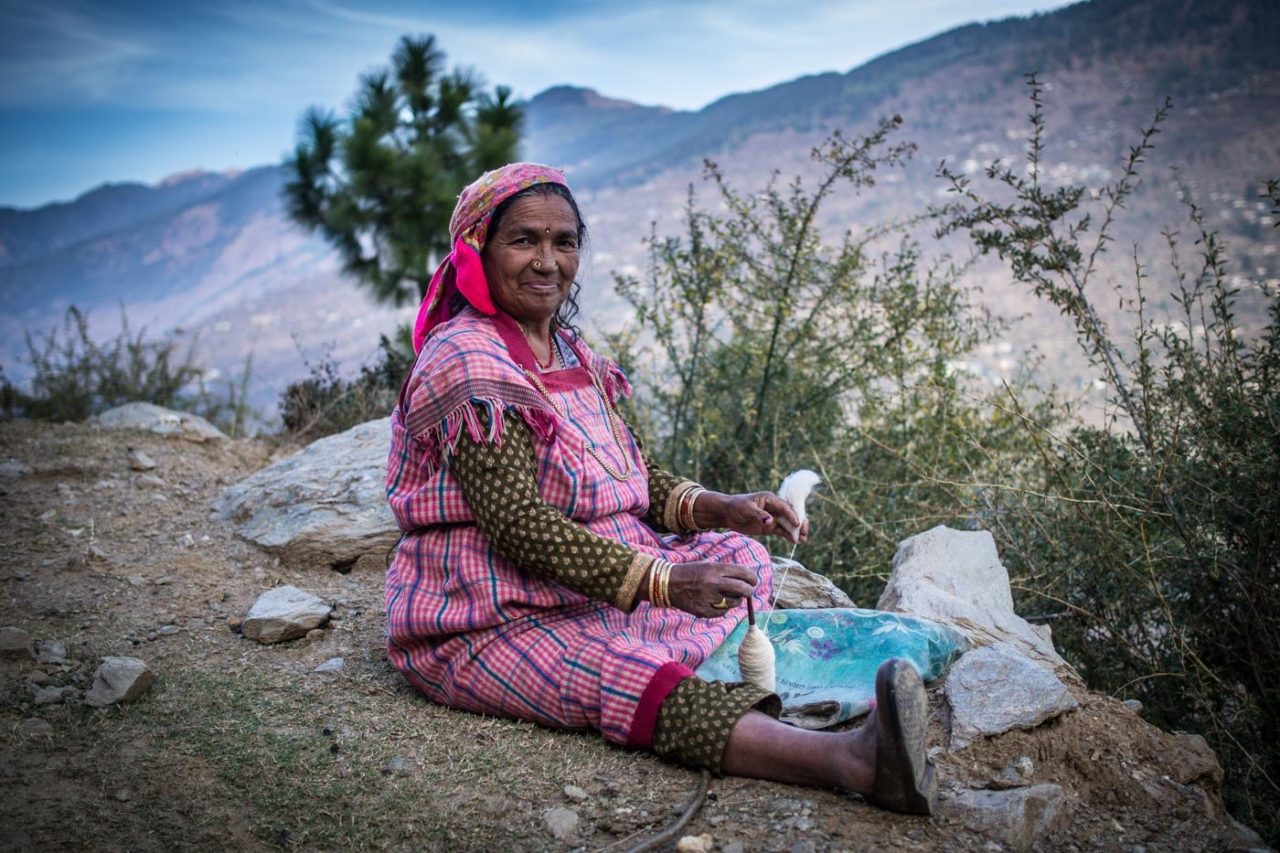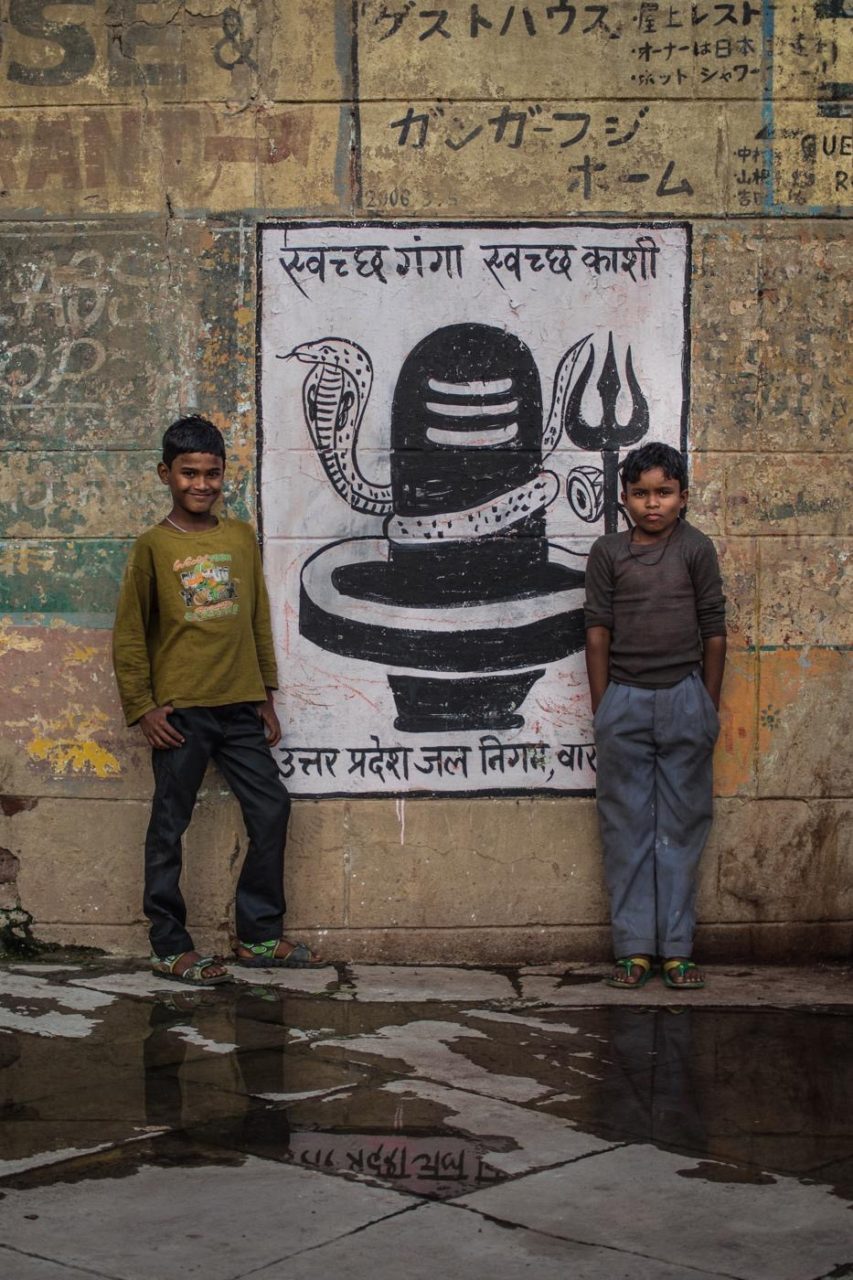 Ce qui est frappant en Inde, c'est la manière dont les gens vous regardent… Ils vous regardent droit dans les yeux et dans la majeure partie des cas, ils ne sourient pas. Ils sont là. Les enfants n'ont pas d'innocence, leur regard est celui d'êtres humains qui ont déjà tout vécu. Dans celui des adultes, on peut lire le poids du temps et de l'expérience. Certains sont là pour les touristes et leur soutirer de l'argent, d'autres, qu'on croise en chemin vers un petit village perdu au milieu des montagnes, sont juste en train de vaquer à leurs occupations.
Je suis partie en Inde durant l'hiver 2015 pendant 3 mois afin de faire des recherches sur des sites archéologiques qui avaient attiré mon attention et étudier avec des académiciens éminents. Mes intérêts principaux : la tradition non-duelle du cachemire et l'enseignement ésotérique des yoginis.
J'ai surtout voyagé seule. J'aime être seule, ça permet d'être avalé par la culture. Et, comme l'un de mes bons amis m'a dit avant de partir : "l'Inde est une maitresse jalouse… pars seule, elle te révèlera tous ses secrets, parts avec quelqu'un, elle deviendra impénétrable".
Au cours de mon voyage, j'ai rencontré des Indiens et des étrangers, des villes et des villages, la modernité et la tradition.
J'ai rencontré des gens qui font l'expérience de l'Inde de l'extérieur, et d'autres, qui la vivent en rentrant corps et âme dans le difficile mode de vie indien.
J'ai rencontré des locaux enracinés dans leurs traditions, et d'autres désireux de quitter leur pays. Mais rien n'est tout noir ou tout blanc.
J'ai entendu dire que l'Inde pouvait être choquante et dérangeante… je l'ai simplement trouvée fascinante pour sa richesse et sa générosité, parce que chaque fois, elle te donne la chance d'apprendre quelque chose sur toi-même. Elle prend ton esprit, le secoue et retourne toutes tes habitudes. En tant qu'occidentaux, on perd nos références, les sens sont entremêlés. On voit soudain tous nos schémas culturels et nos mécanismes internes à différents niveaux, tels que l'intimité, les relations, la façon de gérer les émotions et surtout les idées que l'on se fait des notions de bon/mauvais/laid/pauvre, etc. Ainsi, on peut approcher le voyage de deux manières : soit on reste accroché à notre grille de jugements personnels construite au fil de nos expériences de vie, soit on s'oublie, et on se laisse imprégner par une autre manière d'appréhender la Réalité.
Il n'y a pas "une" Inde, il y a "des" Indes. Autant d'Indes que de voyageurs qui la rencontrent. Ma perspective est mienne, colorée par mon voyage, expérience unique et personnelle et ma sensibilité.
Il est 22h00, je suis à Bénarès. Je peux entendre le cliquetis des machines à coudre provenant de la chambre des tailleurs à l'étage juste au-dessous du mien. Ils travaillent tard. Il y a deux jeunes garçons, peut-être 17 et 20 ans, c'est difficile à dire. Un soir, je suis allée les voir pour leur demander s'ils pouvaient réparer mon sac. Ils étaient là, allongés sur le sol au milieu de montagnes de tissus et de poussière, avec de simples coussins pour unique lit. Quand je frappe à la porte ouverte, le plus âgé des garçons se lève instantanément. Je lui montre mon sac, il s'assoit, commence à pédaler et à activer la manivelle de sa vieille machine à coudre. Il répare mon sac… "kinte?" je demande, "combien?"
Il prend son téléphone et écrit : 10 rupees. Je lui en donne 20, il sourit et je pars.
En Inde, on ne dit pas vraiment "merci". Les Occidentaux sont culturellement moulés par les habitudes de politesse, mais pour les Indiens ce n'est pas perçu de la même manière. Je me souviens de mon ami du Ghat de Manikarnika qui me disait – alors que je le remerciais pour le thé qu'il m'offrait pour une énième fois – "arrête de dire 'merci' tout le temps, Parvati ! Je ne fais rien pour toi… Ça part, ça vient, quelqu'un te donne et tu donnes à quelqu'un d'autre. C'est juste le cercle naturel des choses, il n'y pas besoin de remercier".
Soudain, je vis combien, dans la vie, rien n'est personnel. Il n'y a qu'un constant mouvement. Rien ne peut jamais être gagné ou perdu. Je ne suis pas importante, lui non plus, ou n'importe qui d'autre….
Qu'est ce qu'il reste s'il n'y a plus d'histoire, plus d'identité à défendre ?
C'est fascinant d'observer, pensée après pensée, parole après parole, geste après geste, combien de fois durant la journée nous avons besoin de prouver que nous existons, "j'existe". Quand une identité existe, chaque instant du quotidien pointe vers un but, une attente. Mais, s'il n'y a aucun enjeu, aucun objectif, alors rien ne peut être gagné ou perdu, et rien n'est jamais donné ou offert. Ça va et ça vient, le mouvement est la dynamique essentielle de la vie, que l'on soit là ou pas.
L'Inde n'est pas spirituelle, pas plus qu'un autre endroit, parce que la spiritualité n'existe pas, il n'y a que la vie. La vie avec une curiosité intense pour sa dynamique. Qui suis-je, quelle est la perception dans l'instant ? L'Inde est simplement comme tout autre pays, avec sa propre coloration, ses propres odeurs et ses traditions. Ce pays a laissé un nombre volumineux d'écrits philosophiques, cosmologiques et d'enseignements, ce qui créé l'attraction. Même aujourd'hui, il y a tant de choses qui n'ont pas encore été découvertes ou comprises.
Cette série d'articles va présenter mon cheminement à travers l'Inde, chaque mois je vais partager des bribes de mon journal de terrain, avec ses réflexions et ses photos. Des yoginis au tantrisme, de la vallée de Kullu avec ses dévotions aux déités de pierre, au rituel de teyyam du Kerala, c'est un voyage que nous allons faire ensemble…