Vanishing Reefs: The Effects of Dynamite Fishing in Tanzania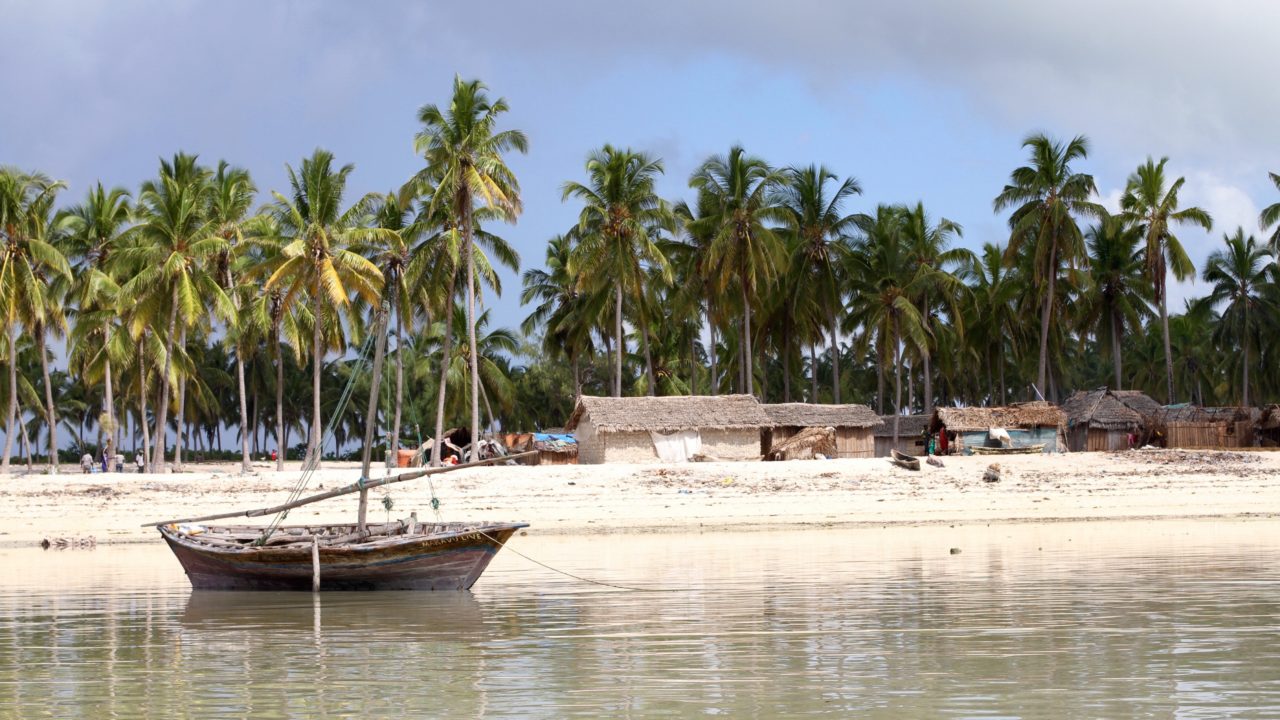 Songo Songo, Tanzania
It was a perfect day on the Indian Ocean – just off the Tanzanian coast. The sun sparkled down on the azure blue waters. The sea was so clear I could see the multi-colored fish swimming meters below our boat. Nearby, a fisherman pulled up his net to inspect his catch. The scene was magical. But it was suddenly interrupted by a loud thunderous boom. A large column of water shot into the air in the distance. A bomb had just gone off. And I was suddenly reminded of what I had come here to see.
Tanzania's coastal waters are one of the world's hotspots for dynamite fishing and the only country in Africa where blasting still occurs on a large scale. Fishermen use homemade bombs made of black market explosives attached to a water bottle filled with a concoction of fertilizer and diesel. The fishermen toss the bombs over shoals of fish which are instantly stunned and killed by the blast. The practice is extremely efficient, but also devastatingly destructive for underwater ecosystems.
I asked our boat driver to drive toward the fishermen in the small dugout canoe who had just thrown the bomb. Two of the men were already in the water collecting the blasted fish with nets. As our boat got closer, the man on the canoe picked up another bomb as a warning. After shouting over a few greetings, our captain managed to convince the fishermen we only came to talk.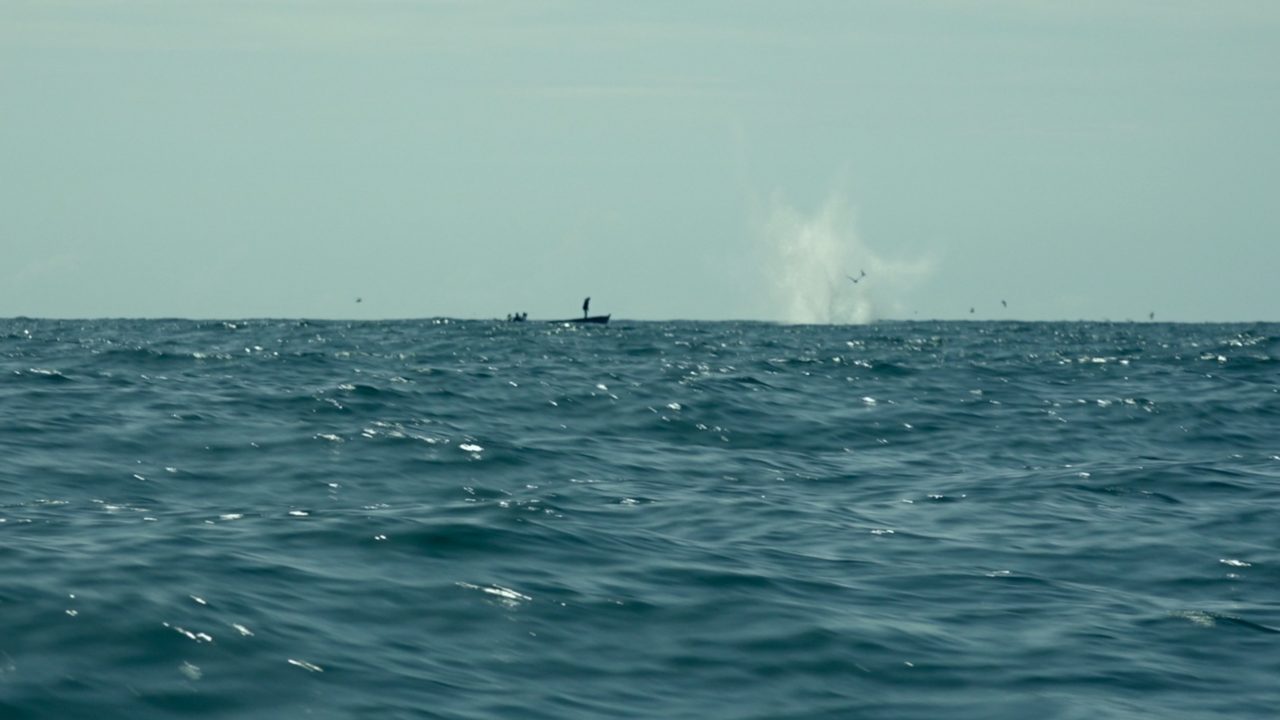 "I'm doing this because of poverty," the fisherman told me "the big-time fishermen are fishing this way and it's forcing us small fishermen to do it too."
The fisherman refused to give me his name, but told us he lives on Nyuni, a deserted island turned fishing settlement 25 kilometers off Tanzania's coastline. He said most fishermen who live on Nyuni fish with bombs.
Every day, these fishermen lurk the waters looking for big schools of fish. When the bomb hits the water it kills the fish by rupturing their swim bladders as well as any other marine life within a five to 10 meter radius of the blast. If the explosion hits near a coral reef, the damage is much greater. The blast can flatten the fragile corals which have grown for hundreds of years in just a few seconds. Reefs are an essential part of the ocean, providing food and breeding grounds for reef fish and other marine life like sea turtles. If the reef is destroyed, everything associated with it dies too.
In the fishermen's canoe, there were enough fish to fill a big suitcase; parrotfish, surgeonfish and clown fish with bulging eyes caused by the blast. I asked the fisherman if he realized how destructive blast fishing is. "I don't want to do this dangerous job," he said "but the government isn't giving us any support." He told me he has a family to feed and doesn't have any other way of supporting them since fishing is all he knows. Many fishermen in the area have noticed a decline in fish populations in recent years, so have turned to dynamite fishing as an easy way to catch the same amount of fish they could catch with nets and lines 10 years ago.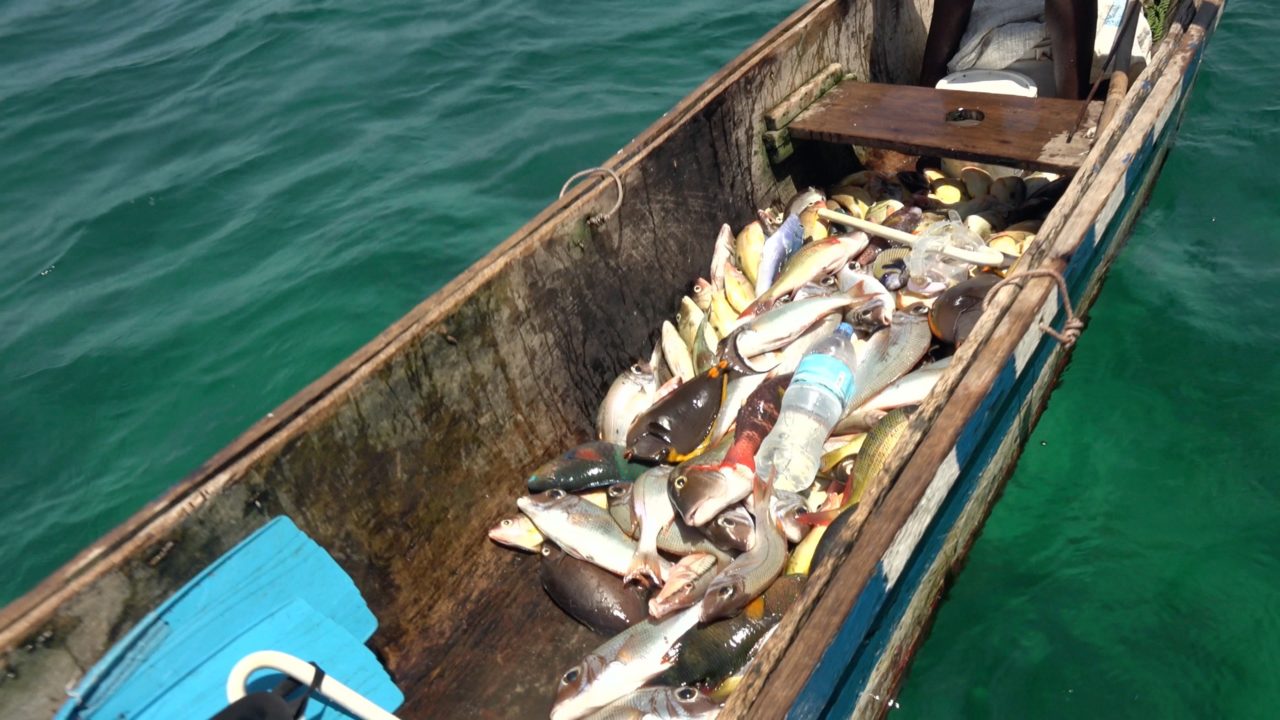 Conservationists worry that the continued blasting is causing irreversible damage to the reef ecosystems. A recent study from the World Conservation Society on dolphin and whale populations along the Tanzanian coastline confirmed what many people feared. Between the echoey sounds of whales and dolphins, their hydrophone also recorded the continuous boom of dynamiting. During one portion of the survey, the bombing reached 10 blasts an hour.
"Blast fishing has been going on for a long time in Tanzania, but recently it's become worse" conservationist Omari Abdallah told me sitting on a palm dotted beach. Twenty years ago, Omari was a dynamite fisherman, but he stopped after he started a family. "I realized how dangerous the job was and the harm it was doing to the ocean," he told me. Omari helped establish SeaSense, an NGO that works with coastal communities in Tanzania to conserve and protect vulnerable marine species. "Endangered sea turtles are dying because of the bombs and their habitats are being destroyed," he explained "whales and dolphins also get scared because of the blasting and are going further away from the coast."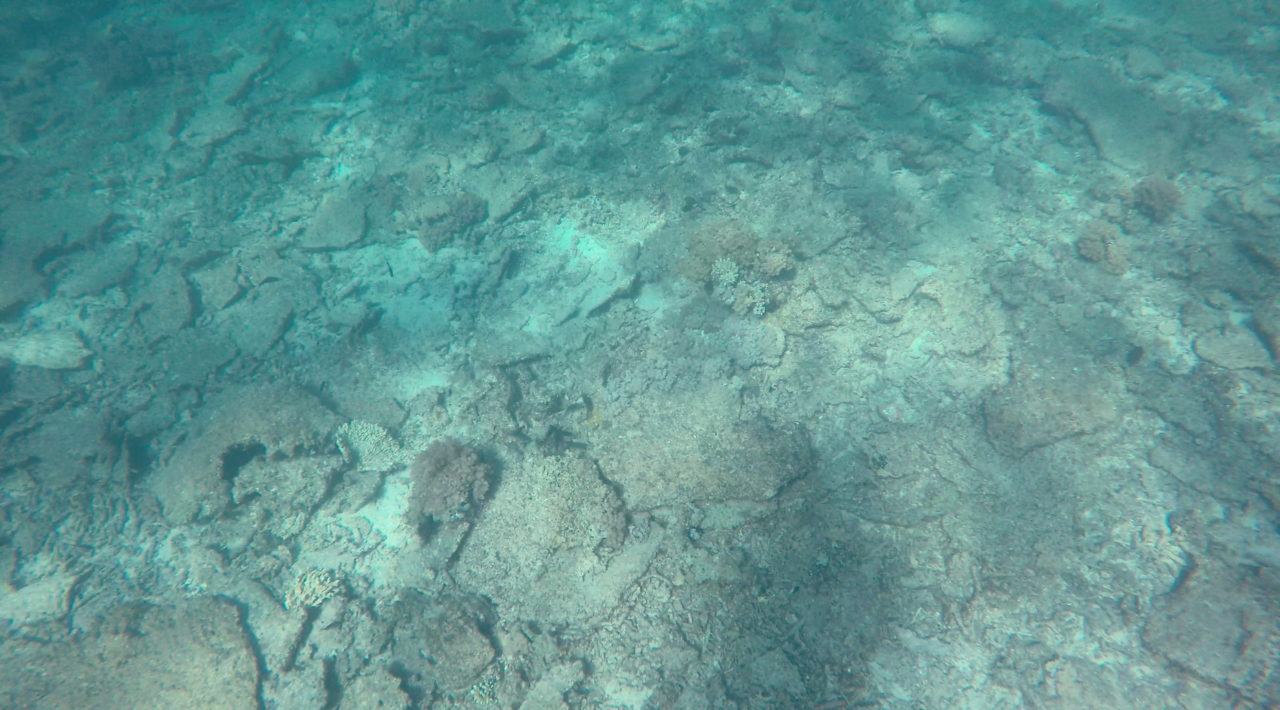 Omari and his team are dedicated to stop dynamite fishing. They run innovative educational programs for fishing communities up and down Tanzania's 1400 kilometer coastline. But the work is plagued by challenges. "Sometimes our local conservation officers are intimidated by dynamite fishermen who threaten to burn down their houses," Omari said. While SeaSense gets some support from the Tanzanian government, there is a major problem with enforcing laws. "When our officers report illegal fishing to the authorities, they don't take action," Omari told me.
As we spoke, a woman dragged two illegally caught manta rays by their tails to her small beachfront shop."Before people weren't really catching rays, but nowadays, people are catching and eating anything, because there is barely anything left in the coastal fishing grounds," Omari lamented. "I hope I can change that. This has to stop now."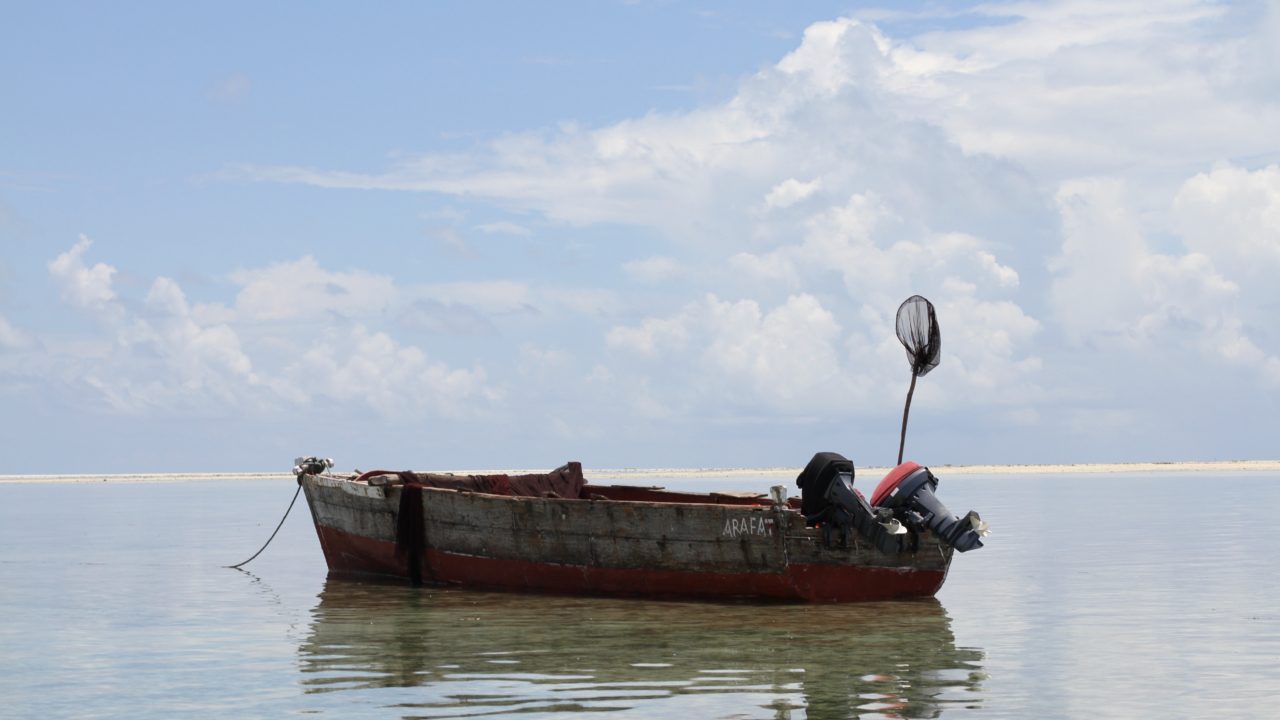 Sophie Tremblay is a Freelance Journalist living in Tanzania, devoted to exposing awareness of key environmental issues within the region.
Songo Songo, Tanzanie
C'était une journée parfaite sur l'Océan Indien, tout près de la côte tanzanienne. Le soleil étincelait sur les eaux couleur azur. La mer était si claire que je pouvais voir les poissons multicolores nager à des mètres sous notre bateau. Tout près, un pêcheur halait son filet pour inspecter sa prise. La scène était magique. Sans avertissement, elle fut interrompue par un bruit fracassant. Au loin, une large colonne d'eau avait été projetée en l'air. Une bombe venait d'exploser et je venais subitement d'être rappelée de ce que j'étais exactement venue voir.
Les eaux littorales de la Tanzanie sont un des points chauds mondiaux pour la pêche à la dynamite et font de la Tanzanie le seul pays africain où le dynamitage se produit encore à grande échelle. Les pêcheurs se servent de bombes faites maison à base d'explosifs achetés sur le marché noir et attachés à une bouteille d'eau en plastique, remplie d'un mélange de fertilisant et de diesel. Les pêcheurs jettent les bombes sur des bancs de poissons, ces derniers étant instantanément assommés et tués par l'explosion. La pratique est extrêmement efficace, mais tout aussi dévastatrice pour les écosystèmes sous-marins.
Je demandai à notre pilote de bateau de diriger notre embarcation vers les pêcheurs et leur pirogue, d'où la bombe venait d'être lancée. Deux de ces hommes étaient déjà dans l'eau, ramassant les poissons dynamités à l'aide de filets. Alors que notre bateau s'approchait, l'homme sur la pirogue brandit une autre bombe en signe d'avertissement. Après leur avoir crié quelques mot de salutations, notre capitaine réussit à convaincre les pêcheurs que nous voulions seulement discuter.
« Je fais ceci à cause de la pauvreté, » me raconta le pêcheur, « Les pêcheurs de grande envergure pêchent de cette manière et ça force les petits pêcheurs à faire de même. » Le pêcheur refusa de se nommer, mais nous dit qu'il vivait sur Nyuni, une île autrefois déserte et maintenant devenue un petit village de pêche à 25 kilomètres de la côte tanzanienne. Il nous informa que la majorité des pêcheurs vivant sur l'île de Nyuni pêchent à l'aide de bombes.
Chaque jour, ces pêcheurs rôdent dans ces eaux à la recherche de grands bancs de poissons. Lorsque la bombe touche l'eau, elle tue les poissons en causant la rupture de leur vessie natatoire, ainsi que toutes autres formes de vie marine présentes dans un rayon de 5 à 10 mètres. Si l'explosion frappe près d'un récif de corail, les dégâts sont encore plus élevés. En seulement quelques secondes, l'explosion peut écraser des coraux fragiles qui ont crû durant des centaines d'années. Les récifs constituent une partie essentielle de l'océan, offrant nourriture et aires de reproduction aux poissons de récif et à d'autres créatures marines comme les tortues de mer. Si les récifs sont détruits, toute la faune et la flore associées meurent aussi.
Dans la pirogue des pêcheurs on trouvait assez de poissons pour remplir une grande valise : des poissons-perroquets, des poissons-chirurgiens et des poissons-clowns aux yeux exorbités suite à l'explosion. Je demandai au pêcheur s'il réalisait à quel point la pêche à l'explosif est destructive. « Je ne veux pas faire ce travail dangereux, » répondit-il « mais le gouvernement ne nous donne aucune aide. » Il me dit qu'il avait une famille à nourrir et n'avait aucun autre moyen de subvenir à leurs besoins; la pêche étant tout ce qu'il connaissait. De nombreux pêcheurs de la région ont noté un déclin des populations de poissons au cours des dernières années et se sont tournés vers la pêche à la dynamite comme moyen facile d'attraper la même quantité de poissons qu'ils pêchaient avec des filets et des lignes, il y a dix ans de cela.
Les écologistes ont peur que le dynamitage continu cause des dommages irréversibles aux écosystèmes de récifs. Une étude récente de la Société pour la Conservation de la Vie sauvage sur les populations de dauphins et de baleines le long de la côte tanzanienne a confirmé ce que beaucoup craignaient. Outre les sons d'écho de baleines et dauphins, leur hydrophone a aussi enregistré le boum continu du dynamitage. Durant une portion de l'étude, le dynamitage a atteint 10 explosions à l'heure.
« La pêche à l'explosif existe déjà depuis longtemps en Tanzanie, mais la situation s'est récemment aggravée, » me raconta l'écologiste Omari Abdallah, assis sur une plage bordée de palmiers. Il y a vingt ans de cela, Omari était pêcheur à la dynamite, mais il cessa après avoir fondé une famille. « J'ai réalisé à quel point cette pêche était dangereuse et les dommages qu'elle causait à l'océan, » m'a t-il raconté. Omari a contribué à mettre sur pied SeaSense, une ONG qui travaille avec les communautés côtières de Tanzanie pour conserver et protéger les espèces marines vulnérables. « Des tortues de mer menacées d'extinction meurent à cause des bombes et leurs habitats sont détruits. » Il expliqua que « les baleines et les dauphins sont effrayés par les explosions et s'éloignent de plus en plus de la côte."
Omari et son équipe s'emploient à mettre fin à la pêche à la dynamite. Ils administrent des programmes éducatifs novateurs pour les communautés de pêche tout le long des 1400 kilomètres de littoral tanzanien. La tâche reste semée d'embûches. « Nos agents de conservation locaux sont parfois intimidés par des pêcheurs à la dynamite qui menacent de brûler leurs maisons, » raconte Omari. Même si SeaSense reçoit un certain appui du gouvernement Tanzanien, l'application des lois pose un réel problème. « Lorsque nos agents signalent une pêche illégale aux autorités, aucune action n'est prise, » me raconta Omari.
Pendant que nous discutions, une femme traîna par la queue deux raies pêchées illégalement jusqu'à sa petite boutique de bord de mer. « Avant, les gens n'attrapaient pas vraiment de raies, mais de nos jours, les gens attrapent et mangent n'importe quoi, parce qu'il n'y a presque plus rien dans les zones de pêches côtières, »  se lamenta Omari. « J'espère que je peux changer tout cela. Ça doit cesser immédiatement. »