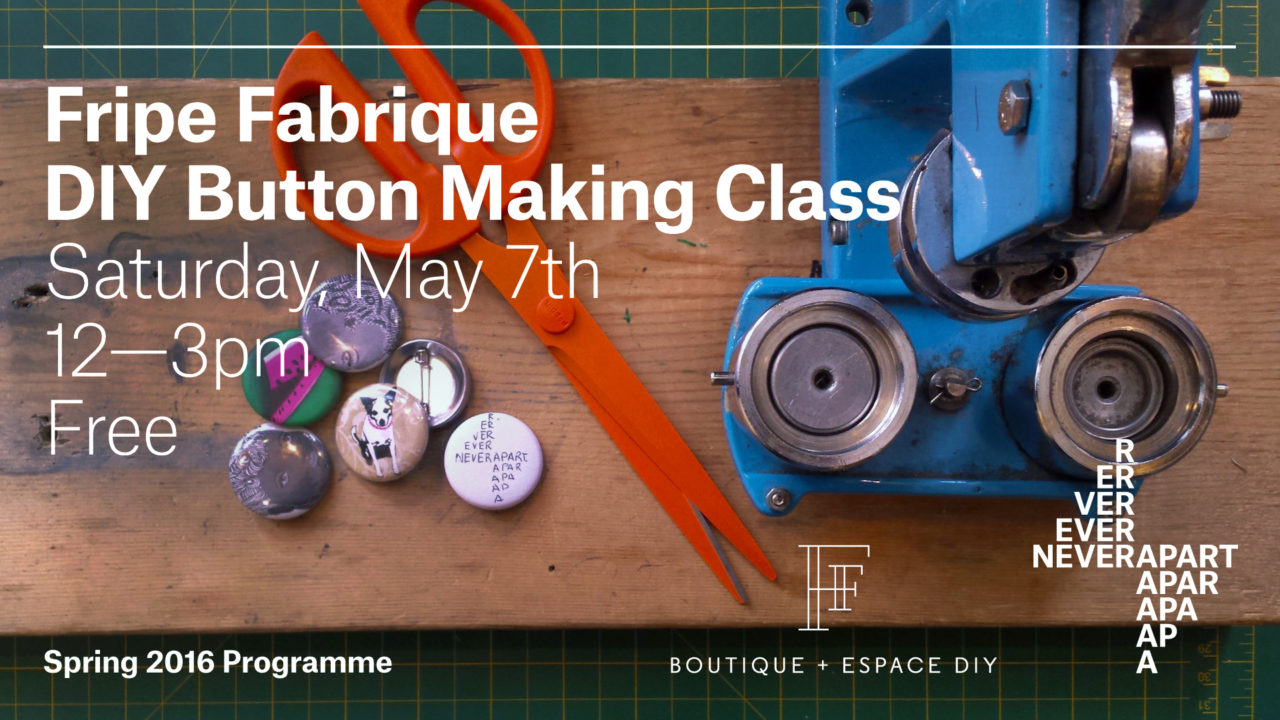 On May 7, from 12 pm to 3 pm, come out and make some wearable art! Neighbourhood shop and do-it-yourself studio, Fripe Fabrique (FF), will be at Never Apart with an easy, creative and family-friendly DIY project—making pins. We will have all the materials on hand for people to make and leave with their very own, self-styled pin. Each masterpiece only takes a few minutes, so you will have plenty of time to enjoy the rest of the exhibits. No need to sign-up…just bring your family and friends and get your make on!
FF is a neighbourhood clothing, accessories, gifts and home décor shop. They focus on offering a fun solution to fast fashion through their edited selection vintage and contemporary wears and monthly DIY workshops.
Fripe Fabrique Boutique & Atelier D.I.Y.
Le 7 mai, de midi à 15h, sortez et créez un oeuvre d'art prêt à porter! Boutique du quartier et Espace DIY, Fripe Fabrique (FF), collabore avec Never Apart pour un projet "DIY" qui est facile, inventif, et conçu pour toute la famille… nous créerons des épingles! Tous les matériaux nécessaires seront à votre disposition pour créer une épingle unique et personnalisée à votre style. Chaque chef-d'oeuvre prend à peine quelques minutes, de sa conception à sa réalisation, alors vous auriez toute votre journée pour promener et explorer les autres expositions. Aucune réservation requise, vous avez simplement à vous présenter avec vos amis et votre famille pour en profiter!
FF est une boutique du quartier qui offre des vêtements, des accessoires, des idées-cadeaux, et du décor pour la maison. La boutique vous propose une alternative à la tendance «fast fashion» avec une sélection de vêtements vintages et contemporains, et des ateliers mensuels pour vous faire découvrir des projets «fais-le-vous-même».