Laughter Meditation Playshop with LARAAJI + Arji OceAnanda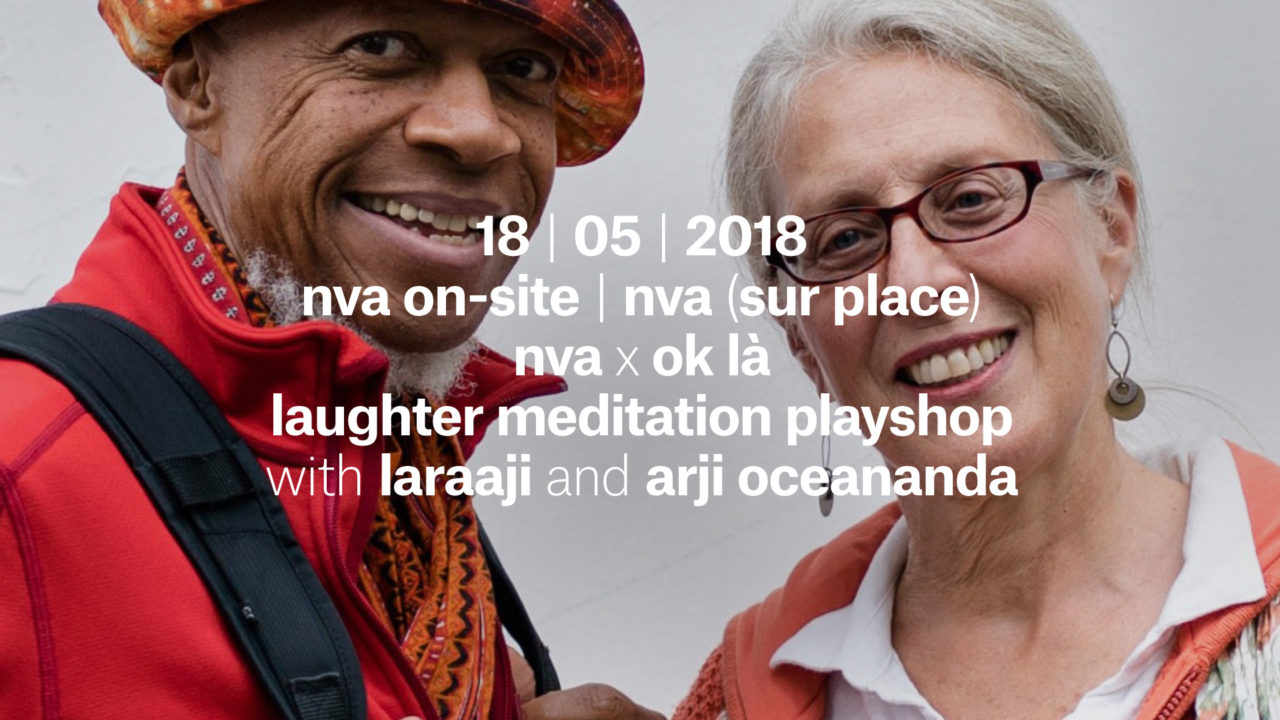 NVA x OK LÀ present:
A playfully high and delightful educational exploration of our laughter as a medically-documented health therapy, as well as a way to reduce overall stress.
Heavy laughter as a cathartic release will be engaged in as a way to enter deeper states of relaxation and reconnect to our own Beautiful Inner Child.
Guided laughter'cises, gentle live sound/music, deep guided relaxation, and "serious" fun are just a few guarantees in this lively experiential playshop.
Duration 60 minutes. Starts right at 7pm.
This is an intimate and immersive event, there are only 40 spots. You must purchase a ticket via Eventbrite.
$10 / $15 / $20
About Laraaji
Laraaji Nadabrahmananda is a meditator, laugh-master and cosmic musician who has performed worldwide with his specially designed electric zither—alongside many instruments such as the African Mbire, piano, synthesizers, hand drums, percussions, Tibetan gong, and voice.
He was trained in music composition the 1960s at Howard University (Washington DC), specialising in piano. An early collaboration with producer Brian Eno led to Laraaji's first internationally distributed recording "Ambient #3: Day of Radiance". This album was deemed one of the 50 best ambient albums of all time by Pitchfork. A long awaited retrospective of LARAAJI's solo and collaborative music performance recordings was released in 2013 by All Saint & Warp records entitled "Celestial Music 1978-2011."
In addition to concerts, for many years Laraaji has been an important contributor to healing Arts festivals and conferences as his 'beautiful Celestial sounds' create a warm and soothing atmosphere for both presenters and visitors. The Healing Sounds Intensive with Jonathan Goldman, the Life Spectrums Conference and the Freedom Healing Arts Festival are listed as his annual conferences.
A devotee of the late Shri Brahmananda Sarasvati, founder of the Ananda Ashram in Harriman, New York, Laraaji is the creator and facilitator of Laughter Meditation Workshops throughout the world; empowering workshops that acknowledge and honor the ability of our laughter to take us into deep relaxation and receptivity to meditation.
About Arji OceAnanda
Arjhiroula "Arji" Cakouros (OceAnanda) is a sound healer, musician, Reiki master and Dreamwork teacher based in Niskayuna, NY. Her personal commitment to supporting others in achieving radiant health is rooted in her ancestral Hellenic Asclepian and Pythagorean healing traditions. She has been assisting and collaborating with Sw. Laraaji Nadananda since 2008, offering Healing Sound events and Laughter Immersion experiences in many venues worldwide.