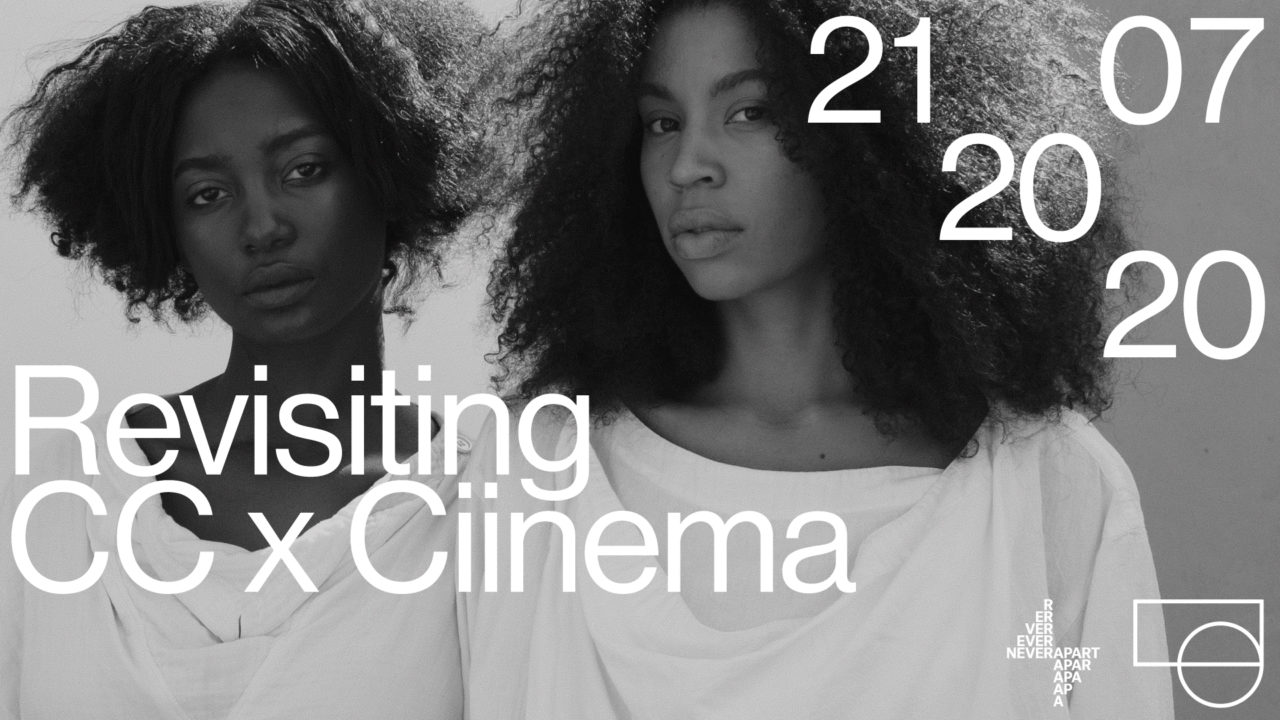 In 2017 Collective Culture (CC) was invited to curate a video mixtape for CIINEMA—a forum where artists share a selection of videos and clips that inspire & inform their work. CC's video naturally developed into a visual narrative centered in blackness, sisterhood & liberation.
Co-hosted by Centre Never Apart, Collective Culture invites you to enjoy a screening of the mixtape followed by a discussion, moderated by CC co-founder Keesha Chung and contributor Mouna Traoré featuring panelists DeMane Davis, Tika Simone, and Sarah Hagi.
We would like to ask for a pay what you can donation from participants, being mindful of the very real struggles everyone is facing as a result of COVID-19. Money collected will be split between two organizations we wish to support – The Black Creators Fund and DESTA.
Collective Culture:
Co-founded by Keesha Chung in 2016, Collective Culture is a platform that celebrates the voices of BIPOC creatives within and beyond Canadian borders through the collaborative development of multidisciplinary programming and content.
Keesha Chung:
Keesha Chung is a filmmaker (screenwriter, director, producer), content creator and the co-founder of Collective Culture. Her work focuses on intersectional politics, pop culture criticism, and critical race theory. Keesha's collaborators include CBC Arts, Sephora Canada, CIINEMA, and Sophomore Magazine.
Keesha has worked at BAND Gallery and Cultural Centre as a programming coordinator and was a TV host for an unreleased show on VICELAND Canada. Her writing has been published in Subversions: a Journal of Feminist Queries and Sophomore Magazine.
She graduated with a Bachelor of Arts, majoring in Women's Studies from Concordia University in 2016. She is currently enrolled in Humber's Film and Multiplatform Storytelling program.
Mouna Traoré:
Mouna Traoré is an emerging actor, writer and award-winning filmmaker from Toronto. Over the years, she has appeared in a variety of roles including Vanessa Hastings on BET's "In Contempt", Jasmine Zane on USA's "Suits" and most recently in the Netflix original series "Self Made: Inspired by the Life of Madame CJ Walker" as Esther.
Mouna has also written and produced her own work through the company The Mini Films along with co­-founder Elizabeth Melanson. Their second short film, Adorn (2016) won the award for Best Short Film at the Montreal International Black Film Festival and is continuing to screen at festivals in Canada and the U.S.
Demane Davis:
DeMane Davis is a television director and producer whose most recent work is the Netflix series "Self Made: Inspired by the Life of Madam CJ Walker." Davis produced and directed the last two episodes of the four-part series. Davis began her career writing and directing indie features. Both of her films premiered in Dramatic Competition at the Sundance Film Festival and internationally at Edinburgh. She's best known for "Lift," which starred Kerry Washington in her first leading role and was honored with two Spirit Award nominations before airing originally on Showtime and now is streaming on Amazon. Davis was the producing director for the third season of Ava Duvernay's "Queen Sugar."
TiKA:
TiKA is the definition of a multi-hyphenate and is an advocate for the empowerment of female artists and creators. Her love and passion for culture and music has led to the release of 2 EP's, "Some Things Are Better Left Unsaid" + "Carry On." TiKA has been featured in Noisey, Afropunk, CBC and many other platforms. Complex Magazine listed TiKA as "one of the most prolific creatives in Toronto." She has opened for major R&B heavyweights like John Legend + NAO and is being coined as an incredible performance artist + visual hypnotist. In addition, TiKA was the only Canadian musician to model for Sephora 2 years in a row. Her billboards can be seen all across Canada. In May 2020, TiKa graduated from the Canadian Film Centre program for film scoring, and is transitioning into making musical soundscapes for film.
Sarah Hagi:
Sarah Hagi is an essayist, journalist and cultural critic. A part from working as a writer at both VICE and Complex, she has been published in The New Yorker, GQ Magazine, The Guardian, Buzzfeed and other publications. Sarah has appeared on numerous radio shows and podcasts for networks like the CBC, BBC and Gimlet. She has worked in copywriting and was a juror for the 2019 Toronto Book Awards.