Virtual Opening 6: Spring 2020 Exhibitions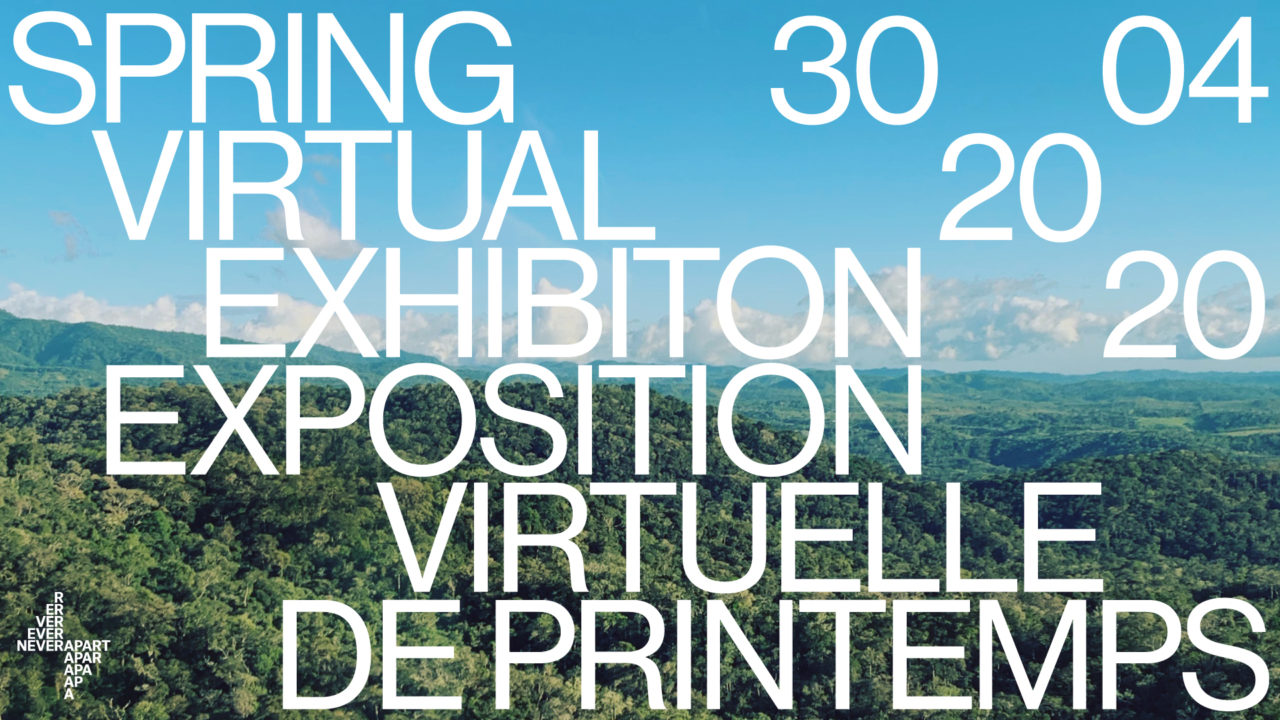 Never Apart brings you its Spring 2020 exhibitions in an online format tailored to the current moment. Starting April 30th, meet us every week on the Facebook event page for the virtual vernissage of each exhibition.
Spring 2020 Exhibition Season: April 16th- June 27th
Free online
► EXHIBITIONS
Ecological Ambisonic Recordings 001: Rainforest
James Benjamin, Danica Olders, Chipp Jansen
Upper Gallery
✷ VIRTUAL OPENING
Thursday April 6pm EST
The ambisonic sounds you are about to hear were recorded on the pacific slope of the Talamanca Mountains in Costa Rica. This area provides habitats for wildlife, and a crucial jaguar migration corridor. Whatever time of day you step into this installation, will be the time of day you are transported to in the rainforest.
______________
L'homme à l'aise
Danica Olders
Upper Gallery
✷ VIRTUAL OPENING:
Thurs May 7th 6pm EST
L'homme à L'aise is a conversational installation composed of mixed-media sculptures. The sculptures each have a particular voice and together communicate about the relationship between work and leisure, asking questions of each other and the viewer. What/who are we working for? Is leisure a lifestyle, a reward, a privilege?
______________
Canadiana Threads: Le Château
Co-curated by Emma Dora Silverstone-Segal
Vitrine
✷ VIRTUAL OPENING
Thurs May 14th 6pm EST
Never Apart is starting a new series of exhibits called "Canadiana Threads" with the goal to highlight and promote Canadian Fashion designers. The profiled exhibitions will take place on our 2nd floor vitrine which is a perfect space for fashion display installations. Our goal is to promote the Canadian fashion industry which has gone mostly unnoticed and under-celebrated. #CanadianaThreads
Le Château is our first of this series, celebrating the house's history by showcasing iconic pieces from their archives which represent six decades of the company's rich history.
______________
10
Véronique Soucy
Gallery C
✷ VIRTUAL OPENING
Thurs May 21st 6pm EST
This portraits series highlights 10 of the talented artists, musicians and activists in Montreal who help contribute to the creative scene and who inspire me immensely. Originally this series was apart of the annual 10×10 photography project in Toronto held at the Gladstone Hotel and is a testament to the diverse and culturally blooming city we live in while celebrating the people who continue to represent a queer perspective.
______________
Five Years / Twenty-Five Faces | Cinq Ans / Vingt Cinq Visages
Saad Al-Hakkak
Gallery A
✷ VIRTUAL OPENING
Thurs May 28th 6pm EST
We celebrate five years of Never Apart, and its music division NVA with Five Years / Twenty-Five Faces, twenty-five photographs by Saad Al-Hakkak that pay homage to the artists, activists and community members who we've collaborated with. This series is a glimpse into the figures who have contributed their talents to help shape Never Apart for half a decade, and who represent the fabric of our mission towards equality, togetherness and social change. We chose twenty-five of the hundreds of other collaborators we have worked with from 2015-2020.
______________
Bathhouse At The End Of The World
Eric Kostiuk Williams
Gallery B
✷ VIRTUAL OPENING
Thurs June 4th 6pm EST
*Date changed to June 11 6pm EST to honour #TheShowMustBePaused 
As outdoor structures give way to failure, we congregate in secret, fantastic spaces rich with possibility. Making our way through a maze of dark, contorting hallways, we turn a corner and tumble into the deep precipice of ever-flowing pleasure and generosity. In the end, there's still us.
______________
Never Apart TV Season/Saison 3
Theatre
✷ Available for streaming on www.outtvgo.com
Never Apart TV is an arts and culture news program giving a much needed voice to queer artists. Never Apart is a cultural organization with our headquarters and galleries located in Montreal Canada. Our mission is to create positive change and unity through art, bringing people together to end separation.
[ FR ] Never Apart TV est un programme télévisé axé sur les arts et la culture qui donne aux artistes queer la chance de s'exprimer. Never Apart est un organisme culturel dont les bureaux et galeries sont situés à Montréal, au Canada. Notre mission est de créer un changement positif et l'unité par le biais de l'art, en rassemblant les gens afin de mettre fin à la séparation.
► LAND ACKNOWLEDGEMENT
We would like to acknowledge that the land on which we gather for this event is located on unceded Indigenous lands. The Kanien'kehá:ka Nation is recognized as the custodians of the lands and waters on which we gather today. Tiohtiá:ke/Montreal is historically known as a gathering place for many First Nations. Today, it is home to a diverse population of Indigenous and other peoples. We respect the continued connections with the past, present and future in our ongoing relationships with Indigenous and other peoples within the Montreal community.