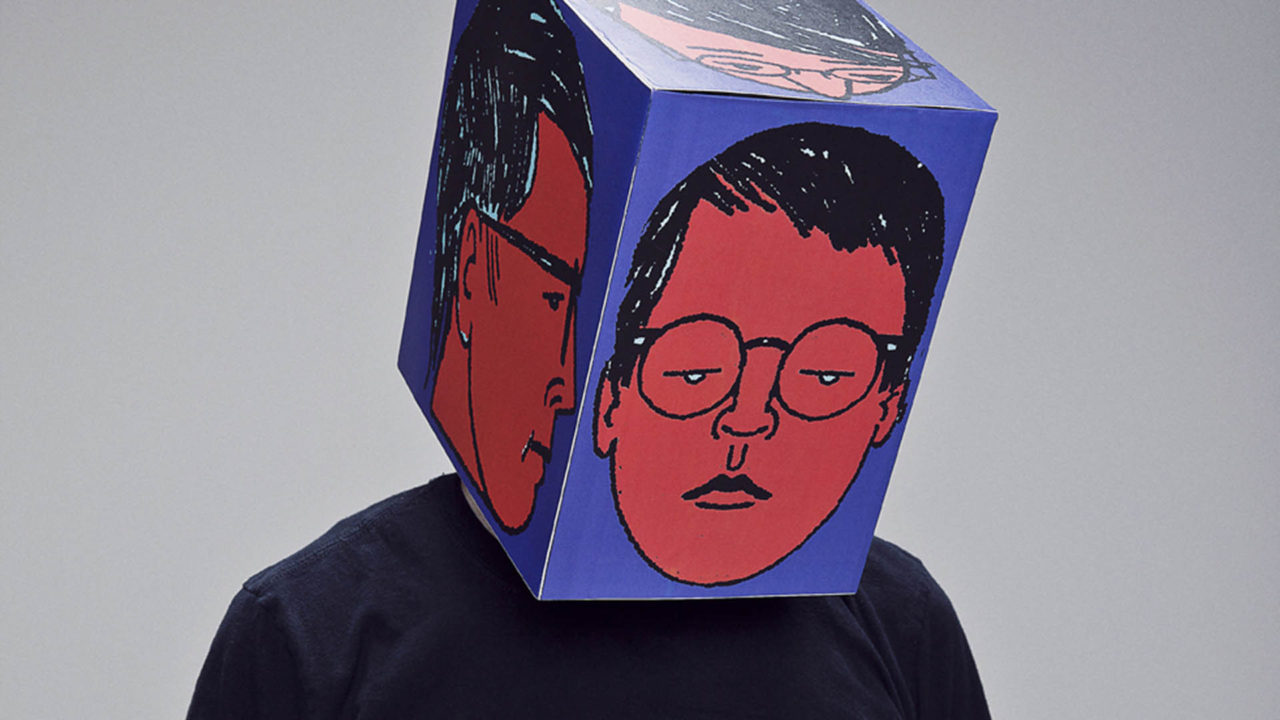 Le Bled collective is a group of Montreal artists promoting their work through annual exhibitions . With a specific thematic, these events offer its members an opportunity to create and get out of their comfort zones
Created in 2013 , the collective includes Dominic Berthiaume, Martin Flamand, MC Marquis, Emmanuel Perron, Benoit Tardif, Elie Chap , Nathalie Dubé and Vincent Tourigny . These 8 artists work different mediums , from photography to illustration , through textile art, painting and installation.
For its 4th edition, Le Bled decided to work on the theme of Cult. Each artist explores the subject in it's own way and in his favorite medium.
Le collectif Le Bled est un regroupement d'artistes montréalais faisant la de leur travail à travers des expositions annuelles. Avec leurs thématiques ponctuelles, ces événements offrent à ses membres une occasion de créer et de sortir de leurs zones de confort.
Formé en 2013, ce collectif regroupe Dominic Berthiaume, Martin Flamand, MC Marquis, Emmanuel Perron, Benoit Tardif, Elie Chap, Nathalie Dubé et Vincent Tourigny. Ces 8 artistes travaillent différents médiums, de la photographie à l'illustration, en passant par l'art textile, la peinture et l'installation.
Pour sa 4e édition, Le Bled a élaboré sa nouvelle exposition autour de la thé- matique du Culte. Chaque artiste interprète donc le sujet à sa façon, dans son médium de prédilection.
Vincent Tourigny
After studying art and illustration in college, Vincent Tourigny completed a bachelor degree in graphic design at UQAM. Today, he works as a graphic designer and as an illustrator. He is the co-founder of Disamare, a cycling cap company and works full time in the fashion industry. He also freelances as a graphic designer and illustrator.
This project will focus on the amalgam between the religious cult and Quebec's pop culture, all made with humor and good taste.
Nathalie Dubé
Nathalie Dubé is a graphic designer living in Montreal. She works on a variety of projects as a freelancer but she also works on a variety of personal projects where she can really get creative. The aesthetic of her art is essentially inspired by two things, fashion design and graphic design. The combination of the two makes the color in her work stand out through textile art. Her work as a visual artist tends to question the society we live in but her artistic stance is also guided by the randomness of things. By finding things and by experimenting, her concepts start cerebral but they get more and more instinctive through the process.
We live in a society where things and concepts have a short life span. With the cult of eternal youth, the cult of the perfect body, the cult of money, the cult of short term political people in power, etc.… we try to escape our own existence by living in a paradox where we desire to live forever and not caring about sustainability and living in the moment. Yolo…
For this show, I want to create one or many textile sculptures that will second guess our choices in the short amount of time we have on this earth
Ben Tardif
It's after studying graphic design at the University of Quebec in Montreal that Benoit began illustrating. Ever since then, he started to create simple images that are colourful but ironic at the same time. His style tends to work best as a silkscreen or a poster. His work can be seen in the New York Times, Telerama, Vrak TV, the Walrus Magazine, Citroen Suisse, the New York Observer, the Boston Globe, etc.… His illustrations also won multiple prizes and mentions like the 3×3 pro show, American Illustration, Applied Arts, Lux, etc.
The idea for this project is to create a series of illustration on classic Irish pub ads. There will 4 to 6 prints representing typical pub scenes with rich decors that we tend to see in cult bars. On the walls we will be able to see frames, clocks, posters and all sorts of random things. We will also be able to see culture references and homages on visual artists. The idea is to present the décor as first plan where the space and object placement creates a sentiment of cult.
Emmanuel Perron
Emmanuel explores the structure of the line. His compositions take form with continuous lines guide by automation et repetition. The representation of the face, emotions and movement are at the center of his artistic research. His mediums tend to work better as painting and silkscreens.
The ensemble is a graphic representation of the evolution of the cult synergy that shows the interaction of different interpretations and their impacts on the system.
Marie Claude Marquis
Tackling both graphic design and visual arts, MC Marquis inhabits a hybrid aesthetic between the poster and the canvas. By sketching her designs with a computer, then hand painting them on the canvas or explore with watercolour and finalize her illustration digitally, her creative process relies as much on technology as on tradition. Inspired by people of her generation, MC's work is inspired by souvenirs, nostalgia, pop culture, Québec identity and her own emotions which she expresses with a feminine touch and a colourful sensitivity. She also loves the re-appropriation of old objects to give them new meaning.
Founding member of the Collective Le Bled, MC is particularly fond of team projects and the creative ravings that can result.
The cult of remembrance
Curiosity cabinet – Obsessions, nostalgia and ravings of an emotional adolescence
Scenery of various items related to topics that obsess me: love, growing old, memories, becoming an adult and also observations of life and questions. Inspired by curiosity cabinets, my work will be a wall installation regrouping painting, reclaimed objects, old pictures, souvenirs, miniature, modelling and air plants.
I am a person whose emotions dictate too often the actions and non-actions. My nostalgic fiber makes me idealize different times of my past and love occupies far too much space in my life, although I try to appear otherwise. By creating a project linking the different mediums included in my practice (mainly with miniature, paintings and re-appropriated vintage), I want to expose my feelings as microcosm and make a coherent whole, that I do not necessarily manage to do directly in my head.
Dominic Berthiaume
Dominic is a world renowned artist. He one held a show at Martin Poulin-Legare's house and in the kitchen of his then girlfriend. His work can be seen in a lot of magazine like the Voice of Terreborne. He also won a lot of prestigious awards and is best known for winning the silver medal at a Zigoto taping in 1995
His work will consist of people that transcend their cult in the prized collections.
Elie Chap
Following studies in graphic design and visual arts, Elie started illustrating as a way to better understand himself. Elie tends concentrate his imagery between his life and over the top imagination. He believes that through his art, people will better understand him. Elie also started his own print studio, freelances and works full time in the fashion industry.
In this project, we will see through 6 silkscreens, the evolution of the 3 persons after finding puppets in treasure chests.
Martin Flamand
Martin Flamand is a Montreal based photographer mainly working in the commercial and editorial environment.
However, he attaches great importance to the creative and conceptual aspects of photography.
Thus, he is involved with passion in many personal projects; a selection of work mostly created from memorable movies seen by the photographer. Subjects, that can be humoristic or rather pretty dark, are often perceived with a glimpse of curiosity and thoughts.
In his photographic project, Martin explores three meanings of Cult.
Firstly, the KKK character is presented in its typical ceremonial attire.
Second, the work is inspired by Quentin Tarantino's film " Django Unchained," in which the director ironically depicts the birth of the KKK.
Third, Martin paid tribute to the great contaporary artists Banksy and the Chapman brothers (Jake and Dinos ), who also illustrated the KKK members in degrading situations.
Thus, the photographer demonstrate in is own way the death of racism.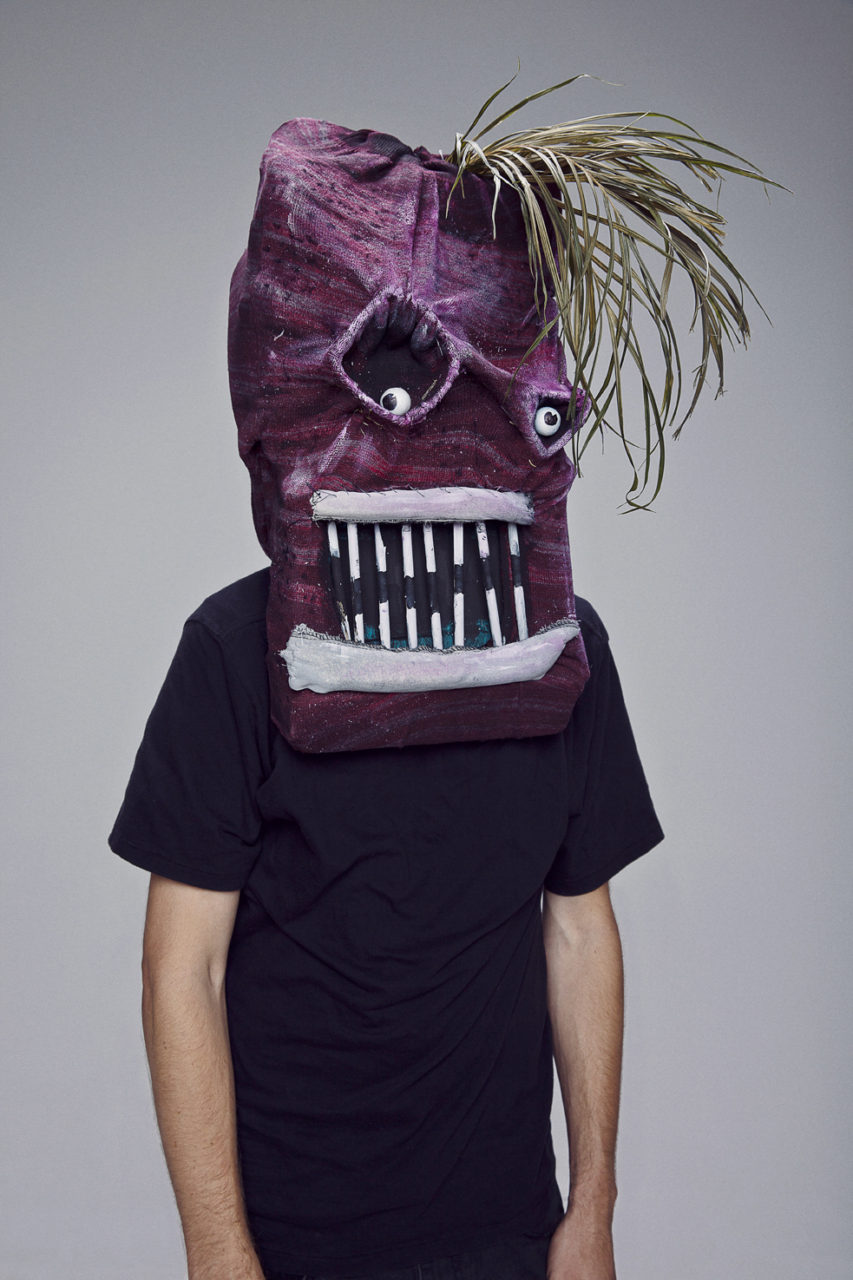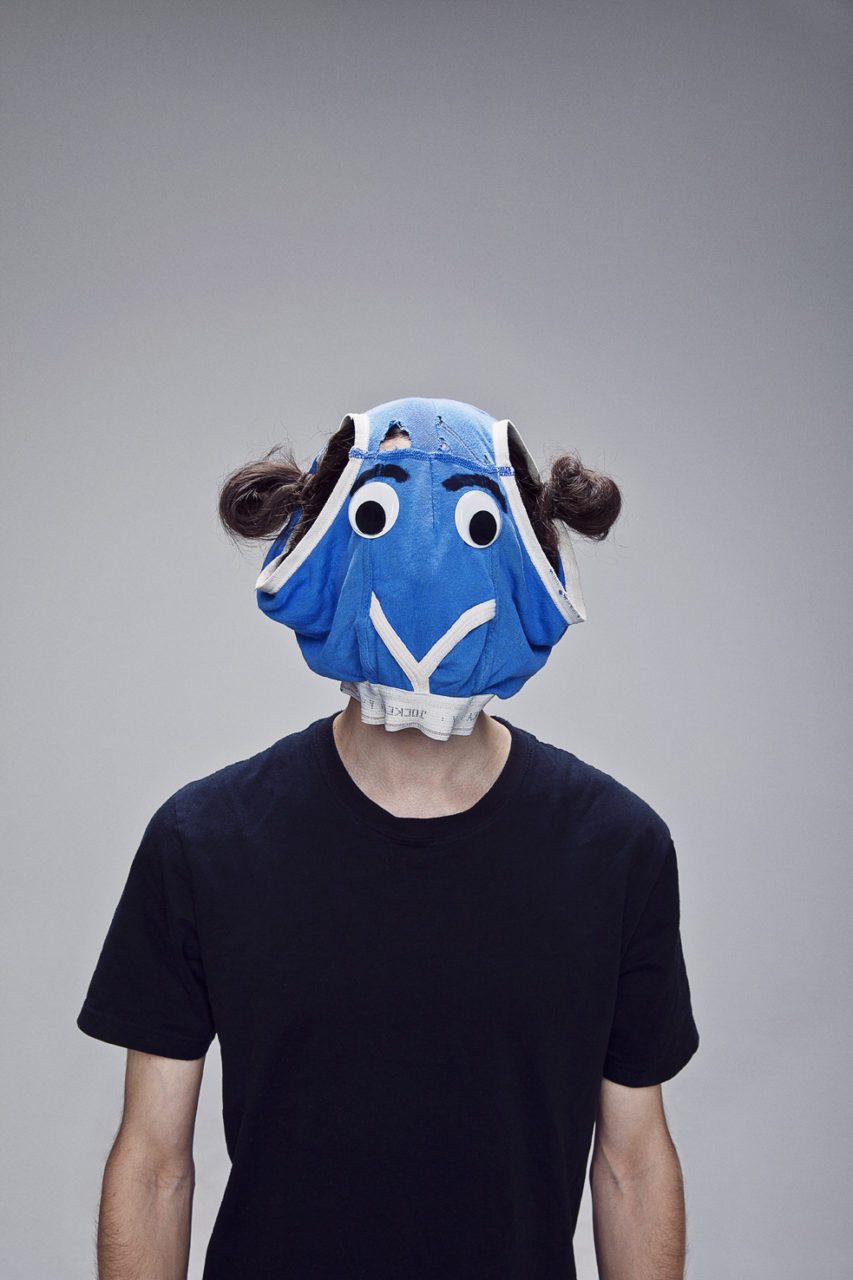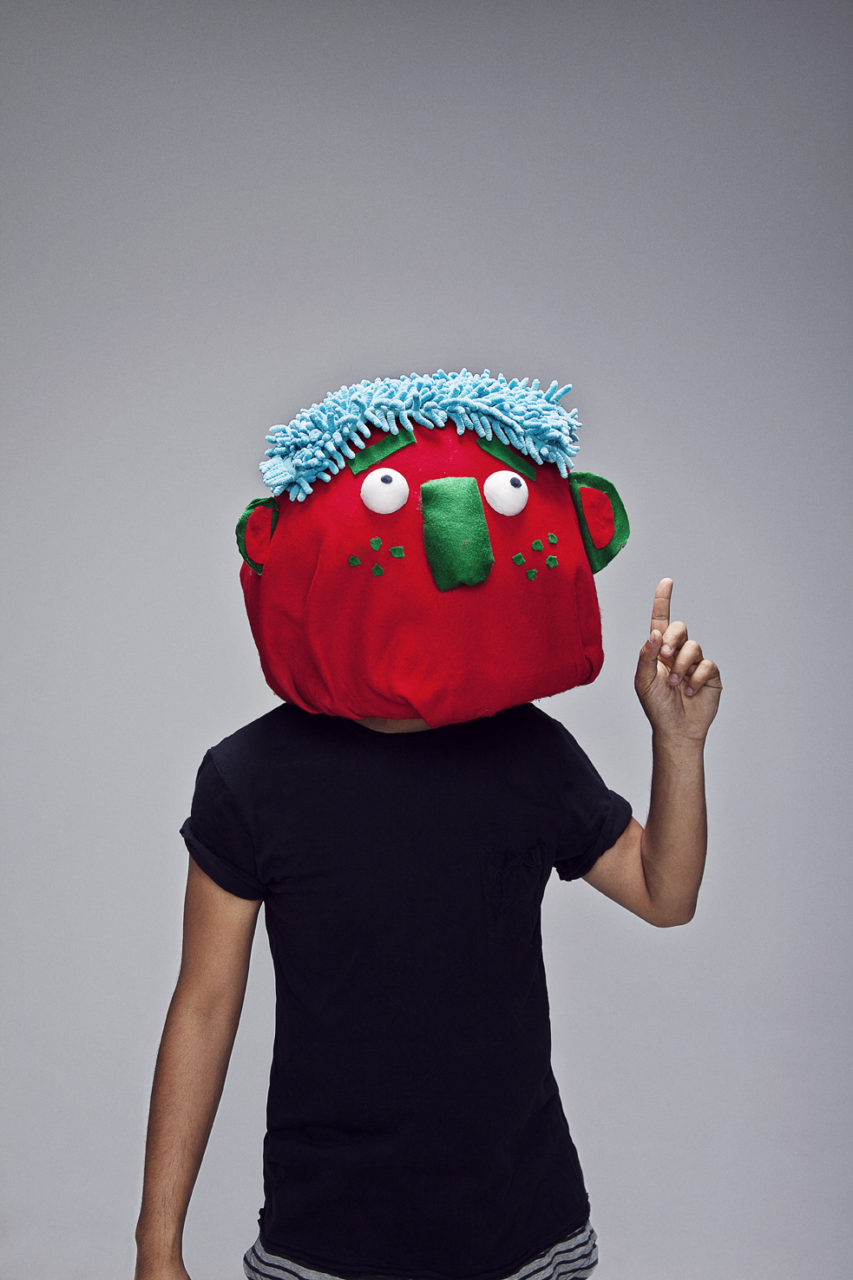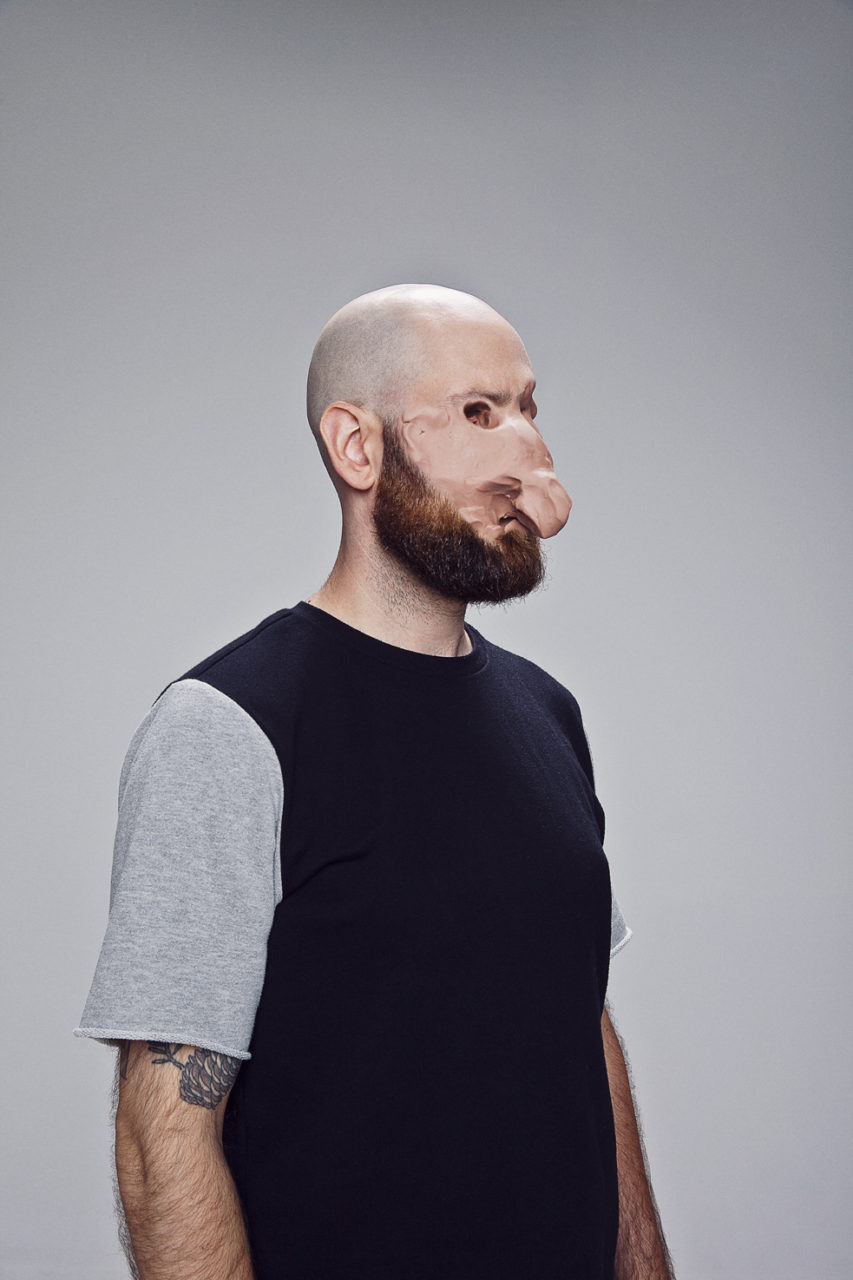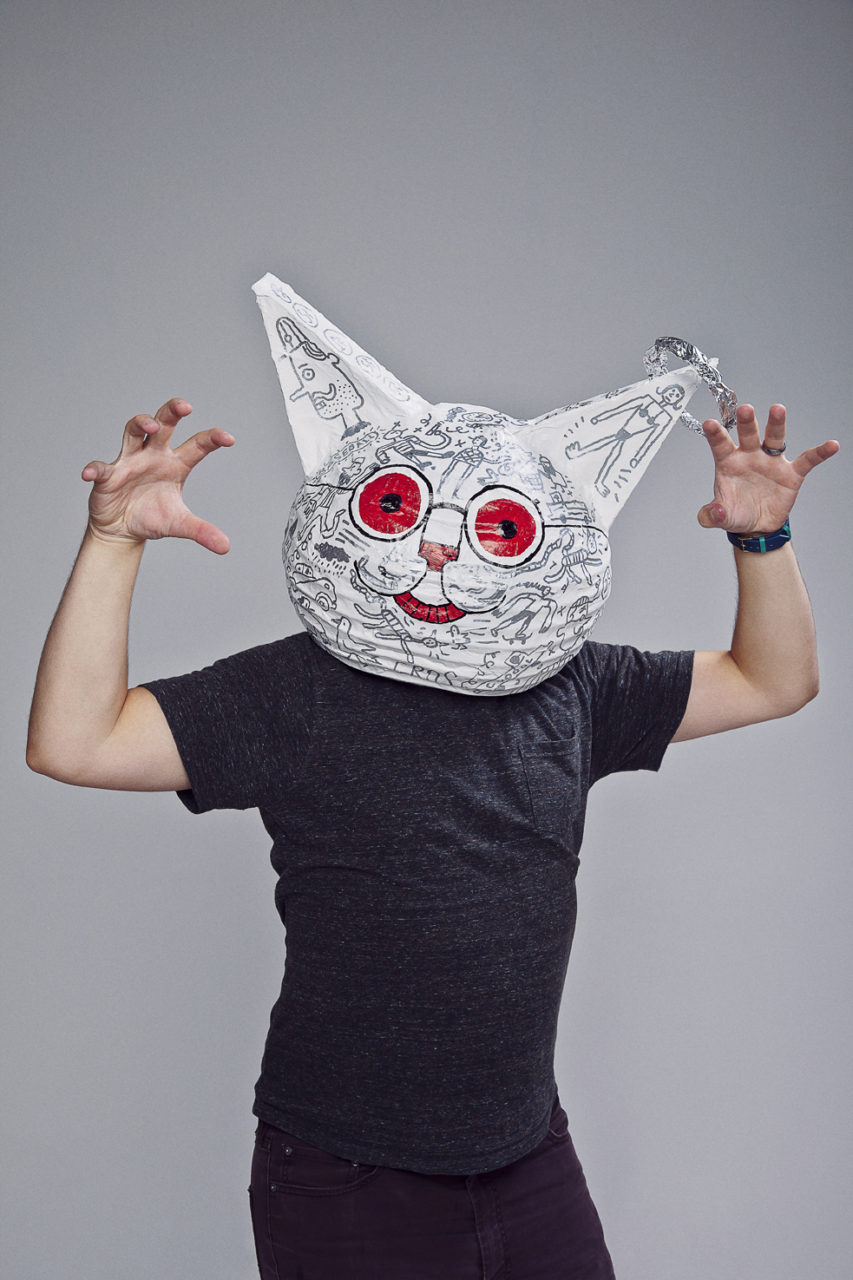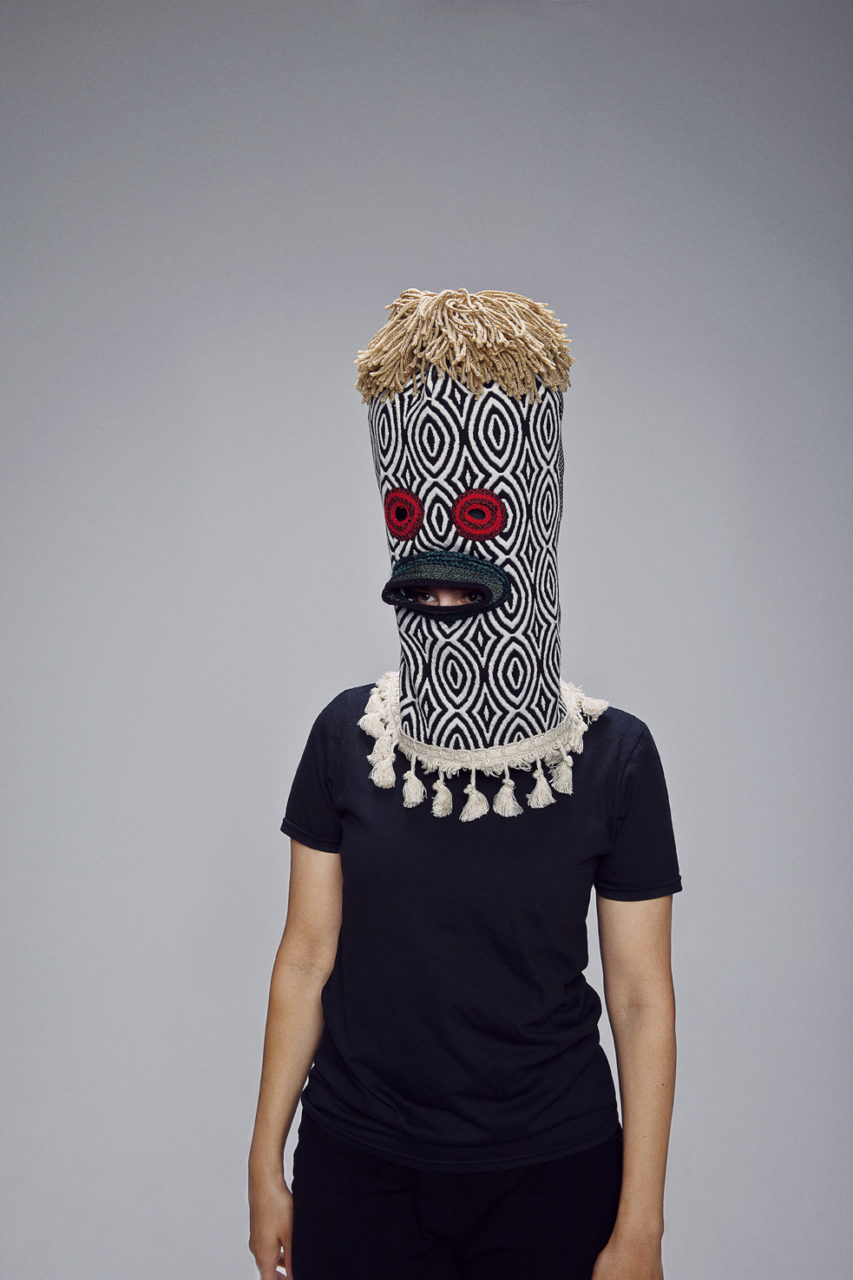 Vincent Tourigny
Suite à des études collégiales en Arts et en illustration, Vincent Tourigny complète un baccalauréat en design graphique à l'UQÀM. Aujourd'hui, il travaille en tant que graphiste et illustrateur. Il est cofondateur de Disamare, une entreprise de casquettes de vélo, et travaille dans le domaine de la mode à temps plein. Il réalise également des contrats comme pigiste en design graphique et en illustration.
Amalgame entre le culte religieux et la culture pop québécoise. Le tout est fait avec humour et de bon goût.
Nathalie Dubé
Nathalie Dubé est une designer graphique vivant à Montréal. Elle occupe différents rôles sur une variété de projets en tant que pigiste, tout en se consacrant à divers projets personnels loin des contraintes du travail. L'esthétique de ses oeuvres est grandement inspirée par ses deux champs d'études, soit le design de mode et le design graphique, où l'art textile et la couleur occupent une place prépondérante. Son travail en tant qu'artiste visuelle s'intéresse plutôt aux travers de la société, mais sa démarche artistique laisse aussi une place importante au hasard. Par le biais de ses trouvailles et ses expérimentations, ses concepts plutôt cérébraux à l'origine de chaque projet se modulent pour devenir de plus en plus instinctifs.
Nous vivons à une époque où les choses et les concepts éphémères sont grandement préconisés au sein de notre société. Que ce soit par le culte de la jeunesse éternelle et l'obsession du corps parfait, l'obsolescence programmée, l'argent, le divertissement, la surconsommation, les visions de nos élus politiques qui ne se limitent qu'au court terme, etc., nous essayons d'échapper à notre propre existence éphémère dans un paradoxe qui oppose à la fois notre désir d'immortaliser ce qui ne le sera jamais, et notre rejet des conceptions durables. Yolo.
Pour cette exposition, je désire créer une ou plusieurs sculptures textiles qui illustreront/dénonceront certaines valeurs éphémères de notre société.
Ben Tardif
C'est après des études en design graphique à l'Université du Québec à Montréal que Benoit se lance en illustration. Depuis, il propose des images simples, efficaces et colorées. Souvent teinté d'ironie, son style est marqué d'un intérêt pour la sérigraphie et l'affiche.
Parmi ses clients, on retrouve : The New York Times, Télérama, Vrak.TV, The Walrus Magazine, Citroën Suisse, The New York Observer, The Boston Globe…
Ses illustrations ont rempotées plusieurs prix et mentions : 3X3 pro show, American Illustration, Applied Arts, LUX….
L'idée est de créer une série d'illustrations en lien avec les pubs classiques de type irlandais / Anglais. Il y aura 4 à 6 affiches représentant des scènes typiques avec le décor très riche que l'on retrouve souvent dans ces lieux cultes. Sur les murs, on pourra voir : des cadres, horloges, affiches, fût, oeufs dans le vinaigre…
On y retrouvera des références à la culture populaire ainsi que beaucoup d'hommages à des artistes visuels (peintres, illustrateurs légendaires…). L'idée est de mettre le décor en vedette. Dans cet espace ludique, l'accent est mis sur le décor et non sur les personnages.
Emmanuel Perron
Emmanuel explore la structure par la ligne. Ses compositions prennent forme par des tracés continus, guidés par automatisme et effectués à répétition. La représentation du visage, de l'émotion et du mouvement sont au centre de sa recherche picturale. Ses médiums d'intérêts sont la peinture et la sérigraphie.
"L'ensemble" est une représentation graphique de l'évolution de la synergie d'un culte et de ses adhérents, via l'interaction entre les différentes interprétations et leurs impacts sur l'intégralité du système.
Marie Claude Marquis
Touchant autant le design graphique que l'art visuel, MC Marquis possède un esthétique hybride entre l'affiche et le tableau. En esquissant ses compositions à l'ordinateur, mais en les peignant à la main sur la toile ou en explorant avec l'aquarelle puis en finalisant son illustration digitalement, son processus de création repose autant sur la technologie que sur la tradition. Son travail porte particulièrement sur les souvenirs, la nostalgie, l'identité québécoise, la pop culture et ses propres émotions qu'elle exprime avec sa touche féminine et une sensibilité colorée. Elle affectionne également la réappropriation de vieux objets pour leur donner un nouveau sens.
Membre fondatrice du Collectif Le Bled, MC affectionne particulièrement les projets d'équipe et les délires créatifs qui peuvent en résulter.
Mise en scène hétéroclite de différents items reliés aux sujets qui me m'obsèdent : l'amour, vieillir, les souvenirs et devenir adulte mais aussi des observations de la vie et des questionnements. Sous la forme d'un cabinet de curiosité, mon oeuvre sera une installation murale de peinture, d'objets réappropriés, de souvenirs, de modelages et de verdure.
En fait, je suis une personne dont les émotions dictent trop souvent les actions et les non-actions. Ma fibre nostalgique me fait idéaliser les différentes époques de mon passé et l'amour occupe une beaucoup trop grande place dans ma vie, même si j'essaie de faire paraitre le contraire.
En créant un projet reliant les différents médiums touchés dans ma pratique artistique (principalement avec du miniature, de la peinture, du dessin sur photo et du vintage), je veux exposer mon ressenti sous forme de microcosme et en faire un tout cohérent, ce que je n'arrive pas nécessairement à faire directement dans ma tête.
Dominic Berthiaume
Dominic est un artiste de renommée locale, il a entre autres exposé dans le salon de Martin Poulin-Légaré et la cuisine de sa blonde. On a aussi parlé de lui dans plusieurs revues et journaux, dont le Trait d'Union de Terrebonne. Il a gagné plusieurs prix prestigieux tels que la médaille d'argent au Zigotos en 1995.
"Série de portraits d'individus qui transposent leur culte en matériel de collection."
Elie Chap
Suite à des études en design graphique et en arts visuels, Elie propose des créations qui se concentrent sur l'impression et le dessin. Elie Chap présente dans ses œuvres une structure narrative profonde à l'aide d'un univers iconographique qui provient d'histoire vécues. Dans un univers riche en association d'idées, Elie cherche à faire le lien entre sa propre vie et celle du spectateur. De plus, Elie a aussi lancé son atelier de sérigraphie où il travaille le textile et le papier.
Le culte de la marionette. Trois personnes, trois marionnette. trois vie changés.
Martin Flamand
Dans son projet photographique, Martin explore 3 définitions possibles du Culte.
Premièrement, le personnage du KKK est présenté dans son accoutrement cérémonial typique.
Deuxièmement, l'oeuvre s'inspire du film de Quentin Tarantino "Django Unchained", dans lequel le réalisateur dépeint ironiquement la naissance du KKK.
Troisièmement, Martin rend hommage aux grands artistes contemporains Banksy et les frères Chapman (Jake et Dinos), qui ont eux aussi illustré des membres du KKK dans des situations dégradantes.
Ainsi, le photographe illustre à sa façon la mort du racisme.