Akosua Adoma Owusu: Reluctantly Queer Interview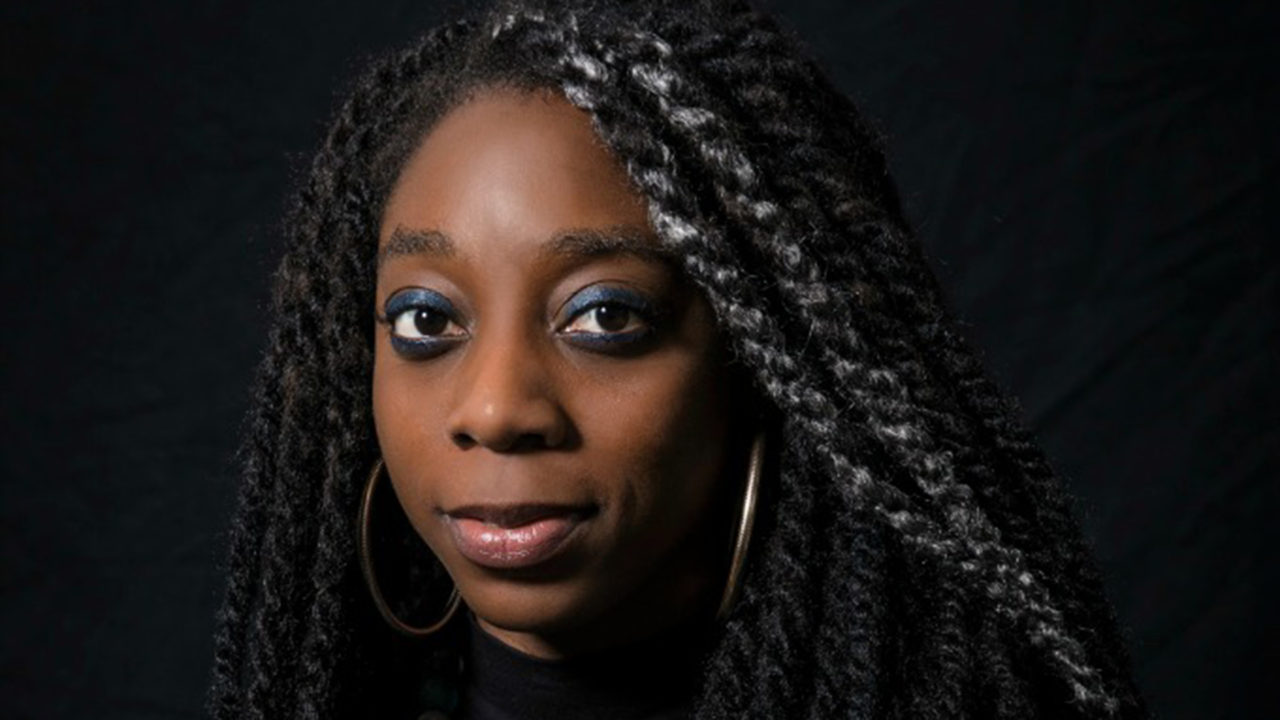 One of the stand-out moments at this year's recent SAG Awards, was the exquisite Mahershala Ali's speech winning Best Supporting Actor for the feature film 'Moonlight', encapsulating the intersection of faith, religion, and identity. "We see what happens when we persecute people," Ali stated. "They fold into themselves, and what I was so grateful about having the opportunity to play Juan was (he) saw a young man folding into himself as the result of the persecution of his community, and taking the opportunity to uplift him, tell him that he mattered, that he was okay, accept him." In speaking about challenges with his mother who happens to be an ordained minister, and his converting to Muslim years ago, he stated, "we put things to the side, I'm able to see her, she's able to see me, we love each other, the love has grown. That (other) stuff is minutiae. It's not that important." New York-based Akosua Adoma Owusu's short film, 'Reluctantly Queer' (2016, 9min), echoes many similar themes and sentiments, featured as part of the annual Massimadi African and Caribbean Black LGBTQ Film Festival celebrating it's ninth year, while chosen to screen throughout Never Apart's Winter Season in the Theatre Room, January 26 to April 7.
The film follows the unsettling life of a young Ghanaian man struggling to reconcile his love for his mother with his love for same-sex desire, amid the increased tensions incited by politics in Ghana. Focusing on a letter filled with hesitation and uncertainty, the film reveals questions about what it means to be queer for this man, in this time and space. Although she was born and raised in Alexandria, Virginia, Owusu's parents are originally from Ghana. During time spent living there herself, she met and was inspired to tell the story of her friend Dr. Kwame Edwin Otu, who identifies as queer himself. Otu received a fellowship at the University of Virginia for writing his dissertation on the subject of queer men in Ghana, now currently working as a professor at the same school Owusu received her start in filmmaking. "I got my beginnings in film after taking cinematography courses in the art program. I was inspired to put a face to African queer identity and felt Kwame's personal story could convey this, so I decided to make a film about him. His conflicts with identity were internal while mine were external, our narratives parallel. I am also interested in taking advantage of the cultural privilege I have of communicating on a public platform issues that are considered taboo in many parts of the world. It's the privilege of telling these stories as an American and a Ghanaian, a privilege my Ghanaian parents gave me by immigrating to this country. I use my voice or my art to convey stories about the human experience and commonalities within our differences."
Thematically, Owusu's films have been explorations in telling and retelling stories. Many of her films have been inspired by personal stories or her own experiences related to struggles with identity. "Though my works have been personal to me, I think part of their appeal is that they are extremely relatable. With 'Reluctantly Queer', I am retelling a story rooted in struggles with identity, though I found inspiration in a story not my own, but one parallel to mine in many ways." The short film has been on the Official Selection list in over fifty film festivals around the globe, as well as receiving nominations for best picture at over a dozen of them, while winning Best International Short at last year's Baltimore International Black Film Festival. Owusu finds the response to 'Reluctantly Queer' both extremely positive and yet surreal. "We premiered the film in competition for two major prizes at the Berlin International Film Festival earlier last year, and then it went on to show at a number of festivals including the Museum of Modern Art, the London Film Festival, and Rotterdam Film Festival. I consider 'Reluctantly Queer' as a simple collaboration with a friend, where I was challenging myself as producer, director and cinematographer. I was surprised that the film was able to participate in so many international screenings."
Having never herself been to the NVA environment, Owusu received an email from African Rainbow's Laurent Maurice Lafontant inviting her to screen the film as part of the Massimadi program, accompanying a photography exhibition on Black LGBTQ in the Gallery Space by Mikael Awunna. "We've mostly had theatrical screenings so I'm happy to exhibit the film in this context during the festival," enthuses Owusu, who hopes 'Reluctantly Queer' can contribute to the discourse around the persecution of LGBTQ communities in Africa. Unfortunately not able to attend the event in person, she wishes she were able to experience it along with everyone else. "'Reluctantly Queer' is going to show at the Mardi Gras Film Festival in Australia next month where it's screening before the Oscar nominated film 'Moonlight', directed by Barry Jenkins."
In 2009, African Rainbow began organizing the Massimadi Festival, this year taking place from February 21st to March 4th. Participants will have opportunities to discover stories about black LGBTQ people rarely seen on big screens or in festivals, providing a platform through panels and discussions with directors and other queer artists. Conferences and information sessions to counter homophobia, education concerning sexual diversity and homosexuality, integration through discussion groups, workshops and talks as well as outreach activities, in addition to research and documentation on the gay black community are just some of the services eligible to LGBTQ people of the African and Caribbean communities along with their families and relatives.
Un des moments marquants de la dernière remise des SAG Awards est sans aucun doute le discours émouvant du sublime Mahershala Ali, gagnant du Meilleur acteur de soutien pour le long métrage Moonlight. Ses paroles ont résumé l'intersection de la foi, de la religion et de l'identité. « Nous voyons ce qui se passe quand on persécute les gens. » a dit Ali. « Ils se replient sur eux-mêmes.  Je suis si reconnaissant d'avoir eu l'occasion de jouer Juan, un homme qui a vu un jeune homme se replier sur lui-même à la suite de la persécution de sa communauté. Il a pris l'opportunité de le réconforter, de lui dire qu'il comptait, qu'il était normal et de l'accepter. » En évoquant les difficultés vécues avec sa mère, qui se trouve à être révérend, et sa conversion à l'islam il y plusieurs années, il a ajouté, « Mais maintenant, on laisse nos différences de côté, je peux la voir, elle peut me voir, nous nous aimons et notre amour a grandi. Tout le reste n'est que broutilles. Ce n'est pas si important. » Reluctantly Queer (2016, 9min), le court-métrage de la new-yorkaise Akosua Adoma Owusu, soulève des thèmes et des émotions similaires. Le film fera partie de Massimadi, le Festival des films et des arts LGBTQ+ afro-caribéens qui célèbre sa neuvième année, en plus d'avoir été choisi pour être présenté à la Theatre Room de Never Apart pour toute la durée de leur saison hivernale, soit du 26 janvier au 7 avril.
Le film porte sur le monde troublant d'un jeune homme Ghanéen. Ce dernier lutte pour concilier l'amour qu'il a pour sa mère au désir qu'il éprouve envers les hommes, à même les tensions croissantes provoquées par la situation politique du Ghana. Le film se concentre sur une lettre empreinte d'hésitation et de doute et remet en cause ce que signifie pour cet homme d'être queer à cette époque. Bien qu'elle soit originaire de Alexandria, en Virginie, les parents de Owusu viennent du Ghana. Après avoir elle-même vécu au Ghana pendant quelques temps, elle a rencontré et s'est lié d'amitié avec Dr Kwame Edwin Otu, qui s'identifie en tant que queer, et a par la suite eu envie de raconter son histoire. Otu a reçu une bourse à l'université de Virginie pour avoir consacré sa thèse aux hommes queer ghanéens et travaille actuellement comme professeur à la même école où Owusu a fait ses débuts en cinéma. J'ai commencé en cinéma après avoir suivi des cours de cinématographie dans le programme d'arts. J'ai été inspirée à mettre un visage à l'identité queer africaine et ai pensé que l'histoire de Kwame serait parfaite; j'ai donc décidé de réaliser un film sur lui. Ses conflits face à son identité étaient internes et les miens externes, mais nos histoires sont parallèles. Je m'intéresse également à tirer profit du privilège culturel que j'ai de pouvoir utiliser une plateforme publique pour discuter de sujets qui sont considérées comme tabous dans de nombreuses parties du monde. C'est un privilège que de raconter ces histoires en tant qu'américaine et ghanéenne; un privilège que mes parents ghanéens m'ont donné en émigrant dans ce pays. J'utilise ma voix et mon art pour transmettre des histoires à propos de l'expérience humaines et des facteurs communs de nos différences.
Thématiquement parlant, les film de Owusu se trouvent à être des explorations dans la narration et la répétition d'histoires. Un grand nombre de ses oeuvres ont été inspirées par des histoires personnelles et par ses propres expériences liées aux difficultés éprouvées face à l'identité. Bien que mes films aient été pour moi très personnels, je crois qu'ils sont intéressants, car on peut facilement si reconnaître. Avec Reluctantly Queer, je raconte à nouveau une histoire ancrée dans ces difficultés et j'ai été inspirée par une histoire qui n'est peut être pas la mienne, mais qui est tout de même parallèle à la mienne de nombreuses façons. Le court-métrage s'est retrouvé sur la liste de Sélection officielle de plus de cinquante festivals de films autour du monde et a reçu des nominations pour le Meilleur film dans plus d'une douzaine. L'an dernier, il a également gagné le Meilleur court-métrage international au International Black Film Festival de Baltimore. Owusu trouve la réponse Reluctantly Queer à la fois très positive et surréaliste. Le film a été lancé en compétition plus tôt cette année pour deux prix majeurs au Berlin International Film Festival et a par la suite fait partie d'un bon nombre de festivals comme le Museum of Modern Art, le London Film Festival et le Rotterdam Film Festival. Je vois Reluctantly Queer comme une simple collaboration avec un ami, où j'ai pu me mettre au défi en tant que productrice, réalisatrice et cinématographe. J'étais été surprise de voir le film prendre part à autant de présentations internationales.
Bien que Owusu ne soit pas encore venue à l'espace Never Apart, elle a reçu un courriel de la part de Laurent Maurice Lafontant d'African Rainbow, l'invitant à présenter le film dans le cadre de la programmation de Massimadi program et d'accompagner une exposition de photographies dans l'espace galerie sur les LGBTQ noirs par Mikael Awunna. Nous avons majoritairement été présentés dans des salles de cinéma, je suis donc heureuse de présenter le film dans ce contexte, s'enthousiasme Owusu, qui espère que Reluctantly Queer pourra contribuer aux discussions entourant la persécution à laquelle font face les communautés LGBTQ en Afrique. Owusu aurait voulu partager l'expérience avec les spectateurs, mais ne pourra malheureusement pas être présente à l'événement.  Reluctantly Queer sera présenté le mois prochain au festival de film Mardi Gras en Australie, juste avant Moonlight, film réalisé par Barry Jenkins et nominé aux Oscars.
En 2009, African Rainbow a lancé le Festival Massimadi, dont l'édition de 2017 aura lieu du 21 février au 4 mars. Les participants auront la chance de découvrir des histoires de personnes LGBT noires rarement vues au grand écran ou dans les festivals, offrant ainsi une plateforme grâce à des panels et des discussions avec des réalisateurs et d'autres artistes queer. Des conférences et des séances d'information pour contrer l'homophobie, du matériel concernant les réalités de la diversité sexuelle et de l'homosexualité, de l'intégration grâce à des discussions de groupes, des ateliers et des activités de sensibilisation, ainsi que de la recherche et de la documentation sur la communauté gaie noire sont parmi les nombreux services accessibles aux membres LGBT des communautés afro-caribéennes et à leurs familles et parents.