Allan Gurganus: Interview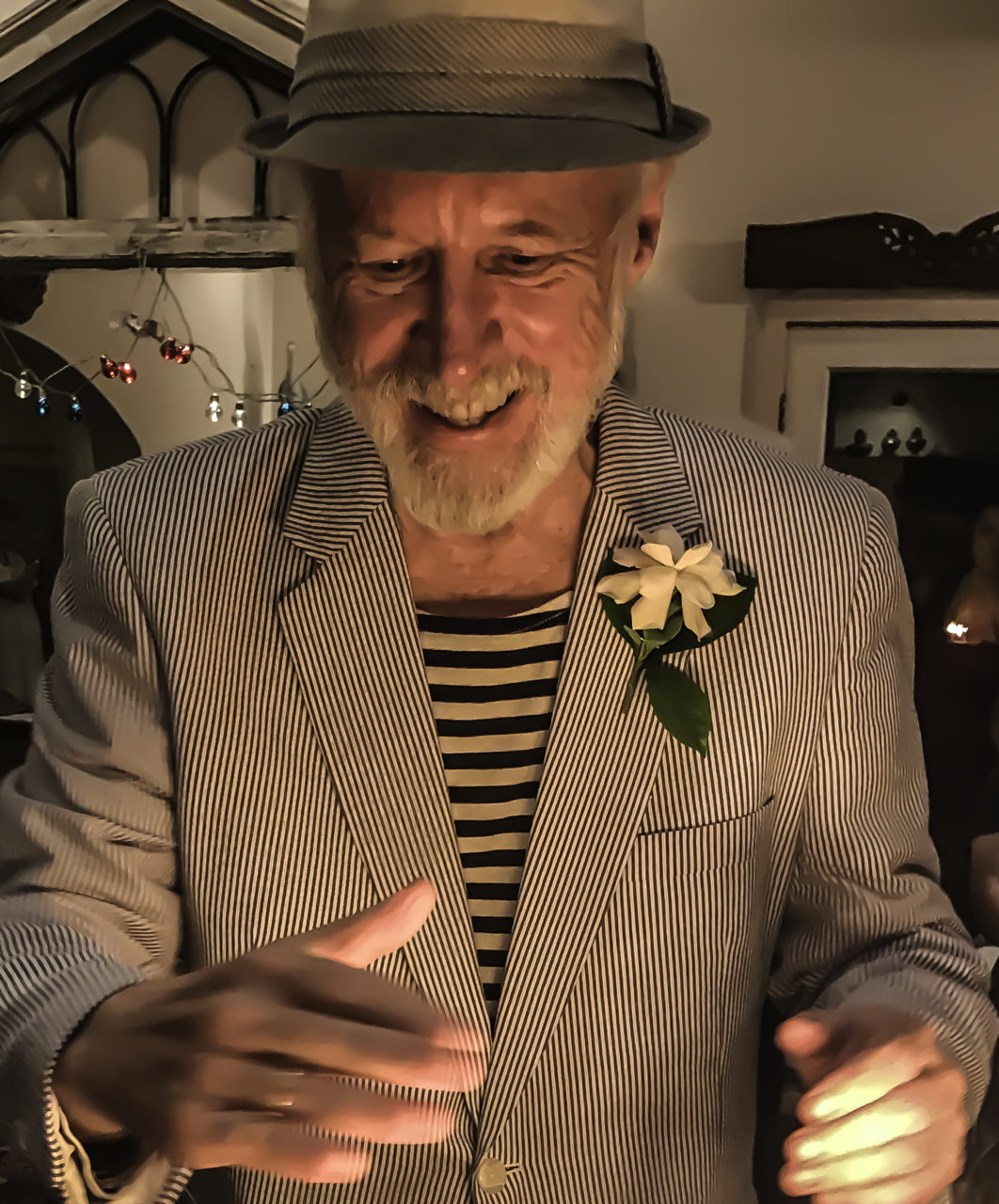 Allan Gurganus was born in 1947 in Rocky Mount, NC to a teacher and a businessman. Beginning as a painter, he studied at the University of Pennsylvania and Pennsylvania Academy of Fine Arts. Unable to avoid the Draft, he spent three years aboard the USS Yorktown during the Vietnam War. There he discovered the ship's vast library and voracious reading led to his becoming a writer.
After his leave from the U.S. Navy, he studied writing with Grace Paley at Sarah Lawrence College. At the Iowa Writer's Workshop, his mentor, John Cheever, surreptitiously submitted Gurganus's short story, "Minor Heroism" to The New Yorker. It was The New Yorker's first published story to feature a gay character.
His first novel, Oldest Living Confederate Widow Tells All, was released in 1989 to great acclaim, spending eight weeks on the New York Times bestseller list. It has been translated into twelve languages and has sold over two million copies. The CBS adaptation of the novel won four Emmy awards.
Gurganus went on to publish White People, a collection of short stories and novellas. The featured novella, Blessed Assurance: A Moral Tale, is taught as part of the Harvard Business School's ethics curriculum. His novel Plays Well With Others, portrayed the New York arts scene in the 1980s as AIDS ravaged a generation. The Practical Heart: Four Novellas was awarded the Lambda Literary Award in 2001. His latest work, Local Souls, is a collection of novellas and a return to his fictional universe of Falls, NC
Moving back to his home state of North Carolina from New York two decades ago, Gurganus has been an eloquent voice in the fight against dedicated racism and bigotry. He co-founded "Writers against Jesse Helms," and his criticism of American foreign policy has appeared in The New York Times.
Last month, on the day of his seventieth birthday he received news that his long gestating novel, The Erotic History of a Country Baptist Church, will be published.
Was there a moment when you knew that you were going to write, that you would be a writer above all else?
I started as a painter. Even as a little kid I knew to draw daily. I sold my oil paintings out of the Holiday Inn restaurant to Miami-bound tourists. When my first book appeared, I got letters from folks asking how much their 35$ oil paintings were worth now. I attended the Pennsylvania Academy of Fine Art for a year. When I dropped out, the Draft came for my young ass. I fought it in court but, to avoid six years' Federal prison, went into the Navy. (I'd read Conrad and Melville). It was on the aircraft carrier Yorktown in the South China Sea I began reading then writing fiction. The transition from painting to prose was seamless since my obsessive need to draw daily was already locked in place. At sea I wrote to preserve my jeopardized wartime sanity. Only on the page was I not only a civilian but a power, a god.
Can you pinpoint any writer who woke this urge in you?
The first great novel that 'happened to me' was Henry James's 'The Portrait of a Lady'. Its opening chapter seemed to be as painted as written. (By Vuillard or Bonnard or Stanley Spencer maybe). It showed me I could use my art historical knowledge and pictorial skill on the written page. James remains a literary godfather, both for his genius and his personal ethics.
How does a story begin for you?
They each sneak in through a different door. Sometimes it's a sentence overheard. Sometimes a brief news article. One title occasionally demands a story to go under it. — Other times I am trying to repay a debt still owed some worthy great aunt of mine. Or I can wish to experience a Civil War battle or a ball at Versailles. Only writing—through a borrowed persona's wants and needs and weak eyesight—can really place me there.
Do you listen to music while you write? Do you hear music?
I can find comfort in Bach solo keyboard works when typing in changes. But vocal music always distracts. Composing first drafts must be done in silence. That allows me to read each sentence aloud till its music and its common sense are one fused thing. Of course, I want the language to be fresh and unfamiliar. Advice to young writers: Read everything aloud to find your own pulse and melody. Focus on active, particular and visible verbs. Those are the two secrets so often overlooked. They are attractively low tech and two absolute life-saving essentials.
How do you know when you've finished a piece? Are you ever finished with it?
Eventually, after dozens of drafts, you can find not even one mistake on any given page. Then of course it must be connected with those pages fore and aft. But—true—books are less often finished than abandoned. 'Has the story been told by every single sentence of it?' That's the strenuous final question.
Was artistic success something you sought? Unlike a lot of writers, you seem to have taken pretty good care of yourself. How were you able to avoid the more ruinous aspects of success?
I was lucky—being born healthy into tribes uninterested in alcohol. I prefer morning to every other time of day. Anything, even in the Disco Years, anything that messed up my next morning's work I tried not repeating. One aspirin and four glasses of water at bedtime can sidestep morning's hangover. (Of course the first six weeks of any love affair retires all such order!) For me Success has meant earning enough money from writing to let me go on getting better at it. My Mercedes station wagon is seventeen years old but works perfectly. I know other people who have put their new car's payments above their artistic integrity. I was born with enough money so I don't overvalue money. The great reward of writing is not the prizes but the act of writing itself. Hard as the act is, it's that deeply rewarding—a kind of waking, controlled dreaming that few mortals are ever permitted. If the tales you tell succeed at enlarging and amazing your ideal reader, success has a way of finding you. Of course it takes decades. But, what ELSE would you rather be doing?
What was your reception from the queer literary scene? Did you feel at all a part of it?
I was 'out' with my first published story at the age of twenty six. That tale "Minor Heroism" was the New Yorker's first fiction to feature a gay character. Founder-editor Harold Ross wrote a memo to staff deciding never to acknowledge our species. The church and other institutions have long since practiced the same policy! I wanted rights for my gay characters; but my own gallery of heroes features just as many straight people. At this year's Harvard graduation all the African American grad students held a separate ceremony and saw that as some great cozy rite of self-empowerment. The designers of Jim Crow would've been pleased with this voluntary re-segregation. I am interested in the conflict and concord between gay people and heterosexuals. I don't want my work to be a mere Disneyland for Gay-Days Only. Most people who buy literary fiction in America are straight white educated middle-aged women, God bless them.
You spent your formative years in New York in the 1970s. Nearing the end, you stated that you felt you were on the "outer swing of the pendulum"? What does that feel like?
I am both a Vietnam vet and a survivor of Manhattan's AIDs maelstrom-pandemic. I lost more fellow soldiers in the second war than in the first. I survived through no merit of my own, mainly I guess by being a control-freak 'top'. My novel "Plays Well with Others" tells much of what we all lived through. The thirty closest friends I lost were the talented tenth and all were perfectly set to improve the world. The loss was comparable to England's forfeiting its upper class males to World War One. It should be daily stated: losing that refining 1970's talent left our culture open to the torrents of untalented sewage that has brought us pathological mediocrity as embodied by Donald J. Trump.You subtract thirty-thousand aesthetes and ethicists in a few years, coarsening sets in at once. And look what heterosexual commercial culture has brought us to now!
How did you know when it was time to leave New York and move back home to North Carolina? Did your writing ritual change?
I left New York after the funeral of a former lover. He was my last surviving charge. "My work here is done." I knew if I was going to assemble another such community of love, it had to be in another safer region. I kept NYC hours once settled in NC.
Does setting a story in a small town give you access to greater vistas of submerged emotion? Do you feel that you have more authorial control over Falls, NC stories than New York stories?
Yes, placing all my books in mythic Falls gives the work a mapping unity, a depth of associated history. My last book featured my own drawing of the town's literal geography. Falls is far more real to me than anything Siri can ever help me find. —I have spent more of my life in this imaginary village than anywhere else. That suits me fine. I drag real-world raw material to Falls in order to investigate then transform it into narrative gold or coal.
Was John Cheever a writer that echoed before you met him? Can you see any places in your approach to writing where he had influence?
Yes, I admired Cheever's prose before he became my mentor at the Iowa Workshop in the early 1970's. The stories remain superb and heraldic. Cheever was a fallen angel who believed Christian doctrine and did deep genuflecting both on the page and at Episcopal services. He celebrated "the inestimable greatness of the race, the harsh surface beauty of life." I love his grand sense of landscape and how its perfection contrasts with characters' petty crimes and major regrets. He was a tortured man but an endearing soul. Light is the recurring emblem in his work and his own charm was correctly luminous.
Can white writers fairly portray black lives?
My work attempts to create true and living black characters. I've had affirmation from no less an expert that Toni Morrison. But, however partial a portrait one manages, I think it's essential that gay people honor straight ones on the page, that Caucasians imagine themselves into darker skins and out of basic privileges. One thing Literature must never sanction is Segregation for reasons however fashionable. Literature is predicated on the bedrock assumption that shared human pain and joy make us more alike than different. Without that faith we lose our final hope.
Where are you on God these days?
I am just finishing a large novel called "The Erotic History of a Country Baptist Church". By studying one rural congregation across eighty odd years, I concede the viable force a church community provides. But am I nearer the belief that some divine being knows what kind of yogurt I'll soon eat for lunch? No. I don't want a Creator wasting time on the likes of me when this whole planet is melting like a candle! The evangelical Christians who block-voted for the corrupt pussy-grabbing Trump have crowned—against all their professed values—a shabby Vegas-level Satan impersonator. Christ still has much to teach. Two thousand years along, the Christian church has learned so little of it.
Was there any sense when you were a student at Iowa that your class would have such a profound effect on American letters? In light of his recent passing, could you talk about your former classmate Denis Johnson?
Talent, like the tides, is open to lunar influence. It surges, in waves. As a teacher I see wild clusters of ability. This helps explain history's literary movements. The Writers' Workshop at Iowa has always been a magnet for serious work. And of course in our huddle we felt excited by each other's sense of mission. We had T. Coraghessan Boyle, Ron Hansen, Richard Bausch, Jane Smiley, Stuart Dybek, Tracy Kidder, Denis Johnson, to name just a few. Some people try to define a classic "Workshop story" and like to imagine a club-members' formula. But given the variety of this list, I see no conformity to anything but radically individual gifts. I hate to lose Denis Johnson's voice. I love especially his stories and novellas. The long works full of possible CIA operatives seem written in jags and—as hinted in one titled "Tree of Smoke"—-they can reek of cannabis. But "Jesus' Son" and "Train Dreams' are essential and immortal. When Denis arrived on earth and likely the night he left it, I'll bet a full moon reigned.
Entrevue avec Allan Gurganus par Daniel Bridger
Allan Gurganus est né en 1947 à Rocky Mount, en Caroline du Nord, d'une mère enseignante et d'un père homme d'affaires. Peintre, il a fait des études à l'University of Pennsylvania et à la Pennsylvania Academy of Fine Arts. Incapable d'éviter la conscription il passe trois ans à l'étranger à bord du USS Yorktown durant la Guerre du Vietnam. C'est à bord qu'il a découvert une impressionnante bibliothèque et des heures de lecture l'ont mené à devenir écrivain.
Après son départ de la marine américaine, il a étudié l'écriture avec Grace Paley au Sarah Lawrence College. Dans le cadre de l'atelier Iowa Writer's Workshop, son mentor John Cheever a subrepticement soumis une nouvelle de Gurganus intitulée Minor Heroism au New Yorker. Sa publication marque la première histoire du New Yorker où figure un personnage homosexuel.
Son premier roman, Oldest Living Confederate Widow Tells All, a reçu un immense succès dès sa publication en 1989, restant huit semaines sur la liste des bestsellers du New York Times. Il a été traduit en douze langues et plus de deux millions de copies ont été vendues. L'adaptation réalisée par CBS a été lauréate de quatre Emmys.
Gurganus a publié par la suite White People, un recueil de nouvelles. La nouvelle Blessed Assurance : A Moral Tale fait maintenant partie du cursus éthique de la Harvard Business School. Sa pièce Plays Well With Others représente la scène artistique new-yorkaise durant les années 80, alors que le sida ravageait toute une génération. The Practical Heart : Four Novellas s'est vu recevoir le Lambda Literary Award en 2001. Sa plus récente œuvre, Local Souls, est un recueil de nouvelles et est un retour à l'univers fictif Falls, en Caroline du Nord.
Après avoir quitté New York pour revenir à sa Caroline du Nord natale il y a vingt ans de cela, Gurganus est devenu une voix éloquente dans la lutte contre le racisme et l'intolérance. Il a cofondé Writers against Jesse Helms (ndr : Auteurs contre Jesse Helms) et sa critique de la politique étrangère américaine est parue dans le New York Times.
Le mois dernier, soit le jour de son soixante-dixième anniversaire, il a appris que son roman de longue haleine, The Erotic History of a Country Baptist Church, serait publié.
Y a-t-il eu un moment où vous avez su que vous passeriez votre vie à écrire, que vous seriez avant tout un auteur ?
J'ai fait mes débuts en tant que peintre. Même enfant, je savais que je devais peindre tous les jours. Depuis le restaurant du Holiday Inn, je vendais mes peintures à l'huile à des touristes en route vers Miami. Après la parution de mon premier livre, j'ai reçu des lettres me demandant combien mes tableaux achetés pour 15 $ valaient maintenant. J'ai étudié à la Pennsylvania Academy of Fine Art pendant un an. C'est lorsque j'ai abandonné que la conscription m'a mis le grappin dessus. J'ai essayé de me battre contre la décision en cour, mais pour éviter six ans de prison fédérale, je me suis enrôlé dans la marine. (J'avais lu Conrad et Melville). C'est sur le porte-avions Yorktown dans la mer de Chine méridionale que j'ai commencé à lire et ensuite à écrire des œuvres de fiction. La transition entre la peinture et la prose s'est effectuée de manière harmonieuse, car mon besoin obsessionnel de dessiner chaque jour était déjà bien ancré. En mer, j'écrivais pour préserver ma santé mentale mise en péril par la guerre. Il n'y avait que sur les pages où j'étais une puissance, un dieu, plutôt qu'un civil.
Pouvez-vous identifier un écrivain qui a éveillé chez vous ce désir ?
Le premier grand livre « qui me soit arrivé » était The Portrait of a Lady par Henry James. Son chapitre d'ouverture paraissait aussi bien peint qu'écrit (par Vuillard ou Bonnard ou peut-être Stanley Spencer). Ça m'a démontré que je pouvais utiliser mes connaissances en histoire de l'art et mes talents picturaux à l'écrit. James demeure un parrain littéraire, autant pour son génie que pour son éthique personnelle.
Comment commence une histoire pour vous ?
Elles se faufilent toutes par une porte différente. Parfois, c'est une phrase que j'ai entendue au hasard ; parfois un bref article de journal. Par moment, un titre exige une histoire. Il arrive que j'essaie de rembourser une dette due à une digne grand-tante. Ou j'espère vivre une bataille de la guerre de Sécession ou un bal à Versailles. Par le biais des besoins, des désirs et de la myopie d'un personnage, il n'y a que l'écriture qui peut m'y amener.
Écoutez-vous de la musique en écrivant ? Pouvez-vous entendre la musique ?
Je trouve du réconfort dans les solos pour clavier de Bach lorsque j'écris des modifications. Mais le chant me distrait toujours. La composition de premiers jets doit être faite dans le silence. Ça me permet de lire chaque phrase à voix haute jusqu'à ce qu'elles ressemblent à de la musique et qu'elles partagent un sentiment commun. Évidemment, je veux que le langage soit moderne et inconnu. Un conseil pour les nouveaux auteurs : lisez tout à voix haute pour trouver votre rythme et votre mélodie propres. Mettez l'accent sur des verbes actifs, particuliers et visibles. Voilà deux secrets trop souvent négligés. Ils sont merveilleusement rudimentaires et indispensables.
Comment savez-vous que vous avez terminé une œuvre ? Arrivez-vous à considérer une œuvre comme complète ?
Après une douzaine de brouillons, on n'arrive plus à trouver de fautes, peu importe la page. Bien évidemment, cette page doit être reliée aux pages qui la précèdent et la suivent. Mais il est vrai que les livres sont plus souvent abandonnés qu'achevés. « Est-ce que chaque phrase en raconte l'histoire ? » Là est la question.
Avez-vous recherché le succès artistique ? Contrairement à beaucoup d'auteurs, vous semblez avoir bien pris soin de vous. Comment avez-vous su éviter les aspects plus néfastes du succès ?
J'ai eu de la chance ; je suis né en santé dans une famille peu intéressée par l'alcool. Je préfère le matin à tout autre moment de la journée. J'essayais de ne jamais répéter ce qui nuisait à mon travail du lendemain matin, et ce, même durant les années disco. Quatre verres d'eau et un cachet d'aspirine au coucher peuvent éviter la gueule de bois. (Bien sûr, les six premières semaines de toute affaire amoureuse chamboulent ce bon ordre !) Pour moi, le succès représentait gagner assez d'argent de l'écriture pour me laisser continuer et m'améliorer. Ma familiale Mercedes a dix-sept ans, mais fonctionne à merveille. Je connais des gens qui ont accordé plus d'importance à leurs prêts auto qu'à leur intégrité artistique. Je suis né avec assez d'argent pour ne pas surévaluer l'argent. La grande récompense de l'écriture n'est pas les prix, mais l'acte même d'écrire. Aussi ardu soit-il, cet acte est profondément gratifiant – un genre de rêve éveillé contrôlé que peu de mortels ont la chance de vivre. Si les histoires que vous racontez réussissent à épanouir et ébahir votre lecteur, le succès vous trouvera. Ça prend des décennies, c'est certain. Mais, qu'est-ce que vous préfèreriez PLUTÔT faire?
Comment a été votre introduction à la scène littéraire queer ? Sentiez-vous en faire partie ?
J'avais 26 ans et j'étais ouvertement gai lorsque ma première histoire a été publiée. Minor Heroism était la première œuvre de fiction dans le New Yorker à mettre en vedette un personnage gai. Le fondateur et rédacteur en chef Harold Ross a rédigé un mémo à son équipe indiquant qu'il ne reconnaîtrait jamais notre espèce. L'Église et d'autres institutions ont mis en pratique la même politique depuis longtemps ! Je voulais des droits pour mes personnages homosexuels, mais mon éventail de héros compte autant de personnes hétéros. Lors de la graduation de Harvard cette année, tous les diplômés afro-américains ont participé à une cérémonie séparée et y ont vu un beau rituel d'autonomisation. Les créateurs de Jim Crow se seraient réjouis de cette re-ségrégation volontaire. Je m'intéresse aux conflits ainsi qu'à l'harmonie entre les homosexuels et les hétérosexuels. Je ne souhaite pas que l'ensemble de mes œuvres soit un pseudo Disneyland pour les journées de fierté seulement. La plupart des consommateurs de fiction littéraire en Amérique sont des femmes blanches instruites hétérosexuelles de classe moyenne ; que Dieu les bénisse.
Vous avez passé vos années formatives dans le New York des années 70. Vers la fin, vous avez déclaré vous être senti comme sur le on « outer swing du balancier » ? À quoi ressemble à cette impression ?
Je suis à la fois un vétéran du Vietnam et un survivant du tourbillon pandémique du sida à Manhattan. J'ai perdu plus de compatriotes dans cette deuxième guerre que dans la première. Je crois que j'ai survécu, sans aucun mérite, en étant un actif obsédé par le contrôle. Ma pièce Plays Well with Others raconte ce que nous avons tous traversé. Les trente amis proches que j'ai perdus étaient de rares talents et allaient changer le monde. La perte est comparable aux décès des hommes de la haute société anglaise durant la Première guerre mondiale. Ça se doit d'être dit quotidiennement : perdre ce talent propre au années 70 a laissé notre culture vulnérable aux torrents d'eaux usées insipides qui nous ont apporté la médiocrité pathologique telle que personnifiée par Donald J. Trump.
Vous soustrayez trente-deux mille esthètes et éthiciens en l'espace de quelques années et la grossièreté nous frappe d'un coup. Regardez ce que la culture commerciale hétérosexuelle nous a apporté!
Comment avez-vous décidé qu'il était temps de quitter New York et de revenir en Caroline du Nord ? Votre rituel d'écriture a-t-il changé ?
J'ai quitté New York après les funérailles d'un ancien amant. Il était la dernière personne à ma charge. « Mon travail ici est terminé. » Je savais que si j'allais rebâtir une autre communauté d'amour, ça devait être dans une région plus sûre. J'ai gardé mon horaire new-yorkais une fois établi en Caroline du Nord.
Le fait de situer une histoire dans une petite ville vous donne-t-il accès à une plus grande gamme d'émotions cachées ? Sentez-vous avoir plus de contrôle sur les histoires de Falls plutôt que sur celles de New York?
Oui, le fait de placer tous mes livres dans la mythique ville de Falls donne aux œuvres une unité géographique, un océan d'histoire. Mon dernier livre incluait un dessin que je fais représentant la géographie de la ville. Falls est plus réelle pour moi que tout ce que Siri pourrait m'aider à trouver. — j'ai passé plus de temps au cours de ma vie dans ce village imaginaire que n'importe où ailleurs. Ça me convient très bien. J'apporte du matériel brut puisé de la ville réelle à Falls de manière à le transformer en or littéraire ou en charbon.
Est-ce que John Cheever vous avait marqué avant même de le rencontrer? Pouvez-vous déterminer des facettes de votre approche face à l'écriture sur lesquelles il a eu une influence?
Oui, j'admirais la prose de Cheever avant même qu'il devienne mon mentor au Iowa Workshop au début des années 70. Ses histoires demeurent superbes et héraldiques. Cheever était un ange déchu qui croyait en la doctrine chrétienne et a fait une sérieuse génuflexion à la fois sur la page et au service épiscopal. Il célébrait la « grandeur inestimable de la race, l'austère beauté de la vie. » J'adore son sens grandiose du paysage et la façon dont sa perfection fait le contraste avec les profonds regrets et les petits délits des personnages. Il était un homme torturé, mais une âme attachante. La lumière est un symbole récurrent dans ses œuvres et son charme n'en était pas moins lumineux.
Est-ce qu'un auteur blanc peut représenter fidèlement la vie des Noirs?
Mes œuvres tentent de créer des personnages noirs vrais et réels. J'en ai eu la confirmation par nul autre que Toni Morrison. Je crois qu'aussi partiel le portait qu'un auteur puisse peindre, il est essentiel que des personnes gaies mettent des hétéros sur papier, que des personnes de race blanche s'imaginent dans des peaux plus foncées que la leur et exemptes des privilèges de base. Une chose que la littérature se doit de ne jamais sanctionner est la ségrégation, peu importe les modes et les mœurs. La littérature repose sur l'hypothèse que la douleur et le bonheur humains nous unissent plus qu'ils nous séparent. Sans cette conviction, nous perdons notre dernier espoir.
Quelle est votre relation avec Dieu ces temps-ci?
Je termine présentement un long roman intitulé The Erotic History of a Country Baptist Church. En étudiant l'histoire d'une congrégation rurale sur une période de près de quatre-vingts ans, je dois admettre la force viable qu'une communauté ecclésiale offre. Mais suis-je plus proche de la croyance qu'une quelconque divinité sache quelle sorte de yogourt je m'apprête à manger ? Non. Je ne veux pas d'un Créateur qui perd son temps sur quelqu'un comme moi pendant que la planète fond comme une chandelle ! Les chrétiens évangéliques qui ont voté pour Trump, l'attrape-chattes corrompu, sont allés à l'encontre de leurs soi-disant valeurs et ont couronné un imitateur de Satan ringard à peine digne de Vegas. Le Christ en a encore long à prêcher. Deux mille ans se sont écoulés et l'Église a retenu si peu du message.
Lorsque vous étiez étudiant, saviez-vous déjà que votre classe aurait un impact aussi marquant sur la littérature américaine? Suite à son récent décès, pouvez-vous nous parler de votre ancien camarade de classe Denis Johnson ?
Le talent, comme les marées, est sujet à l'influence lunaire. Il vient par vagues. En tant que professeur, je vois des pics de talents. Ça contribue à expliquer les courants littéraires de l'histoire. Le Writers' Workshop à Iowa a toujours attiré des œuvres d'envergure. Il est évident que lors de notre rassemblement, nous avons tous été excités par le sentiment de mission que nous éprouvions tous. Nous avons eu T. Coraghessan Boyle, Ron Hansen, Richard Bausch, Jane Smiley, Stuart Dybek, Tracy Kidder, Denis Johnson, pour ne nommer que ceux-là. Certains essaient de définir l'histoire d'atelier classique et aiment imaginer une formule toute faite. Compte tenu de la diversité présente sur cette liste, je ne vois aucune conformité à quoi que ce soit, outre des talents complètement propres à chacun. Je déteste perdre la voix de Denis Johnson. J'aime tout spécialement ses récits et ses nouvelles. Ses ouvrages plus chargés, remplis d'agents de la CIA potentiels semblent avoir été écrits par jets, et, comme le sous-entend le titre de Tree of Smoke, ils puent le cannabis. Mais Jesus' Son et Train Dreams sont essentiels et immortels. Je parie que le jour où Denis est né et sans doute le soir où il nous a quittés, il y avait pleine lune.