DJ Dickey Doo interview with Jamecia Bennett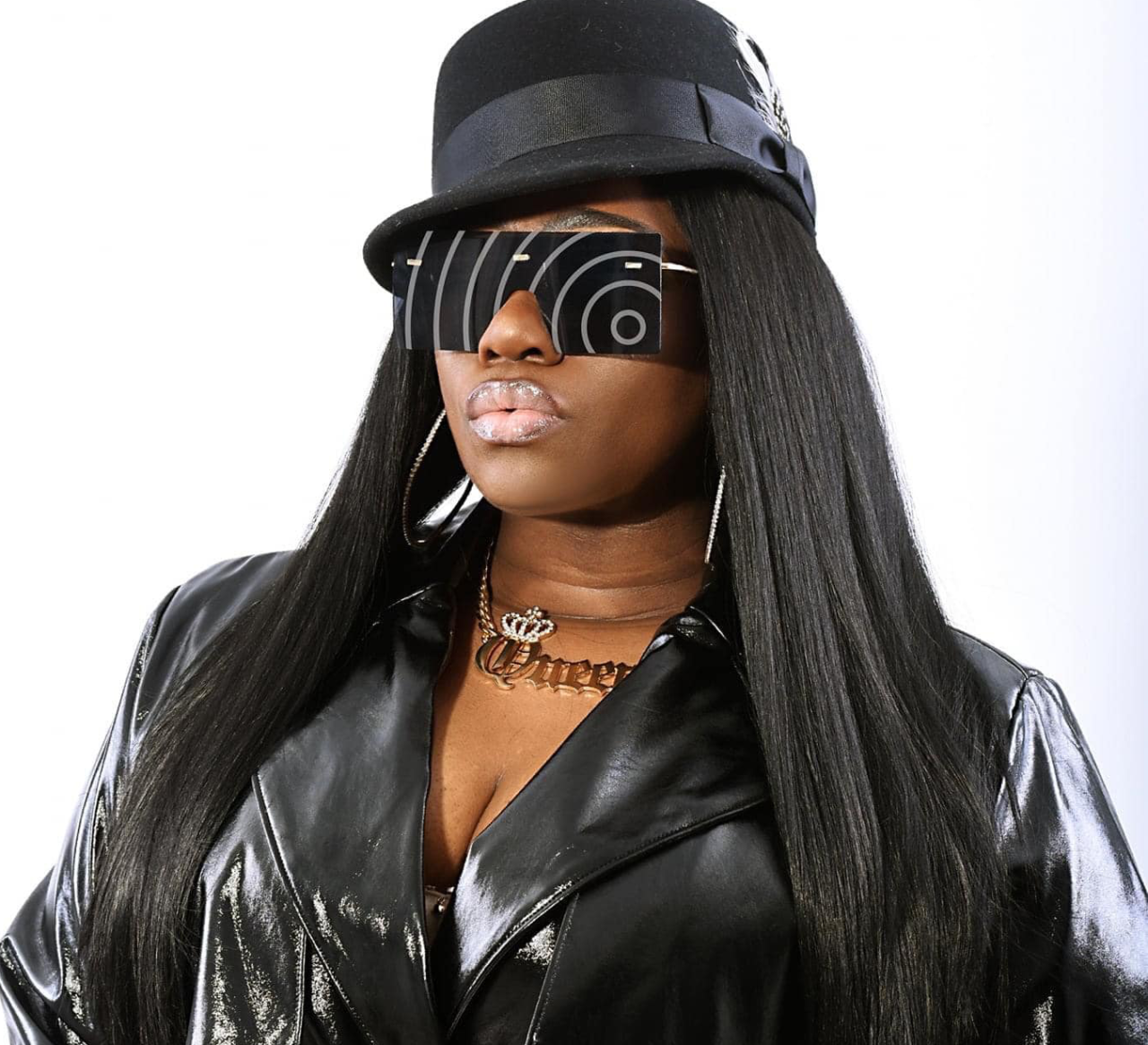 (Photo: Nagashia Jackson Photography)
Berlin-based DJ and House music producer Dickey Doo collaborated with Gospel vocalist Jamecia Bennett, a member of the Grammy-winning Minneapolis based group Sounds Of Blackness, on her newest 2021 single "Do What You Want".  Jamecia has provided vocals for the legendary production duo Jimmy Jam and Terry Lewis, recorded with Prince, Aretha Franklin, and many more.  It was through a mutual contact that Berlin-based, Canadian-born DJ & Producer Dickey Doo connected with Jamecia, also the daughter of gospel legend Ann Nesby.
Jamecia's single "Do What You Want" was released January 8th, 2021 via Hypernatural Recordings.
For our February magazine, Dickey Doo interviewed Jamecia to speak about her background, lineage, and musical inspirations.
Coming from such a musical lineage, what it was like for you growing up in a musical family and having the legendary Ann Nesby as your mother?
Well, I grew up in a family of ministers. I grew up in church, singing, I started doing harmonies with my mom when I was four years old. You know, Mahalia Jackson and Rosetta Tharpe were the Beyonce and Rihanna of my grandmother's time. People compared my grandmother to Mahalia and, when my mother came out, they compared her to Aretha. I knew at an early age that my mother was a queen, I knew what my mom's voice did to people because it was so big, yet it had this different unique sound. So I would always try to mimic my mom when I was growing up. My friends would all be outside playing, doing double Dutch and riding their bikes and I was in the house sitting at the piano, looking out the window, because my mom would have me in there learning harmonies. She knew what she was doing and what seeds she was planting in me. My aunt is Marie Graham, and they compared her with the likes of Gladys Knight! She was a favorite of President Hubert Humphrey. When he passed away, his family asked for my aunt specifically to sing at his funeral. She was really huge here in the Twin Cities before my mom and I moved here. She was in The Sounds of Blackness first! Also my Uncle Jimmy, Big Jim! He was a musician for The Sounds of Blackness. He was also a music director for Mariah Carey and Yolanda Adams. So my mother, my aunt, my uncle, and my cousin were all in the The Sounds of Blackness and that's how I learned a lot of what I do!
Can you give us a short history about the multiple Grammy-winning gospel collective The Sounds of Blackness?
The Sounds of Blackness started off as part of the McAllister College choir. We are originally from Illinois, my mother was visiting my aunt in Minneapolis, and she had joined The Sounds of Blackness. This one particular year, she was having a rehearsal for their annual Christmas show and the leading lady was out sick.  They were in rehearsal and Gary Hines, the musical director, asked my Mom to step in and audition for the part. So my mom ended up doing the show! Then, a short while later when they did "Music from Martin", where they do all the kinds of songs for Martin Luther King they asked my mom back and ended up calling her in to do an audition to join The Sounds of Blackness full time.  We came back and she did the show. Jimmy Jam and Terry Lewis were in the audience. They came to all the sounds of blackness shows, as they'd grown up on them. At that time Janet Jackson was recording her "Control" album, and they ended up bringing her to the show. She was watching the show and said you guys need to sign them! They were already thinking about signing them anyway. I think that little boost from Janet kind of was the kicker and they signed them and signed my Mom to be the lead singer.  So that is the way The Sounds of Blackness came into fruition.
That's actually really funny, because my next question is: What was it like to work with Jimmy Jam and Terry Lewis?
Working with them is like something I can't even explain because they are so eclectic in the studio. There will be one person in Studio A, another person will be in Studio B, and they'll have something else going on in Studio C.  At 17. I was going from Studio A to Studio B to Studio C, they were kind of moving me around because they were training me and using me for all of these projects, and basically saying to me okay, you're young, you're going to be different. You will not be the statistic (What does this mean?), we will have you working. They were like my uncles. I got disciplined by them. They made me be accountable for getting my studio sessions in and making sure I got my stuff in on time and all of that. They taught me at a young age about the music business. I was the youngest member of The Sounds of Blackness, I was kind of like the little, you know, the theater rat, just kind of bouncing around with everybody. They allowed me in spaces that they wouldn't allow other people in because I was so young, which gave me the opportunity to work with Prince! "Scandalous" off the Batman soundtrack! I did the theme song for Demolition Man with Sting. All of these opportunities came from them, training me and giving me the opportunity to come in and do the work. It wasn't easy. I was there till like two or three o'clock in the morning, and then go home, get some rest, go to school. After school I'd finish my homework and then back in the studio. To be living that life at that age was hard work but it was great.
That just blows my mind. Jimmy Jam, Terry Lewis, Prince, all artists I've loved since I was a teenager! Have you ever been inside Paisley Park?
I have. That's where we did the recording for Prince. So yeah, I've been there a few times. He would do spontaneous concerts that had no advertising or anything. You would get these little passes sent to your emails or whatever. No drinking, no smoking, none of that. Amazing concerts with amazing musicians and he'd play to like five in the morning. It was ridiculous. Yeah.
Wow. Who would you list as your top three musical inspirations or heroes?
I fell in love with Rosetta Tharpe. Who was the godmother of rock and roll and blues? Of course I'm going to say my mom, but she's not part of the three, but I'm gonna say my mom. Chaka Khan and Bette Midler.
Do you have a favorite part to the creative process?
Probably being in the studio creating. I'm hands-on type of singer. Working with Terry and Jimmy I learned a lot about the technical aspects of the studio. Writing drives me insane, It's just anxiety all the way. Ah, but in the studio. That's my love.
A lot of people probably don't know this about you, because everyone knows you as a singer, but you also play instruments. You play drums, which I love, because I'm also a drummer. You're also taking up the bass and you also play some piano.
Yes, I do. In my live shows I sometimes get on the drums and people are like, oh, shoot, what, what's happening? I play congas and timbales in my live show, as well.
Can you speak a little bit about the Minnesota Movement?
The Minnesota Movement is my company that I started in 2005. It's a company that I built around young people. I had a restaurant back in 2005, and we would get kids that would come in every now and then and I was like, you know, we need to do something for them. So we created a stage and started open mic nights, and it ended up being one of the largest open mic nights in Minnesota. I started having the kids come down independently of the normal open mics and started giving them actual feedback, constructive criticism, networking, music business one on one, we sent a couple of kids to the ASCAP writing events. And I ended up doing an event where I let performers perform for like a month, I chose 12 of them and then I took them out on an actual tour. It was a five-city tour. They had a schedule, they had a booklet, they had an itinerary. A couple of kids got left at the hotel, because they weren't downstairs in the lobby on time. Made them understand what it would really feel like if they were signed, and they were out on the road. I've just revamped it again. And it's starting again with my boot camp.
I can't think of anything better to occupy a young person's time.  So what do you see for yourself in the future?
Hopefully, for this world to open up and for us to have human contact with each other again. I see myself being overseas again because when I was back and forth overseas I was with Sounds of Blackness. So I didn't get an opportunity to really spread my wings. It was a blessing to build the relationships I did. I'm definitely looking forward to having more international adventures!
Where do you see the industry going in the future?  We seem to be at such a crossroads. The few decades we had of artists making bank off music and record deals, to now with it all going quite the opposite way, all the problems that we're hearing about with streaming and people not getting paid. Do you think the scales will balance?
I think everything comes back. I think what's going to happen with music is going back to the days of old. Like when Motown put multiple groups on buses and they were touring roadshows. Once the world opens back up, people are going to want to tour! Artists are going to deal with having an audience differently, it's going to be more appreciated. Before this whole COVID chaos happened, you know, you found some artists that would be so difficult to work with, they don't want to come out to greet their audience and all of that. Baby, you ain't gonna have to tell them that anymore! It may be kind of difficult for the major labels aside from their huge machine artists because there's so many independent opportunities for young people to grasp hold of. I know we were talking about streaming and how that works, but these millennials are working nonstop creating different ways to generate money for artists when it comes to music. Touring, and being intimate with our audiences, I think is going to be the best way for us to get paid. So creating that music that people love and getting out there and having the support and the sponsorship to be able to go out and put the music onstage.
I love that nice positive outlook–tell us something about yourself that may surprise us!
I have a Jamaican rum bar and restaurant in Minneapolis. I specialize in rums and am a rum connoisseur. Right now I'm finding different rums from everywhere all over the world.  Also I have three beautiful children.
I know of your daughter Paris Bennett, who was on American Idol.
Yes, and my youngest son sings as well, he's 17. And then I have a 22-year-old, a fantastic graduate.
Is there a book that you would like to recommend for Black History Month?
Michelle Obama's book is the most enlightening book. If you haven't gotten it, please get it. She's giving you so much information! It's an amazing book. Women have been in the shadows for so long and what a blessing it is for us to come out ! Shout out to our new vice president, who just got inaugurated today! It's just amazing to see all of these women coming to the forefront!
I agree, I think that a brighter future is dependent on more women in powerful positions!  Any final thoughts?