Genderful Journey: Mikela Jay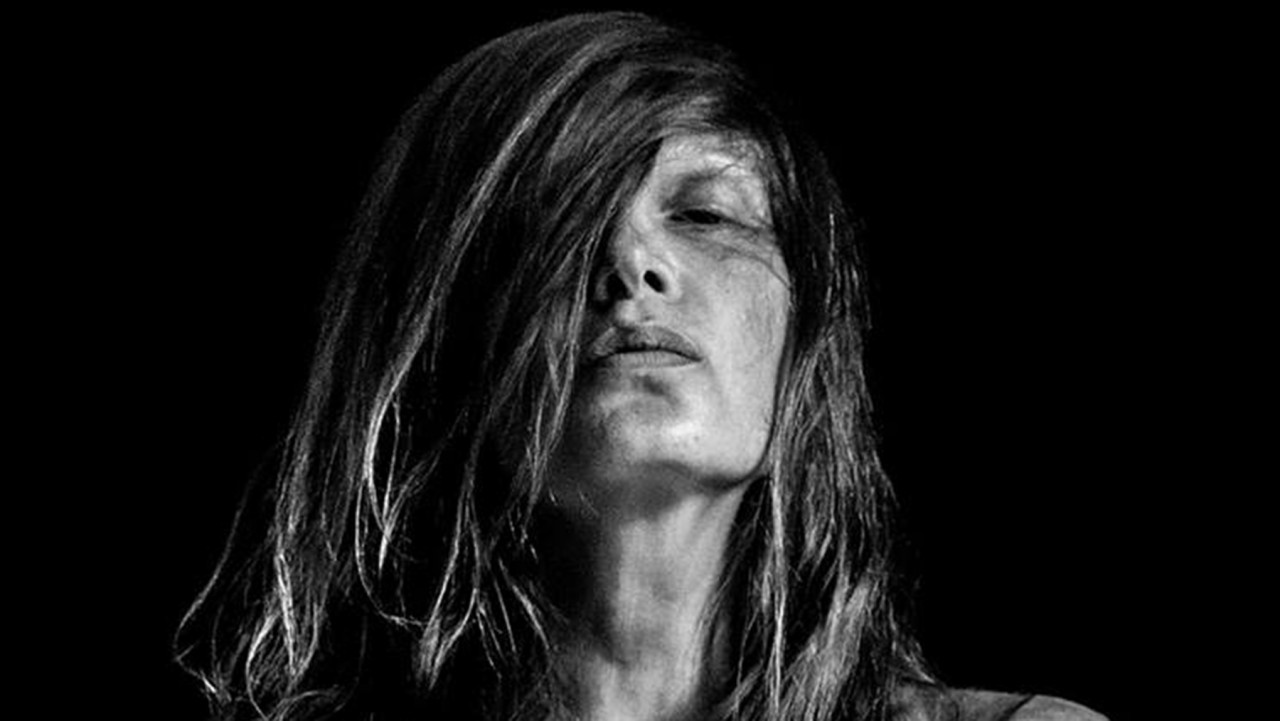 When Michael Venus asked me to write an article to appear in the first online magazine for Never Apart, I wasn't sure what the subject matter would be. For the most part, I get asked to speak about very heavy subject matter narrating documentaries such as 'The Corporation', 'Pax Americana & the Weaponization of Space', 'PSYWAR', 'Human Resources – Social Engineering in the 20th Century', 'The Power Principle', 'Counter-Intelligence', and the newly released 'Plutocracy'. Films that usually include an appearance by Noam Chomsky, or always a mention of some type of corruption.
Michael though, wanted me to write about myself this time, covering my experiences traveling as a model, actress, singer, and life in general, with the focus to be on an issue I don't get asked to speak about often – that I was born intersex. Now, it's not the first time I have talked about it and I have never thought of capitalizing on it in anyway. Yet, in 1997 I did a photo-based installation with creative genius Jamie Griffiths, collaborating on a series of images, video, and audio inspired by some of what I went through growing up. After I did some press interviews, I hid away for a time and didn't discuss it again for a while.  Because of the exhibit, casting directors discovered me and began hiring me for small roles, eventually leading to guest star and lead appearances in film and television. Throughout most of my career, nobody really wanted to hear what I had to say and, for that reason alone, I mostly kept things to myself. I find it ironic that now at 50 years old, it is timely that I speak out again and hopefully connect with people born similar to myself, and possibly educate others that aren't familiar with the term.
A bit of herstory – I first met Michael Venus in 1996 in Vancouver after many years traveling throughout Europe and Japan as an aspiring supermodel and settled in Vancouver after 2 years singing in industrial goth electronic bands mostly in Amsterdam and Belgium. To my amazement, I was swiftly embraced by the very diverse rainbow tribe of creative warriors that all seemed to congregate in Vancouver during this time. I remember meeting Michael and we immediately were fast friends. I became the house model for House of Venus appearing in fashion shows, magazine spreads, art events – you name it. I also got to perform and sing with my band at a number of Michael's galas. Flash forward 20 years to 2016 and here we are. The world is a very different place. Within the last year alone trans rights and trans awareness have become the number one spotlight in the LGBT fight for equality. However, what has been quietly missing in the dialogue is the letter "I" for intersex. There aren't enough letters to represent everyone in the acronym, which I often refer to as 'the alphabet people'. Intersex is not the same as trans, although like plums and nectarines they are of the same family. Intersex is also not the same as hermaphrodite, considered in some cultures to be divine, which is a word from another era mostly referring to people that were paraded around in cages at circuses. Intersex is in fact a modern term that covers a broad spectrum of variance in physiology, chromosomes, hormones, and reproductive development. With less than 1 in 2000 being born intersex  it is in fact quite normal.
For myself it was thought I was born male although my mother and the women in my family recognized very early on this was not the case, that there was more to the story. Our family doctor at the time thought I should be brought up "normal", meaning as a boy. That did not last long. From as early as I could speak and recognized my own identity I fully expressed myself as female, correcting everyone angrily in frustration. Many times people would comment what a beautiful little girl I was  only to be awkwardly corrected. This went on for years. It caused a major rift in my family, as well as endless fights with my father, culminating in my running away from home and school at fifteen with barely grade 9 as my education. I worked many part time jobs doing reception, working in hair salons, learning word processing and becoming an admin assistant, working behind the scenes at a cable TV station, doing extra work, modelling, and working retail in designer shops. Although once I started modelling, I never looked back. Being accepted by the industry built my confidence for the first time in my life. Although it now seems superficial, as fashion is basically summer camp for beautiful people, it was a community to me. I met my very best friend/sister Andrea Battersby and we became immediately close back in 1989. Today we are in a band together called MAGT, along with her partner and producer Geoff Doner, and another dear friend Troy Jackson. Music has always been a part of my life, blessing me with longtime collaborators, such as Fat Benjamin in the UK. I hope what is beginning to occur is a shift in perspective now that online people from all over the world can learn about one another and recognize there are so many variances and hues of the human experience. Whether that's in the various shades of flesh encasing our bones and sinew, or how we choose to express our diverse gender-full possibilities, its important we allow for others to celebrate that freedom as well. The thing I learned the most from this experience is that it's not up to us to decide who somebody else is, or how they should live, or whom they should love. We are responsible for our own actions, thoughts, feelings and personal expression. For me, that means always living what's true for me. I feel incredibly fortunate at this stage in life, that people continue to ask me to work with them on such an amazing spectrum of creative projects. How I may have started off in this world is of very little relevance. What's more ironic, as a teenage runaway, the majority of my documentary work helps educating people in business courses, high school classes, and colleges. My supreme wish is that kids born intersex have more options available to them, access to resources and appropriate health care. I hope that their parents can feel supported by the community of other parents to help them navigate towards their children having full rich lives.
Photos by Julie Laurin and Gregory Middleton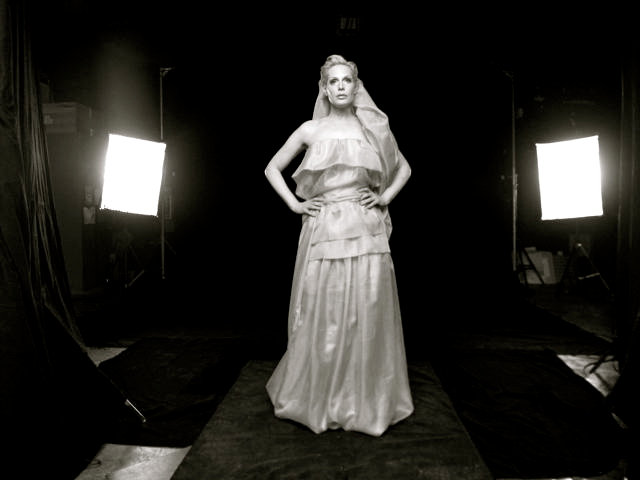 Cette fois, Michael voulait  plutôt que j'écrive à propos de mes propres expériences en tant que mannequin, actrice et chanteuse, en plus de ma vie en général, en mettant l'accent sur un sujet qu'on me demande rarement d'aborder – le fait que je sois née intersexuée. Précisons, ce n'est pas la première fois que j'en parle et je n'ai jamais songé à en profiter. Toutefois, en 1997, j'ai collaboré avec Jamie Griffiths, véritable génie créatif, sur une installation photographique composée d'une série d'images, de vidéos et de clips audio inspirés de mon vécu durant l'enfance. Après avoir fait quelques entrevues de presse, je me suis cachée et n'en ai plus discuté pendant une longue période. Grâce à l'exposition, des directeurs de casting me découvrirent et commencèrent à m'engager pour de petits rôles, ce qui me mena par la suite à des rôles de plus grande envergure au cinéma et à la télévision. Durant la majeure partie de ma carrière, personne ne voulait réellement entendre ce que j'avais à dire et c'est principalement pour cette raison que je préféraisme taire. Je trouve ironique qu'à l'âge de cinquante ans, il soit opportun pour moi d'aborder à nouveau le sujet et de, je l'espère, me rapprocher d'autres personnes nées semblables à moi ainsi que, peut-être, éduquer des gens qui ne sont pas familiers avec le terme.
Un peu de son histoire – j'ai rencontré Michael Venus pour la toute première fois à Vancouver en 1996, m'y étant installée après avoir passé des années à parcourir l'Europe et le Japon en tant qu'aspirante top modèle, et à chanter pendant deux ans dans des groupes goths industriels électroniques, majoritairement à Amsterdam et en Belgique. À ma grande surprise j'ai tout de suite été acceptée par l'éclectique tribu arc-en-ciel de guerriers artistiques qui semblaient se rassembler à Vancouver à cette époque. Je me rappelle avoir fait la connaissance de Michael et d'être tous deux immédiatement devenus amis. Je devins le mannequin attitré du House of Venus pour les défilés, les éditoriaux, les événements artistiques – peut importe, j'y étais. J'ai aussi eu la chance de pouvoir donner des spectacles et de chanter avec mon groupe à un bon nombre de galas organisés par Michael. Propulsons-nous vingt ans en avant et nous voilà en 2016. Le monde a bien changé. Au cours de l'année dernière, les droits des personnes transgenres et la sensibilisation au transgénérisme sont devenus des priorités dans la lutte pour l'égalité de la communauté LGBT. Toutefois, ce qui manque à la discussion est la lettre "I" pour intersexué. Il n'y a pas assez de lettres pour représenter tout le monde dans cet acronyme, que je qualifie souvent de « gens alphabet ». Intersexué ne veut pas dire la même chose que transexué, même si, telles des prunes et des nectarines, ils sont de la même famille. Intersexué n'est pas non plus la même chose qu'hermaphrodite, considéré comme divin par certaines cultures mais restant non moins un mot d'une autre époque semblant se rapporter à des gens exhibés dans des cages de cirques. Intersexué est en fait un terme moderne qui englobe un large éventail de variances en physiologie, par rapport aux chromosomes, aux hormones et au développement reproductif. Avec moins d'une personne sur deux mille née intersexuée, c'est en fait très normal. Pour ma part, on a cru que j'étais née mâle, même si ma mère et les autres femmes de ma famille avaient rapidement reconnu que ce n'était pas le cas, que la situation était plus complexe. Notre médecin de famille de l'époque croyait que je devait être élevé de façon « normale », donc en garçon. Ça n'a pas duré. Dès le moment où j'ai pu parler et reconnaître ma propre identité, je me manifestais en temps que personne de sexe féminin, corrigeant avec colère et frustration tous ceux qui se méprenaient sur l'identité que je savais mienne.
À maintes reprises, les gens qui disaient quelle jolie petite fille j'étais se faisaient maladroitement reprendre. Ça a duré pendant des années, causant un important conflit au sein de ma famille et des disputes sans fin avec mon père, le tout culminant avec ma fugue de la maison à l'âge de quinze ans, enquittant l'école sans avoir complété mes études secondaires. J'ai fait des tas de boulots à temps partiel: j'ai été réceptionniste, j'ai travaillé dans des salons de coiffure et derrière la caméra dans une station de télévision, appris le traitement de texte pour pouvoir être adjointe administrative, fait de la figuration, du mannequinat et de la vente dans des boutiques de mode. Mais de devenir mannequin, c'est vraiment ce qui m'a fait cesser de regarder en arrière. Être acceptée par l'industrie m'a fait prendre confiance en moi pour la première fois de ma vie. Bien que ça paraisse maintenant superficiel, et même si la mode est à peu près un camp de vacances pour le beau monde, pour moi c'était une communauté. J'ai rencontré ma meilleure amie et soeur de coeur Andrea Battersby en 1989. Elle et moi faisons aujourd'hui partie d'un groupe intitulé MAGT avec son partenaire et producteur Geoff Doner, ainsi qu'un autre ami cher, Troy Jackson. La musique a toujours fait partie de ma vie et m'a récompensée avec des collaborateurs de longue date comme Fat Benjamin au Royaume-Uni. J'espère que ce qu'on commence à voir est un changement de perspective maintenant que les gens de partout au monde ayant l'internet peuvent apprendre les uns des autres et reconnaître toutes les déclinaisons de l'expérience humaine. Quelle que soit la multitude de teintes de chair qui recouvrent nos os et nos tendons, ou la manière dont nous choisissons d'exprimer nos identités de genre, il est important de permettre à tous de célébrer cette liberté. Ce que je retiens le plus de cette expérience est qu'il ne tient pas à nous de décider qui sont les gens, la façon dont ils doivent vivre, ou qui ils se doivent d'aimer. Nous sommes tous maîtres de nos actions, de nos pensées, de nos sentiments et de notre expression individuelle. Pour moi, ceci veut dire vivre ce qui est vrai pour soi. Je me considère extrêmement choyée qu'à cette étape de ma vie, on continue à me demander de collaborer sur une multitude de projets créatifs. La façon dont j'ai fait mes premiers pas dans ce monde n'a plus guère d'importance. L'ironie du sort pour une ancienne fugueuse est que la majeure partie de mon oeuvre documentaire aide maintenant à sensibiliser des élèves en cours de formation professionnelle, à l'école secondaire, ainsi qu'au collège. Mon voeu le plus cher est que les enfants intersexués se voient offrir plus d'options, de même qu'un accès à des ressources et des soins de santé appropriés. Je souhaite que leurs parents puissent se sentir soutenus par la communauté universelle de parents pour les aider à mener leurs enfants vers une vie riche et épanouie.