Love, Love, and Sandra Bernhard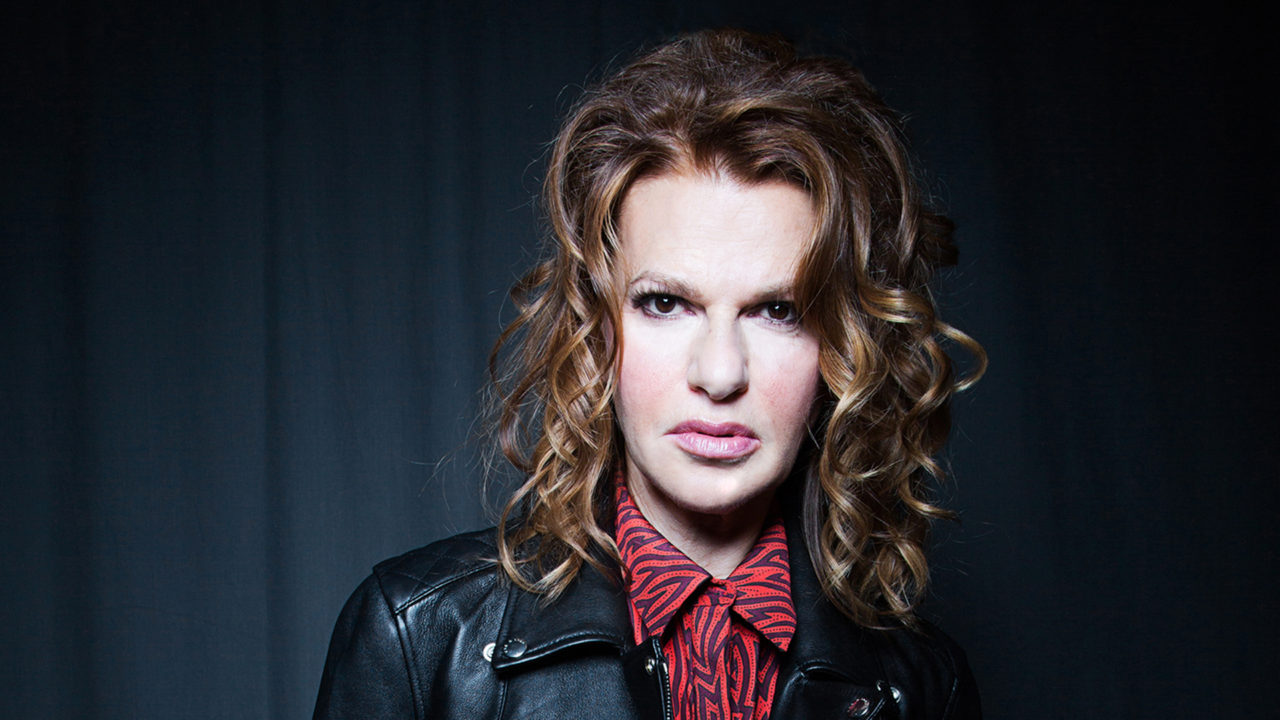 In the opening scene of her ground-breaking performance art film, Without You I'm Nothing, Sandra Bernhard, sitting at a vanity, turns to the camera and says, "I have one of those really hard-to-believe faces." It's an iconic moment that encapsulates the essence of Sandra as an entertainer: defiant, abstract, non-conformist, and, of course, hilarious.
There's a lot that's hard to believe about Sandra. It's hard to believe that, in 1974, a wide-eyed girl with big dreams from Flint, MI moved to L.A. and conquered the male-dominated world of stand-up comedy to become a star. It's even harder to believe that she did so on her own terms without ever compromising her integrity.
Unlike the women in comedy who came before her, Sandra was never self-deprecating and refused to be. Instead, she celebrated herself, her femininity, and her sexuality in a way that transcended labels. Comedy has always been a boys' club, but Sandra never played by their rules. She created and claimed a space for herself and in doing so completely changed the game for women in comedy. Talking to Sandra on the phone, I asked her how on earth she managed to do that, to be so fearlessly herself in a time and industry in which men were—and still very much are—calling the shots. "I just couldn't have had it any other way. Since I was little, I've always been outspoken, I said what was on my mind and that became second nature to me. I've always stood back and watched things. I was that way in high school, looking at people who were sort of hypocritical. I just observed it and talked about it and that's where my whole ethos came from."
Those early days were a time of new ideas, of possibility, and of change: "It was just barely passed the whole big feminist revolution and the beginning of gay rights. Against the backdrop of Hollywood and Beverly Hills in the mid 1970s, people were in flux and transition, and I was this girl who had dreamt about this moment and seen it and read about it and clung to her Ms. magazine and Mary Tyler Moore. It was this crazy mash up of wanting to be free and single in the world and at the same time break through to new places. It was a whole new kind of thought."
The possibility of that moment in time, coupled with the power of her imagination, allowed Sandra to manifest the artist life she dreamed for herself. "When you have imagination and vision and you can go to places that most people wouldn't even consider, that's when things start to reveal themselves and manifest."
It wasn't too long before young Sandy's unique and boundless talent got her noticed by Martin Scorsese. He cast her in his 1982 film, The King Of Comedy, opposite Robert DeNiro and Jerry Lewis. While she received rave reviews for her performance, it didn't transform itself into the kind of superstardom our hero had dreamt about. It did, however, grant Sandra enough visibility and attention to leave the L.A. comedy circuit behind, and focus her talent on what would become the primary form of expression for her creative voice over the next 30 years: the one-woman show. "I wanted to be a star. Everybody who starts off wants to be a star, but then that stardom transforms itself and there are different ways of being a star. The times also dictate what being a star is, and they keep changing. I just keep playing by my rules and it seems to transcend each decade. It keeps working and people, old and new, still seem interested, so that's a great thing."
The one-woman show format gave Sandra the freedom to create a brand of performance that is much more nuanced and theatrical than straight-up stand-up comedy. Sandra's shows are a rock-n-roll-meets-cabaret extravaganza that mix music with storytelling and comedy. Thematically she has covered everything from the cult of celebrity to spirituality, all from her insightful, critical, and brutally honest point of view. And the lady has been prolific. She has basically written a new show every year since 1988, cementing herself as the most dependable entertainer of our time. And I mean dependable in quite a literal sense. Sandra has consistently been someone we can count on; we can count on her to tell the truth, to give us glamour, to comfort us, to challenge us, to help us navigate the difficult emotional terrain of our world and our individual lives. She's been a guiding light.
Her breakthrough one-woman show, Without You I'm Nothing, ran for six months in 1988 at New York's Orpheum Theatre. The show was a smash and made Sandra the it girl of the late 80s and early 90s. During that crazy time she was photographed for Italian Vogue, Playboy, I-D, and everyone from David Letterman to Madonna wanted to be near her. The entertainment world was opening its arms to Sandra, but even at the peak of her celebrity clout, Sandra kept her feet firmly planted on the ground. "I always felt like I was standing just on the outside of it, even when I was next to it. I always had a way to escape and places to go that kept me sane. People moved on, time moved on, and I still kept on my path. And the path keeps changing and evolving. It's sort of like getting off one train and getting on another and that's how my life has always felt. Every train has taken me to another interesting destination."
The train has most recently brought the singer-actress-author-personality-model-comedienne to Sandyland, her daily radio show on Andy Cohen's SiriusXM channel. Sandyland is a groovy, laid-back exploration of Sandra's everyday life in New York City, alongside her daughter, her partner, Sarah, and their rescue dog, George. She has a brilliant knack for making the ordinary extraordinarily funny. The show can jump from a story about a harrowing shopping trip at Whole Foods to memories of having lunch at The Ritz in Paris with Naomi Campbell. And then there are the show's incredible guests. From Marc Jacobs to Jane Fonda, everyone wants to be in Sandyland.
One of the biggest moments in Sandyland took place last year when Sandra's teenage hero, Bette Midler, was a guest on the show. Sandra has openly stated that on the occasions she's met Bette in the past, the diva tended to be cold and dismissive. But things were different when Bette was a guest on Sandyland; something shifted in the relationship between the two. Bette was warm, open, and giving to Sandra in a way she had never been before. Bette even asked Sandra, on the air, to host her charity's fundraising gala. The day after the gala, back on the air, Sandra shared the story of that night. After the gala, Bette took Sandra aside, embraced her, and told her that she has always believed in her and has always supported her. Even though Sandra is a legend in her own right, it was a full circle moment that moved her to tears: "You just go back to that young girl who looked up to somebody… you just imagine transporting yourself back in time and looking into a crystal ball and seeing that moment. How could you not be moved by it and be so excited, happy, and fulfilled? It's so cool. That was a dream and the dream came true and just because I am where I am now doesn't take anything away from the raw emotion of what you always wanted that moment to be. And it was."
Not only has Sandyland allowed Sandra to connect with some of the biggest icons in the world, it has allowed her to connect with people from all over the United States. "It's a turning point for me in my communication. I feel like it's the first time I've felt completely at home, just embracing my life and the people who are listening. I get so excited when I see how diverse the audience is. There are people calling in from Texas and the south, places I would have never imagined people would be listening to me. And they're really digging it and feeling empowered by what I'm saying. There are great people everywhere, and that's what I've discovered by doing the show."
Tuning into Sandyland, you can hear the genuine love and appreciation Sandra has for her listeners as she takes their calls. For Sandra, the human connection has always been paramount. "I'm not one of these voracious entertainers who has to have more, more, more, blocking out the sound of what everyone in the world is feeling. When you're living in your bubble, it's very easy to be closed off. But I'm the opposite. Sometimes I think, I wanted to be a superstar, but I wouldn't be able to be who I am and make the connections I get to make without all the distraction. More than ever I want to know how the disenfranchised people are feeling and how I can make it better."
America, in all its beauty and ugliness, has long been an important subject in Sandra's work. A few months ago, I came across a brilliant interview Sandra gave to Arsenio Hall in 1990, when she was promoting the film version of Without You I'm Nothing. In the interview she said, "The movie is about liberation, and personal expression, and fighting censorship, fighting sexism, racism, homophobia." These are fights we are still fighting in 2016, and fights we will keep fighting as Trump's election threatens all the progress we've made. My interview with Sandra took place just days before the election, and it was a topic we couldn't avoid. "As horrible as Trump is, he's revealed the dark side of many people in this country, the world, and in politics. It's hard to look at it, and it's scary, because we don't want him to win, but in the meantime it's revealing misogyny and sexism, and the fear that people have of the different, of the unique. People are still trying to hold onto the old white patriarchy. They don't want to let go of it. The women who hate Hillary Clinton have been raised to believe that they should be taken care of by men and that men should do everything. That is going against evolution and you can't do that. Everybody has to carry their own weight and carry their own water, and that's just the way it is. You can't keep holding onto the idea that the patriarchy is going to take care of you."
The morning after election night was one of devastation and heartbreak for millions of Americans and people all over the world, including Sandra. I could hear the tears and devastation in her voice that morning on Sandyland and it broke my heart. With a lump in her throat she said, "We're just not ready yet, in this country, for a woman. I thought we'd gone post-modern, I thought we'd gone post-feminist, I thought we'd gone post racial, but this is a loud clarion call from half the country to say no, we do not open our hearts to evolution. Do we constantly have to be spoon fed in this country? […] No, that's not how it is in life, kids. You have to be a warrior, you have to be your own fucking warrior. And I will continue to be one."
The end of 2016 sees many of us broken-hearted, shaken to our cores. It's been a difficult moment in time to navigate, and it's been hard to know where to turn to. But at least we know that we can still count on Sandra. She can't pick up the pieces for you and I, but she will shine a light in our direction, she will lift us up, and help us find our own strength, as she always has.
Every year Sandra presents her new one-woman show at Joe's Pub in New York City. This year's show is called Sandra Monica Blvd: Coast to Coast and she'll also be performing it in L.A. In her fantasy, Sandra would take a VW van and drive from California to New York, performing everywhere in between. Seeing Sandra's new show in New York is my favorite tradition. The first year I went, I travelled from Montreal to NYC in one of the worst snow storms we've ever had. For the entire agonizing trip I was terrified that I'd miss the show, but I was also terrified about meeting Sandra for the first time, wondering if I'd even get the chance. During the year prior, Sandra and I had developed a friendly rapport on Twitter, but I had no idea if she'd know me when I approached her. When I arrived at Joe's, I noticed Sandra sitting at the merch table, taking pictures and signing autographs for the people coming out of the early show. My heart fell to the floor. The first thing I had ever tweeted to Sandra was: "I love you but I'm terrified of you." And I was definitely terrified and intimidated in that moment. Meeting a hero is always a panic-filled moment and some would advise against it. When I approached Sandra, I said meekly, "I don't know if this means anything to you, but I'm Tranna Wintour, from Twitter." She instantly got up from her chair, came around, and gave me the biggest hug. The connection was instant. That night I sat in the front row, completely in awe, watching this crazy wonderful artist do her thing. It was a masterclass in live performance that made me believe in myself. At the end of the show she dedicated Joni Mitchell's "River" to me, and it was the beginning of a great friendship.
When you look at Sandra's body of work, there is a clear evolution. In the early days, Sandra was tough and aggressive. She was once described as a "sexual terrorist" and was infamously called "petty and bilious" by a writer at the Village Voice. That persona shone brightest during her many absolutely iconic Letterman appearances (you must watch them on YouTube). Some may be quick to say that Sandra has mellowed over the years, but it's not that at all. It's that she's not scared to let the love in and to be vulnerable. It's in those moments of vulnerability that she is the most moving and inspiring. Perhaps that's ultimately the hardest thing to believe about Sandra: beneath the diva-legend-warrior-queen persona, is a woman all about love and compassion, who wants the best for everyone. If you think that makes her mellow, you could not be more wrong. She said it best in her 1992 book, Love, Love, and Love: "love is the only shocking act left on the face of the earth."
Assise à une coiffeuse durant la première scène de son film d'art performance révolutionnaire Without You I'm Nothing, Sandra Bernhard se tourne vers la caméra et dit « J'ai un de ces visages qu'on a du mal à croire. » C'est un moment marquant qui résume l'essence de Sandra en tant qu'artiste, soit provocant, abstrait, non conformiste et, bien sûr, hilarant.
Il y a beaucoup de choses à propos de Sandra qu'on pourrait avoir du mal à croire. Il est difficile de croire qu'en 1974, une jeune fille naïve avec de grands rêves, originaire de Flint, au Michigan, est partie pour Los Angeles et est devenue célèbre en conquérant le monde du stand-up dominé par les hommes. Il est encore plus difficile de croire qu'elle l'a fait à sa façon sans compromettre son intégrité.
Contrairement aux autres femmes qui l'ont précédée dans le monde de l'humour, Sandra ne s'est jamais servi de l'autodérision. Elle a non seulement refusé de le faire, mais a plutôt célébré sa propre personne, de même que sa féminité et sa sexualité d'une manière qui transcendait les modèles sociaux. Bien que l'humour ait toujours été un boy's club, Sarah n'a jamais joué selon leurs règles. Elle s'est créé et s'est approprié un espace propre et a, par la même occasion, complètement changé la donne pour les femmes en humour. Lorsque j'ai parlé avec Sandra au téléphone, je lui ai demandé comment elle avait réussi un tel exploit, comment elle avait été intègre à une époque et dans un milieu où les hommes faisaient (et font encore) la loi. « Je ne pouvais pas imaginer autrement. Depuis mon enfance, j'ai toujours été franche, je disais mon opinion et c'est devenu une seconde nature. J'ai toujours aimé prendre du recul et observer ce qui m'entourait. J'avais cette approche à l'école secondaire, j'observais les gens qui semblaient être hypocrites. J'observais et en parlais; c'est de là que vient tout mon ethos. »
C'était une époque d'idées nouvelles, de possibilités et de changements. « On sortait à peine de la révolution féministe et on commençait à parler des droits des homosexuels. Avec le Hollywood et le Beverly Hills du milieu des années 1970 en toile de fond, les gens étaient en changement continuel, en transition. J'étais la jeune fille qui avait rêvé de cet instant, qui l'avait vu et lu, qui s'accrochait à sa copie du magazine Ms. et à Mary Tyler Moore.
C'était un fol amalgame de vouloir être libre et sans attache et d'atteindre de nouveaux sommets. C'était une toute nouvelle forme de pensée. »
Les possibilités offertes par l'époque alliées au pouvoir d'imagination de Sandra lui ont permis de manifester la vie d'artiste dont elle avait rêvée. « Lorsque vous avez de l'imagination et de la vision et que vous êtes prêt à aller où la plupart des gens ne considèreraient même pas, c'est là où les choses se révèlent et se manifestent. »
Martin Scorsese ne fut pas long à remarquer le talent unique et immense de la jeune Sandra. Il lui a offert un rôle dans La valse des pantins (1982) aux côtés de Robert DeNiro et Jerry Lewis. Bien qu'elle ait reçu des critiques élogieuses pour son interprétation, ce rôle n'a pas mené au genre de super célébrité que notre héroïne avait imaginé. Toutefois, il lui a apporté assez de visibilité pour quitter le circuit du stand-up de Los Angeles et consacrer ses talents à ce qui allait devenir, pour les 30 années à venir, la forme d'expression principale de sa voix créative : le one woman show. « Je voulais être une star. Tout le monde commence par vouloir être une star, mais la célébrité se transforme et il y a plusieurs façons d'être une star. Les époques dictent aussi ce qu'est être une star; la définition change avec le temps. Je fais les choses à ma manière et ça semble transcender chaque décennie. Ça continue de fonctionner et les gens, jeunes comme âgés, semblent encore intéressés, alors c'est super. »
Le style du one woman show a offert à Sandra la possibilité de créer un type de performance qui est plus nuancée et théâtrale que le stand-up classique. Les spectacles de Sandra sont une combinaison époustouflante de rock and roll et de cabaret qui combine de la musique, des histoires et de l'humour. Les sujets qu'elle a abordés vont du culte de la célébrité à la spiritualité, présentés de son point de vue sagace, critique et brutalement honnête. En plus, la dame a été très prolifique. Elle écrit pratiquement un nouveau spectacle par an depuis 1988, la confirmant comme l'artiste la plus fiable de notre temps. Je dis bien fiable au sens littéral: Sandra a systématiquement été quelqu'un sur qui on peut compter: on peut compter sur elle pour nous dire la vérité, nous donner une bonne dose de glamour, nous réconforter, nous remettre en question, nous guider à travers le terrain accidenté émotionnel de notre monde et de nos vies. Elle a été un véritable phare.
Without You I'm Nothing, son one woman show, a été donné au Orpheum Theatre de New York pendant six mois en 1988. Le spectacle a eu un succès fou et a fait de Sandra la it-girl de la fin des années 1980 et du début des années 1990.
Pendant cette période folle, elle a été photographiée pour Vogue Italie, Playboy et I-D et tout le monde, de David Letterman à Madonna, voulait la côtoyer. Le milieu artistique lui ouvrait les bras, mais même à l'apogée de sa célébrité, elle a fermement gardé les pieds sur terre. « J'ai toujours eu l'impression que je me tenais juste à l'extérieur du milieu artistique, même quand j'étais à côté. J'ai toujours eu une échappatoire et des endroits où aller qui me gardaient saine d'esprit. Les gens s'ont passé à autre chose, le temps a passé, et je suis demeurée sur ma voie. Et cette voie change et évolue. C'est un peu comme descendre d'un train et monter dans un autre; ma vie m'a toujours donné cette impression. Chaque train m'a amenée à une autre destination intéressante. »
Le dernier train a mené la chanteuse/actrice/auteure/personnalité/mannequin/comédienne à Sandyland, son émission de radio quotidienne sur la chaîne SiiriusXM d'Andy Cohen. Sandyland est une exploration cool et relax de la vie de tous les jours que mène Sandra à New York aux côtés de sa fille, sa conjointe Sarah et leur chien George. Sandra a le don particulier de rendre l'ordinaire hilarant. L'émission peut passer d'une histoire de courses éprouvantes chez Whole Foods à des souvenirs de lunch au Ritz avec Naomi Campbell. Sans parler des invités exceptionnels! Marc Jacobs, Jane Fonda… tout le monde veut aller à Sandyland.
Un des plus grands moments de Sandyland s'est déroulé l'an dernier lorsque Bette Midler, l'héroïne de jeunesse de Sandra, était invitée à l'émission. Sandra avait ouvertement mentionné qu'à chaque fois qu'elle elle avait croisée Bette par le passé, la diva avait tendance à être froide et méprisante. Les choses n'auraient pas pu être plus différentes lorsque Bette a participé à Sandyland; quelque chose avait changé dans la relation entre les deux femmes. Bette était chaleureuse, ouverte et généreuse envers Sandra comme jamais auparavant. Durant l'émission, Bette a même demandé à Sandra d'animer son gala de bienfaisance, prévu pour le soir même. De retour sur les ondes le lendemain, Sandra a raconté sa soirée: après le gala, Bette l'a prise à part, l'a serrée dans ses bras et lui a dit qu'elle avait toujours cru en elle et l'avait toujours appuyée. Même si Sandra est elle-même une légende, elle a été émue jusqu'aux larmes par cette boucle qui se bouclait. « On se rappelle avoir été cette petite fille qui idolâtrait quelqu'un, on s'imagine revenir en arrière et regarder dans une boule de crystal et voir ce moment. Comment ne pas être émue par une telle chose, en plus d'être excitée, heureuse et accomplie? C'est si cool, c'est un rêve qui est devenu réalité et le fait d'être à cette étape de ma carrière n'enlève rien à l'émotion brute dont on souhaitait que ce moment soit empreint. Et il l'était. »
Sandyland a non seulement permis à Sandra de se connecter à quelques-unes de plus grandes vedettes du monde, mais également à des gens de partout aux États-Unis. « Ça marque un tournant pour moi en termes de communication. C'est la première fois que je me sens vraiment chez moi, que je jouis pleinement de la vie et de mes auditeurs. Je m'emballe quand je vois à quel point notre audience est variée. Il y a des gens qui appellent du Texas et du sud des États-Unis, des endroits où je n'aurais jamais imaginé qu'on m'écouterait à la radio. Et ces gens aiment vraiment le programme et se sentent inspirés par mes propos. Sandyland m'a montré qu'on trouve des gens sensationnels partout. »
En écoutant Sandyland, on peut entendre l'amour véritable et l'appréciation que Sandra a pour ses auditeurs lorsqu'elle répond à leurs appels. Pour elle, l'aspect humain a toujours été primordial. « Je ne suis pas de ces artistes voraces qui veulent toujours plus, plus, plus, qui ignorent ce que le reste du monde ressent. Lorsqu'on vit dans une bulle, il est très facile d'être fermé. Je suis l'opposée. Il m'arrive de me dire, je voulais être une superstar, mais je ne pourrais pas être qui je suis, ni créer les liens que je crée sans les distractions qui y seraient associées. Je veux savoir plus que jamais comment les gens marginalisés se sentent et ce que je peux faire pour améliorer leur sort. »
L'Amérique, sous toutes ses coutures, est depuis longtemps un sujet majeur de l'œuvre de Sandra. Il y a de cela quelques mois, je suis tombée sur une entrevue géniale que Sandra a donné à Arsenio Hall en 1990, alors qu'elle faisait la promotion de la version cinématographique de Without You I'm Nothing. Elle disait dans l'entrevue que « le film parlait de libération et d'expression personnelle et combattait la censure, le sexisme, le racisme et l'homophobie. »
Ce sont des combats que nous livrons en 2016 et que nous continuerons de livrer maintenant que l'élection de Trump menace tout le progrès que nous avons accompli. Mon entrevue avec Sandra s'est déroulée quelques jours seulement après l'élection; le sujet ne pouvait être évité. « Aussi horrible qu'il puisse être, Trump a révélé le côté sombre d'un grand nombre de gens de ce pays, du monde et de la politique. C'est dur à regarder et c'est effrayant parce qu'on ne veut pas qu'il gagne, mais du même coup, ça a mis en lumière la misogynie, le sexisme et la peur de la différence. Les gens tentent de s'accrocher au vieux patriarcat blanc. Ils ne veulent pas s'en séparer, Les gens qui détestent Hillary Clinton ont été élevés avec l'idée que les femmes doivent être entretenues par les hommes et que ces derniers doivent tout faire. Ça va à l'encontre de l'évolution et on ne peut pas laisser faire ça. Chacun et chacune doivent se suffire à eux-mêmes et mener leurs propres barques, c'est tout. On ne peut pas continuer de s'accrocher à l'idée que le patriarcat prendra soin de nous. »
Le matin suivant la soirée électorale était empreint de dévastation et d'un immense chagrin pour des millions d'Américains et de gens de partout dans le monde, incluant Sandra. Je pouvais entendre ses larmes et la tristesse dans sa voix durant Sandyland et ça m'a brisé le coeur. Avec une boule dans la gorge, elle a dit « Nous ne sommes pas prêts dans ce pays pour une femme. Je pensais que nous étions dans un monde post-moderne, post-féministe, post-racial, mais une alerte a été sonnée par la moitié du pays pour dire non, nous n'ouvrons pas nos cœurs à l'évolution. Devons-nous constamment être nourris à la cuillère dans ce pays? […] Non, ça ne se passe pas comme ça dans la vie, les enfants. Vous devez être un battant, vous devez être votre propre guerrier. Et je vais continuer à en être une. »
La fin de 2016 voit plusieurs d'entre nous durement ébranlés et avec le cœur brisé. Il est difficile de savoir comment réagir dans un moment pareil, comme il est difficile de savoir vers quoi se tourner. Nous savons au moins que nous pouvons compter sur Sandra. Elle ne peut pas recoller les morceaux à notre place, mais elle fera briller la lumière dans notre direction, elle nous fortifiera et nous aidera à trouver notre courage, comme elle l'a toujours fait.
Chaque année, Sandra présente un nouveau one woman show au Joe's Pub à New York City. Le spectacle de cette année s'intitule Sandra Monica Blvd: Coast to Coast et sera également présenté à Los Angeles. Sandra rêve de s'installer derrière le volant d'une camionnette VW et de conduire de la Californie jusqu'à New York, se produisant partout en chemin. Assister au nouveau spectacle de Sandra à New York est ma tradition préférée. La première année où j'y suis allée, j'ai fait le voyage de Montréal à New York dans une des pires tempêtes de neige qu'on ait connues. Pour toute la durée de cet insoutenable voyage, j'étais terrifiée à l'idée de manquer le spectacle, mais j'étais tout autant terrifiée à l'idée de rencontrer Sandra pour la première fois, sans savoir si l'occasion aller se présenter.
Au cours de l'année précédente, Sandra et moi avions développé un rapport amical sur Twitter, mais je ne savais pas si elle allait me reconnaître lorsque je lui parlerais. Quand je suis arrivée au Joe's, j'ai remarqué que Sandra était assise au stand de souvenirs et prenait des photos et signait des autographes pour les spectateurs de la présentation précédente. Mon cœur s'est serré dans ma poitrine. La première chose que j'avais tweetée à Sandra était « je t'aime, mais tu me terrifies, » et, à ce moment, j'étais en effet terrifiée et intimidée. Rencontrer un de ses héros est toujours un moment paniquant et certains le déconseillent. Lorsque je me suis approchée de Sandra, j'ai timidement dit « je ne sais pas si ça vous dit quelque chose, mais je suis Tranna Wintour, de Twitter. » Elle s'est immédiatement levée de sa chaise, a fait le tour de la table et m'a serrée dans ses bras. La connexion a été instantanée. Ce soir-là, je me suis assise au premier rang, en admiration devant cette artiste merveilleusement délirante. C'était un cours de maître sur l'interprétation en direct qui m'a fait croire en moi. À la toute fin du spectacle, Sandra m'a dédié River de Joni Mitchell et ce fut le début d'une grande amitié.
Lorsqu'on contemple l'ensemble des œuvres de Sandra, on remarque une évolution précise. À ses débuts, Sandra était dure et agressive. Elle a déjà été décrite comme une terroriste sexuelle et on se rappelle du journaliste du Village Voice qui l'a appelée mesquine et bilieuse. Cette facette de sa personne a été souvent mise en évidence lors de plusieurs de ses apparitions célèbres à l'émission de Letterman (vous devez les regarder sur YouTube). Certains diront que Sandra s'est adoucie au fil des ans, mais ce n'est pas du tout le cas. C'est plutôt qu'elle n'a pas peur d'accepter de l'amour et d'être vulnérable; c'est dans ces moments de vulnérabilité qu'elle est le plus touchante et inspirante. Voilà peut-être la chose la plus difficile à croire de Sandra, que sous le personnage de la diva/légende/guerrière amazone se cache une femme d'amour et de compassion qui veut le meilleur pour tout le monde. Si on pense que ça lui enlève de son mordant, on ne peut avoir plus tort. Elle a fort bien résumé la chose dans son livre Love, Love, and Love, publié en 1992: « l'amour est le seul geste choquant qui reste sur cette terre. »