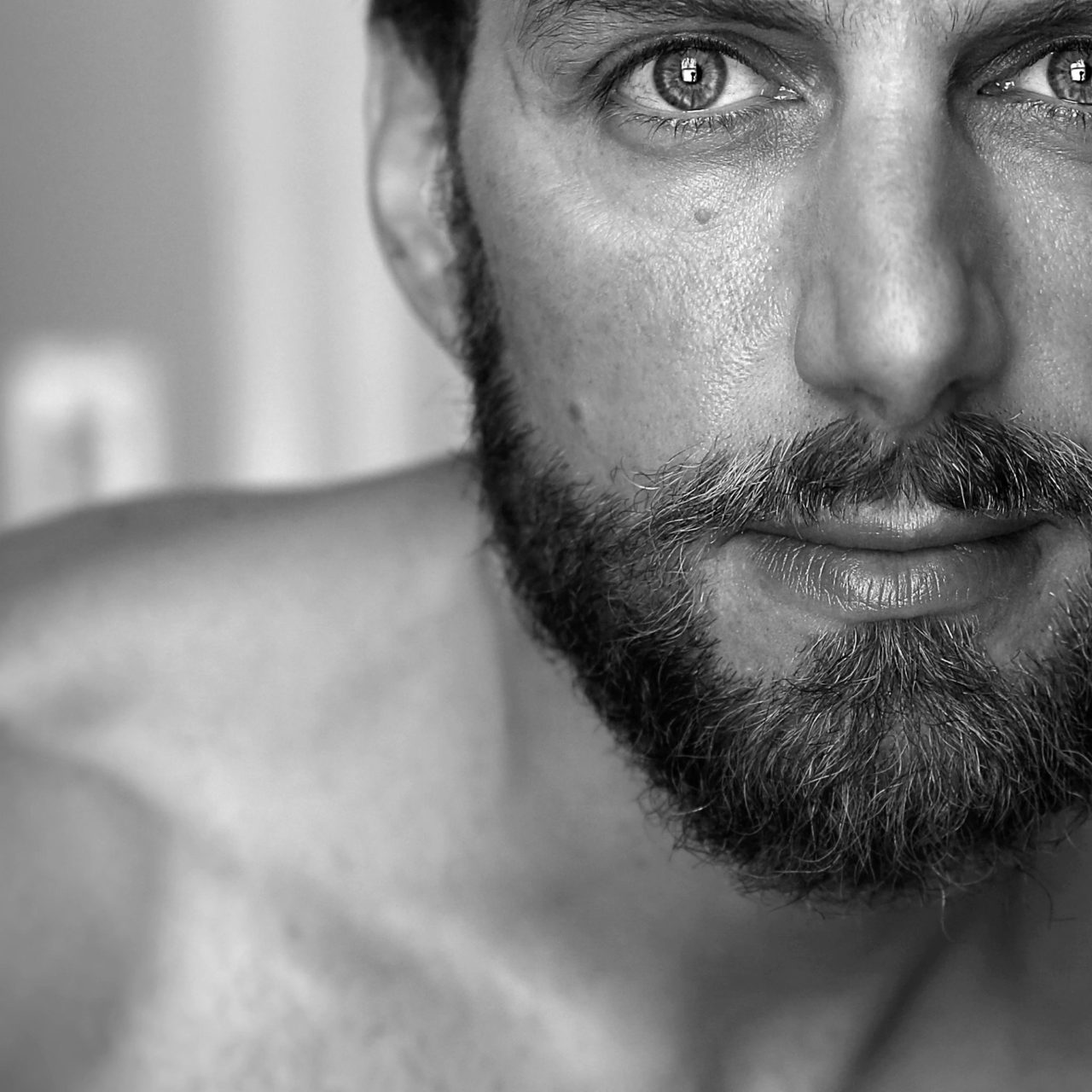 I'm a Stripper. Studlebrity. Bump! Positive Youth. I'm a Pornstar. Balls. Titles, all of them, of the films Nico Stagias has had a hand in making. Whether director, editor &/or cinematographer, he's always in his element. Collaborating his extensive talents with that of an equally mutli-diverse Charlie David, and you have yourself a mighty pair…pun intended.
Stagias says he has a long and beautiful work history with Charlie David. After first meeting on the set of travel series 'Bump!', they immediately connected proceeding to spend four seasons shooting that show. "A travel series is definitely a good indicator of on-set compatibility. We both love travel and experiencing the world first hand."
'Balls', screening at Never Apart as part of the LGBT Film Series this October, was initially conceived by Patrick Ware, Charlie David's life partner, in 2014. When David shared this new idea with Stagias, he was immediately hooked. "Typically, we're very much a 2-man show and tend to share all responsibilities (except camera) from pre-production to post. We make a great team that way. In the case of 'Balls', Charlie's father passed away suddenly. Without a moments hesitation he took the first plane to Saskatchewan for a month making sure his family was ok. That's what I love about Charlie and why we get along so well. His priorities are in order."
Once Bump! had wrapped, both Stagias and David knew they wanted to continue seeing the world through the joint lens of their eyes. "Our first venture together was 'Positive Youth', a documentary about increasing HIV rates in youth in North America. Since then, we've had our full share of documentaries looking at strippers, studs and pornstars."
While studying languages and literature at Dawson College, Stagias took a film history course as an elective and knew then and there he wanted to be part of the filmmaking process. "I've had a slew of film/video related jobs, everything from being a negative cutter (back in the day when movies where still shot on celluloid) to editing the morning news for Global Television. My first shooting, editing and directing gigs were collaborations with the modern dance world. Nothing quite compares to the experience of joining the kinetic art form of dance with the art form of film. To this day, I still have a soft spot for dance videos."
When it comes to subject matter in their collaborative projects together, the two talents tend to follow their interests. "Because we're selling our documentaries to television, we try to find an appropriate fit for the network we are pitching to. Often times, we seem to find homes for the more scintillating and provocative titles." Very much driven by the queer narrative, as an oppressed culture Stagias thinks it's important to explore the many layered voices of the queer experience. "We may have gay marriage in Canada the last 16 years, but we still suffer from overt homophobia, especially when it comes to trans issues and HIV stigma (particularly within visible queer minorities)."
When it comes to his own personal influences, he's inspired by the queer people in his own backyard, recently drawn to the story of Everett Klippert, a Saskatchewan man who in 1965 was sentenced to life behind bars because he was gay. The current liberal government is trying to make reparations to men like him and their families. "It's an important and fascinating part of our queer Canadian history."
Stagias hopes audiences at Never Apart enjoys the screenings of 'Balls'. Informative and, in some respects, a serious documentary, testicular health is not always a laughing matter. "It's important to see the lighter side of everything. I hope the audience comes away with more awareness around testicles and that balls are beautiful, whether you have them, used to have them or don't have any at all. Love your balls and the balls of others."
I'm a Stripper. Studlebrity. Bump! Positive Youth. I'm a Pornstar. Balls. Tous des titres de films auxquels Nico Stagias a contribué. Que ce soit en tant que réalisateur, monteur ou cinématographe, il est toujours dans son élément. Alliez ses vastes talents à ceux du tout autant talentueux Charlie David, et vous avez là toute une paire… jeu de mots inclus.
Stagias raconte qu'il a une longue et belle histoire de travail avec Charlie David. Après s'être rencontrés sur le plateau de la série de voyage « Bump! », ils se sont tout de suite liés d'amitié avant de passer quatre saisons à filmer cette émission. « Une série de voyage est définitivement un bon indicateur de compatibilité sur un plateau. Nous aimons tous les deux voyager et découvrir le monde par nous-mêmes. »
« Balls », présenté ce mois d'octobre à Never Apart dans la Série de films LGBT, a été initialement pensé par Patrick Ware, le partenaire de vie de Charlie David, en 2014. Lorsque David a partagé l'idée avec Stagias, ce dernier a tout de suite était conquis. « Nous travaillons habituellement à deux et partageons toutes les responsabilités (outre la caméra), de la pré- à la post-production. Nous faisons une excellente équipe. Pour ce qui est de « Balls », le père de Charlie est décédé subitement. Sans une once d'hésitation, il a pris le premier avion pour la Saskatchewan et y est resté un mois pour s'assurer que sa famille allait bien. C'est ce que j'adore de Charlie et la raison pour laquelle nous nous entendons si bien. Il a le sens des priorités. »
Après la fin de Bump!, Stagias et David savaient qu'ils souhaitaient continuer à voir le monde à travers leur vision commune. « Notre premier projet ensemble a été «Positive Youth », un documentaire sur les taux accrus d'infection au VIH chez les jeunes d'Amérique du Nord. Depuis, nous avons eu notre juste part de documentaires sur des strip-teaseurs, des beaux gosses et des vedettes du porno. »
Durant des études de langues et de littérature au collège Dawson, Stagias a pris un cours complémentaire sur l'histoire du cinéma et a immédiatement su qu'il voulait faire partie de ce monde. « J'ai eu des tonnes de boulots liés aux films et aux vidéos, de coupeur de négatifs (du temps où les films étaient captés sur celluloïd) jusqu'à monter les nouvelles matinales pour Global Television. Mes premiers contrats de tournage, de montage et de réalisation étaient des collaborations avec le monde de la danse moderne. Il n'y a rien de tel que l'expérience de lier la forme d'art cinétique de la danse à la forme d'art du film. Jusqu'à ce jour, je garde un faible pour les vidéos de danse. »
Quand il s'agit du sujet de leurs projets de collaboration, les deux talents ont tendance à suivre leurs intérêts. « Puisque nous vendons nos documentaires à des chaînes de télévision, nous essayons de trouver la bonne combinaison pour la station à laquelle nous nous adressons. Bien souvent, nous trouvons preneur pour les titres plus accrocheurs et provocants. » Très motivé par la facette queer en tant que culture opprimée, Stagias considère qu'il est important d'explorer les différentes voix de l'expérience queer. « Nous avons beau avoir le mariage gai au Canada depuis 16 ans, nous souffrons encore d'homophobie manifeste, surtout lorsqu'on parle de questions trans et de la stigmatisation liée au VIH, notamment chez les minorités queer visibles. »
Quand il vient en arrive à ses influences personnelles, il dit être est inspiré par les gens queer de son coin, récemment attiré par l'histoire d'Everett Klippert, un homme de la Saskatchewan qui, en 1965, a été condamné à la prison à vie parce qu'il était homosexuel. Le gouvernement libéral actuel essaie de faire des réparations aux hommes comme lui et à leurs familles. « C'est une partie importante et fascinante de notre histoire queer canadienne. »
Stagias espère que le public appréciera les projections de « Balls » à Never Apart. Instructif et, à certains égards, un documentaire sérieux, la santé testiculaire n'est pas toujours matière à rire. « Il est important de ne pas oublier le côté léger de toutes choses. J'espère que l'audience en ressortira plus sensibilisée face aux testicules et que les testicules sont beaux, que vous en ayez, en aviez ou ne vous en serviez pas du tout. Aimez vos couilles et les couilles des autres. »