In Spirit: Manikarnika Ghat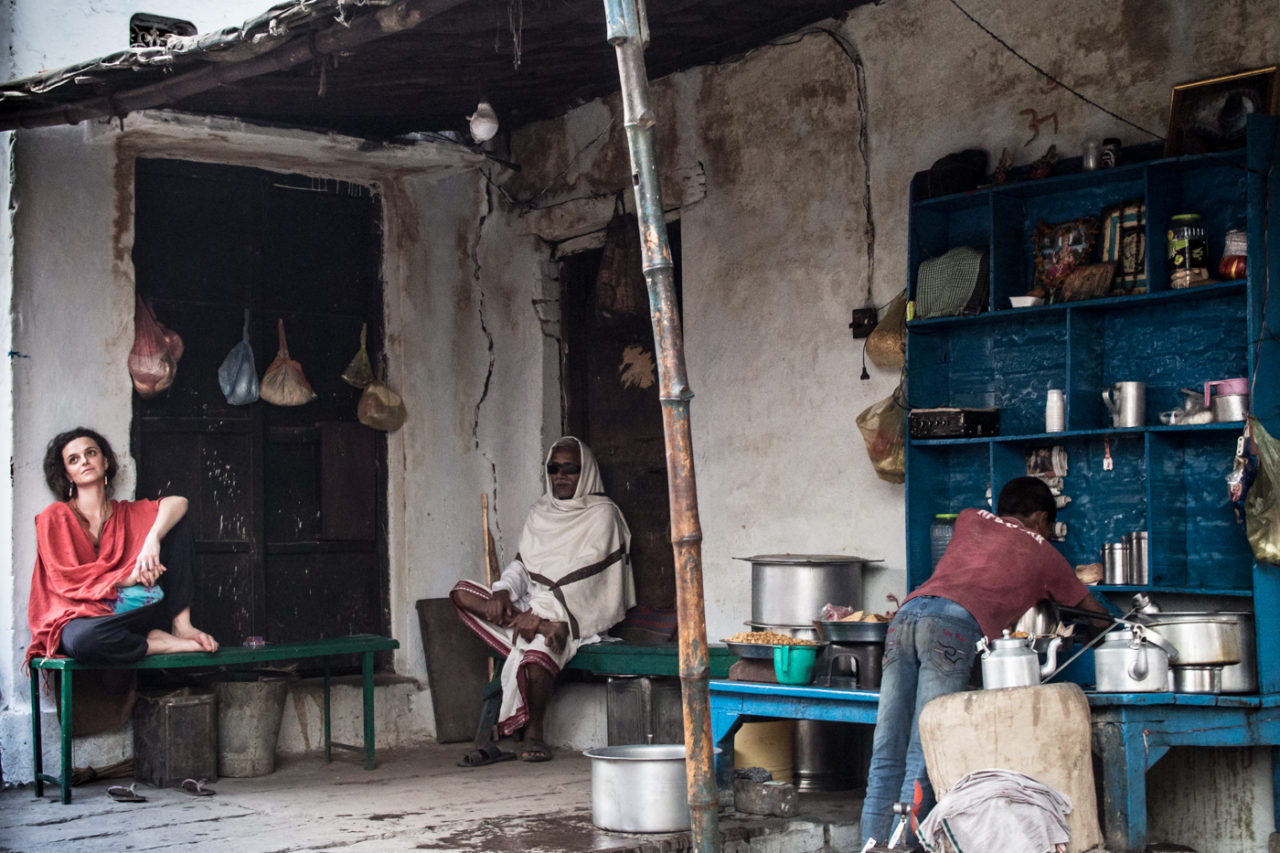 A small rat crawls up the old wood door and climbs into a bag hung on the wall. I am seated on the faded green bench. The small outdoor chai shop is situated up the stairs leading away from the ghat (ghaṭa) and behind the red temple.
If you follow the path you end up in the middle of Maṇikarṇikā Ghāṭa. At 8 pm you can start hearing the ceremonies, pūjā, from the temples around – and there are many. Anyone can go. One person takes the ḍamaru, the other one a bell, while the priest is ever repeating the same circles with his incense around the liṅgam and the deities to awaken them.
Un petit rat escalade la vieille porte en bois et se glisse dans un sac accroché au mur. Je suis assise sur le banc vert délavé. Le petit chai shop est situé en haut des escaliers provenant du ghat (ghāṭa), derrière le temple rouge.
En suivant le chemin, on finit par se retrouver au milieu du Maṇikarṇikā Ghāṭa. À 20 h, on peut entendre le début des cérémonies, ou pūjā, dans les temples des environs et il y en a beaucoup. Tout le monde peut y assister. L'un prend le ḍamaru et l'autre saisit une cloche, tandis que le prêtre répète sans cesse les mêmes cercles avec son encens autour du liṅgam et des divinités afin d'éveiller celles-ci.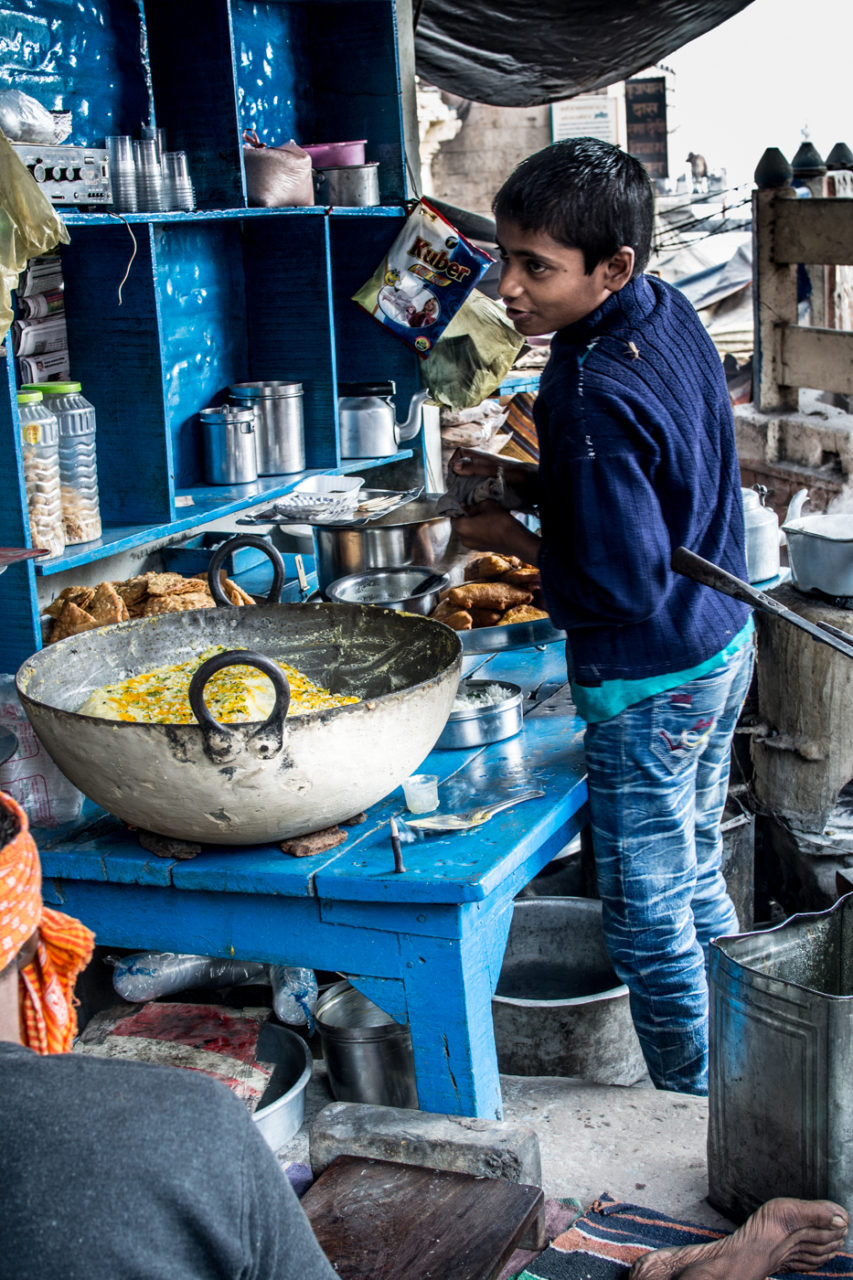 A group of men arrive at the chai shop. They are from all generations. They must be a family burning someone tonight. In Maṇikarṇikā, the big cremation ghat, only men are allowed. Women, by their tears and sorrow might keep the soul from being liberated, so they cannot stay. Families come from all over India because Varanasi (Vārānasī) is Shiva's city, and Maṇikarṇikā is considered to be the most important hallowed cremation ground of the country.
Un groupe d'homme arrive au chai shop. Ils sont de toutes les générations et appartiennent sans doute à une même famille réunie pour la crémation d'un proche. À Maṇikarṇikā, le principal ghat des crémations, seuls les hommes sont admis. En effet, les femmes, avec leurs pleurs et leur peine, pourraient empêcher l'âme de se libérer et c'est pourquoi elles ne peuvent rester. Les familles viennent de tous les coins de l'Inde, car Varanasi (Vārānasī) est la ville de Shiva et l'on considère Maṇikarṇikā comme le plus important et le plus saint emplacement de crémation du pays.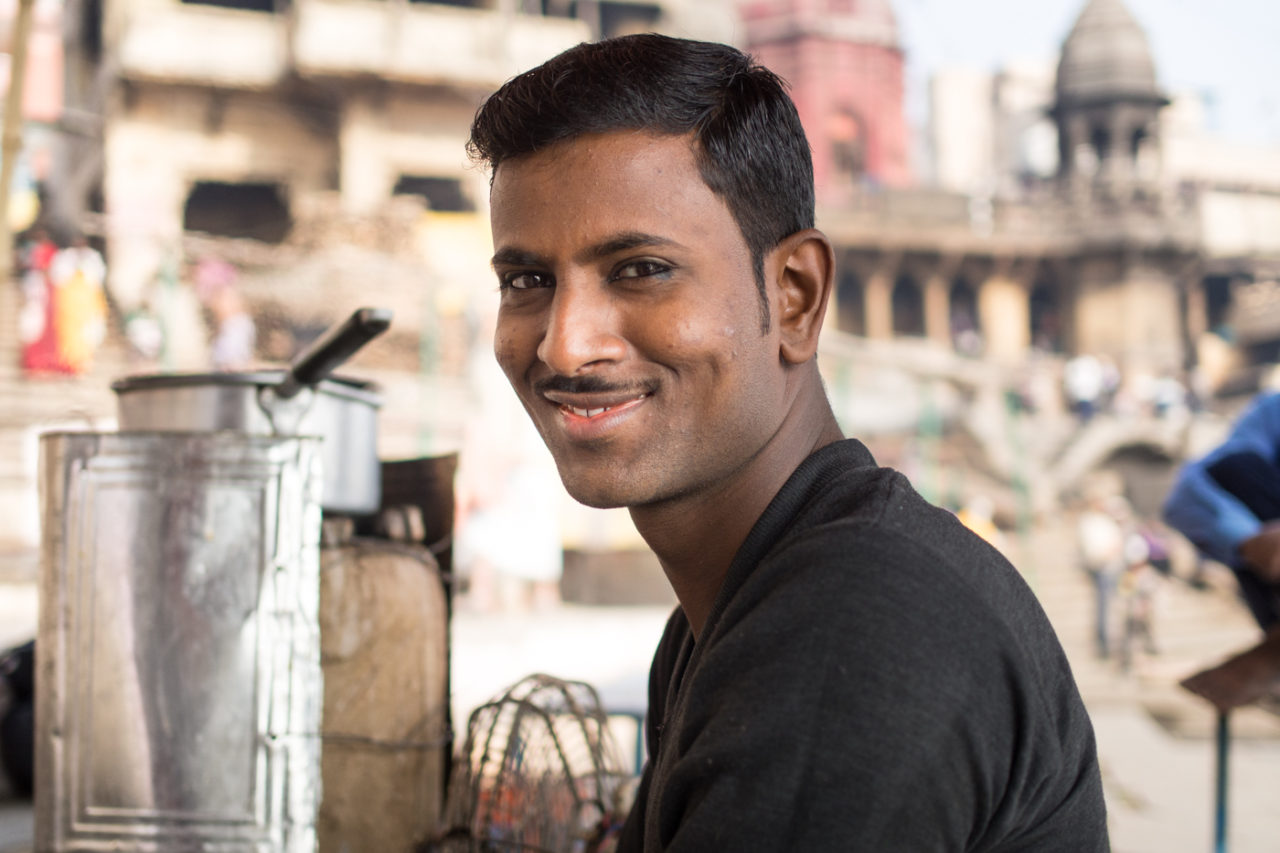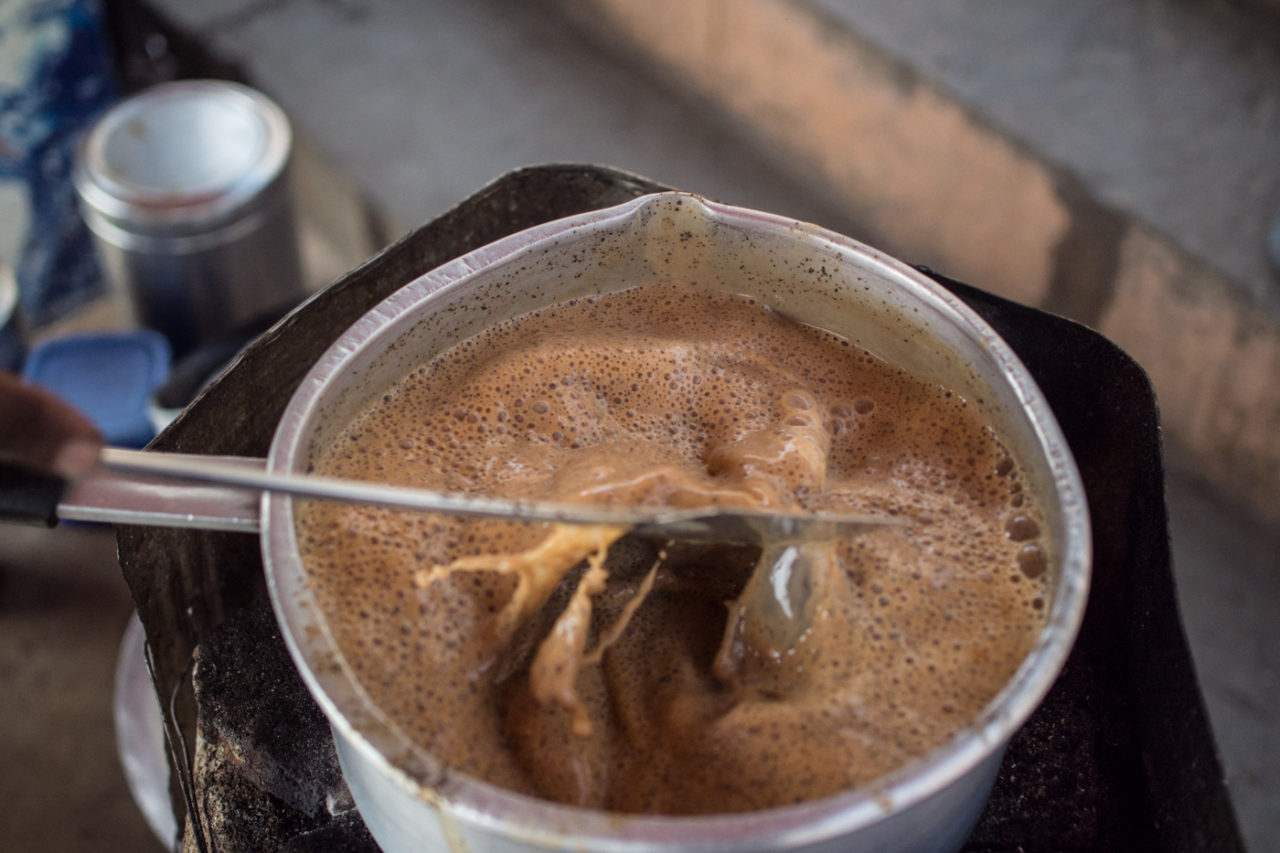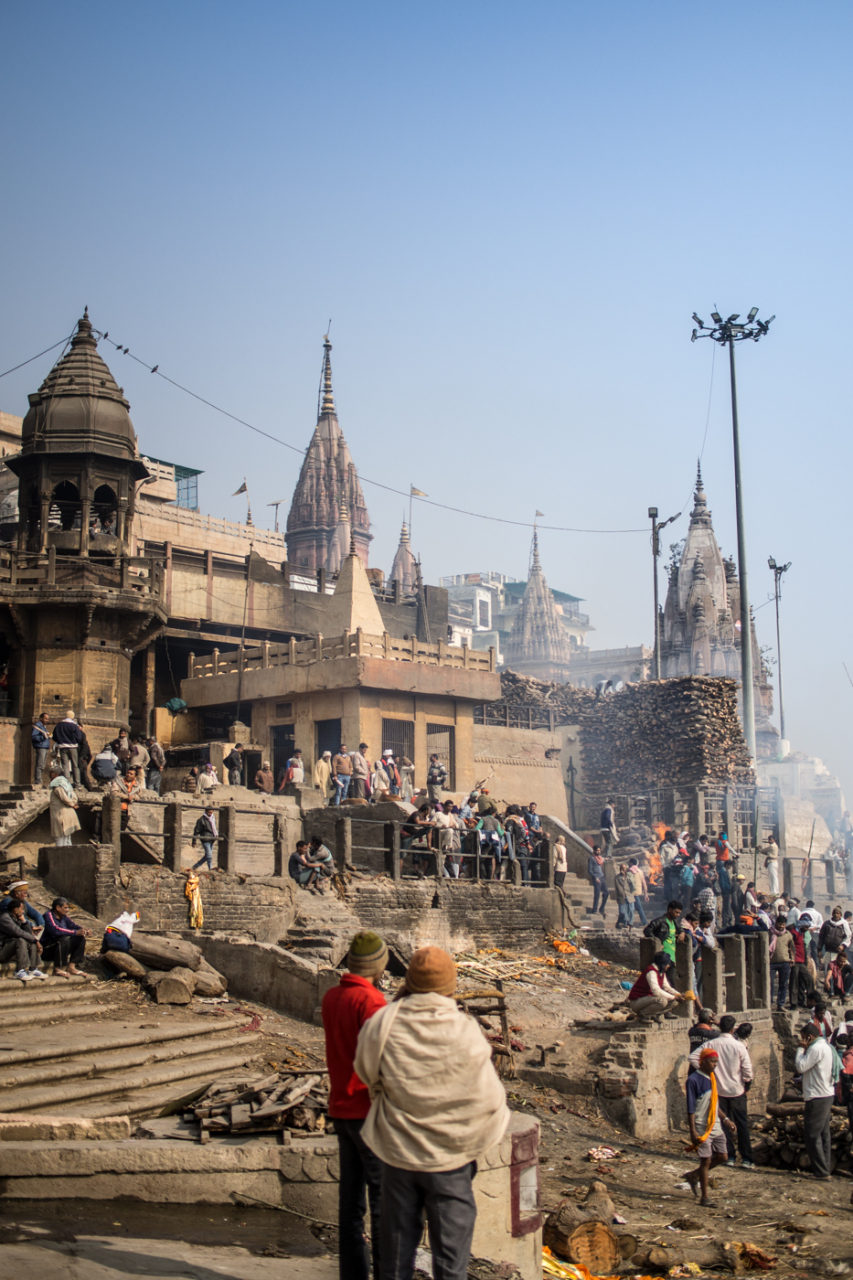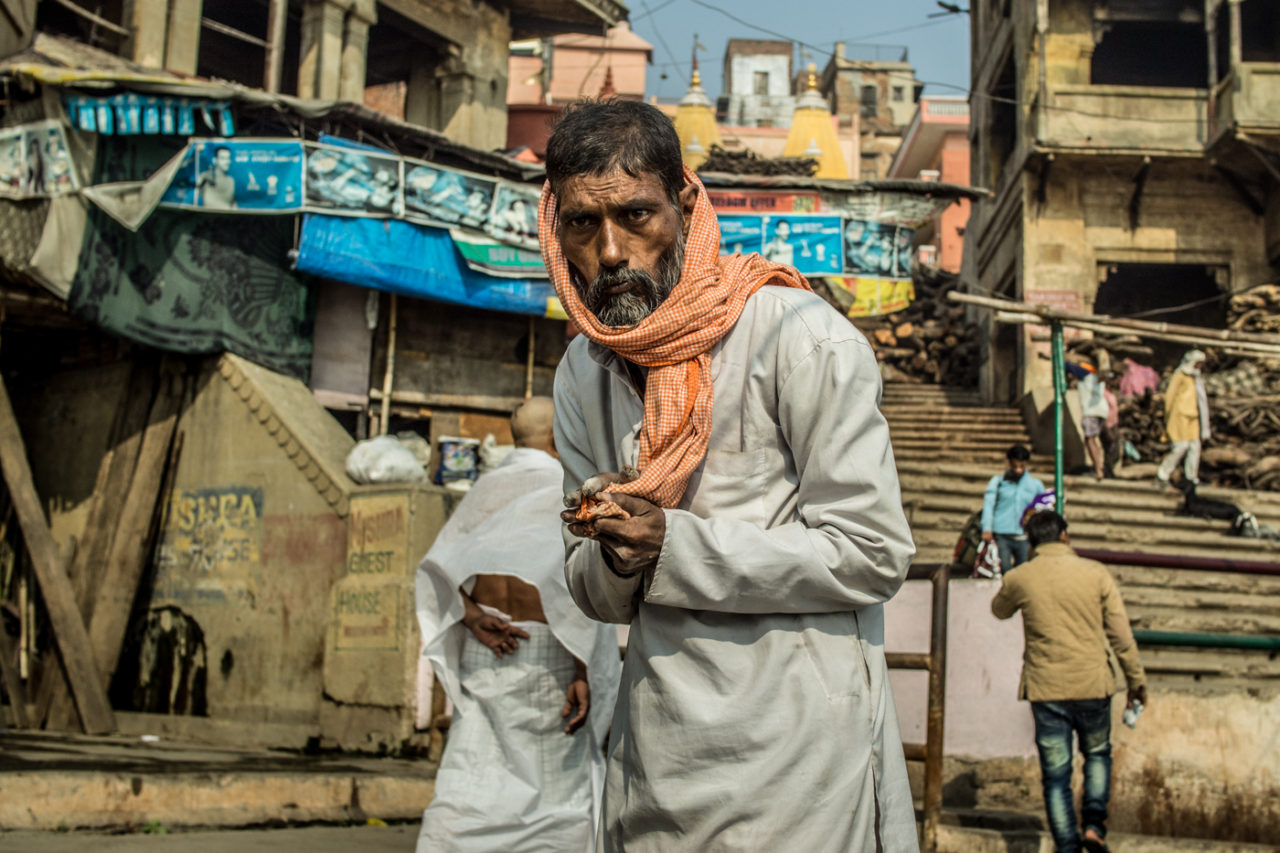 It is been already two hours that we are seated. We drink chai, we chat, I observe, I listen. The world is like suspended in time. The abandoned dogs sleep, their puppies not bigger than a fist eat biscuits that a bystander gives them, and beg for their part of the prasāda at the end of the ceremony at the temple's door. A large cow appears, stops, looks around, and keeps following her way with no direction, with a smooth and apathetic walk. It comes, it goes. Nothing happens and yet everything happens. There is nothing to ask for. One learns how to let time give us our every need for this life. Time knows the right moment. To the one who is always in a rush to go, to know, to do, to understand, you tell him "dhīre dhīre", "slow down, slow down"…
Voilà déjà deux heures que nous sommes assis. Nous buvons du chai, nous bavardons, j'observe, j'écoute. Le monde est comme suspendu dans le temps. Les chiens abandonnés dorment. Leurs chiots pas plus gros que le poing mangent des biscuits offerts par un passant et, à la porte du temple, quémandent leur part de la nourritures offertes aux déités à la fin de la cérémonie, que l'on nomme prasāda. Une grosse vache surgit, s'arrête, regarde tout autour et, d'une démarche calme et nonchalante, poursuit son chemin sans direction. Ça va, ça vient. Rien ne se passe, pourtant tout se passe. Il n'y a rien à demander. On apprend à laisser le temps offrir tout ce dont on a besoin pour cette vie. Le temps connaît le moment propice. À celui qui est sans cesse pressé d'aller, de savoir, de faire, de comprendre, tu lui dis «dhīre, dhīre»: lentement, lentement…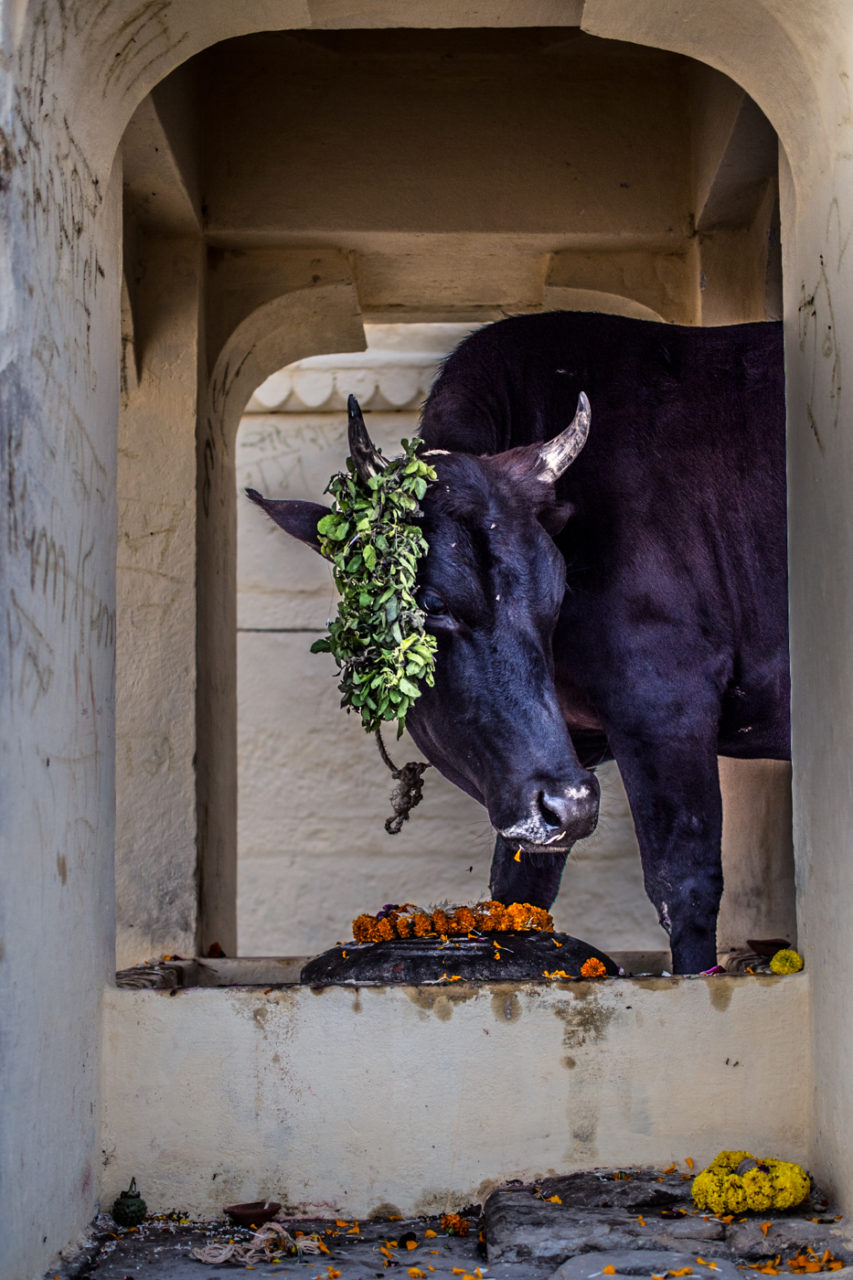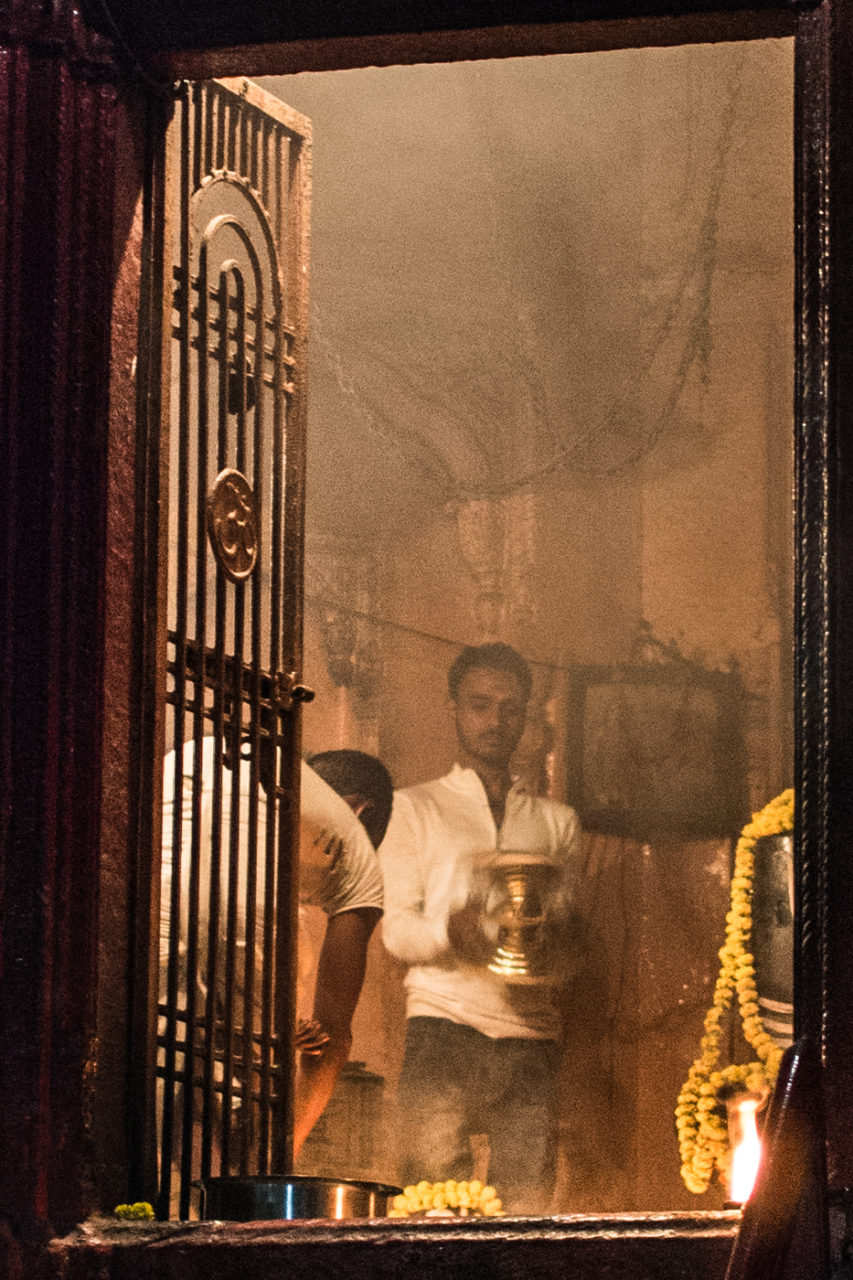 We are close to the middle of December, and the weather in Varanasi is getting chilly. In the evening, when the sun disappears, the cold covers the city. The best place in this season is on Maṇikarṇikā ghaṭa, because there are always fires that can warm up the body. Throughout the year, an average of 250 corpses are cremated daily. In winter the weather is cold and the river Gaṅga is low, but in summer time, when the temperature reaches 35 or 40 degrees, and the Gaṅga rises so high that there is only a very small rooftop left to burn all the bodies, the temperature by the cremation fire becomes absolutely unbearable. At this time of the year, families are not allowed to be by the corpses, and the workers are the only ones who can deal with the fires.
Everyone has a specific job here which is decided by his family and caste. Only the lowest caste work in Manikarnika, the śūdra, because everything dealing with death and bodies is the most impure thing that the highest caste, brāhmaṇa, absolutely avoid. You find the caste that takes care of burning the corpses. You have the boatmen that takes tourist or goods, like the wood for the cremation, in their boat. There is the cow herder, the chai vālā – or chai boy -, the wood seller and the other men who spend the day by the river shore, dangling their legs in the water holding large sieves sifting for jewelry in the ashes. Corpses are burned fully dressed still with bracelets, finger and nose rings, earrings and necklaces. When a corpse is burned, the ashes are thrown away in the Gaṅga. These men's job is to find the jewelry. On top of them, another śūdra, is the boss of the business who collects all the gold, silver and precious stones and sell them. This man, even though he is from the lowest caste, is said to be as rich as the king of Varanasi himself. He can often be seen on a boat at the bottom of the cremation place where workers are looking for the goods.
C'est presque le milieu de décembre et à Varanasi le temps commence à être frisquet. Le soir, dès que le soleil disparaît, le froid s'étend sur la ville. Le meilleur endroit en cette saison est Maṇikarṇikā Ghāṭa, où les feux incessants peuvent réchauffer le corps. Durant toute l'année, environ 250 corps sont brûlés en moyenne chaque jour. En hiver, les températures sont froides et le niveau du Gange bas, mais en été, alors que les températures atteignent entre 35 et 40 degrés et que le Gange se gonfle au point où il ne reste qu'un petit toit pour incinérer tous les corps, la température générée par la crémation devient insoutenable. À ce temps-là de l'année, on ne permet pas aux familles de s'approcher des cadavres, les travailleurs étant les seuls capables de gérer les feux.
Ici, chacun joue un rôle décidé par la famille et la caste. Seuls les membres de la plus basse caste, celle des śūdra, travaillent au Maṇikarṇikā Ghāṭa, car tout ce qui concerne la mort et les cadavres compte parmi les choses les plus impures que les membres de la plus haute caste, celle des brāhmaṇa, doivent absolument éviter. Il faut s'en remettre à la caste qui remplit le rôle d'incinérer les cadavres. Il y a les boatmen, chargés de promener les touristes ou les biens, comme le bois servant aux crémations, dans leurs embarcations sur le fleuve. Il y a le vacher, le chai vālā, ou chai boy, le marchand de bois et ceux qui passent leur journée à côté de la berge, l'eau du fleuve jusqu'à mi-cuisses tenant de grosses passoires pour recueillir les bijoux demeurés dans les cendres. On incinère les corps habillés, avec bracelets, bagues, anneaux de nez, boucles d'oreilles et collier. Après la crémation, on jette les cendres dans le Gange. Au-dessus des hommes qui ramassent les bijoux dans le Gange, un autre śūdra gère la collecte de l'or, de l'argent et des pierres précieuses destinés à la revente. On dit de cet homme de la caste la plus inférieure qu'il est pourtant aussi riche que le roi de Varanasi lui-même. On peut souvent l'apercevoir en bas du lieu de crémation sur une barque, là où les travailleurs cherchent les biens de valeur.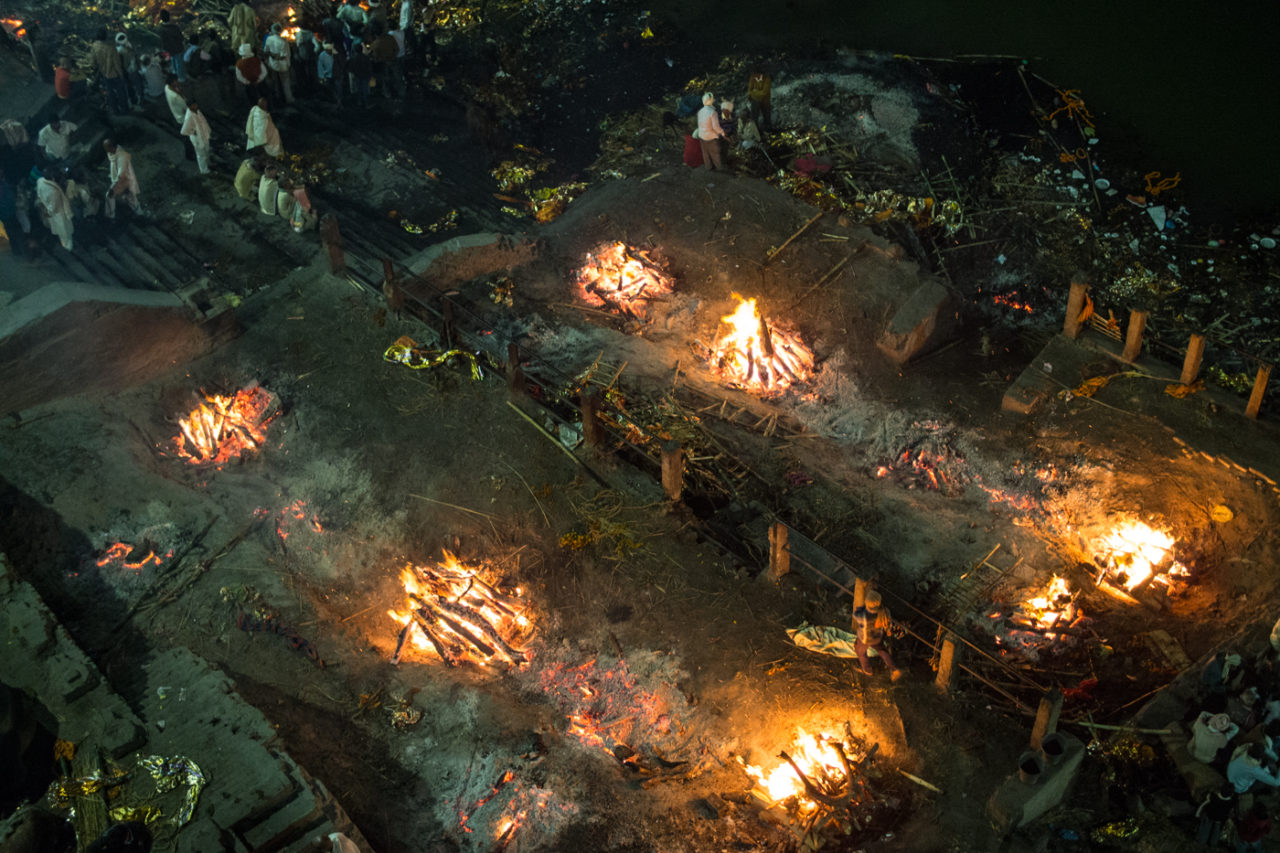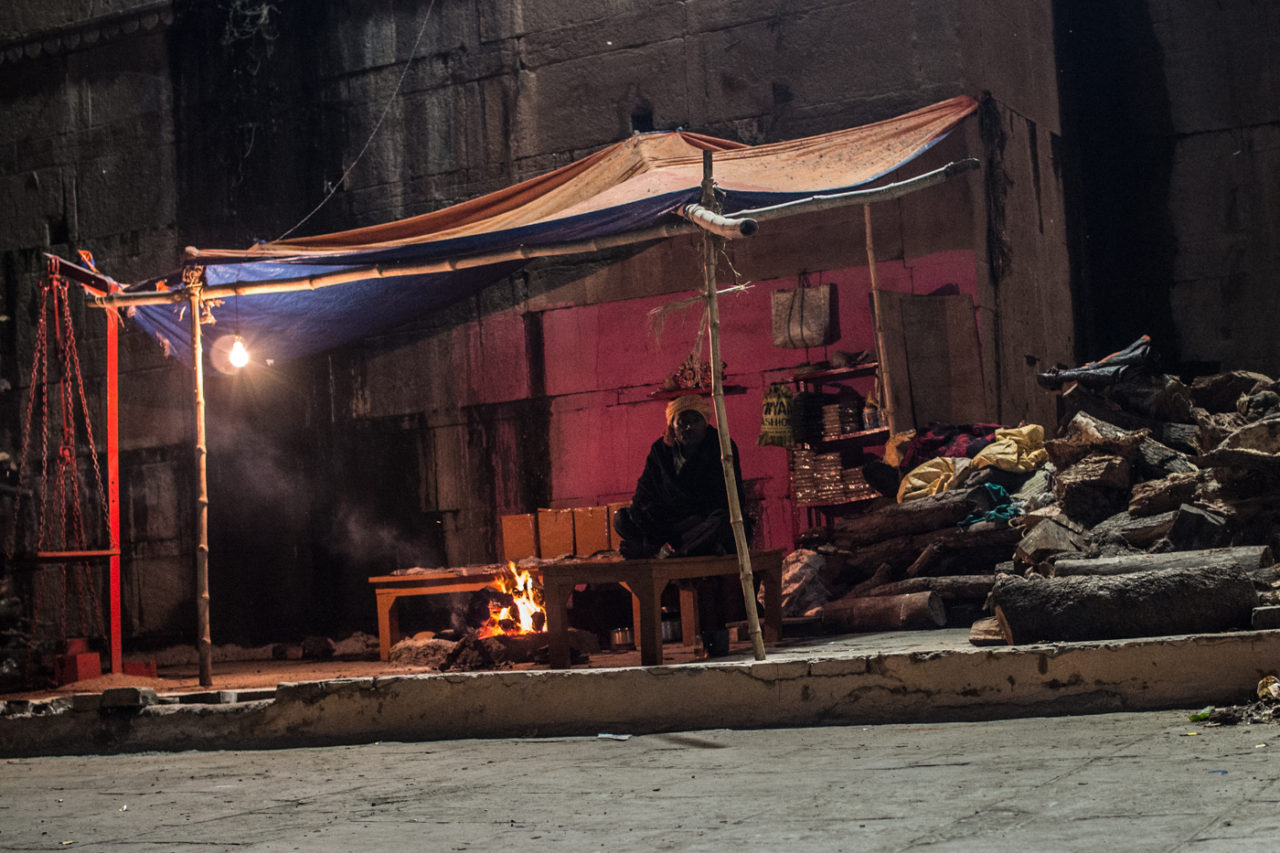 We finally leave the chai place and move to the small roof top. There are dogs and cows, rolled into a ball, sleeping in the ashes where the ground still gets the warmth of the fire. Bamboo structures and red-gold fabrics that were used to carry the corpse from the city to the cremation are laying on the floor all around the place. My friend takes a piece of red cloth so we can sit on the ground among the wastes, animals and ashes. In front of me, a wood pyre is settled. The way they arrange the wood together is technical to allow the body to burn as quickly as possible and with no danger of spreading the fire elsewhere. A family arrives with the usual bamboo palanquin. The deceased is covered with the traditional red cloth. It is dark outside, but the ghat is always animated and at the same time very meditative. The family undo the palanquin, takes off the cloth and puts the body, wrapped in its shroud, onto the pyre. I can see a shred of a light sari falling and a wrinkled piece of skin: it must be an old woman. A man places sticks of incense, ghi and images of the gods on the body. Someone arrives with a torch light from the sacred fire that never stops burning. Each pyre is lit from this sacred fire, and none other. They bring the torch and starts burning the straw all over and under the body. Within ten minutes a huge fire has risen up in the dark night and the body starts consummating. It takes an average of two hours for a body to turn into ashes. Even though the pyre is five meters away from me, I can feel that my face is already too hot. The cloth burns quickly, then the skin becomes like an old leather. Within an hour, someone takes a bamboo stick and breaks the skull.
Quickly, everything is eaten by the fire. The reality that life leaves the body and that this same body disappears suddenly takes all its sense in me. What will be left of us? This dead body disappeared in front of my eyes, consummated, and what remains of it are only a few photos maybe, memories, as long as someone remembers her. We are passing. Our life tends to make us believe that we are the body. But if it does disappear, with the mind, memories, and life story, then everything is turned off, and nothing is left. Then, what are we?
Nous quittons finalement la place des chai, pour nous diriger vers le petit toit. Des chiens et des vaches lovés dorment dans les cendres, là où le sol conserve encore la chaleur du feu. Des structures de bambou et de tissu rouge et or utilisées pour porter les cadavres de la ville au lieu de crémation traînent au sol un peu partout. Mon ami saisit un morceau de tissu rouge pour que nous puissions nous asseoir au sol parmi les rebuts, les animaux et les cendres. Devant moi, on allume un bûcher en bois. La technique d'empilement du bois permet de brûler le cadavre le plus rapidement possible sans risquer de propager le feu plus loin. Une famille arrive avec l'habituel palanquin de bambou et le corps recouvert du traditionnel tissu rouge. Dehors il fait noir, mais le ghat est toujours animé et en même temps porte beaucoup à la méditation. La famille défait le palanquin, retire le tissu et place le corps enveloppé dans son linceul sur le bûcher. Je peux apercevoir une parcelle de sari de couleur pâle tombant et un peu de peau ridée: il s'agit sûrement d'une femme. Un homme dispose des bâtons d'encens, du ghi et des images des divinités sur le corps. Quelqu'un arrive avec une torche allumée au feu sacré qui brûle continuellement. Chaque bûcher est allumé depuis ce feu sacré et de nulle autre source. On approche la torche et on commence à allumer la paille partout sur et sous le corps. En dix minutes un gros feu s'élève dans la nuit et le corps commence à se consumer. Il faut en moyenne deux heures pour transformer un corps en cendres. Même si le bûcher est à cinq mètres de moi, je peux déjà sentir mon visage trop chaud. Le tissu brûle rapidement, puis la peau devient comme du vieux cuir. Au bout de moins d'une heure, quelqu'un saisit un bâton et brise le crâne.
Le feu a tôt fait de tout dévorer. La réalité que la vie quitte le corps et que ce même corps disparait prend soudain tout son sens en moi. Que reste-t-il de nous? Le cadavre de cette femme disparaît de mon regard, consommé, et tout ce qu'il en reste ce sont peut-être quelques photos, des souvenirs, tant qu'il y a encore quelqu'un pour se souvenir d'elle. Nous sommes des passants. Notre vie tend à nous faire croire que nous sommes le corps. Mais s'il disparaît, avec le mental, les souvenirs et l'histoire de toute une vie, alors tout s'éteint et il ne reste rien. Et alors, que sommes-nous?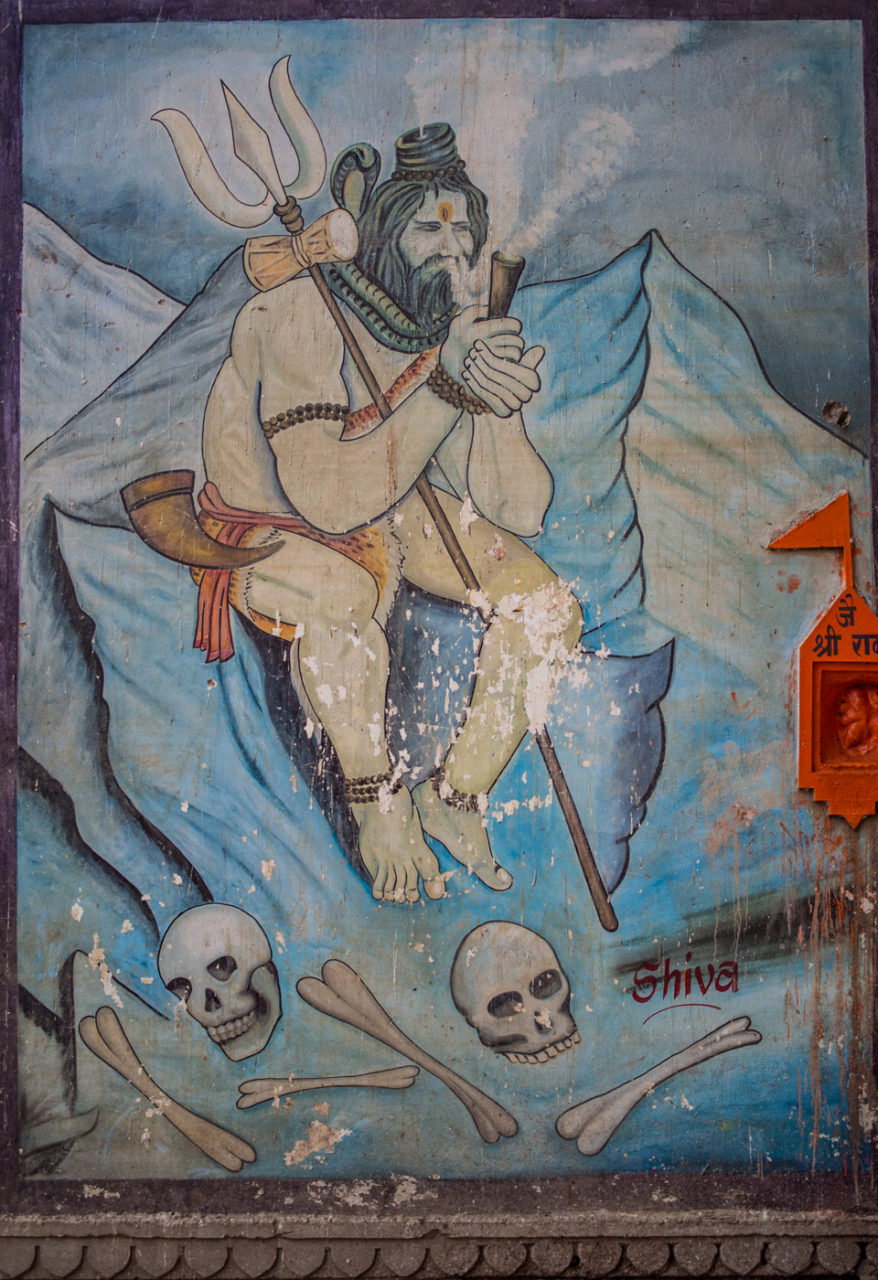 All the traditional scriptures and metaphysical approaches have been written over this simple question: "what am I?" If all is an idea, if all is to fade, if all what I am now is passing and illusory, then what is the essential unmovable reality from which I exist?
Maṇikarṇikā is not only a cremation place, it is said to be the heart of the world. In most cities, the cremation place is at its border, but in Varanasi, it is at its center. The tantrika – the followers of the tantric tradition – put the cremation ground at the center of their practice. In archeological iconography, the tantric deities displayed tantric ornaments linked to the cremation ground such as the kapāla – the top of a skull used as a cup to drink impure substances – guirland of bodies, skirts of arms, fangs, decapitated head held in one hand with the tantric attendant, the dog, licking the blood coming out of it. All these representations bear only one esoteric meaning which is the death of the ego, of the illusionary self. Cremation grounds and deities are archetypes of this teaching and its energies, images to remind the practitioner about the path of stripping down until the essential is unveiled from its manifestation. Coming back to the recognition of what is essential, the source of all things which is sometimes called Consciousness, Brahman or Anuttara. In this path there is nothing to add, only things to unveil, because the only act of seeing clearly can make us truly understand the nature of Reality.
Toutes les Écritures traditionnelles et les démarches métaphysiques ont été conçues en fonction de cette question simple: «que suis-je?» Si tout n'est qu'idées, si tout s'évanouit, si tout ce que je suis maintenant est transitoire et illusoire, alors quelle est donc la réalité essentielle et immuable à partir de laquelle j'existe?
Maṇikarṇikā n'est pas qu'un lieu de crémation, on dit que c'est le coeur du monde. Dans la plupart des villes, les lieux de crémation sont situés en périphérie, mais à Varanasi il sont en plein centre. Les tantrikas — ceux qui suivent la tradition tantrique — mettent le lieu de crémation au centre de leur pratique. Dans l'iconographie archéologique, les divinités tantriques arborent des parures tantriques se référant aux lieux de crémation, comme le kapāla (la calotte crânienne utilisée pour boire des substances impures), des guirlandes de corps, des jupes de bras, des crocs, des têtes décapitées tenues dans une main, avec le thuriféraire tantrique: le chien léchant le sang dégoulinant. Toutes ces représentations sont porteuse d'un seul sens ésotérique: la mort de l'ego, le soi illusoire. Les lieux de crémation et les divinités sont des archétypes de cet enseignement et de ses énergies, des images pour rappeler au pratiquant le dépouillement jusqu'à ce que l'essentiel soit décelé de sa manifestation. Le retour à la reconnaissance de l'Essentiel, la source de toutes choses, est parfois appelé Conscience, Brahman ou Anuttara. Sur cette voie, il n'y a rien à ajouter, seulement des choses à dévoiler, car le seul acte de voir clairement est comprenhension directe de la nature de la Réalité.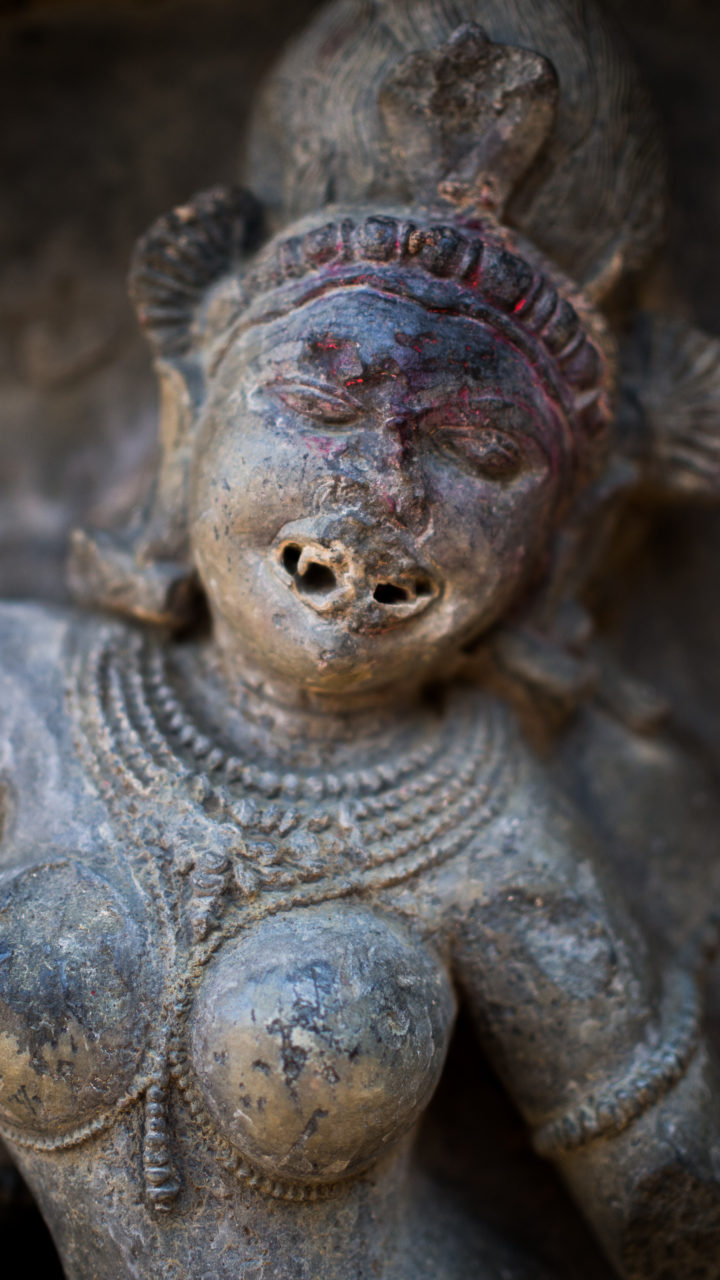 Thanks to Jean Bouchart d'Orval and Kweku for their help on proofreading and translation.
Merci à Jean Bouchart d'Orval et Kweku pour leur aide à la relecture et à la traduction.