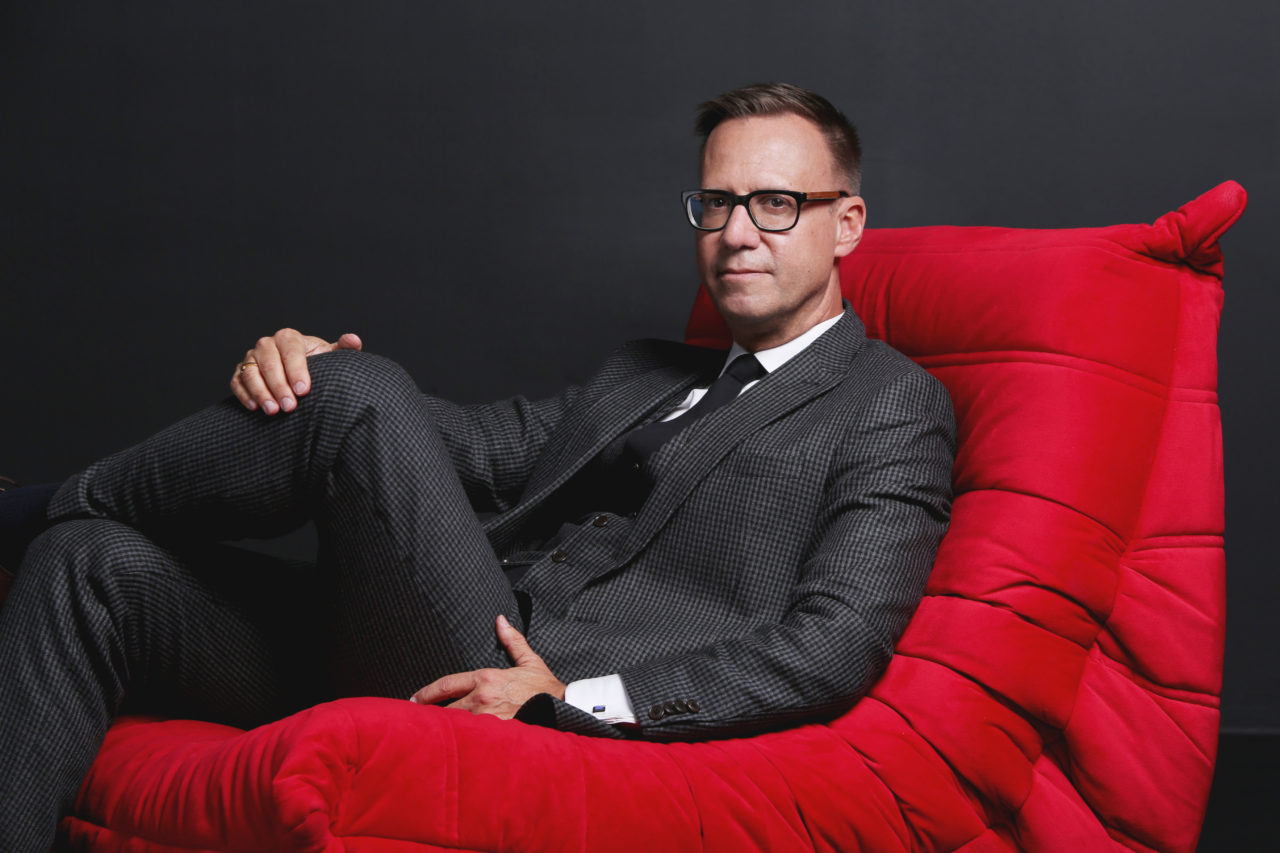 A man, sharply attired, hands in motion creating many pies, while at the same time wearing many hats… designer, of course! With a passion for fashion, arts and culture, this is the vision formulated by the one and only Stéphane Le Duc. As something of a creative satellite, whose vision of sustaining Montreal's strong cultural presence on the global stage, he is Curator and Host of the Festival Mode & Design, celebrating its sixteenth anniversary for all to experience throughout the city August 15th-20th.
Le Duc is also Editor at Large of 'Dress To KILL' Magazine, as well as Director of Education at Promédia. Over the past 25 years, he has established himself as a host, director, reporter, and producer in fashion, media and culture, earning acclaim and recognition in more than 28 French speaking countries around the world. It is amazing Le Duc has any time to sleep, yet lucky for many, he's often helping to make the dreams of others become a reality.
"I wear many hats indeed! The good thing is it's all related to passion. The Festival Mode & Design allows me to get in touch with the greatest minds in the industry, and to bring them to Montreal to share amazing moments with our audiences. 'Dress to KILL' Magazine gives me the possibility to discover new talent and meet some of the greatest creative people in the world. And Promédia is very special, because it's where I learned about communications. I feel it's giving back all the experience I have now in the media with new generations of hosts and journalists."
With such a diverse skill-set, I was curious if there was a defining moment when Le Duc realized he was able to accomplish so much. When he began his career at MusiquePlus, it was a new television station where they had to do everything themselves. "I did my own research, I wrote everything, I had to call the PR people to prepare my interviews, I did the editing, and I was co-directing the show. But, when you like something and you have a vision it does not seem like work. You feel it's the only way to achieve something."
Doing whatever it takes to succeed is highlighted by the festival's inception in 2000. The Festival Mode & Design provides a showcase to bring together emerging and established designers, as well as top figures within the industry. From Hervé Leger Leroux to Scott Schuman, the festival covers styling, photography, fashion, design, blogging, and more. "It's really the whole spectrum of the industry I want to show in Montreal", says Le Duc. With fifty shows, nearly three hundred participants, and 550,000 visitors expected, the Festival Mode & Design is a predominant platform for many of the latest trends.
Following the advice of an architect friend who mentioned he should look into Never Apart, Le Duc contacted Director Michael Venus who invited him to visit the space. Discovering a shared common vision, he immediately fell in love with the building and the industrial neighbourhood. "When Michael told me the philosophy of Never Apart being open to creative people from all types of art, I thought it would be a great place to share with our guests." The selection made for the Never Apart Gallery has turned out to be quite a spectacle indeed. Jérôme Gautier is a French journalist specializing in fashion photography, who recently launched a book about the House of Dior. In addition, Claude Cormier, the great landscape architect famous for the pink balls in Montreal's Village, as well as Dorchester Square, The Beaches in both Montreal and Toronto. "We also have one of the most creative guys in the world of art and fashion", Le Duc adds. "His name is Trouble Andrew, a snowboarder, musician and graffiti artist. He just collaborated with Alessandro Michele from the House of Gucci. I am really excited he is coming to Montreal!"
Montreal is a vibrant hotbed for culture and style, yet on the world stage has continued to evolve over the years. Le Duc feels there are a growing group of creatively dynamic people who want to collaborate on new projects together. "It's not a surprise we find many musicians, painters, designers, directors and photographers in Montreal. The good thing is they get noticed in the world, like David Altmejd, Xavier Dolan, Max Abadian, Coeur de Pirate, and Pierre Lapointe, to name just a few."
Le Duc is understandably excited about celebrating this year's festival and sharing it with the Montreal audience. "I think Trouble Andrew will be one of the great surprises at the festival. He has so many ideas and is a very cool guy. I like the fact that he comes from the world of sports, does music, is a painter and is fascinated by fashion. All the things I like. It's really an amazing example of a 21st century artist."
For more information, visit the Festival Mode & Design website at www.festivalmodedesign.com
Photo by Hugo Hamaoui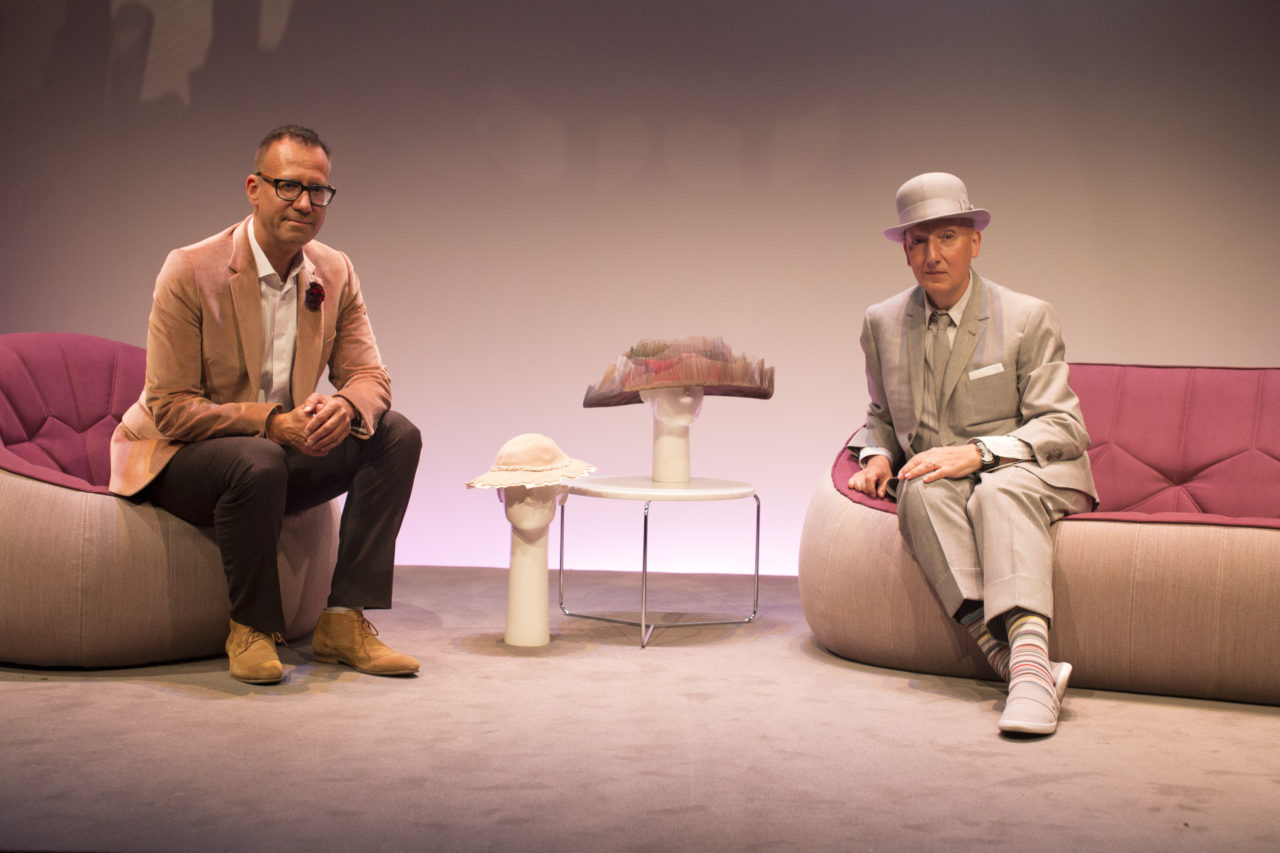 Un homme, tiré à quatre épingles, les mains toujours à la pâte et portant plus d'un chapeau… un designer, bien sûr! Avec une passion pour la mode, l'art et la culture, voici la vision formulée par le seul et l'unique Stéphane Le Duc. Un satellite créatif à qui le maintien d'une forte présence culturelle montréalaise sur la scène internationale tient à coeur, il est le conservateur et l'organisateur du Festival Mode & Design.
L'événement qui célèbre son seizième anniversaire invite tous et chacun à en faire l'expérience à travers la ville du 15 au 20 août. Le Duc est aussi rédacteur en chef du magazine Dress To KILL et directeur de l'éducation chez Promédia. Au cours des 25 dernières années, il s'est démarqué en tant qu'animateur, réalisateur, journaliste et producteur dans les domaines des médias, de la mode et de la culture, étant reconnu et acclamé dans plus de vingt-huit pays francophones à travers le globe. Dur à croire que Le Duc trouve le temps de dormir…Aussi bien comme ça, car il aide plus d'un à réaliser leurs rêves.
« Je porte bien des chapeaux, en effet! Ce qui est bien, c'est que tout découle de la passion. Le Festival Mode & Design me permet d'entrer en contact avec les plus grands esprits de l'industrie et de les amener à Montréal de manière à partager des moments incroyables avec nos audiences. Le magazine Dress to KILL m'offre la possibilité de découvrir de nouveaux talents et de rencontrer les gens les plus créatifs de la planète. Pour terminer, Promédia est très spécial, car c'est là où j'ai appris sur les communications. J'ai l'impression de redonner toute l'expérience que j'ai maintenant des médias à de nouvelles générations d'animateurs et de journalistes. »
Avec un ensemble de compétences aussi divers, j'étais curieuse de savoir s'il y avait un moment précis où Le Duc avait réalisé qu'il était capable de tant de choses. Lors de ses débuts à Musique Plus, ils devaient tout faire seuls, la station de télévision étant à ses balbutiements. « Je faisais mon propre travail de recherche, j'écrivais tout, j'appelais les responsables de relation publique pou préparer mes entrevues, je faisais le montage et je co-réalisais l'émission. Mais quand on aime quelque chose et et qu'on a une vision, ça ne donne pas l'impression de travail. On se dit que c'est le seul moyen d'accomplir quelque chose. »
Ses années passées à faire ce qui est nécessaire pour réussir sont mises en évidence par la création du festival en 2000. Le Festival Mode & Design offre une plateforme pour réunir des designers émergents et des designers confirmés, ainsi que les figures de proue de l'industrie. D'Hervé Leger Leroux à Scott Schuman, le festival englobe le stylisme, la photographie, la mode, le design, les blogues et plus encore. « Je souhaite vraiment présenter tout le spectre de l'industrie à Montréal » ajoute Le Duc. Avec cinquante défilés, près de trois cent participants et 550 000 visiteurs attendus, le Festival Mode & Design est une plateforme de taille pour bien des nouvelles tendances.
À la suite de conseil d'un ami architecte qui lui avait suggéré de se renseigner à propos de Never Apart, Le Duc est entré en contact avec Michael Venus. Le directeur exécutif l'a invité à venir visiter le centre. Se découvrant une vision commune, il est immédiatement tombé amoureux de l'immeuble et du quartier industriel. « Lorsque Michael m'a décrit la philosophie de Never Apart d'être ouvert aux gens créatifs de toutes disciplines, je me suis dit que Never Apart serait un endroit génial à partager avec nos invités. » La sélection faite pour la Galerie Never Apart s'est avérée être spectaculaire: Jérôme Gautier, journaliste français qui se spécialise dans la photographie de mode qui a récemment lancé un livre sur la Maison Dior, et Claude Cormier, grand paysagiste connu pour ses balles roses dans le Village de Montréal, le Dorchester Square et The Beaches à Montréal et Toronto. « Nous avons aussi une des personnes les plus créatives des mondes de l'art et de la mode, » ajoute Le Duc. « Il s'appelle Trouble Andrew et est snowboarder, musicien et artiste de graffiti. Il vient tout juste de collaborer avec Alessandro Michele de la Maison Gucci. Je suis vraiment excité qu'il vienne à Montréal! »
Montréal est non seulement un vibrant foyer pour ce qui a trait à la culture et au style, mais continue aussi d'évoluer à l'international au fil des années. Le Duc remarque qu'il y a un nombre croissant de gens dynamiques qui souhaitent collaborer sur de nouveaux projets. « Ce n'est pas surprenant qu'on retrouve autant de musiciens, de peintres, de designers, de réalisateurs et de photographes à Montréal. Ce qui est bien est qu'ils se font remarquer à l'international, comme David Altmejd, Xavier Dolan, Max Abadian, Coeur de Pirate et Pierre Lapointe, pour ne nommer que ceux-là. »
Avec raison, Le Duc est très excité de fêter l'anniversaire du festival et de le partager avec le public montréalais. « Je pense que Trouble Andrew sera une des grandes surprises du festival. Il a énormément d'idées et est vraiment sensas. J'aime qu'il vienne du monde des sports, joue de la musique, soit peintre et soit un féru de mode. Que des choses que j'aime. C'est un super exemple d'un artiste du 21e siècle. »
Pour plus d'information, consultez le site du Festival Mode & Design au www.festivalmodedesign.com