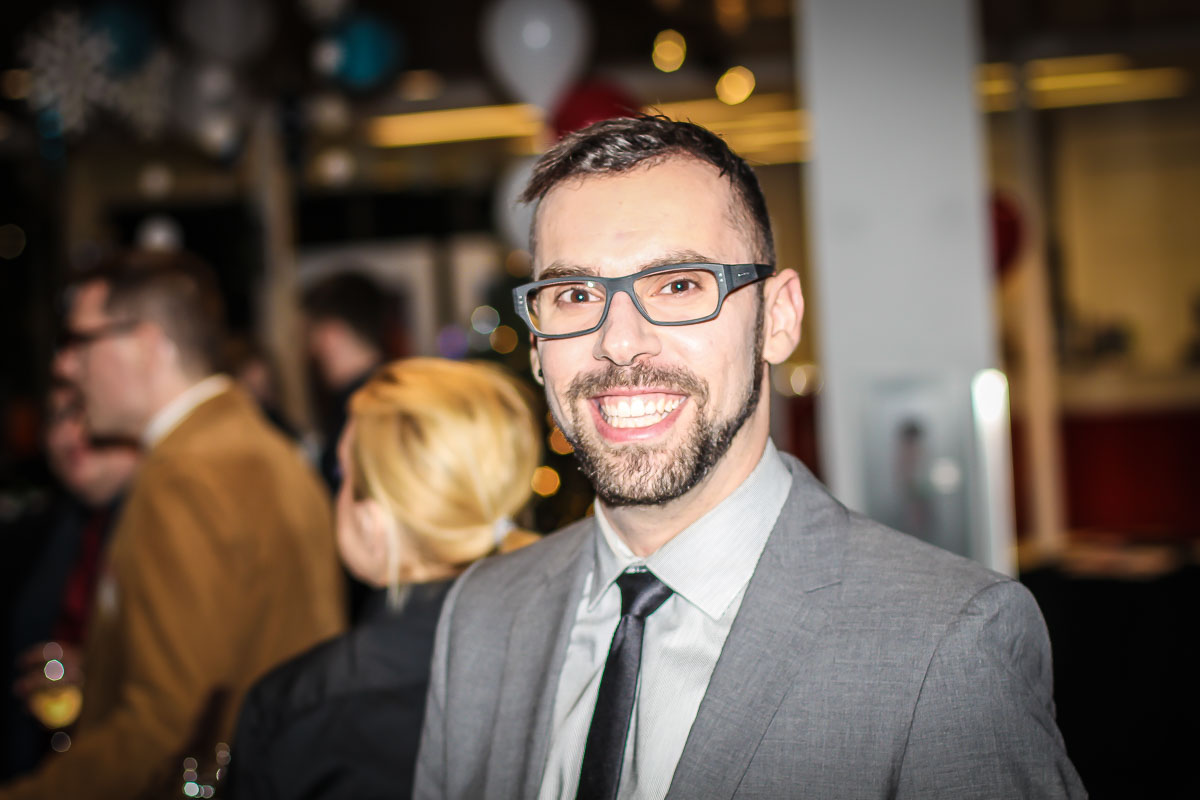 Clothing, everybody wears it. Yet when it comes to fashion and how we choose to express ourselves through linens and fibres summoned by a creative visionary is a different story. Rami Mikhail's well-crafted documentary "Trending – A Look at Canada's Fashion Industry" follows a handful of Canadian designers each sharing their insights as to what inspires them to create, brand their name, and ultimately reach a wider market away from home.
Fashion is the prevailing style of the moment. Everything is interwoven into society, influencing our tastes, what we're visually interested in, what perpetuates trends. Celebrity culture has become one of the most relevant examples, forming a multi-billion dollar industry worldwide. Taking into account that fashion used to influence culture, it's often culture influencing today's fashion trends.
Invited to make a documentary for OUT-TV, Mikhail chose to focus on fashion designers in Canada because he acknowledges they often tend to tell stories in unconventional ways with their collections. Preferring music videos and art house films to traditional narratives, making this documentary was a breakthrough because it sparked a desire to tell stories himself. The production took almost a full year from initial planning to final edit. "It was quite the process", he says. "A lot of hours, traveling and phone meetings. Thank god I had help from Michael Venus and Mark Kenneth Woods because this project was a lot longer than I had initially expected. I enjoyed it a lot though!"
What resonated with Mikhail was how all the designers he interviewed were genuinely proud of being Canadian. "I've interviewed many in other industries and often the goal is to be successful enough to move to the States and make it big. These designers are very proud of working in Canada and building a stronger fashion industry here."
Yet within Canada, success can be elusive and receiving acclaim locally or abroad is not always a given. Up-and-coming designers recognize there is little government support or funding. They also often face a bias towards Canadian brands versus European or American. Maintaining a long lasting presence in the fashion spotlight is dependent upon a variety of factors, location playing a large part. Whether east coast or west coast, business is business, and what makes one particular designer more successful than their peers can vary greatly.
Mikhail's film elegantly sheds light on both emerging and established Canadian designers carving a niche for themselves while providing something unique for their target audience, and what sets them apart. It isn't uncommon for designers to become established elsewhere, achieving international recognition before receiving credibility in their country of origin. Working conditions in factories and sweatshops abroad, as well as environmental concerns related to textile manufacturing, are issues extending beyond home turf. Traditionally, Canada has been compared to the US market as "a little brother" reminiscent of how Belgium was to Paris approximately 10 years ago. However, Canada is quickly becoming new found fashion territory blending a mix of European sensibility, American sportswear and London chic. Canada's mixture of influences makes it increasingly distinct.
Although the fashion world has a reputation for being materialistic and superficial, it also attracts many who were considered 'different', who felt the need to run from rural towns in search of their dreams. It provides viable work in an industry that celebrates differences and creativity, as well as community with like-minded others. Designer Som Kong, himself an emerging name, provides deep insight into how feeling different can actually connect with other people. Born with vitiligo, he felt self-conscious in a business that often prides itself on unrealistic beauty. Kong was introduced to Winnie Harlow who appeared in a mutual friend's fashion show. Rocking the runway as a star model, Harlow beautifully inhabits her identity with her own experience of the condition allowing it to successfully work to her advantage. It taught Kong to embrace who you are, and , through her confident example, instilled in him the desire to do that as well. Model and designer Myles Sexton struggled with bullying in high school which pushed him to enter the fashion world. He now uses it as a platform to encourage others. "It's okay to be yourself", he says, "and to embrace what makes you an individual. That's what is true beauty, not what society's standard of beauty is".
Technique and innovation are equally essential to gaining exposure in defining a designer's identity in an already over-saturated industry. What is traditionally known as "women's fashion" and "men's fashion" is currently experiencing a growth in equality as there are more options available to women, with a focus on menswear as a whole. *TOM, Toronto's very first menswear fashion week, is a perfect example of designers exclusively creating runway collections for men. In Europe, there's almost an equal amount of money being spent on men's grooming products and clothing, which has commonly been dominated by a thriving women's market. In addition to people gravitating towards a more unisex or androgynous look, consumers are able to make bolder decisions about what they choose to wear. Though commonly a stereotype that all designers are gay men, the reality is that it gives many of them a different point of view than the average hetero-normative script of what is acceptable, and able to push gender binary boundaries within their work. Fashion seems to be more and more of a common language for everybody, as well as every body.
Mikhail believes there will be more fashion films coming out of Canada and likely to be less shows. "While shooting this film," he says, "it became apparent there is way more politics and bureaucracy surrounding the bigger events than I thought". The future of fashion likely will continue to change over the next few years, as the end of the runway may be soon in sight. Due to exorbitant costs of mounting both the collection and the big reveal as we traditionally are familiar, buyers and magazine editors are purchasing or pulling outfits at showrooms rather than actual shows. Through digital images and social media, designers can now go straight to the general public online at a fraction of the cost, levelling the ever evolving playing field.
Join us Saturday April 2nd for the screening followed by a Q&A with director Rami Mikhail in attendance.

Des vêtements, tout le monde en porte. Cependant, quand on en vient à la manière dont nous choisissons de nous exprimer à travers des fibres et des tissus façonnés par un visionnaire créatif c'est une tout autre histoire. Le documentaire soigné de Rami Mikhail intitulé Trending – A Look at Canada's Fashion Industry suit une poignée de designers canadiens alors que ces derniers partagent leurs opinions sur ce qui les poussent à créer, à commercialiser leurs noms et enfin à rejoindre un plus grand marché loin de chez-soi.
La mode est le style dominant du moment. Tout est imbriqué dans la société; ce qui influence nos goûts, ce qui nous intéresse visuellement, ce qui perpétue les tendances. La culte de la célébrité est devenu un des exemples les plus pertinents, formant une industrie mondiale de plusieurs milliards de dollars. Si on considère que la mode avait l'habitude d'influencer la culture, on remarque que c'est plutôt la culture qui, maintenant, influence les tendances mode d'aujourd'hui.
Réalisant un documentaire à la demande de OUT-TV, Mikhail a choisi de mettre l'accent sur les designers de mode au Canada parce qu'il reconnaît qu'ils ont tendance à raconter des histoires de manière non conventionnelle par l'entremise de leurs collections. Préférant habituellement les vidéoclips et les films d'auteurs aux récits traditionnels, la réalisation de ce documentaire a été une révélation pour Mikhail parce qu'il a suscité en lui le désir de raconter lui-même des histoires. La production a pris près d'un an, de la planification initiale au montage final. « C'était tout un processus, dit-il. Beaucoup d'heures, de déplacements et de rencontres téléphoniques. Dieu merci, j'ai reçu de l'aide de la part de Michael Venus et de Mark Kenneth Woods parce que le projet a été beaucoup plus long que je ne l'avais anticipé. Toutefois, j'ai adoré! »
Ce qui a frappé Mikhail est le fait que les designers qu'il a interviewés étaient tous sincèrement fiers d'être canadiens. « J'ai fait des entrevues avec beaucoup de gens venant d'autres industries et le but est souvent d'avoir assez de succès pour partir vers les États-Unis et de faire fureur là-bas. Les designers de mode sont très fiers de travailler au Canada et de solidifier notre industrie de la mode . »
Malgré tout, le succès au Canada peut être élusif, et être célébré ici ou à l'étranger n'est pas toujours garanti. Des designers prometteurs admettent qu'il y a très peu de soutien ou de financement gouvernementaux. Ils doivent souvent faire face à un parti pris envers les marques canadiennes comparativement aux marques européennes ou américaines. Maintenir une présence durable sur la scène mode dépend d'une variété de facteurs, l'emplacement jouant un grand rôle. Que ce soit sur la côte est ou ouest,  les affaires sont les affaires et les raisons qui font qu'un designer en particulier ait plus de succès que ses pairs peuvent grandement varier.
Le film de Mikhail fait élégamment la lumière sur des designers canadiens émergents et des designers établis se taillant une place en offrant quelque chose d'unique à leur   public cible et sur ce qui les différencie des autres. Il n'est pas inhabituel pour des designers de s'imposer ailleurs, d'être reconnus à l'échelle internationale avant d'atteindre une certaine crédibilité dans leur pays d'origine. Les conditions de travail dans des manufactures et des ateliers clandestins à l'étranger et les enjeux environnementaux liés à la fabrication de textiles sont des problèmes allant au-delà du territoire de chacun. Le Canada a couramment été décrit comme le petit frère du marché américain, comme on voyait la Belgique vis-à-vis de Paris il y a à peu près dix ans. Cependant, le Canada est rapidement en train de devenir un nouveau territoire mode, alliant une sensibilité européenne, du sportswear américain et un chic londonien. L'amalgame d'influences du Canada le rend de plus en plus distinct.
Même si le monde de la mode a la réputation d'être matérialiste et superficiel, il attire aussi un bon nombre de gens qui ont souvent été considérés comme différents, qui ressentaient le besoin de s'évader de villes rurales à la poursuite de leurs rêves. Ce monde offre des emplois sérieux dans une industrie qui célèbre les différences et la créativité, ainsi qu'une communauté de pairs. Som Kong, lui-même un designer émergent, partage combien se sentir différent peut rejoindre d'autres personnes. Atteint de vitiligo dès la naissance, il se sentait vulnérable dans une industrie qui prône souvent une beauté irréaliste. Kong fut présenté à Winnie Harlow après que cette dernière ait défilé pour un de leurs amis. Mannequin vedette, Harlow habite admirablement son identité avec ses propres expérience liées à la maladie et en tire maintenant pleinement profit. L'exemple empreint de confiance qu'est Harlow a appris à Kong à s'accepter tel que l'on est et a inculqué en lui le désir de faire de même. L'intimidation que le mannequin et designer Myles Sexton a subit à l'école secondaire l'a poussé vers le monde de la mode. Il se sert maintenant de la mode comme plate-forme pour en encourager d'autres. « C'est tout à fait bien d'être soi-même, dit-il, et d'assumer ce qui vous distingue. C'est ça la vraie beauté, pas ce que la société considère être la beauté. »
La technique et l'innovation sont toutes deux indispensables à l'obtention d'une certaine notoriété pour définir l'identité d'un designer dans une industrie déjà saturée. Ce qui est traditionnellement défini comme la mode féminine et la mode masculine connaît présentement une croissance d'égalisation puisqu'il y a plus d'options disponibles aux femmes, avec un accent sur la mode pour homme dans son ensemble. *TOM, la toute première Semaine torontoise de la Mode dédiée à la mode masculine, est le parfait exemple de designers créant exclusivement des collections de mode pour hommes. En Europe, presqu'autant d'argent est dépensé sur les vêtements et les produits de soin pour hommes, longtemps dominé par un marché féminin prospère. En plus du fait que les gens gravitent vers un style unisexe ou androgyne, les consommateurs peuvent prendre des décisions plus audacieuses quand à ce qu'il choisissent de porter. Le stéréotype que tous les designers sont des hommes homosexuels a beau être répandu, la réalité est telle que cela donne à plusieurs un point de vue différent du concept hétéronormatif traditionnel de ce qui est acceptable, et  ils arrivent à repousser les limites du binaire du genre à travers leurs créations. La mode semble de plus en plus être un langage commun pour tous les gens, et pour toutes les morphologies.
Mikhail croit qu'il y aura bientôt un plus grand nombre de films de mode et possiblement moins de défilés. « En tournant ce film, dit-il, il est devenu apparent qu'il y a beaucoup plus de politiques et de bureaucratie autour des gros événements que je ne le pensais. » Le futur de la mode continuera probablement de changer d'ici les prochaines années; les défilés pourraient sous peu être choses du passé. En raison des coûts exorbitants liés à la création d'une collection et de son dévoilement auquel nous sommes devenus habitués, les acheteurs et les éditeurs de magazines achètent ou sélectionnent des tenues dans les salles de montre plutôt qu'aux défilés. Grâce aux images numériques et aux médias sociaux, les designers peuvent maintenant avoir un lien direct avec le grand public, et ce, pour une fraction du coût, uniformisant ainsi les règles d'un jeu en constante évolution.