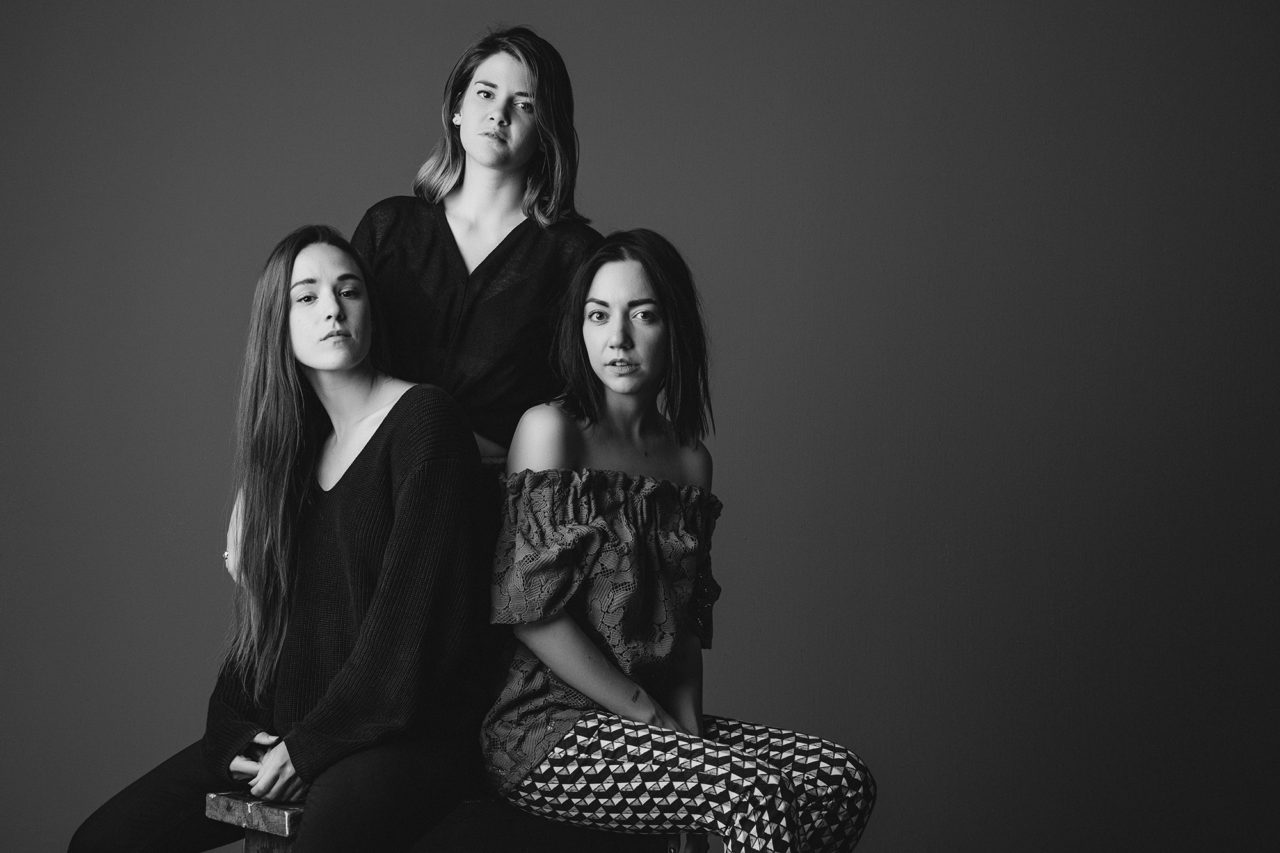 Interview with Marie Ségolène, Tess Roby and Julie Roch-Cuerrier
The July art exhibit at Never Apart brings together the works of three artists that will appear throughout each of the gallery spaces. This is the first all-female exhibition, and features photography, performance art, video installations, and more.
The theme of water runs through each of their work; a meeting point for their different practices.
A few months ago, while working on a catalogue Marie Ségolène was putting together (in which these three artists are featured), Julie Roch-Cuerrier was simultaneously developing the proposal for Water, and the connections between all three works became clear. According to Roch-Cuerrier, "Our practices are very distinct but we share a similar aesthetic sensibility – they come together in the narratives we choose to archive."
"The image or notion of water is present in each of our pieces, but it has different meanings for each of us," explains Roch-Cuerrier, whose own work centers around the world atlas.
Currently, Roch-Cuerrier's practice isn't restricted to any specific medium, rather, she works with various elements, creating installations that combine sculpture and video with a special interest in print medias. "Art is for me a way to respond to my environment, and to address my sense of being in the world. I'm interested in the way history and culture is written, and in how ideas and techniques migrate. In developing new works, I'm looking for ways to seek the very essence of things, to distill ideas and to analyze the way we perceive them."
Roch-Cuerrier's works featured in this NVA exhibition are part of a larger body of work entitled it meant The World, which she created over a period of 2 years. Taking a National Geographic atlas as a starting point, she carefully removed the pigments from the supporting pages, transforming the familiar representation of our world into a monochrome painting made with the collected pigments, a text projection, a bronze sculpture which recalls a map outline, and a video projection of water onto a sheet of glass.  "Every piece is a different proposition of the original atlas, each time represented in a further object or idea to express what I have found," she answers.
Photographer Tess Roby's main medium is photography, and she is a musician as well. Her photography exhibited at Never Apart are selections from two recent series: Inner City Growth (2016) and The Shape of Worlds Colliding (2015). In these images, water is used to create a narrative within each body of work, and represents themes of space, transition and loss.
"The photos in Inner City Growth are very cinematic, and subjects in them are placeholders for memories or emotions," says Roby. She always carries her camera with her, and often travels in order to photograph. The photographs included in this exhibit were taken between France, St. Lucia, California, Berlin and Toronto. "My photos are never staged or planned; they're always moments that I come across. They're often dependent on light and chance encounters, and are united by colour, light, space and time," explains Roby.
Marie Ségolène's practice focuses mostly on interdisciplinary explorations and performance. She works primarily with video, book making, sculpture and live performance. Her work's most recurring themes relate to feminist theory, literature and mythology.
"When it comes to the creation process, my work really differentiates itself from Tess and Julie's," explains Marie Ségolène. "My work divides itself in two parts: the research and the collaborative practice. My performances are largely anchored in research. Through note taking, reading, poetry and preliminary sketches, I attempt to deconstruct and respond to specific narratives of violence towards women in history and mythology," describes Marie Ségolène.
For the Water exhibition, she'll be presenting two pieces. First, a triptych entitled Aphrodite/Venu, the first of a longer investigation and deconstruction of the Archetype of Aphrodite. The video triptych was shot in Rockaway, NY by John Londono. The second piece is a short video, which was originally part of a larger piece entitled The Three Marys, and was shot in the town of Asbestos, Quebec by David Whitten. Both pieces are related through the gesture of libation which is also present in the live performance Ségolène will be doing the night of the opening. It's entitled Water, Wine, Oil, and will be accompanied by H. Kallisti Deon on the piano, and incorporates sculptural elements produced in collaboration with Garrett Johnson and Courtney Pedersen. The live piece will also include some projected video work shot by John Londono.
"Being part of this all-woman show curated by Julie Roch-Cuerrier is really exciting, especially considering Never Apart's mission to foster equality through art and cultural events," expresses Marie Ségolène. "I think the changing nature of water is an interesting territory, which also opens up to a larger context of reflection that brings together art and environment," adds Julie.
Each artist invites the viewer to contemplate the presence of water in the various pieces.
"I hope the audience enters my work, and senses the vast and transient space of the ocean. Water itself is captivating." says Roby.
For Marie Ségolène, there's something symbolic about water, as it's such a strong force in nature. "Mother nature is a feminine power. We often take advantage of it and misuse it."
Roch-Cuerrier explains, "I want the viewer to consider how different ways of seeing have shaped our relationship to water throughout history."
WATER: Entrevue avec Marie Ségolène, Tess Roby et Julie Roch-Cuerrier
L'exposition de juillet à Never Apart réunit les œuvres de trois artistes qui seront présentées à travers chacune des galeries. Pour la première fois, l'exposition regroupe exclusivement des artistes de sexe féminin et met en vedette des photographies, de la performance, des installations vidéos, et plus encore.
Le thème de l'eau parcourt chacune de leurs œuvres, tel un point de rencontre pour leurs différentes pratiques.
Il y a quelques mois de cela, tout en travaillant sur un catalogue que Marie Ségolène élaborait (dans lequel apparaissent les trois artistes), Julie Roch-Cuerrier développait simultanément la soumission pour Water et les liens entre les trois œuvres sont devenus limpides. Selon Roch-Cuerrier, « nos pratiques sont très distinctes, mais nous avons une sensibilité esthétique semblable; elles se rejoignent dans les éléments narratifs que nous choisissons d'archiver. »
« L'image ou la notion de l'eau est présente dans chacune de nos pièces, mais a une signification toute différente pour chacune d'entre nous, » explique Roch-Cuerrier dont l'œuvre gravite autour d'un atlas du monde.
Actuellement, la pratique de Roch-Cuerrier n'est pas restreinte à un médium précis; elle travaille plutôt avec de multiples éléments, créant des installations qui allient sculptures et vidéos, avec un intérêt particulier pour les médias imprimés. « L'art est pour moi un moyen de répondre à mon environnement et d'aborder mon sentiment d'exister dans le monde. Je suis intéressée par la manière dont l'histoire et la culture sont écrites, et comment les idées et les techniques migrent. Lorsque je développe de nouvelles œuvres, je suis à la recherche de moyens de trouver l'essence même des choses, de distiller des idées et d'analyser la façon dont nous les percevons. »
Les œuvres de Roch-Cuerrier présentées dans cette exposition de NVA font partie d'un plus vaste ensemble d'œuvres, intitulé it meant The World, qu'elle a créé sur une période de deux ans. Avec un atlas de National Geographic comme point de départ, elle a soigneusement retiré les pigments de la surface des pages, transformant ainsi la représentation connue de notre monde en une peinture monochrome faite avec les pigments recueillis, une projection de texte, une sculpture de bronze qui rappelle les contours d'une carte et une projection vidéo d'eau sur une feuille de verre. « Chaque œuvre est une proposition différente de l'atlas originel, représenté à chaque fois dans une idée ou un objet différent pour exprimer ce que j'ai trouvé, » répond t-elle.
Le médium principal de la photographe Tess Roby est la photographie, en plus d'être musicienne. Ses photographies exposées à Never Apart sont tirées de deux récentes séries, soit Inner City Growth (2016) et The Shape of Worlds Colliding (2015). Dans ces images, l'eau est utilisée pour créer un récit à travers chaque ensemble d'œuvres, représentant des thèmes comme l'espace, la transition et la perte.
« Les photos d'Inner City Growth sont très cinématiques et leurs sujets sont des substituts pour des souvenirs ou des émotions, » dit Roby. Elle garde toujours son appareil photo avec elle et voyage souvent dans le but premier de faire de la photographie. Les photographies incluses dans cette exposition ont été prises en France, à Sainte-Lucie, en Californie, à Berlin et à Toronto. « Mes photos ne sont jamais mises en scènes ou planifiées; elles sont toujours des moments que j'ai saisis sur le vif. Elles dépendent souvent de la lumière ou de rencontres fortuites et sont unies par la couleur, la lumière, l'espace et le temps, » explique Roby.
La pratique de Marie Ségolène met majoritairement l'accent sur les explorations interdisciplinaires et la performance. Elle travaille principalement avec la vidéo, la fabrication de livres, la sculpture et les interprétations en direct. Les thèmes les plus fréquents de ses œuvres se rapportent à la théorie féministe, la littérature et la mythologie.
« Lorsqu'elle en arrive au processus de création, mon œuvre se diffère vraiment de celles de Tess et de Julie, » explique Marie Ségolène. « Mon œuvre se sépare en deux parties: la recherche et la pratique collaborative. Mes performances sont largement ancrées dans la recherche. En prenant des notes, en lisant, à travers de la poésie et des ébauches préliminaires, je tente de déconstruire et de répondre à des éléments narratifs spécifiques de la violence faite aux femmes dans l'histoire et la mythologie, » décrit Marie Ségolène.
Pour l'exposition Water, elle présentera deux œuvres. Tout d'abord, un triptyque intitulé Aphrodite/Venus, le premier d'une longue étude et déconstruction de l'archétype d'Aphrodite. Ce triptyque vidéo a été tourné à Rockaway, New York par John Londono. La deuxième oeuvre est une courte vidéo, qui faisait à l'origine partie d'une plus grande œuvre intitulée The Three Marys et a été filmée dans la ville québécoise d'Asbestos par David Whitten. Les deux œuvres sont reliées par le geste de libation qui est aussi présent dans l'interprétation en direct que Marie Ségolène donnera le soir de l'ouverture. Elle s'appelle Water, Wine, Oil et sera accompagnée par H. Kallisti Deon au piano, et incorpore des éléments sculpturaux produits en collaboration avec Garrett Johnson and Courtney Pedersen. Cette œuvre en direct inclura aussi également des projections vidéo par John Londono.
« Faire partie de cette exposition exclusivement féminine organisée par Julie Roch-Cuerrier est vraiment excitant, surtout en considérant la mission que s'est donné Never Apart de promouvoir l'égalité à travers des événements artistiques et culturels, » déclare Marie Ségolène. « Je pense que la nature changeante de l'eau est un territoire intéressant qui s'ouvre sur un encore plus grand contexte de réflexion réunissant l'art et l'environnement, » ajoute Julie.
Chaque artiste invite le spectateur à contempler la présence de l'eau dans les différentes œuvres.
« Je souhaite que l'auditoire pénètre dans mon œuvre et ressente l'espace vaste et transitoire de l'océan. L'eau elle-même est captivante, » dit Roby.
Pour Marie Ségolène, il y a dans l'eau quelque chose de symbolique, car elle est une si grande force dans la nature. « Mère Nature est une puissance féminine. Nous en prenons souvent avantage et l'utilisons à mauvais escient. »
Roch-Cuerrier explique, « Je veux que le spectateur prenne conscience de la façon dont certaines manières de voir ont façonné notre relation à l'eau à travers l'histoire. »