Suzanne MacRury: Interview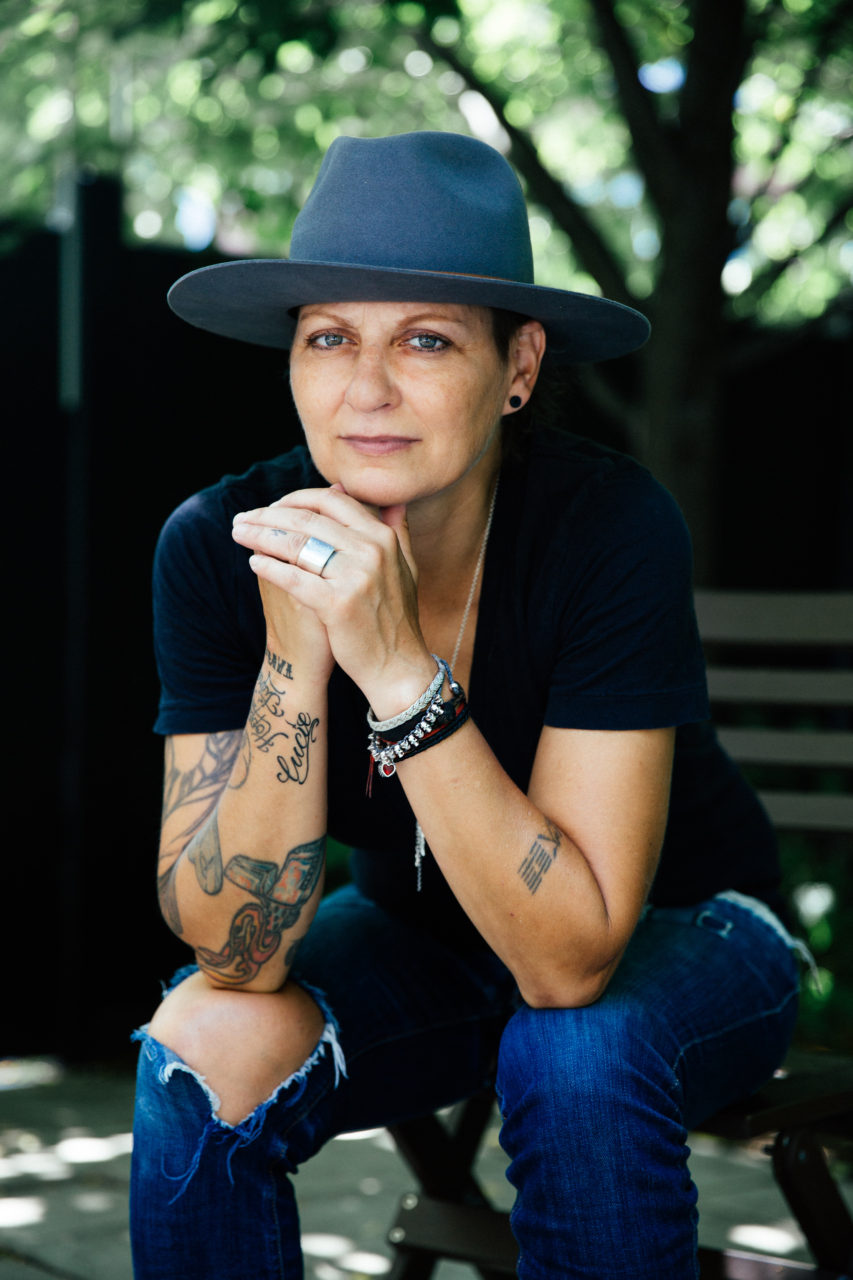 In Shamanism and Indigenous cultures, the bones and skulls of animals represent their spirits, remembered and revered as power totems through rituals and adornments. Artist Suzanne MacRury, through her delicate appreciation for the life of the bones chosen as her canvas, each one uniquely is re-imagined and reborn by her tender touch. "SHINY", her installation piece in the Upper Gallery Display Case at Never Apart, with a vernissage opening July 7th until October, is the culmination of many years crafting her perspectives on the value of life, death and consumerism through her work.
MacRury always had an affinity for bones and skulls. I first met her many years ago when she was rooming with a mutual friend in a funky old house in Vancouver. I recall her studio full of stones, feathers, paintings, and of course bones as it still does today. The first winter she and her wife Heather moved to Montreal, she found a giant skull next to a compost heap in the snow. Initially scaring the hell out of her, it intrigued her just the same. She brought it home and let it sit for six months before realizing she would one day paint it. What began as a fun side-project led to the beginning of a series of trial and error perfecting the process of applying resin. Out of a reverence for their inherent perfection made by nature, she felt what better way to make the skulls more beautiful: shiny gold and idolize them. At a painting exhibit in Toronto, the discarded giant skull was the first thing to sell that night. It was then she knew she was on to something.
Always highly creative, MacRury went to Emily Carr after high school, although dropped out feeling that "teaching someone to be artistic was a moronic contradiction". She shunned other career paths to focus primarily on painting, drawing everything she laid her eyes on. Eventually, she explored abstract painting, leading to bones and skulls becoming her subjects prior to becoming the medium themselves. She discovered installation art as something to grasp recently. With the prolific moment that the skulls could become something more than singular things, MacRury realized they could become part of a larger piece and a more cohesive vision began to manifest. Typically her skulls vary from small (beaver, fox racoon, rabbit) to quite large in size (bear, cow, polar bear, long horn), painted to highlight each skull's inner character. Displayed in a gold painted shopping cart filled with multiple skulls, "SHINY" represents our insatiable lust for high-end goods through consumerism and consumption, no matter the cost.
With a deep connection to the earth and environment, as well as a long time vegan, MacRury sees the inherent value in these 'discarded objects'. She sometimes has to scrub them in the tub, a process of cleaning once they've been passed to her ethically sourced through a First Nations contact. Not encouraging killing animals for sport, she finds much beauty in them. She creates for them a statuesque personae, though not as trophies. "For over a year, I fought with a female wolf (skull) that just wasn't happy. As an abstract painter you just know when you're done. With the skulls, you have a feeling of where you want to go, or if there is some kind of synergy". She may start with an idea, but the skulls tend to distract her with their shiny personalities.
Far from morbid, MacRury did however refrain from using red paint on the first 100 skulls she created. Not wanting her work to be misconstrued, the goal is not to make them seem demonic in any way either. Those images have been portrayed forever, however the colour and shine elements are her gesture to give them life and beauty again. "People want to touch them because of the resin and colours. They're attracted to shiny things, much like crows. Part of the allure is that they are almost weirdly forbidden – so pretty and yet dead. I'm poking fun at society's need for 'what's the next new, big, high-end thing'. Don't get me wrong though, they are still for sale!"
MacRury wants people to stop and think about the 'why' of what they 'want'. "With abstract art I generally don't like people to know my initial meaning. The bigger story here though is the experience that people take away from it as individuals. Installation creates more of a dialogue, which to me is much more of the purpose than just to make a sale".
Dans le chamanisme et les cultures indigènes, les os et crânes d'animaux représentent leurs esprits, inscrits dans la mémoire et honorés en tant que totems de puissance à travers des rituels et des parures. De par la délicate appréciation de l'artiste Suzanne MacRury pour la vie des os choisis comme son canevas, chacun de ces os est réinventé de façon unique et renaît grâce à son fin doigté. SHINY, son installation exposée dans la Galerie Supérieure de Never Apart à partir du 7 juillet jusqu'au mois d'octobre, est l'aboutissement de nombreuses années à peaufiner ses perspectives sur la valeur de la vie, de la mort et du consumérisme à travers ses oeuvres.
MacRury a toujours eu une affinité pour les os et les crânes. Je l'ai rencontrée il y a bien des années de cela, alors qu'elle vivait avec un ami commun dans une vieille maison branchée de Vancouver. Je me remémore très bien son atelier rempli de pierres, de plumes, de peintures et bien sûr d'os, tel qu'il l'est encore maintenant. Durant le premier hiver passé à Montréal avec sa femme Heather suivant leur déménagement, MacRury a trouvé un énorme crâne dans la neige, près d'un amas de compost. Tout d'abord, Il lui donné la frousse, mais l'a intriguée tout autant. Elle l'a rapporté à la maison et l'a laissé de côté pendant six mois, avant de réaliser qu'elle le peindrait un jour. Ce qui avait débuté comme un amusant projet secondaire s'est avéré être le début d'une série d'essais-erreurs pour perfectionner l'application de résine. Par respect à l'égard de leur perfection intrinsèque créée à même la nature, elle a estimé que le meilleur moyen d'embellir ces crânes est de les rendre dorés et brillants et de les idolâtrer. Lors d'une exposition de peintures à Toronto, ce gigantesque crâne, mis au rebut, a été la première chose à être vendue. C'est là qu'elle a compris qu'elle avait mis le doigt sur quelque chose de spécial.
Ayant toujours été fortement créative, MacRury a étudié à Emily Carr après l'école secondaire, mais a abandonné les cours parce qu'elle trouvait que « d'apprendre à quelqu'un à être artistique était une contradiction idiote ». Elle a rejeté toutes les autres trajectoires professionnelles pour se concentrer principalement sur la peinture, dessinant tout ce que lui tombait sous les yeux. Elle a ensuite exploré la peinture abstraite, les os et les crânes étant ses sujets avant de devenir le médium même. Elle a récemment découvert les installations artistiques comme cadre à saisir. En réalisant que les crânes pouvaient être plus que des éléments singuliers, MacRury est arrivée à la conclusion qu'ils pouvaient faire partie d'une plus grande oeuvre et une vision plus cohérente a commencé à se manifester. Généralement ses crânes vont du petit (castor, renard, raton laveur, lapin) au beaucoup plus grand (ours, vache, ours polaire, bétail à corne) et sont peints de manière à mettre en valeur le caractère inné de chaque crâne. Présenté dans un panier d'achat peint doré rempli de multiples crânes, SHINY représente notre soif insatiable de biens haut de gamme par le consumérisme et la consommation, peut importe le prix.
Ayant une connexion profonde à la terre et à l'environnement, tout en étant une végétalienne de longue date, MacRury voit la valeur intrinsèque de ces objets abandonnés. Elle doit parfois les récurer dans la baignoire, pour les nettoyer, après les avoir obtenus de manière éthique par un contact chez les Premières Nations. N'encourageant pas la chasse d'animaux pour le plaisir, elle leur trouve une beauté innée. Elle crée pour eux une personnalité imposante, mais pas en tant que trophées. « Durant plus d'une année, je me suis battue avec une louve (son crâne) qui n'était simplement pas contente. En tant que peintre abstrait, on sait lorsque l'on a terminé. Avec les crânes, on sent où on souhaite aller ou s'il y a une synergie quelconque. » Elle peut commencer avec une idée précise, mais il arrive que les crânes la distraient de par leurs personnalités remarquables.
Loin d'être morbide, MacRury s'est toutefois retenue d'utiliser de la peinture rouge sur les cent premiers crânes qu'elle a créés, ne souhaitant pas que ses oeuvres soient mal interprétées, le but n'est pas non plus de les faire paraître démoniaques. On retrouve ces images depuis toujours, mais les éléments de couleur et de brillance sont le geste qu'elle pose pour leur redonner vie et beauté. « Les gens veulent les toucher à cause des couleurs et de la résine. Ils sont attirés par ce qui brille, comme des pies. Une part de l'attrait est que ces crânes ont ce sens de l'interdit; ils sont si beaux, mais à la fois si morts. Je me moque de ce besoin qu'a la société d'avoir « le nouveau truc haut de gamme, le nec-plus-ultra ». Mais ne vous méprenez-pas, ils sont quand même à vendre! »
MacRury souhaite que les gens fassent le point et réfléchissent sur le pourquoi de ce qu'ils veulent. « Avec l'art abstrait, je n'aime pas particulièrement que les gens connaissent le sens initial de mon oeuvre. L'important ici est l'expérience que les gens en retirent en tant qu'individus. Les installations créent plus un dialogue, ce qui, selon moi, est beaucoup plus l'objectif que de simplement générer une vente ».