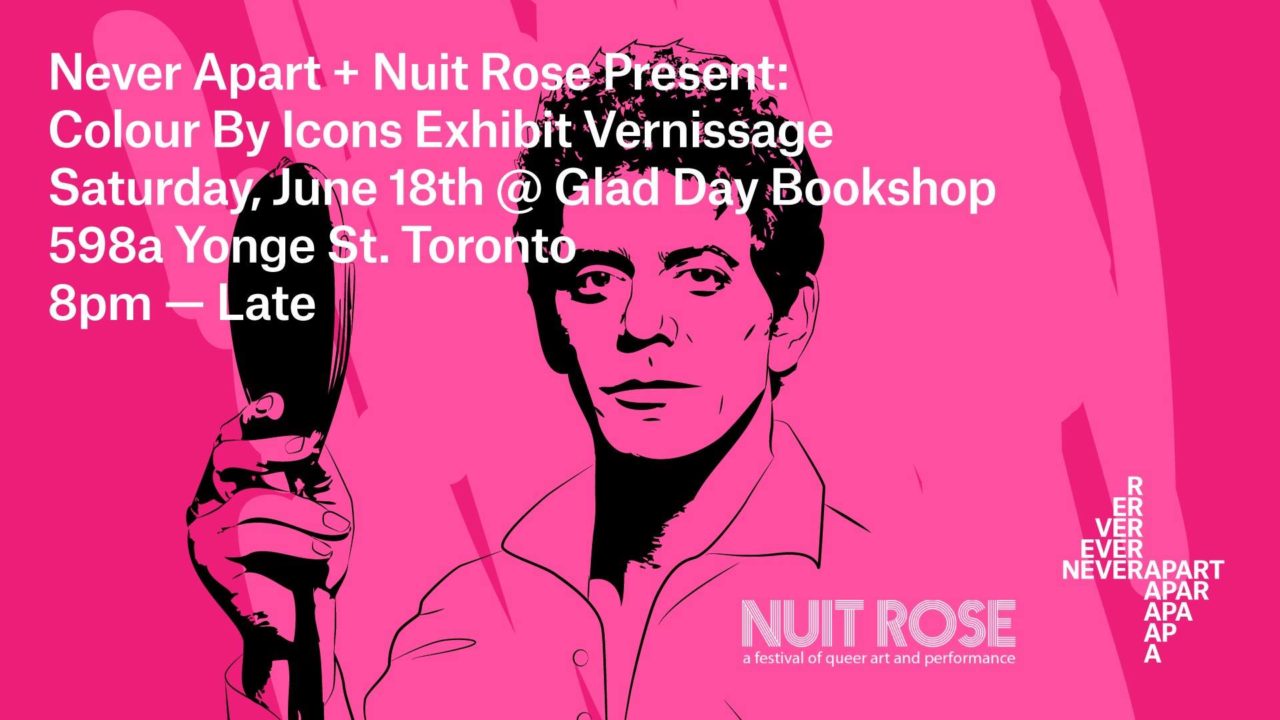 Never Apart is teaming up with Nuit Rose this June in Toronto for "The Colour By Icons Project". We have asked 25 Toronto artists to be a part of this project and to colour one of our Icons in however they wish for the exhibition
The Never Apart LGBT Historic Colouring Book is a fun and retro-kitsch project that also serves as an educational tool. So much of queer history has been erased and is not something we are taught in school. Growing up, many of us did not have queer role models. In this cool, collectible art book, we celebrate some of queer history's most colourful trailblazers: legends and heroic symbols of our struggles, talents, and achievements. In Colour by Icons, it's up to you to colour inside or outside the lines.
It is also an exhibit at the Never Apart headquarters in Montreal, where 25 North American artists brought life to the images using whatever mediums they desired. The outcome was beyond awesome and for Never Apart's first event in Toronto we are doing the same with Toronto based artists and personalities.
The preview opening of this exhibit will on Saturday June 18th at Glad Day Book Store in the 3rd floor gallery. The exhibition will also be on display during the Nuit Rose festivities on Saturday June 25th.
Never Apart is a non-profit organization in Montreal, Quebec, Canada, determined to bring about social change and spiritual awareness through programming with global reach and impact.
Never Apart seeks to educate on equality, the environment, and conscious living, while celebrating both established and emerging artists. The platform is geared towards igniting change through gatherings, music, art exhibitions, panel discussions, workshops, and special events.
We will be selling the colouring book for an affordable price of $20.00 on the June 18th event with 70% of proceeds benefitting Rainbow Railroad!
There are 25 iconic images found inside and bound in the 1980's Colouring Book style. We are also collaborating with a number of artists who took on the task of colouring a page in the book. Their collaborative works are on display as a part of Nuit Rose and on display at Glad Day Book Store.
The Exhibit will also be on display for Nuit Rose which is happening on Saturday June 25th all across Toronto!