LGBT FILM SERIES: An Evening of Gay Shorts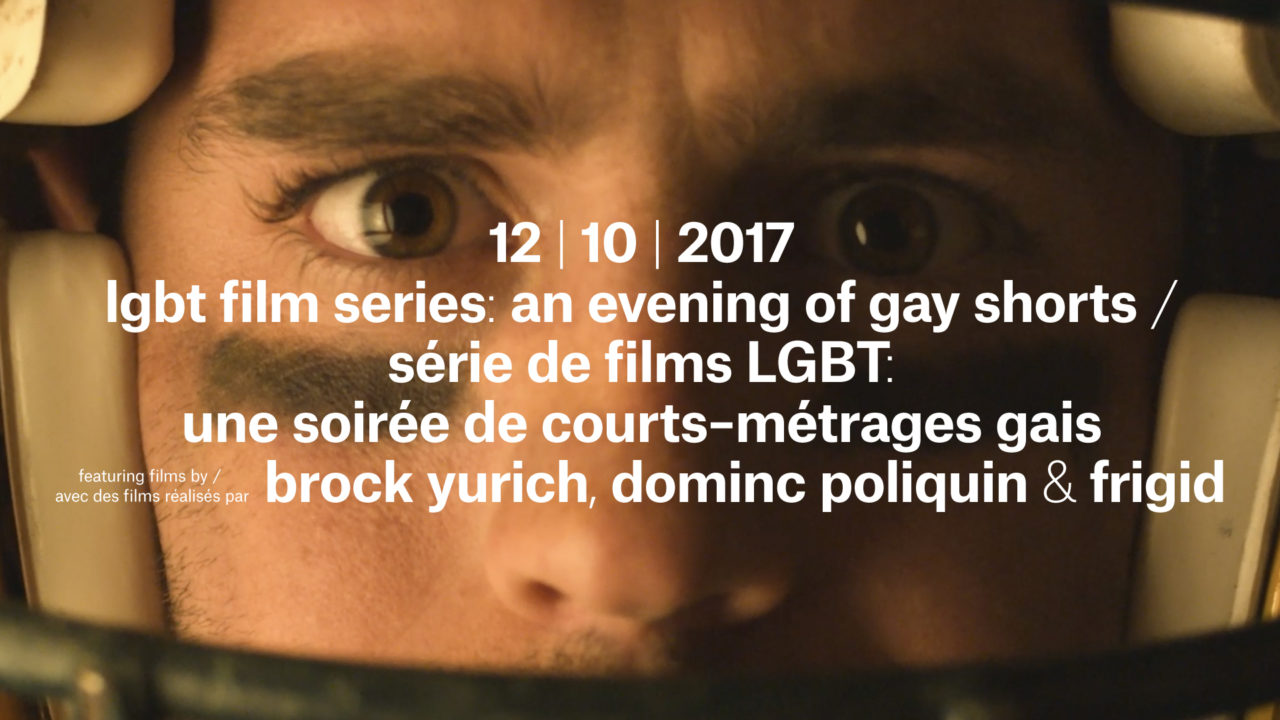 LGBT FILM SERIES: An Evening of Gay Shorts
Featuring Films by Brock Yurich and Dominic Poliquin and Frigid
Join us for an evening of Queer short films celebrating many aspects of gay life by three artists. This is a free event and apart of Never Apart's on-going LGBT Film Series.
5pm doors
6pm films
7pm Q&A with the filmmakers
FRIGID: The Game
Directed by Éclair Noir
A week in the life of a gender fluid transvestite freak goddess.
FRIGID: New Video Launch
Directed by Jocelyn Leduc
Première of a first video for FRIGID by long-time artistic director and partner Jocelyn Leduc
O Canada: 3 Short Films by Dominic Poliquin
Dominic Poliquin has created three queer films that were inspired by moments in Canadian history. One is an intense bromance between a gay football player and a soldier, another a delightful marriage proposal between two officers (one, RCMP and the other, Surete du Quebec) and the tale of lesbian nuns who wait half a century for the right to marry. Each uses brevity to deliver a poignant message.
Heritage Minutes for Gay & Lesbian Marriage (2011-2013)
To celebrate Canada's legalization of same-sex marriage in 2005, Poliquin decided to give the 'moment' the "Canadian Heritage Moment" treatment. In 1991 , CBC-TV launched an iconic series of public service history lessons to memorialize and celebrate significant events in Canadian history.
Despite being spoofs on the real "Moments", Poliquin's videos have been embraced and incorporated into the cultural fabric of the Heritage Moments history. Historica Canada has supported his creations by incorporating his work on their website. Gay Mounties and lesbian nuns are now 'a part of our history'.
Forces (2016) Dominic Poliquin
This short film captures the combustible friction of a veiled bromance between straight and gay best friends…across-the-creek neighbours since childhood. The film crackles with emotional turbulence and sexual tension. *Winner of the 2017 Grand Jury Prize for Best Short Film at its premiere at the Image+Nation Film Festival in Montreal.
''This film perfects the short narrative form and it is obvious in every moment and in every shot that it was lovingly crafted." Roisín Nic Oireachtaigh, Member of Jury, Image + Nation 2016
"49" (2017) Brock Yurich
Based on the attack at Pulse night club in Orlando, Florida, "49" is a short film about 4 strangers coming together to help each other recover through love and acceptance.
director, writer: Brock Yurich
Executive Producers: Andy Green, Dax Dasilva, John Melfi
Producers: Calvin Mitchell, Ed Heffernan, Erika Santosuosso, Adam Griffit