NVA x LIP x Artgang Plaza:
Noncompliant | Heidy.P | DJ NAME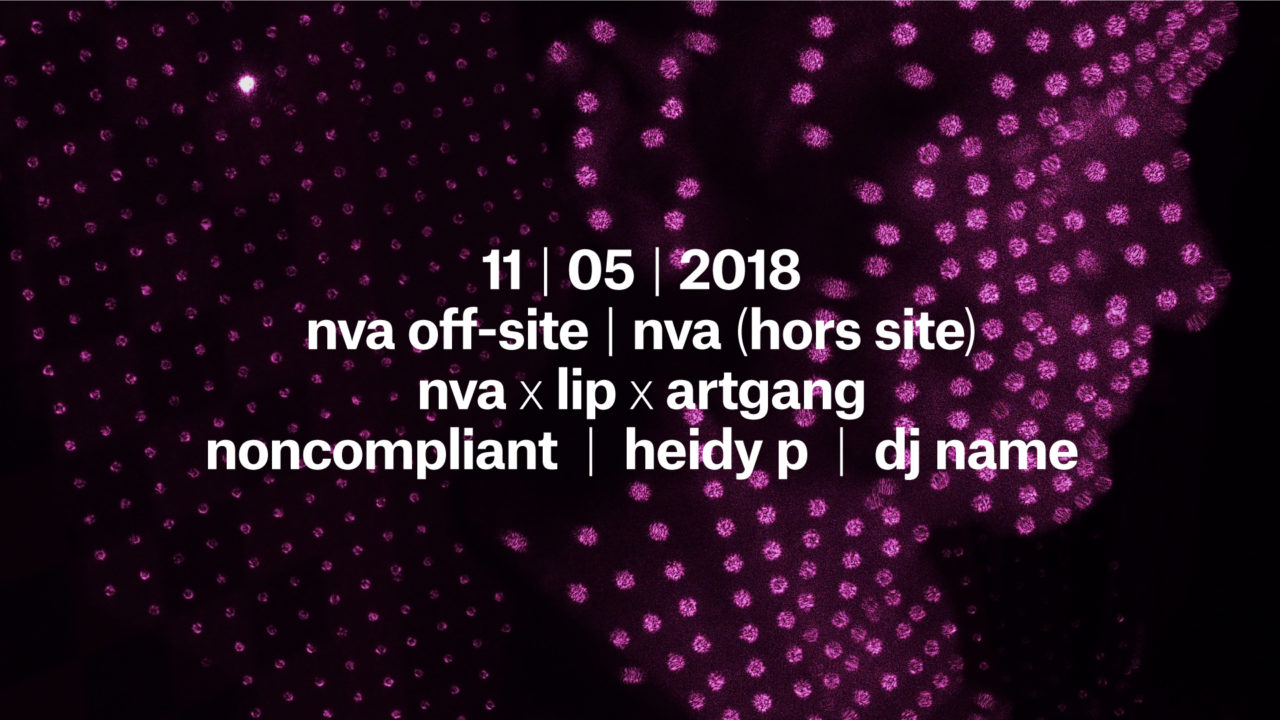 Never Apart, LIP and Artgang Plaza join forces to present a robust techno and house soirée with:
Noncompliant aka DJ Shiva  | Heidy.P | DJ Name / D-Grade
12$ at the door (cash)
(If money is a reason for you not to come, please write the organizers!)
ABOUT
Noncompliant aka DJ Shiva
Raised in small town Indiana on a musical diet of 80s synth pop and punk rock, Noncompliant soon found barnyard raves and warehouse techno parties and (as DJ Shiva) quickly became a fixture of the fabled 90s Midwest USA rave scene.
Two decades and a name change later, she is at the top of her techno game. Mixmag named her one of 2017's Top 20 Breakthrough DJs. She owned a packed and sweaty Boiler Room during Movement Detroit, turned in mindblowing mixes for Slam Radio, Discwoman, and Resident Advisor, and quaked some of the world's most respected dancefloors like Smartbar Chicago, Amsterdam's DeSchool, Concrete in Paris, and Berlin's legendary Berghain.
As a producer, her releases and remixes on labels like Valence, Argot, Flash, and Dark Entries have pounded sound systems worldwide, with her tune "Women's Work" landing on Fiedel's official Berghain 08 mix and on his label Fiedeltwo.
In 2018 her forward momentum continues, with a residency for Los Angeles-based Into the Woods, a performance at Moogfest, and a tour schedule increasingly spanning the globe.
Heidy.P
Heidy.P started her journey 13 years ago. She got her first taste of DJing through a weekly show that she hosted on a Montreal university radio station. Initially focused on rock, a few months spent in Berlin expanded her musical horizon and made her discover the endless possibilities of electronic music. She moved behind the turntables, refining her sound and going deeper into house music, disco and techno.
Montreal is her hometown and she has hosted many late night events in unusual settings all over the city, like an old printing factory turned techno bunker and a dominatrix loft.
She has been based in Europe since 2016, Lisbon being her current homebase. She hosts a monthly show on Radio Quantica and produces music with her project Rhythm Phazer. She holds a residency at Desterro and teaches DJ and music production workshops in the community. She has performed in multiple cities in the past few years including Berlin, Paris, Ho Chi Minh City, Phnom Penh and New York, as well as having a string of guest mixes on online radio stations such as Rinse France, N.10.as and The Lot Radio.
DJ Name / D-Grade
DJ NAME is Sydney-raised, Montreal-based Maria Wang. New to the game but there's no moseying around, she's been bouncing through Montreal's most dedicated of dancefloors, making frequent stops at La Sotterenea and Datcha amongst an assortment of ravey basement-loft types. Expect some vigorous acid, revitalizing breaks, robust electro and agitated techno — all playfully presented.
ADDITIONAL INFO
No violence, racism, homophobia, transphobia, ableism, or sexism of any kind. If you need anyone who has experience de-escalating situations don't be afraid to ask the promoters or Safer Space worker (wearing all white) for assistance, they will be present all night and there to help.
Artgang is wheelchair accessible. Gender neutral washrooms. Closest metro Beaubien.