NVA & Eastern Bloc Present:
Nuit Blanche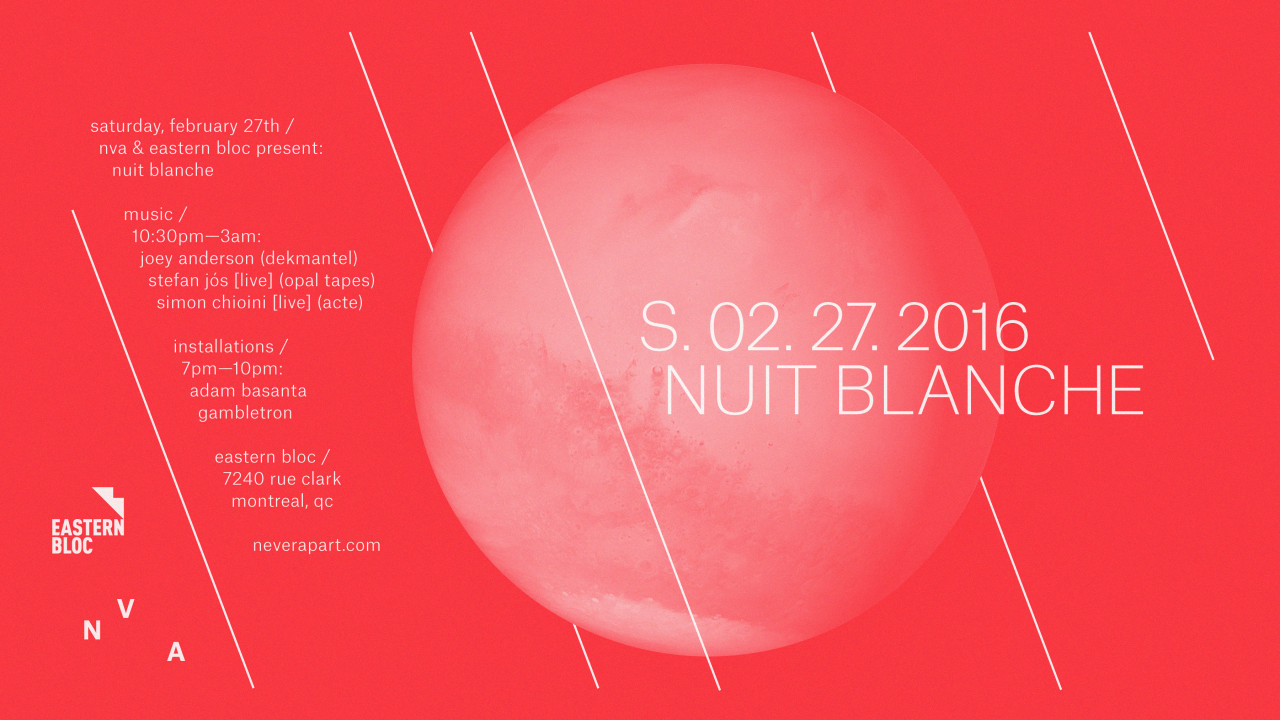 Never Apart and Eastern Bloc are proud to present a collaborative Nuit Blanche experience, encompassing cutting edge installations and music from both local and international artists.
The early evening portion of the programming will begin with immersive sound installations from Montreal artists Adam Basanta and Gambletron. Basanta presents 'A Line Listening to Itself', a generative sound installation featuring a variable feedback loop with multiple speakers, in the atrium of Eastern Bloc's space.
Queer interdisciplinary artist Gambletron will be presenting 'Coppice: Multi-Tonal AM Radio Theremin with Transmission': a drone theremin tuned using as many radios as possible, which sees the artist interact transmitting electronics and vocals into ever-morphing chords produced by radios, her body, and the omnipresent electrical waves in the air, accompanied by Johnny Forever on visuals.
We've enlisted two artists from Montreal-based collective acte to open up the music portion of our evening. Simon Chioini balances ethereal, ambient electronics with challenging, rugged soundscapes for some of the most avant-garde and beautiful music to come out of Montreal's experimental scene in years. Multi-disciplinary artist Devon Hansen will be wearing his cap as Stefan Jós for this evening, straddling the line between the experimentalism followed from Chioini and the outright functionality of our headliner, Joey Anderson.
New York City-based techno artist Joey Anderson has quietly made strides over the past few years, having put out some of the deepest and specialized "dance-floor" records in recent years on labels such as Levon Vincent's Deconstruct, and most recently, Amsterdam-based Dekmantel. A veteran behind the decks, we are excited to host Joey as the cherry on top of an evening defined by boundary-pushing art and music.
MUSIC /
JOEY ANDERSON (DEKMANTEL)
STEFAN JÓS [LIVE] (OPAL TAPES)
SIMON CHIOINI [LIVE] (ACTE)
INSTALLATIONS /
ADAM BASANTA (adambasanta.com)
GAMBLETRON (gambletron.ca)
PROJECTIONS /
susy.technology
$10 / PAY-WHAT-YOU-CAN