Spring Exhibitions: Vernissage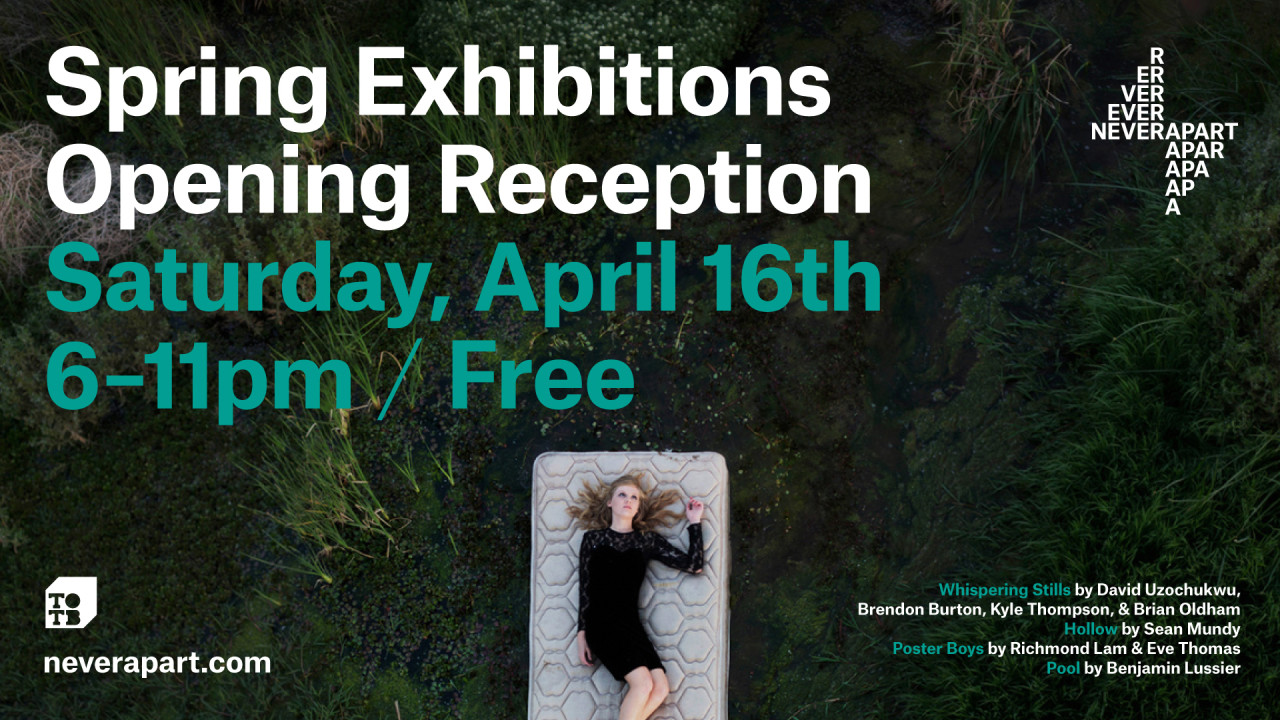 Never Apart and Think Outside The Box are proud to present the opening of our spring exhibitions with our largest showcase to date. Featuring a diverse group of works, our spring showcase explores how individual isolation and art can motivate the creation of communities.
Never Apart Spring Exhibition
Vernissage Saturday April 16th
6-11pm
WHISPERING STILLS is a group show exploring the impact of social media on socially isolated youth. In their solitude, the four young photographers (all under 25) have found, in social media, an outlet for their creativity using different platforms to share their experiences of photography and ultimately become true friends.
Gallery A
David Uzochukwu (Brussels, Belgium)
Brendon Burton (New York, USA)
Kyle Thompson (Portland, USA)
Brian Oldham (Los Angeles, USA)
HOLLOW – While shedding old social, religious, economic and political structures, Mundy creates images that explore dissonance between the individual and their attempt to connect to others.
Gallery B + C – Sean Mundy (Montreal, Canada)
POOL follows the story of Willem, a young man from Norway, on the dawn of an existential quest. Willem suffers from selective mutism, a form of social anxiety related to a speech impediment. Isolated, he spends his days commenting on the world without ever engaging with it. A series of strange encounters will take him on a contemplative journey through the dubiety of love and the human mind.
Theatre – Benjamin Lussier (Montreal, Canada)
POSTER BOYS is a portrait series that plays with gender, empathy, nostalgia and the female gaze. Under the direction of artist Eve Thomas and photographer Richmond Lam, 17 female models transformed themselves into uncanny versions of Tiger Beat heartthrobs c.1993. The result: Women pretending to be boys playing at being men for little girls. It's drag that isn't quite drag, in photos that are as wholesome as they are disturbing – just like the original glossy posters. In addition to the portraits, the installation Idol Worship includes shrine-inspired sculptures from art collective #boycrush as well as video work from Amy Didemus, Boys Will Be Boys: Wet Nightmares, a portal into the echo chamber of frenzied teenage desire.
Upper Gallery A – Richmond Lam and Eve Thomas
April 16 – May 28
WIGGLE EXHIBIT
Upper Gallery B – Display by The House of Venus
DJ Alfred Borden (Montreal, Canada)