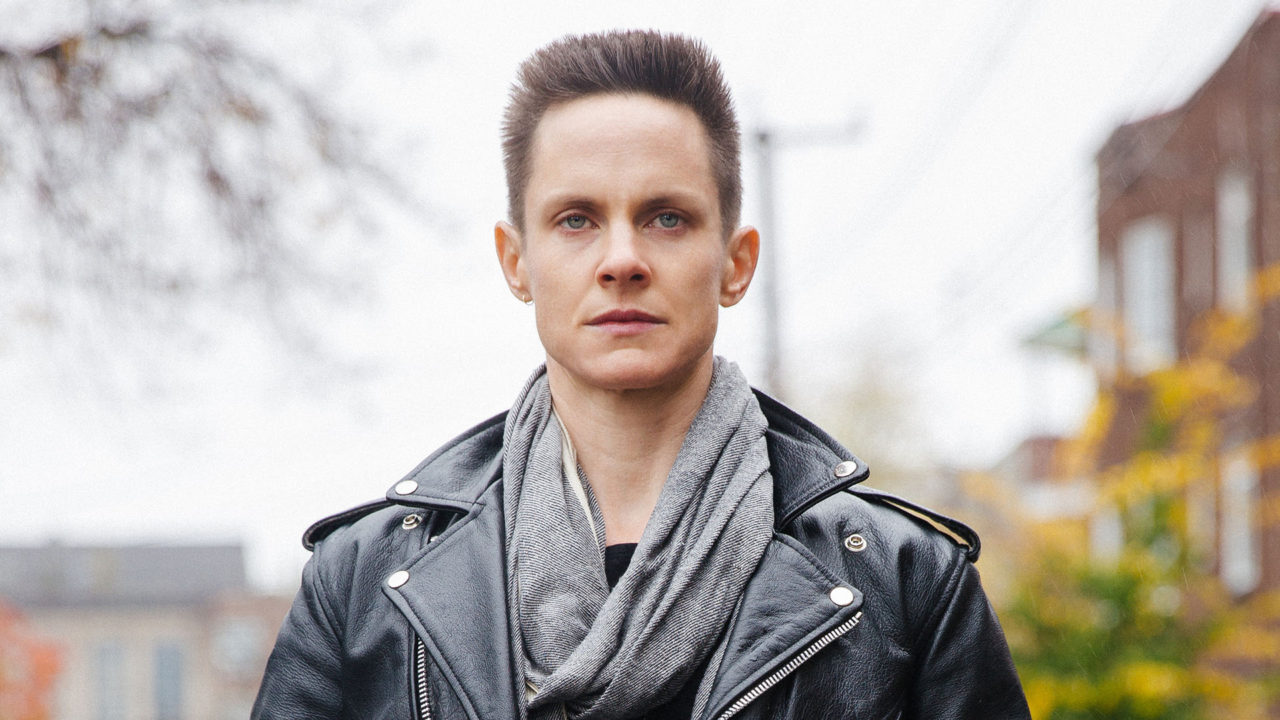 On now until January 2017, Never Apart's Fall Exhibition 'NON-BINARY' features artists from Montreal, New York, Los Angeles and France, exploring fluid gender expressions. In today's tech and trans savvy world, stories abound of people documenting their transition from one end of the gender spectrum to the other, and has become a new point of conversation for the masses.
Originally from Montreal, LA based visual and performance artist Cassils has flipped the entire binary discussion on its head, with a one-two sucker punch to the solar plexus. As an extreme athlete and personal trainer, Cassils' particular insight into how the body's ability to grow, shrink, adapt and can change compelled an inner artistic devotion to push past the concept of 'transitioning', transcending the dual binary theory altogether. Often incorporating elements of live performance, sculpture, film and video installation, sound works, and photography in much of their creative expression, Cassils collaborated with photographer and makeup artist Robin Black to create 'Advertisement (Homage to Benglis)'. It's a full-throated shout-out to Lynda Benglis' 1974 'Advertisement'. Feeling underrepresented in the male-run art world, Benglis confronted it head-on with a controversial series of advertisements and buying ad-space in Artforum Magazine, most memorably sporting a double-ended phallus, sunglasses and tan lines, to promote her then upcoming exhibition. Benglis bypassed the critics, ensuring her complete control of her creative process and work.
In 'Homage', Cassils dresses like a ripped and packed dreamy male underwear model, with a slash of bright red lipstick and a stylized mane. The image demands a second look to discern the many layers beyond obvious 'masculine' or 'feminine' attributes. The body is buff and beautiful yet the pecks are breasts, the facial features striking yet androgynously female. The image generated controversy when Cassils and Black had it published in popular gay men's magazines through their industry contacts, gaining tremendous attention only to cause an uproar once it was discovered the stud was infact 'female'. For this very same reason, in Germany the national museum used the image ironically as the poster for an LGBT art show event, yet the national railroad company refused to display the poster throughout the country at any of their stations, deeming it 'sexist' and 'pornographic'. The ban was eventually lifted, however Cassils claims the real issue was trans-phobia.
"I think of myself as more 'trans' than 'non-binary', yet have chosen not to take meds", says Cassils. "As a health practitioner I have tremendous scepticism regarding the mandatory use of drugs and surgical procedures in order to 'pass as masculine', arbitrarily decided by society. I don't feel the need to commit to big pharma to be considered masculine. Infact, I feel 'trans-masculine', as my work addresses the messy in-between, showcasing the always-in-process of change."
In 'FastTwitchSlowTwitch', Cassils' two-channel looping video installation acts as both documentary and visual eye-candy evolution over 23 weeks packing on 23 pounds of muscle mass through a strict and exacting routine of intense training, and the nutritional intake of a 190 pound man eating every 4 hours. Inspired by Eleanor Antin's 1972 performance 'Carving: A Traditional Sculpture', in which Antin crash dieted for 45 days and documented her wasting body daily with photographs from four vantage points, Cassils instead used the mastery of bodybuilding and nutrition mixed with slickly produced video footage. Unlike the act of reaching for an idealized image of feminity through extreme weight loss in Antin's performance, Cassils' performance involves a transformation into a traditionally masculine muscular form. Initially expecting to feel a sense of empowerment, the result was actually an intensely grueling discovery determining the line in the sand between masculine and feminine. Literally bursting at the seams once the 23 weeks were over, Cassils needing a break from the rigour stopped the protocol in two weeks, immediately losing 14lbs of muscle and unable to do cardio.
"When I made the work in 2011, there were no visual or dialogue representations anywhere. It was pre-celebrity (ie: Caitlyn Jenner, Chazz Bono), and very binary oriented." Ostracized by some for opting not to have surgery, a touching moment occurred when a close trans man friend said he might have made different decisions if he had experienced Cassils' work earlier. "I don't aim to occupy one end of the spectrum. I refuse 'black and white'. My aim is to trouble the stability of the spectrum. These are only constructs. In essence my work allows me to explore these themes and create further dialogues, providing a way of interpretation from the world of language."
À l'affiche jusqu'en janvier 2017, l'exposition NON-BINARY de Never Apart met en vedette des artistes de Montréal, New York, Los Angeles et de la France qui explorent les expressions neutres et fluides de genre. Le monde d'aujourd'hui, versé dans la technologie et la transidentité, regorge de gens qui documentent leur transition d'un genre à l'autre; ceci est devenu un nouveau sujet de conversation populaire.
Originaire de Montréal et vivant à Los Angeles, l'artiste des arts visuels et de la performance Cassils a complètement renversé la discussion de binarité, grâce à l'équivalent d'un coup bas assené au plexus solaire. En tant qu'athlète extrême et d'entraîneur professionnel, la connaissance de Cassils face à la capacité transformative du corps a suscité chez Cassils un dévouement artistique à surpasser l'idée de transition, transcendant complètement la théorie binaire. Incorporant fréquemment des éléments de performances en direct, de sculpture, d'installations vidéo, d'effets sonores et de photographie à son expression créative, Cassils a collaboré avec la photographe et maquilleuse Robin Black pour créer Advertisement (Homage to Benglis). C'est un rappel retentissant à l'oeuvre Advertisementde Lynda Benglis, parue en 1974. Se sentant sous-représentée dans le monde artistique masculin, Benglis s'y est attaqué de front avec une série controversée d'annonces publiées dans le magazine Artforum pour promouvoir sa nouvelle exposition; on se rappelle parmi les plus mémorables l'image de Benglis s'exposant avec un phallus double, des lunettes de soleil et des démarcations de bronzage. Benglis a contourné la critique, s'assurant ainsi un contrôle créatif complet.
Dans Homage, Cassils s'habille comme un magnifique mannequin de sous-vêtements, musclé et au caleçon bien rempli, avec un rouge vif sur les lèvres et un brushing. Un second regard est nécessaire pour discerner les différentes couches qui vont au-delà des attributs masculins et féminins évidents. Le corps est musclé et magnifique, mais les pectoraux se trouvent être des seins et les traits du visage sont superbes bien que légèrement féminins. L'image a semé la controverse lorsque Cassils et Black l'ont publiée, grâce à leurs contacts dans l'industrie, dans divers magazines populaires pour hommes gais. La réaction initiale a été très favorable, jusqu'à ce qu'on découvre que le beau gosse était bel et bien « femelle ». Pour cette même raison, le musée national d'Allemagne s'est servi ironiquement de l'image pour promouvoir une exposition d'art LGBT, mais la compagnie nationale de chemin de fer a refusé d'afficher le poster dans ses stations du pays, la considérant sexiste et pornographique. L'interdiction fut finalement levée, mais Cassils maintient que le vrai problème relevait de la transphobie.
Je me considère plus trans que non-binaire, mais je n'ai pas encore pris la décision de prendre des médicaments, » explique Cassils. « En tant que patricien de la santé, j'éprouve énormément de scepticisme face à l'utilisation systématique de médicaments ou de procédures chirurgicales pour « passer pour un homme, chose décidée arbitrairement par la société. Je ne ressens pas le besoin de m'investir dans la pharmaceutique pour être considéré masculin. En fait je me sens trans-masculin, puisque mon oeuvre s'attaque à la complexité de l'entre-deux et affiche le processus constant de changement.
Dans FastTwitchSlowTwitch, l'installation vidéo en boucle de Cassils sert de documentaire et d'évolution visuelle, pour le bonheur des yeux, d'une prise de poids de 23 livres, étalée sur 23 semaines, grâce à un programme d'entraînement intense et l'apport alimentaire d'un homme de 190 kilos qui mange toutes les 4 heures. Inspirée par une performance d'Eleanor Antin datant de 1972 et intitulée Carving: A Traditional Sculpture, dans laquelle Antin a suivit un régime draconien durant 45 jours et a photographié quotidiennement, de quatre points de vue, son corps qui s'amaigrissait, Cassils a plutôt utilisé sa maîtrise du culturisme et de la nutrition jumelée à des séquences vidéo habilement produites. À l'inverse de la poursuite d'une image idéalisée de la féminité par une perte de poids extrême vue dans la performance d'Antin, la performance de Cassils implique une transformation vers une forme traditionnelle musculaire masculine. Bien que Cassils s'attendait à ressentir un sentiment de puissance, le résultat s'est trouvé être une découverte profondément exténuante qui détermine les limites entre le masculin et le féminin. Pratiquement sur le point d'exploser une fois les 23 semaines écoulées, Cassils avait besoin de répit et a mis fin au protocole en deux semaines, perdant immédiatement 14 livres de muscle et même sa capacité cardiovasculaire.
Lorsque j'ai créé cette oeuvre en 2011, on ne trouvait aucune représentation visuelle ou dialogue ouvert. C'était avant les célébrités comme Caitlyn Jenner ou Chazz Bono; les choses étaient très axées sur le binaire. Moment touchant: un ami proche trans, ostracisé par certains pour avoir refusé la chirurgie, a avoué qu'il aurait peut-être fait d'autres choix s'il avait eu conscience des oeuvres de Cassils plus tôt. Je ne cherche pas à occuper une part précise du spectre. Je refuse que ça soit noir ou blanc. Je cherche à bouleverser la stabilité du spectre. Ce ne sont que des constructions. Essentiellement, mes oeuvres me permettent d'explorer ces thèmes et de promouvoir un dialogue, en offrant une manière d'interprétation à même une langue universelle.