In Spirit: A Letter From India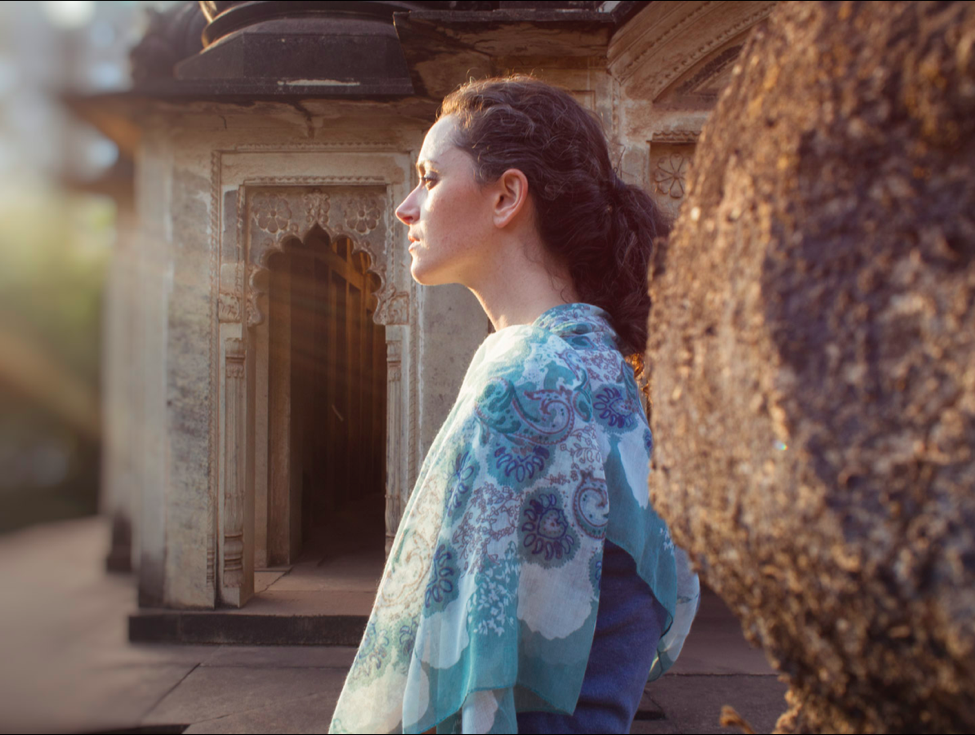 Dear Never Apart,
Here I am again on Indian soil. Once the Indian earth has penetrated your inner-being it becomes a haunting fragrant perfume, enigmatically irresistible. From Delhi I immediately embarked onto a train headed towards Gwalior.
Cher Never Apart,
Me revoilà sur la terre indienne. Il faut croire qu'une fois qu'elle vous a pénétrée, elle est comme un doux parfum qui vous rappelle et auquel vous ne pouvez résister. De Delhi, j'ai tout de suite pris un train pour la ville de Gwalior.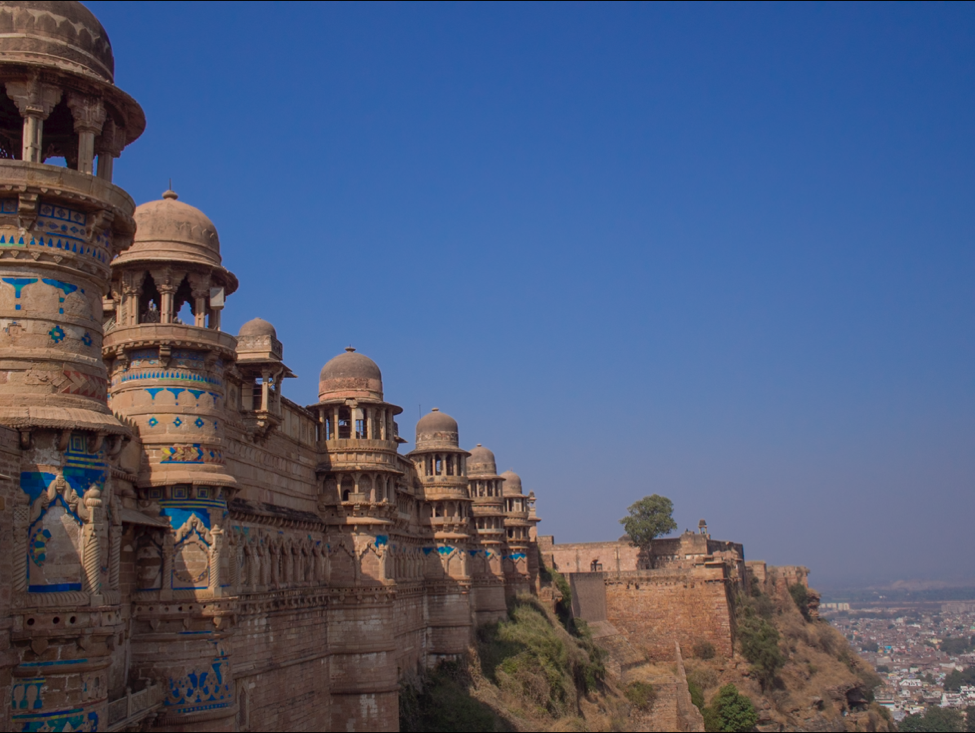 On the first day of my arrival, I made my way to a fort — one of the most noteworthy monuments in the region that had been instrumental in the rise and fall of numerous empires since it was constructed in the 8th century.  As I ventured through the fort's chambers, a tour guide kindly offered me his services and, shortly after, a young Indian couple joined our fellowship.  Together we revive  the history of the fort, sharing in both Hindi and English.  Before my very eyes, amid the questions and answers, the place is transformed into a vibrant majestic ballroom and concert hall, then into a stateroom for dignitaries and maharajas, followed by the quarters for the king's eight wives, and finally the Moghul torture room.  On the walls still remain the outline of the coloured mirrors which, through my mind's eye, can see the festive ambient colours that, in the illuminance of the adorning oil lamps, would have reflected the coloured nuances needed for the evening's affairs.
Le premier jour de mon arrivée, je suis partie voir le fort, le monument touristique de la région, qui a connu de nombreux empires depuis sa construction au 8ème siècle. Lors de ma promenade, un guide est venu me proposer ses services, et pas très longtemps après, un jeune couple d'Indiens s'est greffé au tour. Nous voilà donc, entre hindi et anglais, refaisant l'histoire de ce fort. Sous les explications du guide et les questions du jeune couple, les lieux se transformèrent en salle de danse et de musique, salle de rencontre avec les ministres et maharajas, quartiers des 8 femmes du roi ou de torture moghole. J'ai aimé imaginer l'ambiance colorée festive, là où, sur les murs, on voit encore l'emplacement des miroirs de couleurs qui, le soir, éclairés par les lampes à huile, reflétaient des nuances colorées nécessaires aux spectacles.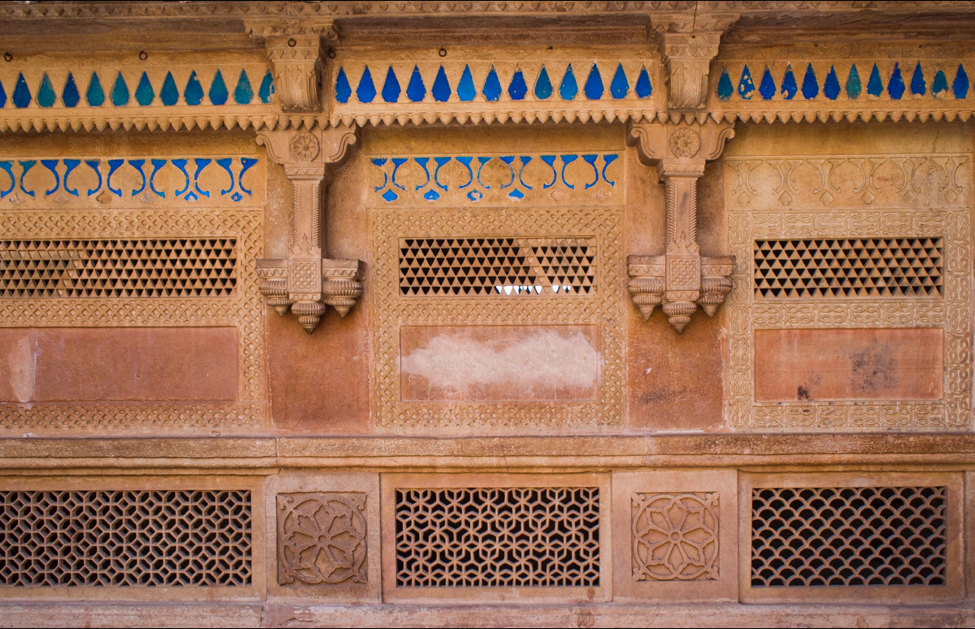 Again and again, I realize the depth to which the past and the present as fused — a sentiment with which I am familiar when I am home in Paris.  Evening falls, and in my hotel I notice a refined older English couple exuding the fragrant aroma of a life replete with robust cultivated experiences.  As in India, Israel, or any place in between, you find people who have lived, a history that is part of a collective of individual microcosms which participate in something grander. It is an atmosphere that has nothing to do with age.
Encore ici, je réalise combien histoire et modernité cohabitent. Une sensation que je retrouve souvent à Paris. Ce soir d'ailleurs, j'observais à mon hôtel un vieux couple d'Anglais raffinés me disant combien j'apprécie ces individus avec un parfum d'histoire autour d'eux. Comme en Inde, en Israël, ou dans d'autres régions du monde où certaines personnes sentent le vécu, une histoire où, chacun dans son microcosme, participe à quelque chose de bien plus large. C'est une atmosphère qui n'a d'ailleurs rien à voir avec l'âge.
I feel a kinship towards my guide, and I think my enthusiasm for old stones amuses him.  He offers to accompany me for the remainder of my day.  Temples align the dirt road, even where young boys from the prestigious Gwalior school play cricket.  The  school teachers' bungalows are en route towards the Sikh temple, where we will be permitted to eat.  Here, meals are offered all day long.  My guide knows everyone, which earns me a serendipitous privilege to visit a kitchen.  The meals are prepared in gigantic vats — it's magnificent.  The kitchen chef is a Sikh with a generous face; his brow glistens as pearls of sweat trickle beneath his turban.  Though he is unwed, he is married to his kitchen, dedicated to its care.  As for his younger brother, 23 years of age, he is awaiting matrimony within the upcoming two years.  He shows me pictures of his betrothed on his cellphone — an arranged marriage in the making.
Je me prends d'amitié pour mon guide, et je pense que mon enthousiasme pour les vieilles pierres l'amuse. Alors il décide de m'accompagner pour le reste de la journée. Les temples bordent le chemin de terre, celui-là même où les jeunes garçons de la prestigieuse école de Gwalior font du cricket. Les dépendances des professeurs sont sur la route qui mène au temple Sikh où nous allons pouvoir manger. Ici, les repas sont offerts toute la journée. Mon guide connaît tout le monde, ce qui me vaut le privilège d'être invitée à visiter la cuisine. La nourriture est préparée dans de gigantesques cuves, c'est impressionnant.  Le cuisinier est un sikh au visage généreux dont le front perle de sueur sous son turban. Non marié, il a dédié sa vie à s'occuper de la cuisine me dit-on. Son jeune frère de 23 ans, au contraire, semble attendre le mariage d'ici deux ans environ. Sur son téléphone portable, il me montre la photo de sa promise, arrangement familial.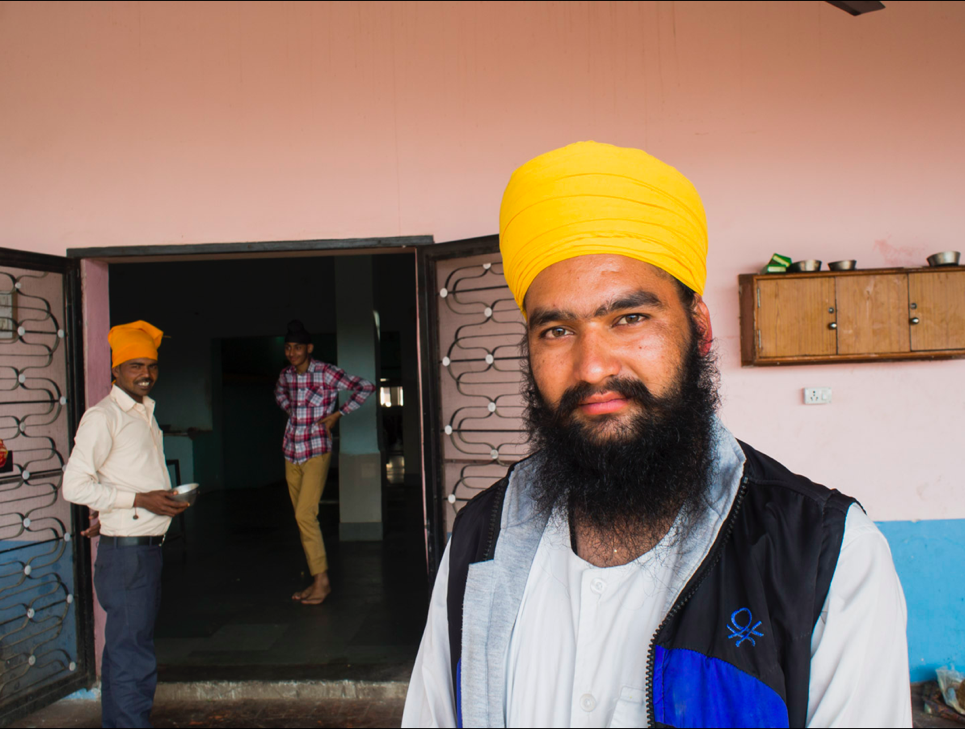 It is already 4 o'clock in the afternoon, so I prepare to return back home.  A young Indian man, dressed in a plaid shirt and fedora hat, pulls over towards me on his motorbike.  "Madame, do you need a lift?  Would you like me to drop you off somewhere?"  I smilingly ask whether the ride is free of charge and mount behind him, bracing my hands on his shoulders.  Within a matter of minutes and  after the generic questions related to my home-country and activities, he has brought to the town centre and generously pays for an autorickshaw to taxi me to my hotel.  Though I am able to pay my own transit, he insists and declines my reimbursement, claiming that I am a guest of this country.  I graciously thank him and bid him good fortunes.  As I enter my room, I am drained of my remaining energy and by 8 o'clock I succumb to a deep slumber.
Il est déjà 4h de l'après-midi, je prends le chemin du retour. Un jeune indien avec une chemise à carreaux et un chapeau s'arrête en moto à ma hauteur, "Madame, vous descendez? Vous voulez que je vous dépose?". Je lui demande si c'est gratuit avec un sourire, et je monte derrière lui, main sur son épaule. Quelques minutes plus tard et après quelques questions d'ordre usuel sur ma provenance et mes activités, il me dépose au centre-ville et paye un auto-rickshaw pour me ramener à l'hôtel. Je lui dis que je peux payer, mais il insiste, il dit que je suis une invitée du pays. Je le remercie gracieusement, lui souhaite bonne chance. En rentrant je suis vidée par ma journée, à 20h je sombre dans un sommeil profond.
At 3am, on the dot, I am up and wide-awake.  The city is still fast asleep.  I settle on my yoga mat and take advantage of the chance for an early morning séance.  At 5:30am sharp the chef knocks on my door.  Oh yeah, I forgot to mention the chef: yestermorning, after breakfast, the chef kindly offered to give me a guided tour of the hotel's garden, the rear of which leads to three beautiful temples.  Along the outer-walls there are traces of polychrome, remnants of the original ancient frescos.  He seems amused with my remarks, and even more so by my attempts to speak Hindi, but he is touched by my earnestness towards the culture, and, by extension, him.  The portals of the central inner-walls are closed, but I am invited to attend the "arti" at dawn when the priest will honour the icons.  Once again at 5:30am the chef knocks on my door and we are on our way.  The priest has already started the unofficial ceremony.  Within the central walls there is a small red altar adorned with numerous figurines of the goddess — the nine mothers and a gigantic central sculpture of Hanuman, circa 18th century.  I discover the ancient paintings decorating the walls and the ceiling, this time well-preserved within the eternally enclosed walls where scant light penetrates.   Outside, the day rises slowly.
Le lendemain, 3h tapante je suis debout et en pleine forme. La ville est encore endormie. Je me mets sur mon tapis de yoga et en profite pour faire ma séance matinale. A 5h30 mon cuisinier vient frapper à ma porte. Ah oui le cuisinier, j'ai oublié de le mentionner… la veille au matin, après le petit déjeuner, il m'a gentiment proposé de me faire visiter le jardin de la propriété de l'hôtel, au fond duquel se trouve trois très beaux temples. Sur les murs, je découvre des traces de polychromie, fresques anciennes encore présentes. Il s'amuse de mes remarques et des quelques mots que je lui dis en hindi, fier que je m'intéresse à sa culture, et donc indirectement à lui. Les portes des enceintes centrales étant fermées, il m'invite à venir au petit matin faire la arti, lorsque le prêtre les ouvre pour honorer les icônes. 5h30 donc, il frappe à ma porte et nous voilà partis. Le prêtre a déjà commencé la cérémonie informelle. Là, dans l'enceinte centrale, un petit templion rouge avec des nombreuses figures de la déesse: "les 9 mères" me dit-il, et une gigantesque sculpture d'Hanuman au centre, 18ème siècle. Je découvre alors les anciennes peintures qui couvrent les murs et le toit, cette fois très bien conservées dans cette enceinte toujours fermée et ou très peu de lumière du jour pénètre. Dehors, le jour se lève tranquillement.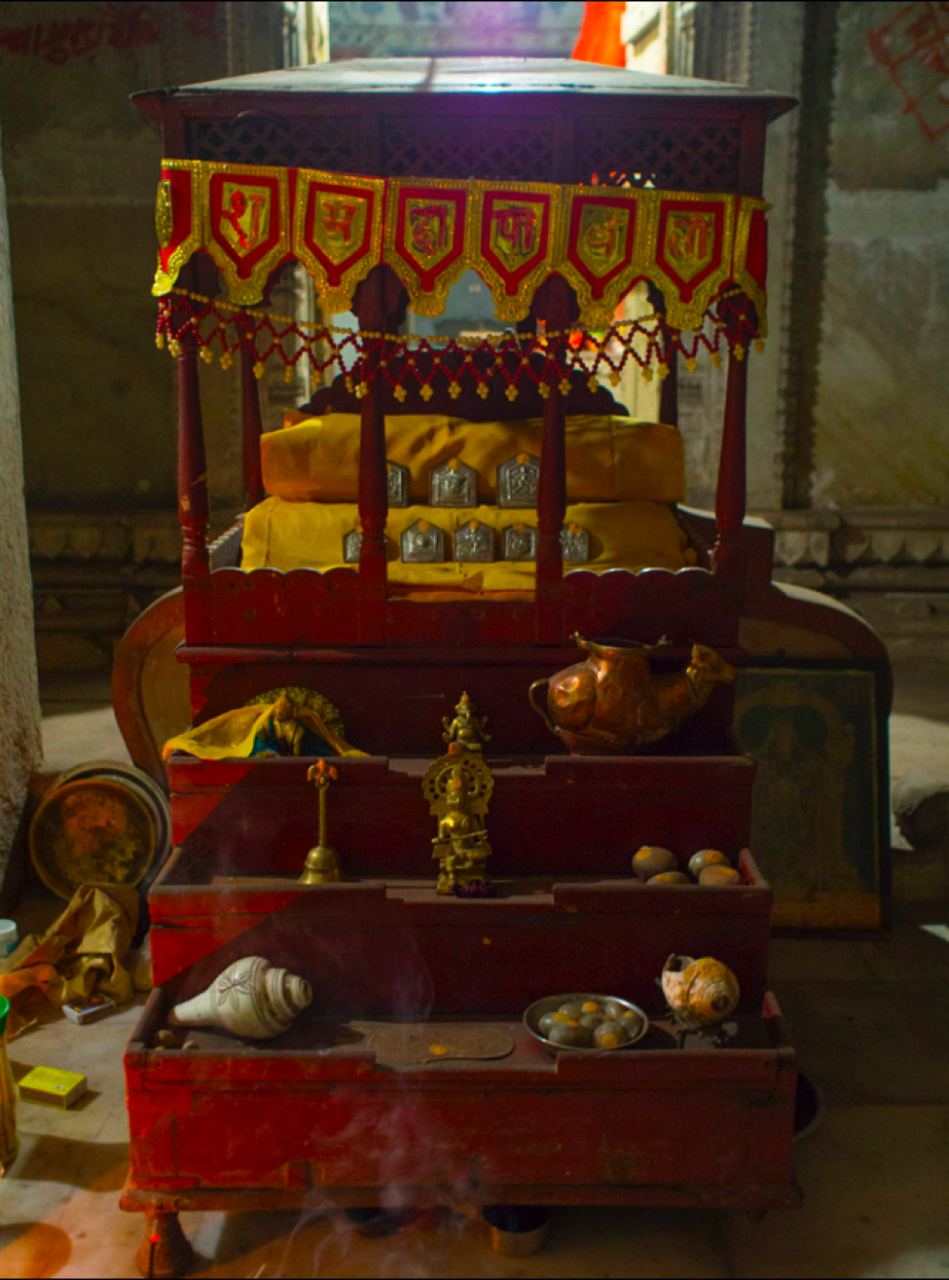 It is 8am and my tour guide arrives on his motorbike.  We prepare to depart for a day of visiting the less accessible and more withdrawn temples.  As we embark, the hotel manager offers a helmet to the guide.  As he pauses and  turns towards  me, I half-expected the guide to offer me the helmet, but I was wrong.  He merely replies "it is too cold this morning" and proceeds to cover his own head with his cap. I suppose here a motorcycle helmet is used to keep your head warm — though it may have some merit considering the frigid hour and half open-air bike ride.  Fortunately, the day dawns and the sun welcomingly warm our bodies.
We traverse from the city to the village; sunlight skims the earth chasing the shadows and revealing the incensed fragrance of the countryside.  I try to commit to memory everything I see: uniformed children holding each other's hands as they navigate along the roadside toward school, a statuesque older gentleman wrapped in his white shawl, another one sweeping the detrital red earth and erupting billows of dust in his wake, two men locked arm-in-arm travelling by tuk tuk the first massaging his friend's ear, a woman dressed in a blue sari, draped with a turquoise shawl, a man blowing his nose into his hands, vegetables on the floor blanketed in dust, a herd of small cows traversing the road, children barefoot running on the side of the road, the sky-blue  and candy-pink painted houses, cow patties drying in the sun, women working in the verdant fields with their saris looking like coloured flowers, venerable village men with their brilliant eyes hidden behind gaunt-faces and sun-leathered skin.
Mon guide arrive sur sa moto, il est 8h. Nous partons pour la journée voir des temples plus difficilement accessibles et assez reculés. En quittant le chemin de l'hôtel, le gardien lui tend son casque. Comme il se tourne vers moi je m'attends à ce qu'il me le donne, mais non, il se contente de me lancer "il fait froid le matin!" en mettant son couvre-chef sur sa tête. J'en conclue donc que le casque lui permet de se protéger du froid – ce qui en soi n'est pas faux, parce que pendant l'heure et demi de trajet je gèle sur le deux roues. Heureusement le soleil arrive commence à réchauffer le corps.
Nous passons de la ville au village. Le soleil rase le sol, donnant au paysage et aux silhouettes un parfum spécial. Dans ma tête je tente de tout noter: les enfants en uniforme qui se tiennent par la main et vont à l'école, marchant sur le bord de la route, le vieil homme enroulé dans ses châles blancs comme une statue, celui qui balaye les détritus de la terre rouge qui fait un nuage derrière lui, deux hommes bras-dessus-bras-dessous dans un tuk tuk l'un massant l'oreille de son ami, une femme en sari bleu avec un châle bleu turquoise, l'homme qui se mouche dans ses doigts, les légumes sur le sol couvert de poussière, le troupeau de petites vaches qui traverse la route, les enfants pieds nus qui courent, les maisons bleu ciel et rose bonbon, les bouses de vache qui sèchent au soleil, les femmes qui travaillent dans les champs verts dont les saris sont comme des fleurs de couleurs, les vieux hommes des villages aux joues creusées et à la peau de cuir le regard brillant.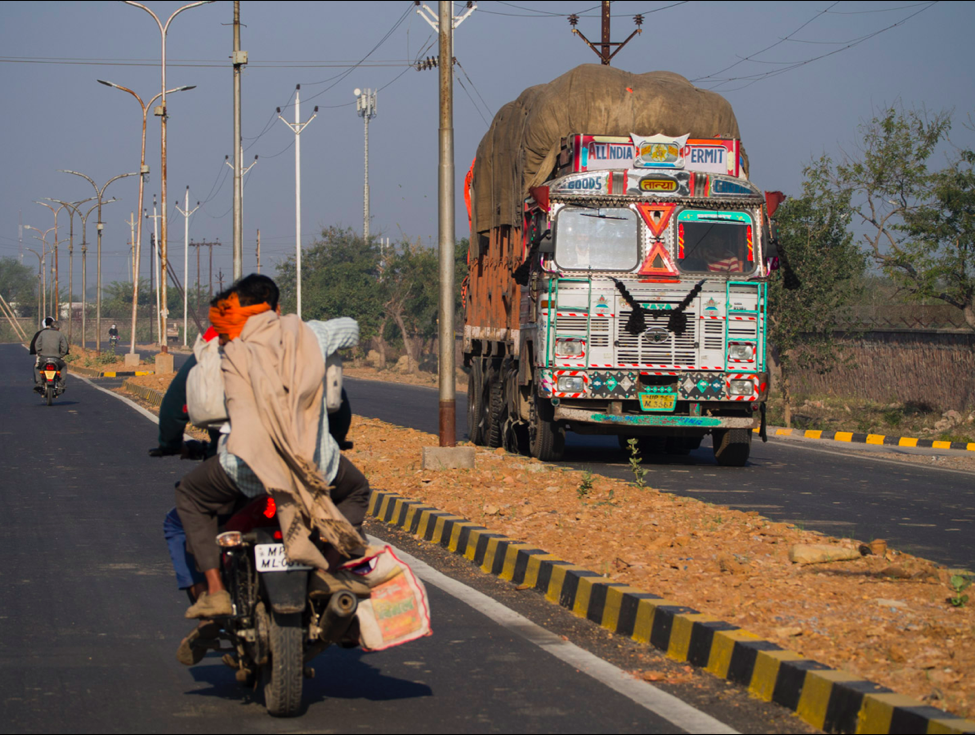 There it is; in the distance I see Mitauli. Interestingly, the majority of yogini temples, which are always recognizable by their roofless circular structure, are constructed on hills.  From a distance, it forms a majestic encirclement. Once on site, I can see that sections of the temple have been rebuilt; nevertheless, it is well preserved and, based on the traces of ritual and fresh incense, still continues to host some low-key activities. Yogini temples are related to secret traditions of which we know very little.  I come to realize that neither the guides nor the local villagers who have joined us truly know for what this temple is purposed.  At best, I have learned that this temple is called the "64 Yogini Temple", even though it houses 71 niches.  One of the guides explains that the yoginis were very powerful goddesses and people came to the temple to receive their energy.
Ça y'est, au loin j'aperçois Mitauli. Curieusement, la majorité des temples de yogini, toujours reconnaissable par leur forme circulaire et sans toit, sont construits sur une colline. De loin, Mitauli forme un cercle majestueux. Une fois sur place, je peux voir que le temple a été reconstruit à certains endroits, il est très bien conservé et semble encore en légère activité à en juger par les traces de rituel et d'encens frais. Les temples de yoginis sont liés à des traditions gardées secrètes dont on sait très peu de choses. Je me rend compte que ni les guides ni même le villageois venu nous rejoindre ne savent vraiment ce qu'est ce temple. Au mieux, j'apprendrai que c'est un temple dit des "64 yoginis", bien que celui-ci compte 71 niches. L'un des guides poursuit en expliquant que les yoginis étaient des déesses de très grande puissance et que l'on venait au temple pour recevoir leur énergie.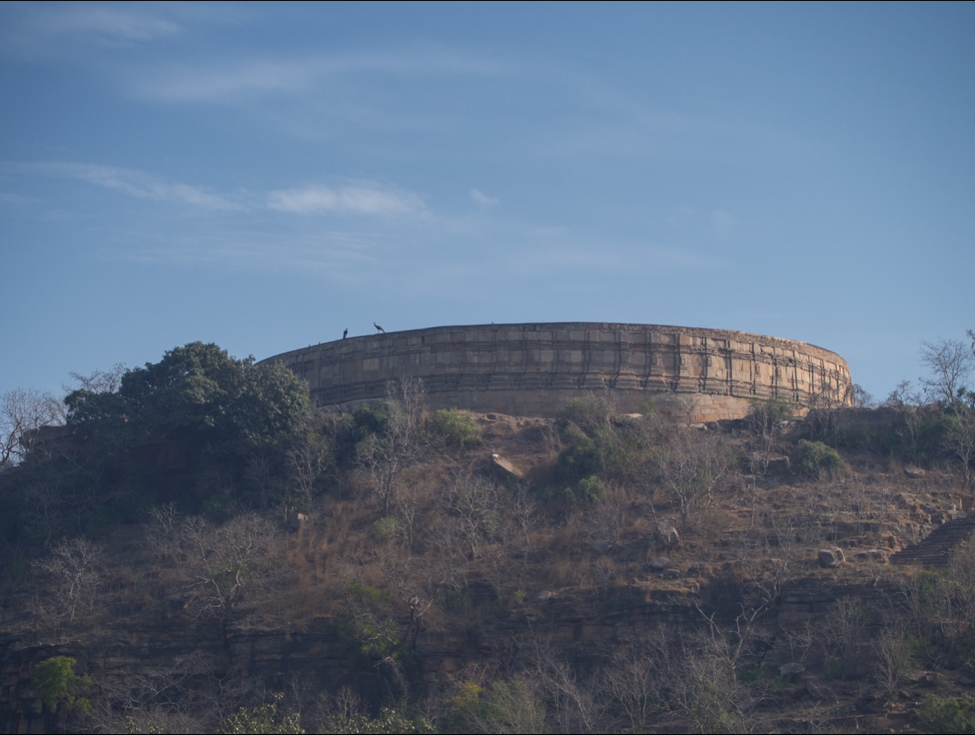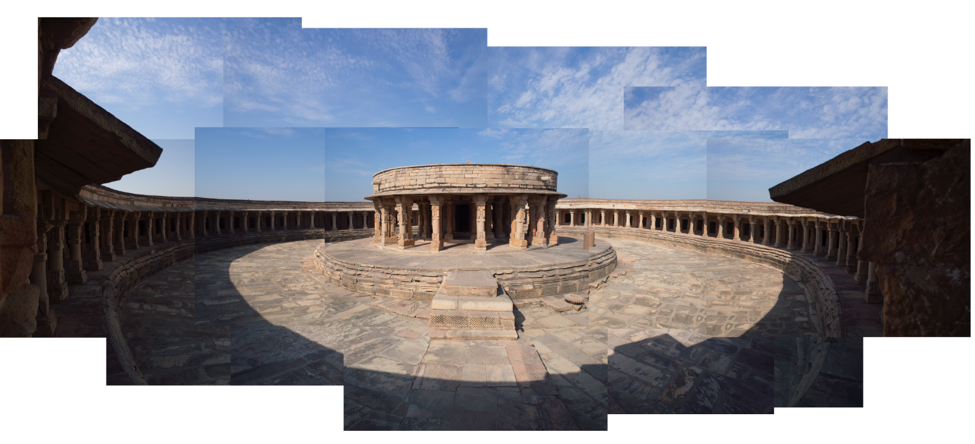 We spend the afternoon visiting three temples in the area. It is superb; I feel alive in my element.  I occasionally regret my inattention during my archaeology classes, but at the time I was less captivated by antiquated relics and I was ignorant of the apposition of history with esoteric significance — each being the two sides of the same coin, in that the study of one inevitably leads to the knowledge of the other.  Between temples, we pause to drink a chai, meet and discuss with locals, and I even learn to ride a motorbike on the Indian trails.  My tour guide is adorable and very pedagogical: he converses with me almost exclusively in Hindi, but slowly and patiently, which forces me to be in a state of constant focus while simultaneously amassing a wealth of information in a single day.  Towards 3 o'clock in the afternoon we decide to return home.  It is hot, so this time, as he doesn't want it, I put on the helmet.  Last minute change of plans: I have been invited to dine with my guide's brother's family, and to drop off his motorbike.
Nous passons donc l'après-midi à visiter les trois temples de la région. C'est superbe, je me sens dans mon élément. Je regrette parfois de ne pas avoir prêté plus d'attention à mes cours d'archéologie, mais à l'époque les vieilleries ne m'intéressaient pas et je n'avais pas encore réalisé combien signification ésotérique et histoire sont les revers d'une même pièce dont l'étude de l'un est inévitable pour comprendre l'autre. Entre deux temples nous buvons un chai, discutons avec les gars du coin, et j'apprends même à faire de la moto sur les routes indiennes. Mon guide est adorable et très pédagogique: il me parle en hindi presque tout le temps, très lentement, ce qui m'oblige à une concentration constante et à emmagasiner beaucoup d'informations en une seule journée. Vers 15h, nous décidons de rentrer, cette fois il fait chaud, et comme il ne veut pas porter son casque, j'en profite pour le mettre. À mi-chemin, changement de programme, il m'invite chez la famille de son frère pour lui ramener sa moto et manger quelque chose.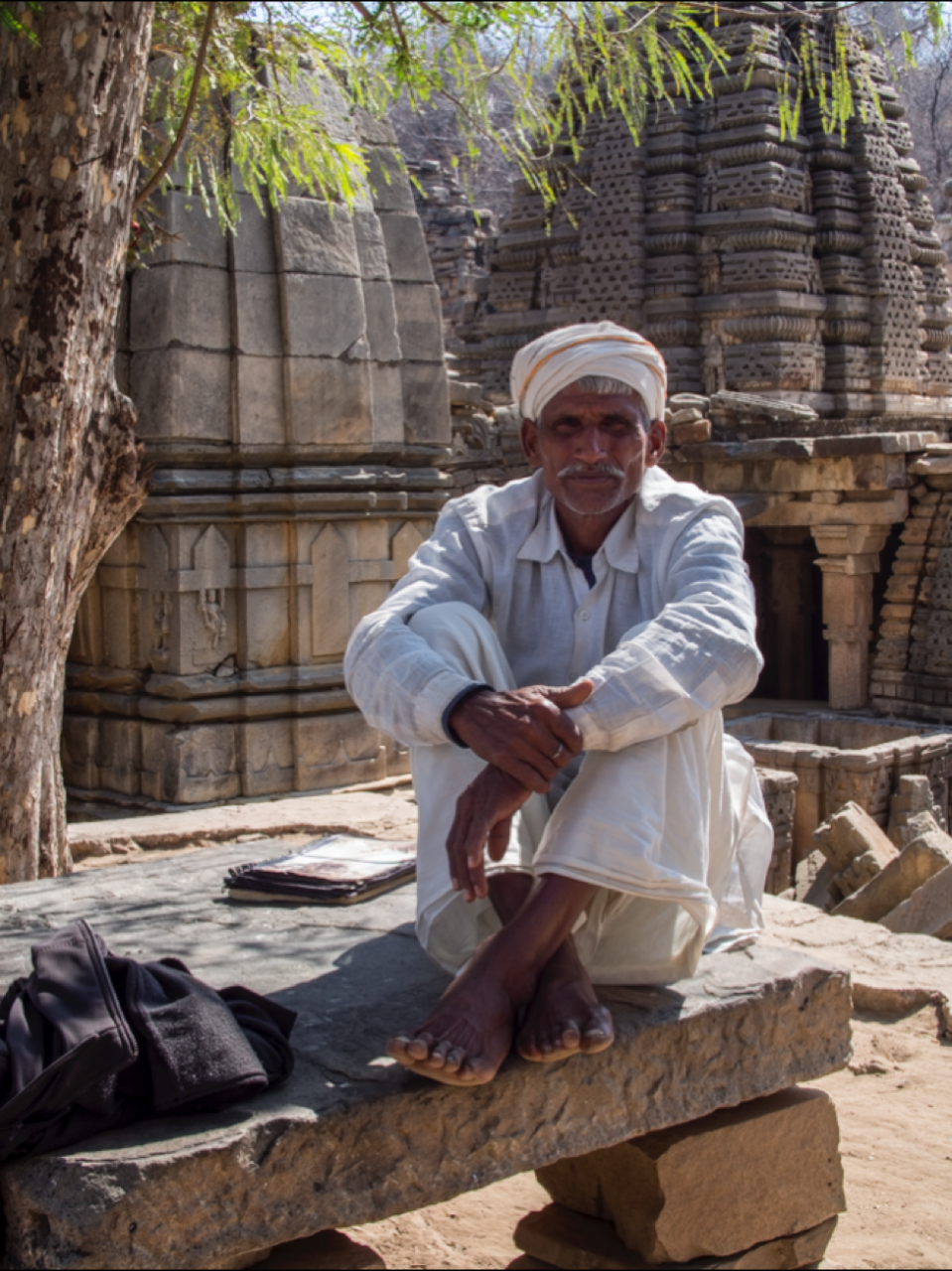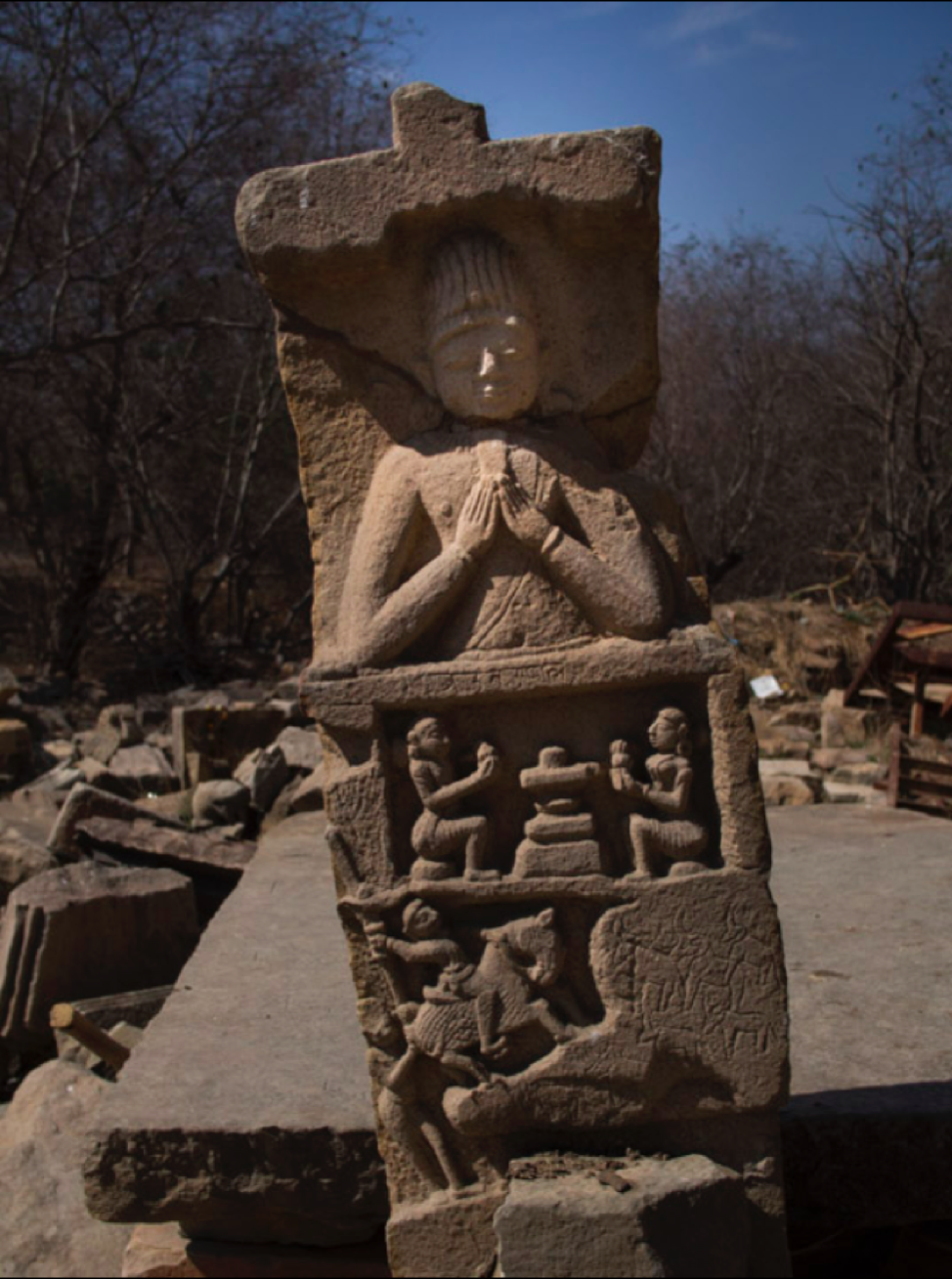 Once we arrive, everyone peers at me with timid smiles full of curiosity as though a special event was underway.  The children timorously hide and I am invited to rest on one of the beds whilst the meal is prepared. We speak in Hindi, we drink tea, and the time flies by.  With the exception of my guide, no one speaks English, so he either translates on my behalf or simply leaves me to manage on my own with his family.  The meal is served: chapatis with ghee and sabji.  Then it becomes the turn for the mistress of the household to eat as well.  Finally, once everyone is fed, the young lady presents to me oil and a comb — I figure it must be time for grooming.  I am given access to a fuchsia-pink lipstick which may look lovely against an Indian complexion but is too gaudy on my pale skin.
Meanwhile, the young boys busily build their school notebooks.  For over an hour, I watch them assemble cut cardboard and looseleaf with large red ribbon bindings to fashion homemade 80-paged notebooks.  The cardboard covers are protectively laminated with plastic found in diaper packaging or Indian newspapers.  I am speechless; here we are far removed from the typically Westerner annual rush for store-bought school supplies for the first day of classes.
En arrivant, tout le monde me regarde avec des sourires timides plein de curiosité, comme si un événement spécial était en train de se produire. Les enfants se cachent, je suis invitée à me reposer sur l'un des lits pendant que la nourriture se prépare. On parle en hindi, on boit le thé, et le temps passe. Personne ne connaît la langue anglaise à part mon guide, alors il traduit ou me laisse simplement me débrouiller avec sa famille. Le repas est servi:  des chapatis avec du ghee et sabji. Puis c'est au tour de la maîtresse de maison de manger. Finalement, quand tout le monde est repu, la jeune femme me donne de l'huile et un peigne, je comprends que c'est le moment de me coiffer. J'ai aussi droit au rouge à lèvres rose fuchsia, qui, s'il lui va très bien, est une couleur un peu criarde avec ma peau claire.
Les jeunes garçons s'occupent à construire leur cahier d'école. Depuis une heure déjà je les vois couper du carton et des feuilles de papier, qui une fois cousus ensemble avec du gros fil rouge, deviennent un cahier 80 pages. Le carton est alors recouvert de plastique, l'un sera les emballages de "Pampers" et l'autre des journaux indiens, pour protéger le carton. J'avoue que je suis bouche bée. On est loin des ruées vers les fournitures occidentales aux rentrées des classes.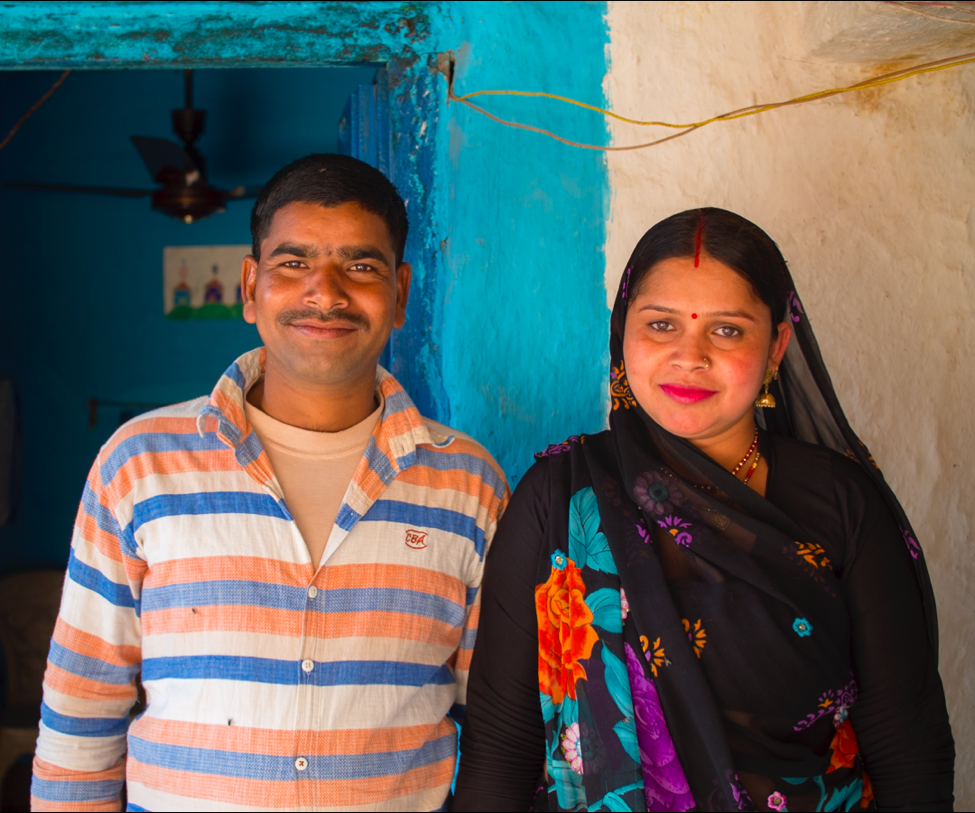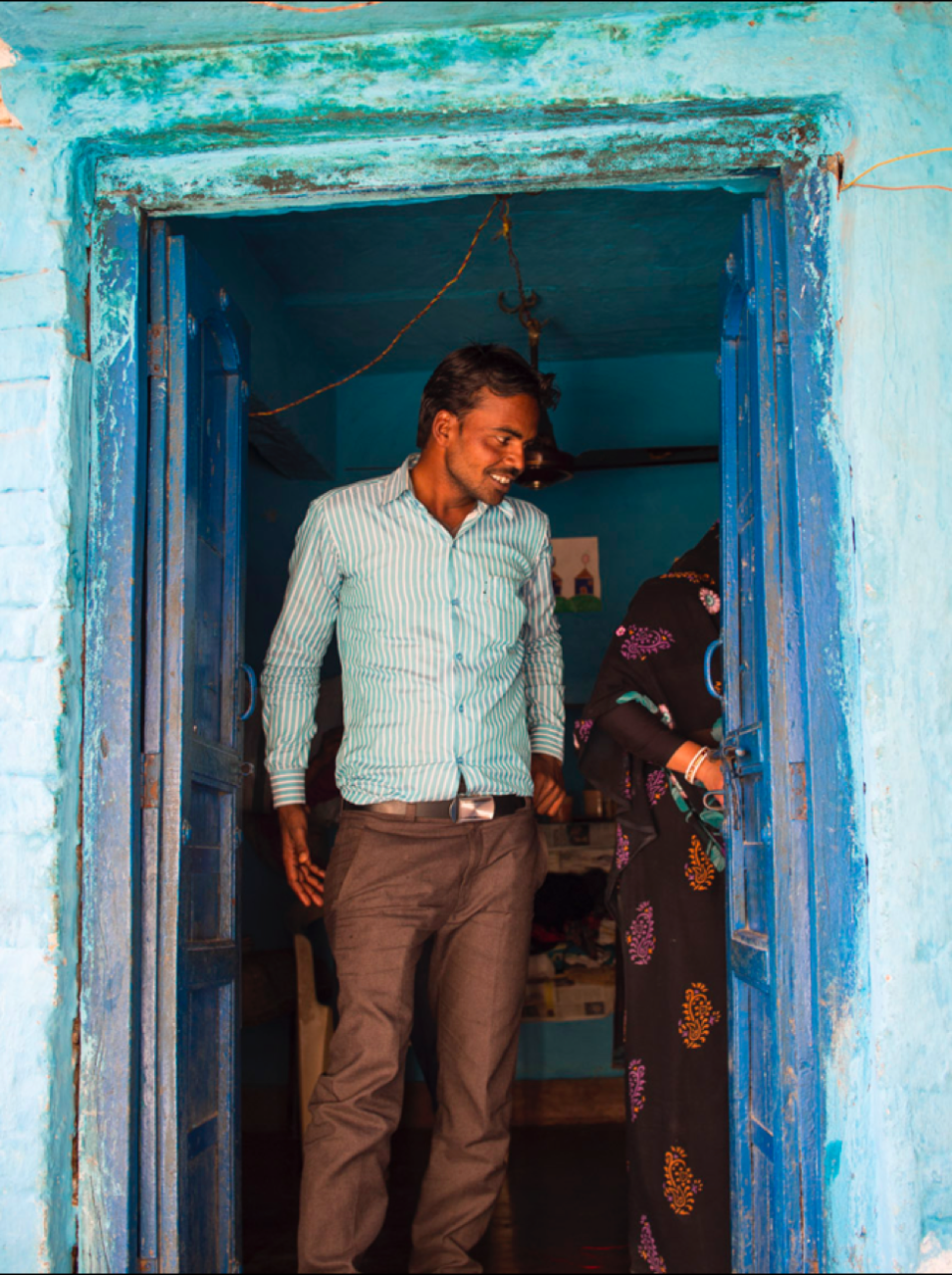 It is 4:30pm — time to hit the road. This time the guide's brother drives (the guide takes a backseat) and I am offered a lift.   We arrive at the train station where I miraculously manage to buy a last-minute ticket.  Tomorrow I depart for Varanasi to meet with my Sanskrit instructor and briefly catch-up with some friends.  A short one-week visit before I make my way to Mysore.
The five days since I arrived already feels like two months.  Yesterday I encountered a Ukrainian couple who inquired whether I found it difficult travelling alone.  I replied that travelling alone is like travelling with friends whom you have not yet met.  Each meeting reveals something magical, and non-calculated, especially in India.  There is no mystery when we meet.
This month, there is nothing to conclude.  The words carry themselves, behind which is hidden a vast world which we can capture simply by closing our eyes and letting ourselves be caught up within. It is already here, at this very moment, beyond the constraints of time and space.  History is merely a savoury reminder of the flowers and its beauty — art and its spirituality.  Ultimately neither exists; there is only life, moment to moment.
I am on the road again, and in a few hours I will be on a train to Varanasi, followed by Mysore, Mumbai, and then … who knows.  See you in a month.
Hari Om
Mariette/Sara
4h30, l'heure de reprendre la route. Cette fois, le frère conduit, mon guide derrière lui,  et je suis invitée à monter à leur suite. On arrive à la gare, je finis par prendre mon billet de train par je ne sais quel miracle. Demain, je pars à Bénarès, pour rencontrer mon professeur de sanskrit, et saluer mes amis, pour une petite semaine avant de reprendre la route vers Mysore.
Cinq jours depuis mon arrivée me paraissent déjà comme deux mois. Hier j'ai rencontré un couple d'Ukrainiens et ils m'ont demandé si ce n'était pas difficile de voyager seule. Je leur ai répondu que de voyager seule équivalait à voyager avec des amis que l'on n'a pas encore rencontrés, surtout en Inde. Chaque rencontre ici à quelque chose de magique et de non calculé. Il n'y a pas de mystère quant aux rencontres…
Ce mois-ci, il n'y  a rien à conclure. Les mots se portent eux-mêmes, derrière eux se cache un monde bien plus vaste que l'on peut capter en fermant les yeux et en se laissant prendre. C'est ici, c'est maintenant, hors du temps et de la géographie. Les histoires ne sont qu'un parfum pour rappeler la présence de la fleur, de la beauté — Art et spiritualité. Finalement, il n'y a pas de telle chose, il n'y a que la vie d'instant en instant.
Je repars donc sur la route, dans quelques heures dans le train pour Bénarès, suivi de Mysore, Mumbai, et ensuite, qui sait… on se retrouve dans un mois.
Hari Om
Mariette/Sara