In Spirit: Tantric Temples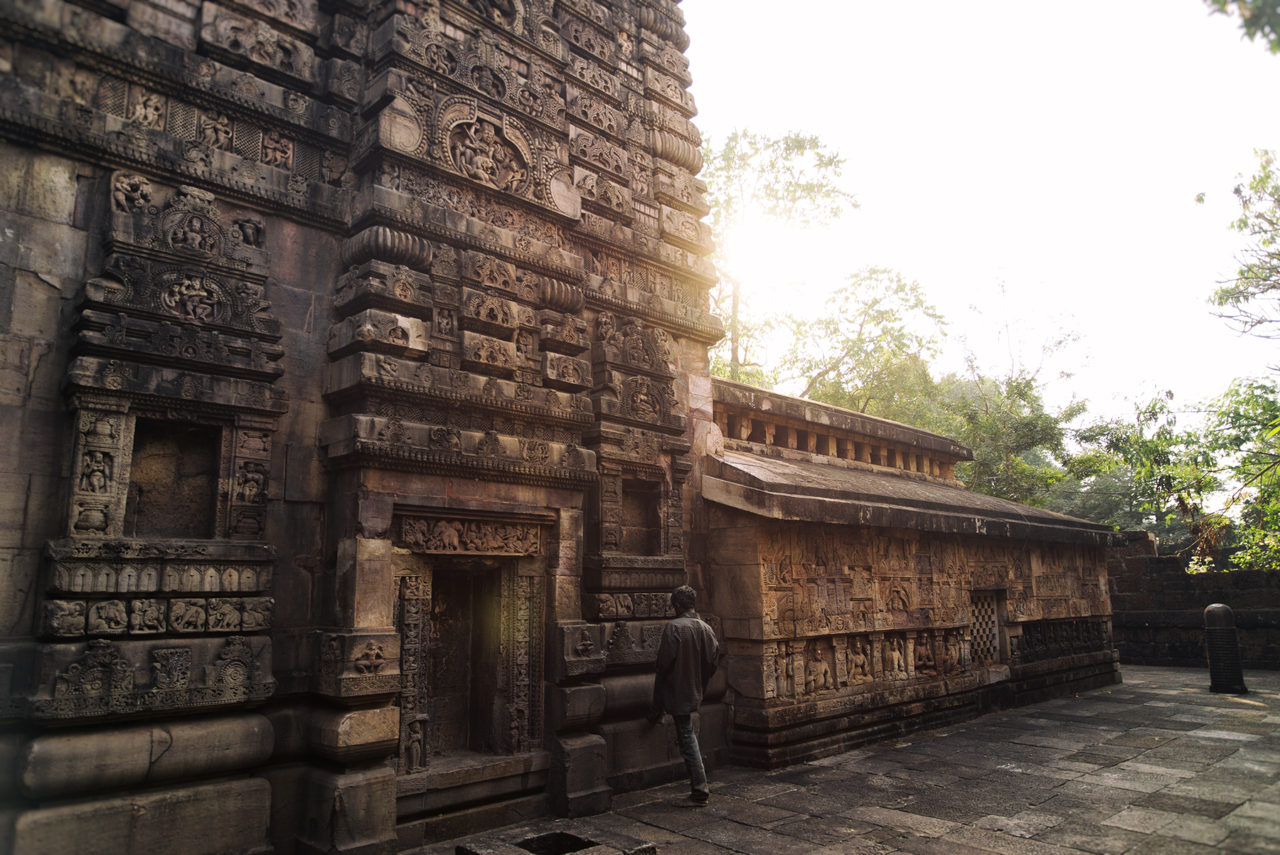 Orissa is the land of Chamunda, one of the highest Tantric goddesses. On the walls of the temples one can find many Tantric iconographic details and teachings. Each god and goddess is an archetype symbolizing a part of the Reality. The scene sometimes depicts sādhu giving offerings to lingams, sex offering by a devout woman, or the guru teaching his disciples.
In Bhubaneswar we discover the Parasuamesvara Temple, a temple that dates back to the 8th century. Along one of its outer walls and adjacent the lingam there is the iconic Saptamatrikas, the seven mothers, energies of the main Hindu Gods, and mother of the yoginī.
L'Orissa est le pays de Chamunda, l'une des plus importantes déités tantriques. Sur les murs des temples, on peut trouver des détails des iconographies tantriques ainsi que de ses enseignements. Chaque dieu et déesse sont des archétypes qui symbolisent une forme de la Réalité. Les scènes montrent tantôt des sādhu faisant des offrandes au lingam, l'offrande du sexe par la dévote féminine, ou encore le guru délivrant l'enseignement à ses disciples.
À Bhubaneswar, sur l'un des murs extérieurs du temple Parasuamesvara qui date du 8e siècle, on peut découvrir face au lingam la série des iconiques saptamatrikas, les sept mères, énergies des dieux hindous principaux et mères des yoginī.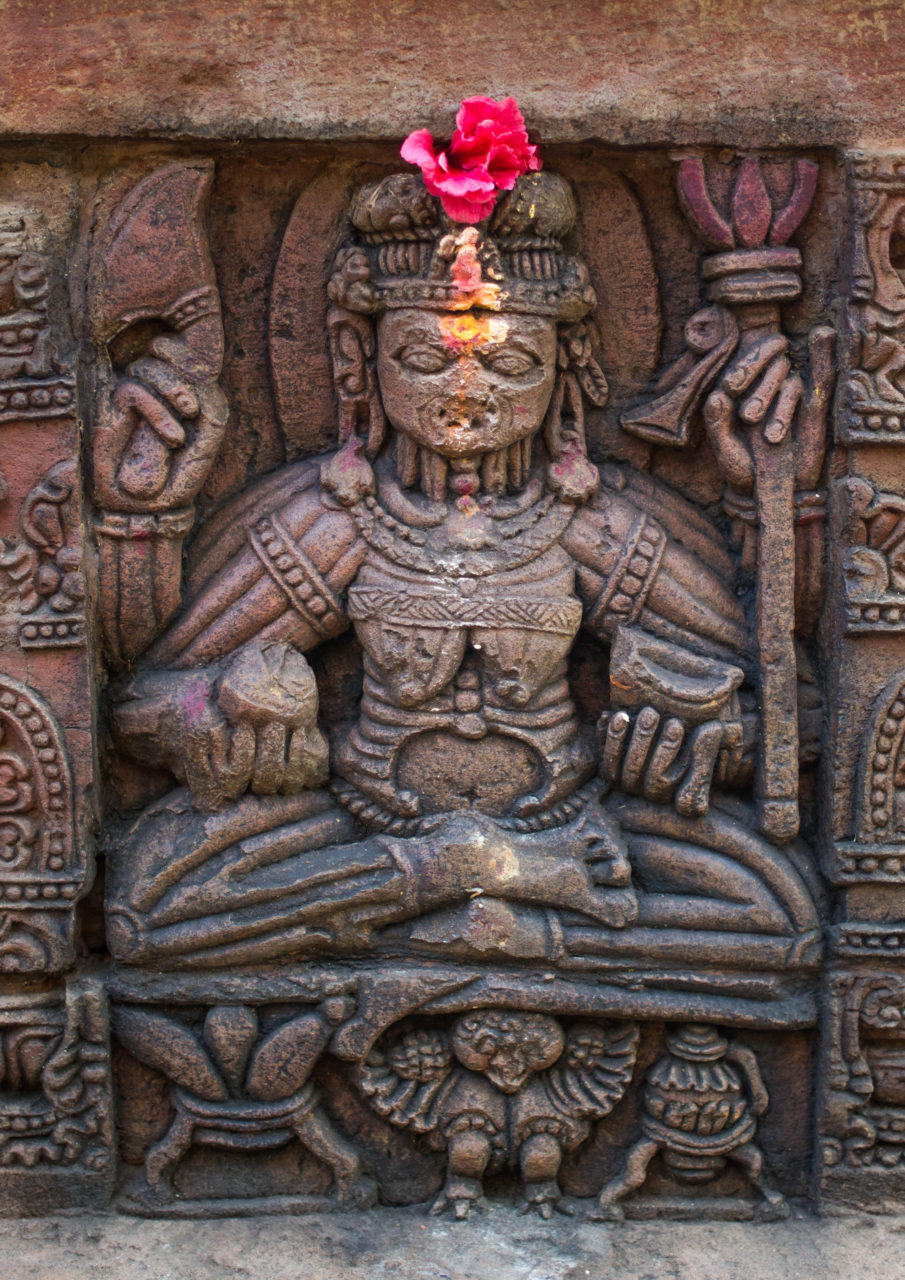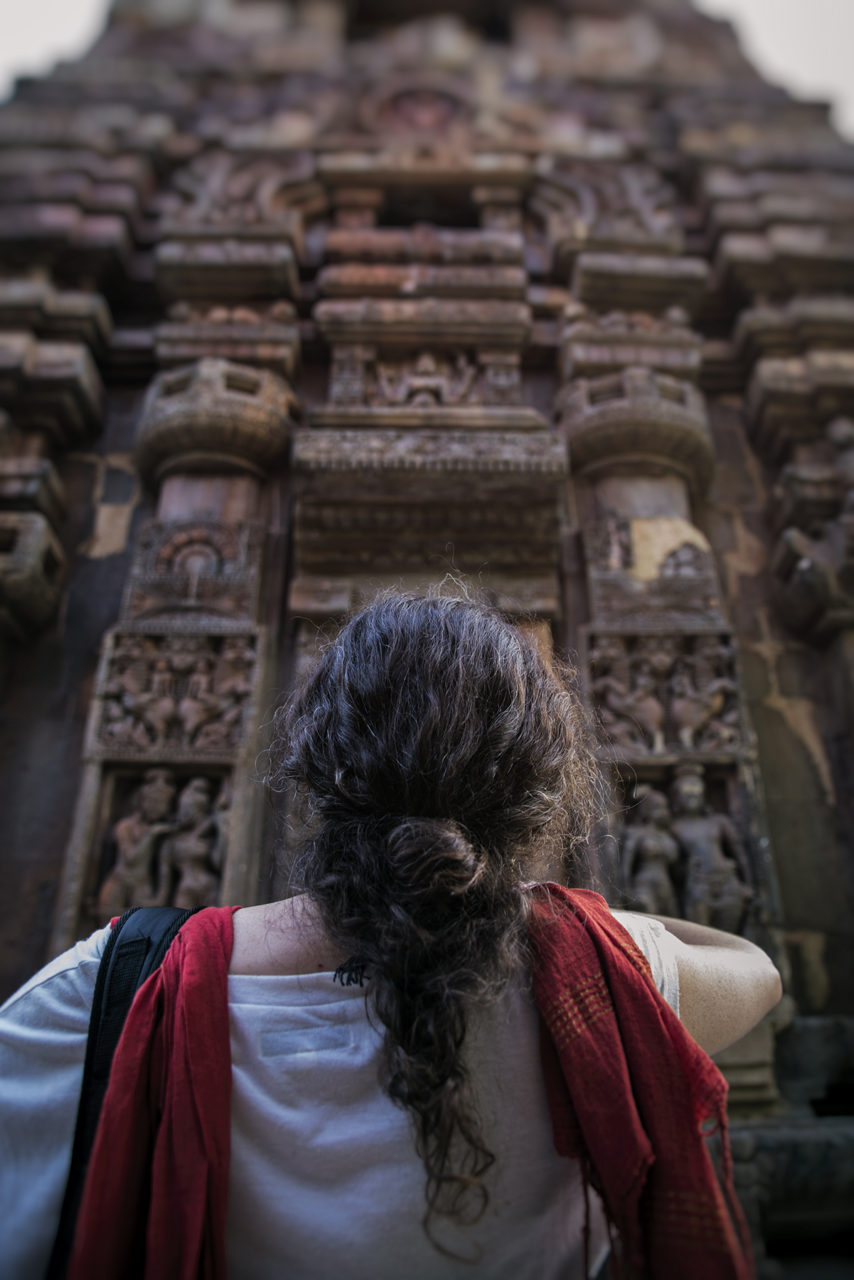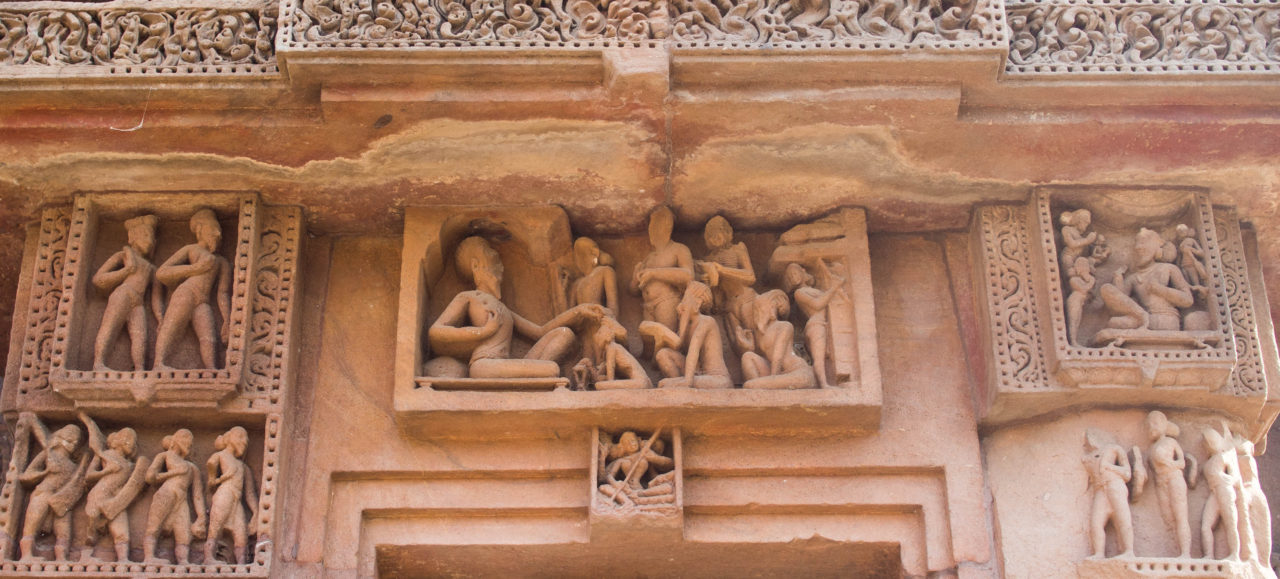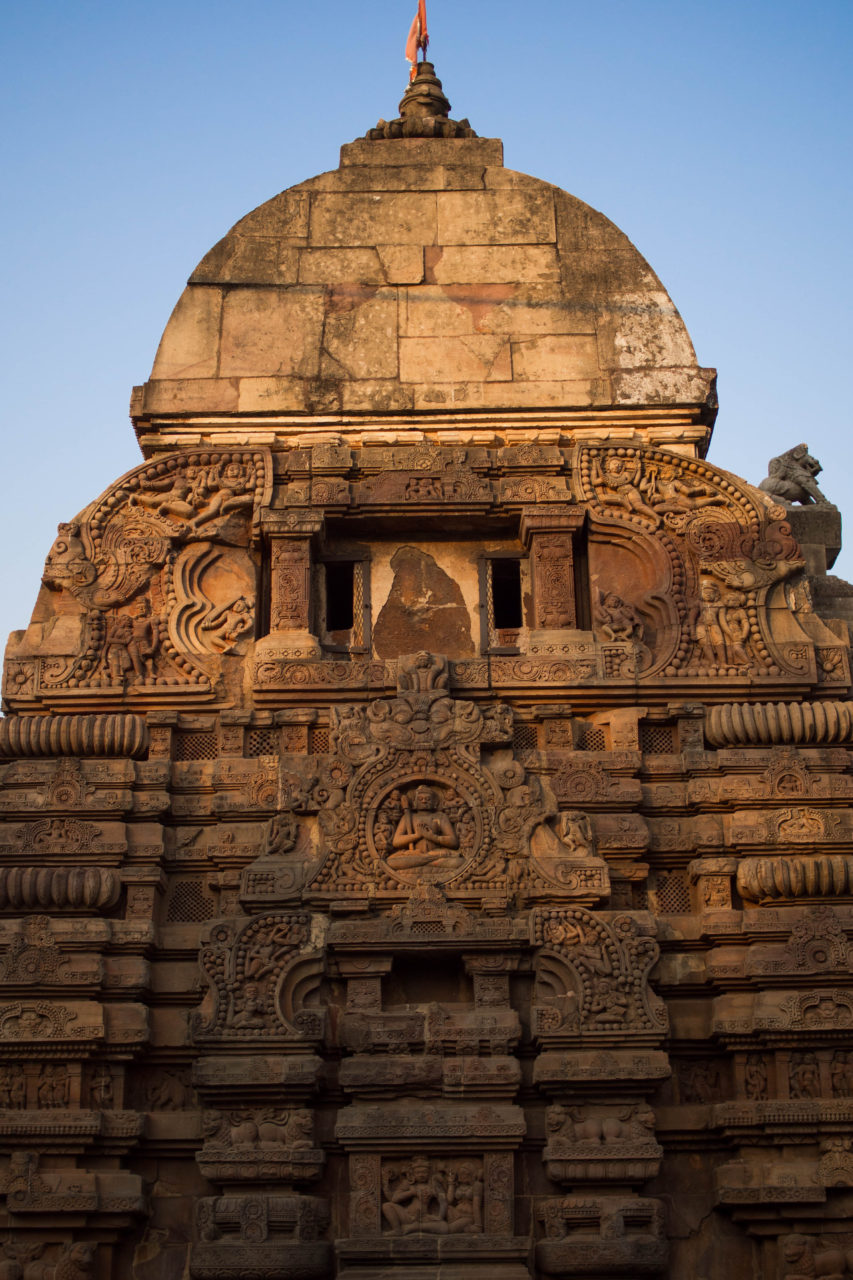 The Chausath Yogini Temple, on the other hand, is one of the few yoginī temples still active in the country and with all its original sculptures present. These yoginī are irrespective of the women who practise yoga. Yoginī sculptures inserted inside the temple's niches are the energies and the body senses, delivering the teaching to the tantrika. Those Deities in between gods and human beings are sometimes terrible, divine, or with animal face. In the temple they face the central stele where tantric rituals were most likely taking place under the gaze of Bhairava, master of the yoginī and the only one able to handle their energy.
The Vaital Deula temple is also known as a Tantric place and is where human sacrifices were performed. Chamunda is the main deity of this temple.
The terrifying figure of Chamunda with her emaciated body, Bhairava with his garland of chopped heads, or yoginis drinking forbidden substances out of kapala (human skulls) symbolize the death of the self. The death of the self means the death of memory, references, and any idea that "I am someone". When there is nothing left to defend, the opinion that one must divide the world in terms of good versus evil, cannot stand anymore. Reality can therefore be perceived for what it truly is.
Le temple de Chausath Yogini quant à lui est l'un des quelques temples de yoginī en activité dans le pays qui possède encore toutes ses sculptures. Les yoginī dans ce contexte n'ont rien à voir avec les femmes qui pratiquent le yoga. Sculptures insérées dans des niches à l'intérieur du temple, les yoginī représentent les énergies et les sens du pratiquant, délivrant l'enseignement au tantrika. Déités entre les dieux et les êtres humains, tantôt terribles, séduisantes ou à tête d'animal, elles font face à la stèle centrale du temple où les rituels tantriques prenaient probablement place sous le regard de Bhairava qui s'y érige comme maître des yoginī, le seul pouvant contrôler leur énergie.
Le temple Vaital Deula est aussi connu comme lieu tantrique où des sacrifices humains étaient réalisés. Chamunda en est la déité principale.
La forme terrible de Chamunda avec son corps émacié, Bhairava avec sa guirlande de têtes coupées, ou encore les yoginis buvant des substances interdites dans leur kapala (calotte crânienne), symbolise la mort de soi. La mort de soi signifie la mort de la mémoire, des références, et de toute idée que "je suis quelqu'un". Lorsqu'il ne reste rien à défendre, l'opinion que l'on a du monde qui se divise en termes de "bien" en opposition à "mal", ne peut plus tenir. La Réalité est alors perçue pour ce qu'elle est.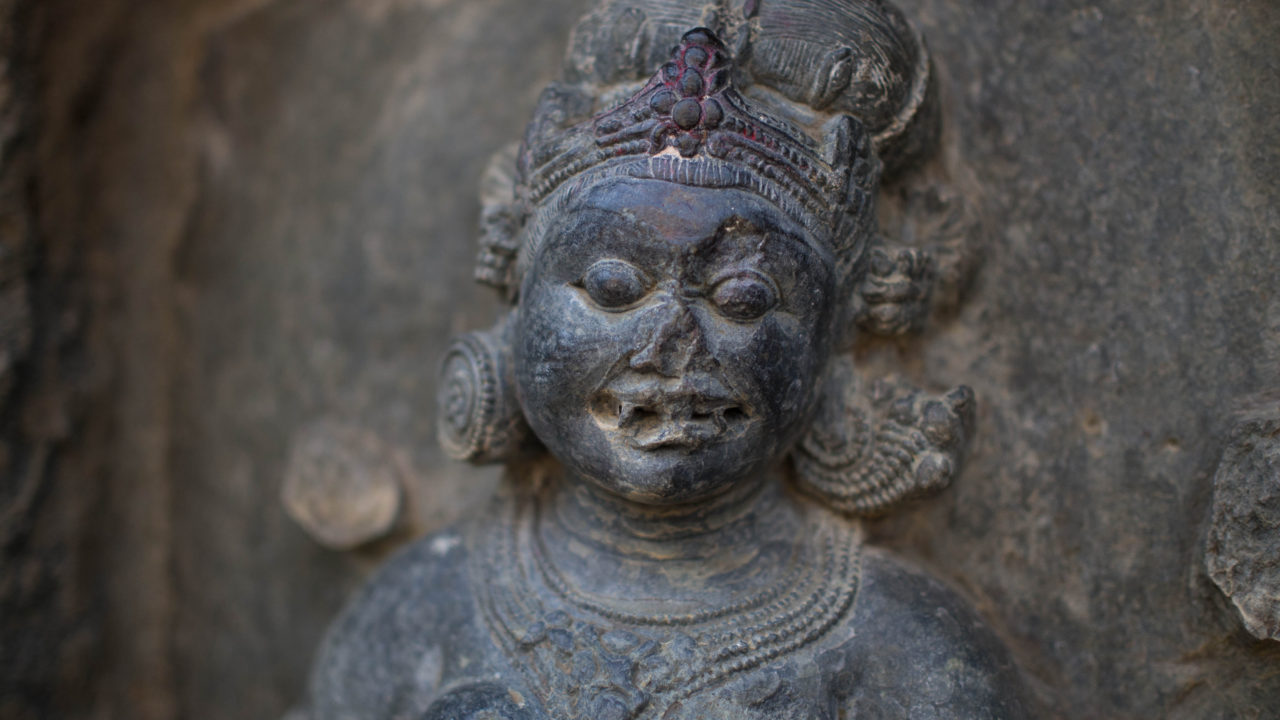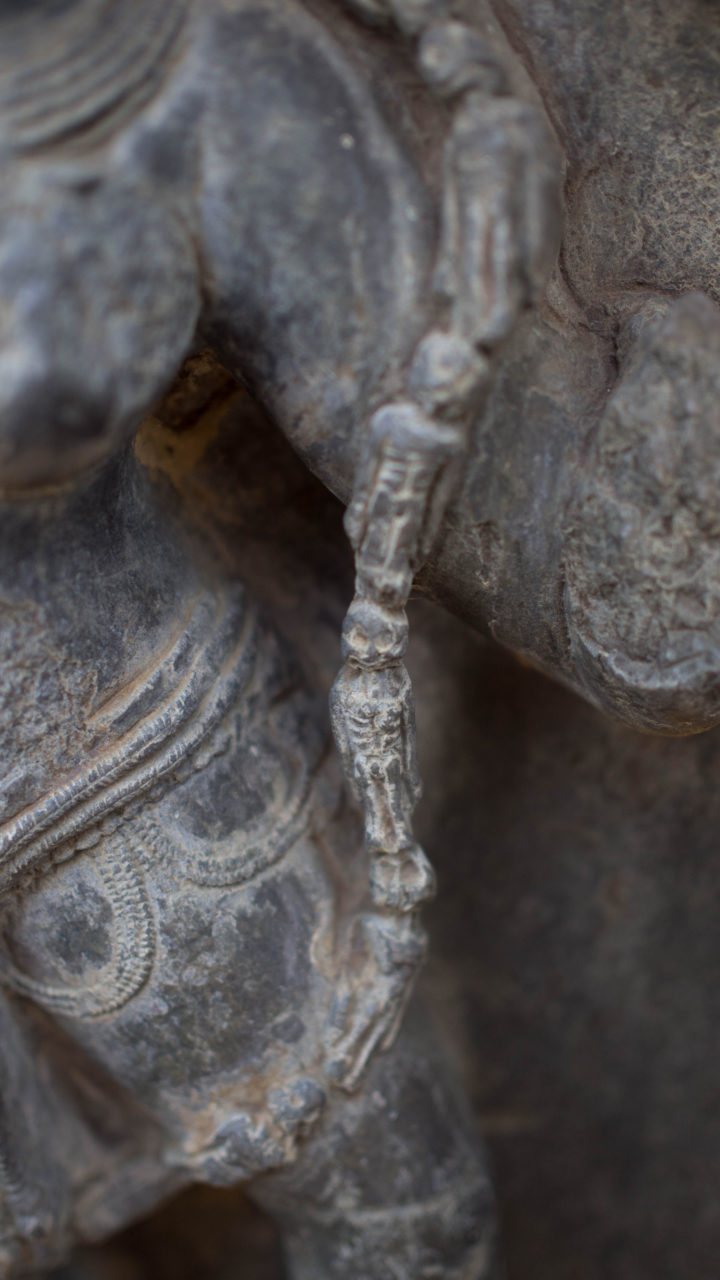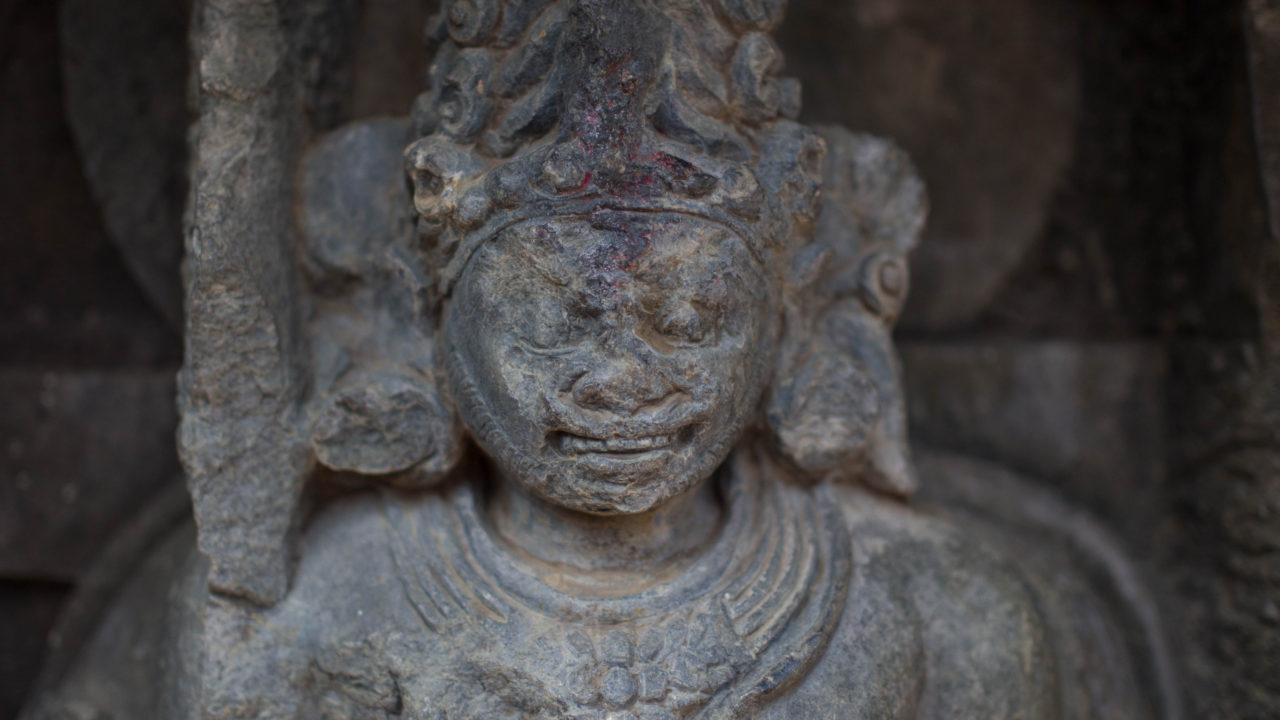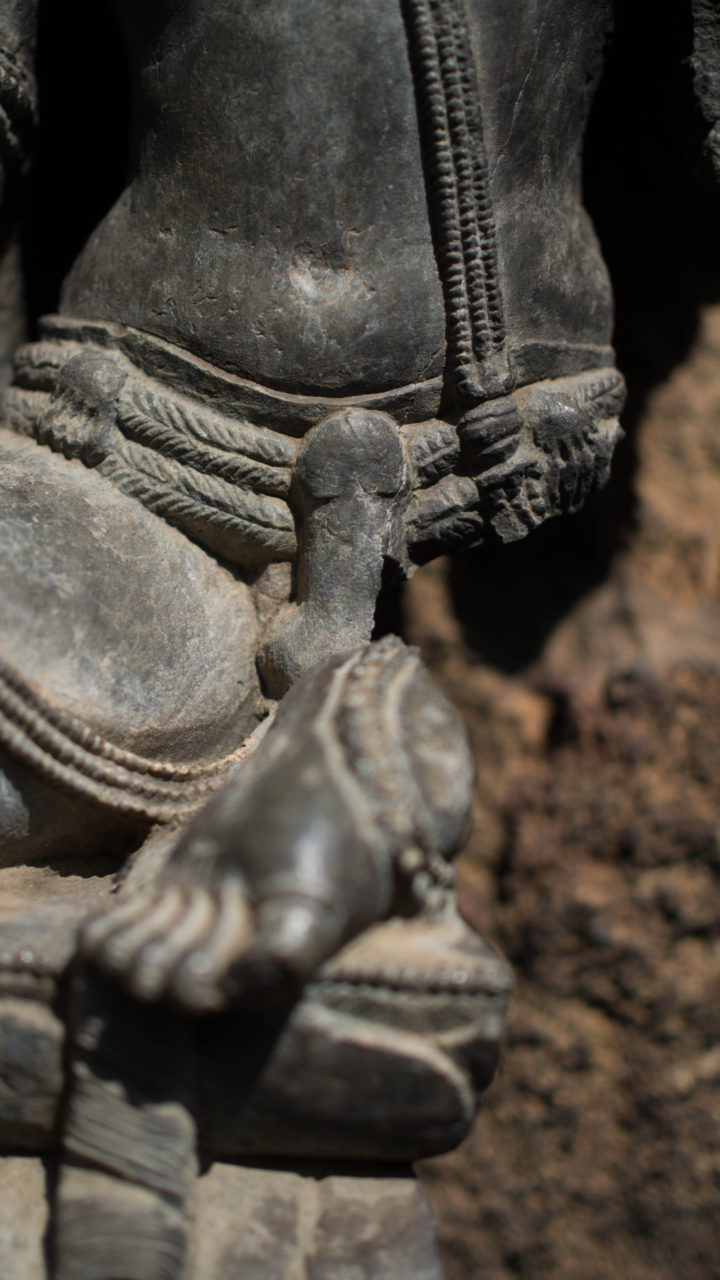 A lot has been written about Tantras by scholars and by neophytes, with varying degrees of accuracy. When Tantric practices and scriptures were discovered centuries ago, it was initially very badly received: Westerners only saw black magic and superstition, imposing on to Indian people the label of savages and primitive culture, especially as it pertains to Tantric practices. These practices were neither better understood by the indian population themselves. Indeed, the sādhu and the tantrika were people out of the social circle. They were the equivalent of shamans or magicians. The tantrika was a man between God and the common people: dangerous and feared, but also of great help and knowledge, the guardian of the tradition and the master of the forces of the universe.
Beaucoup d'encre a déjà été versée sur le sujet des Tantras par les académiciens et les néophytes, parfois avec plus de véracité que d'autres. Quand les pratiques tantriques et les textes furent découverts il y a quelques siècles, ils furent d'abord très mal reçus: les Occidentaux y voyaient magie noire et superstition, imposant sur le peuple indien le label de sauvages et de culture primitive, spécialement pour tout ce qui concernait les pratiques tantriques. Ces pratiques n'étaient nécessairement mieux comprises au sein même de la population indienne. En effet, les sādhu et les tantrika étaient des gens hors des cercles sociaux et l'équivalent des chamanes et des magiciens. Le tantrika était un homme entre dieux et l'homme commun; dangereux et craint, mais aussi un gardien de la tradition, maître des forces de l'Univers.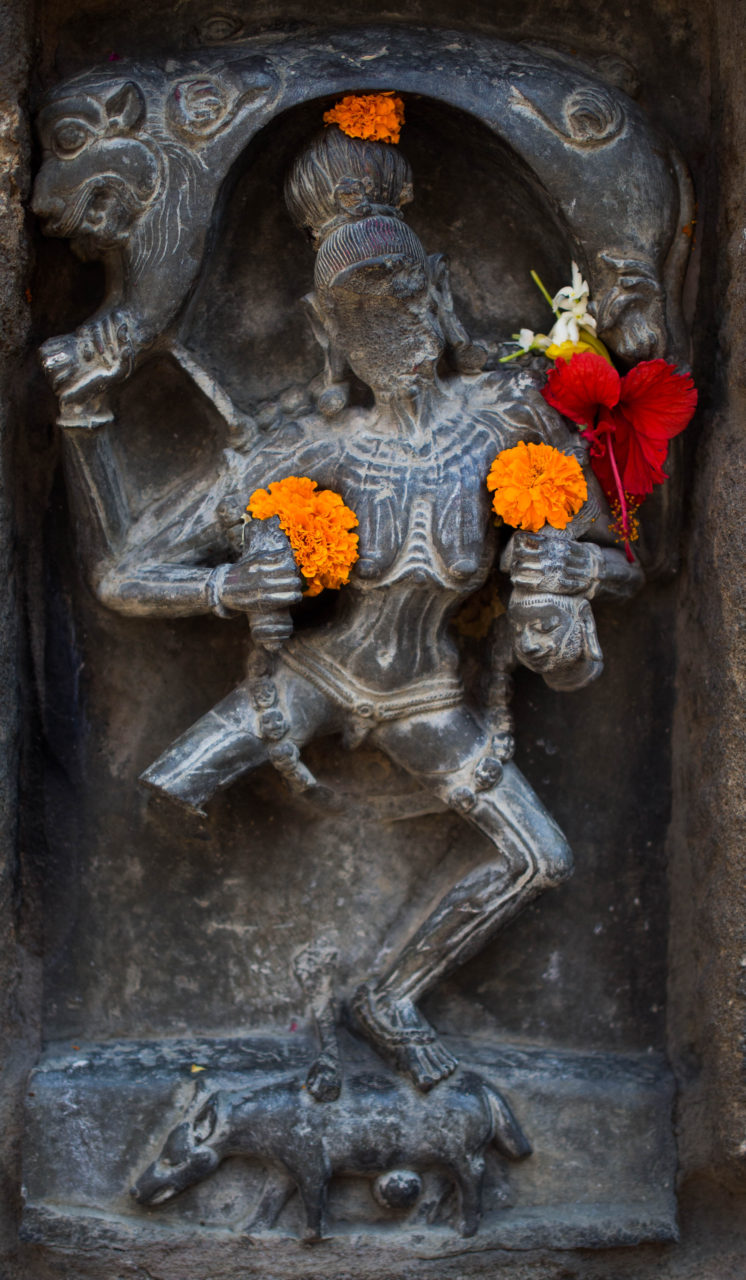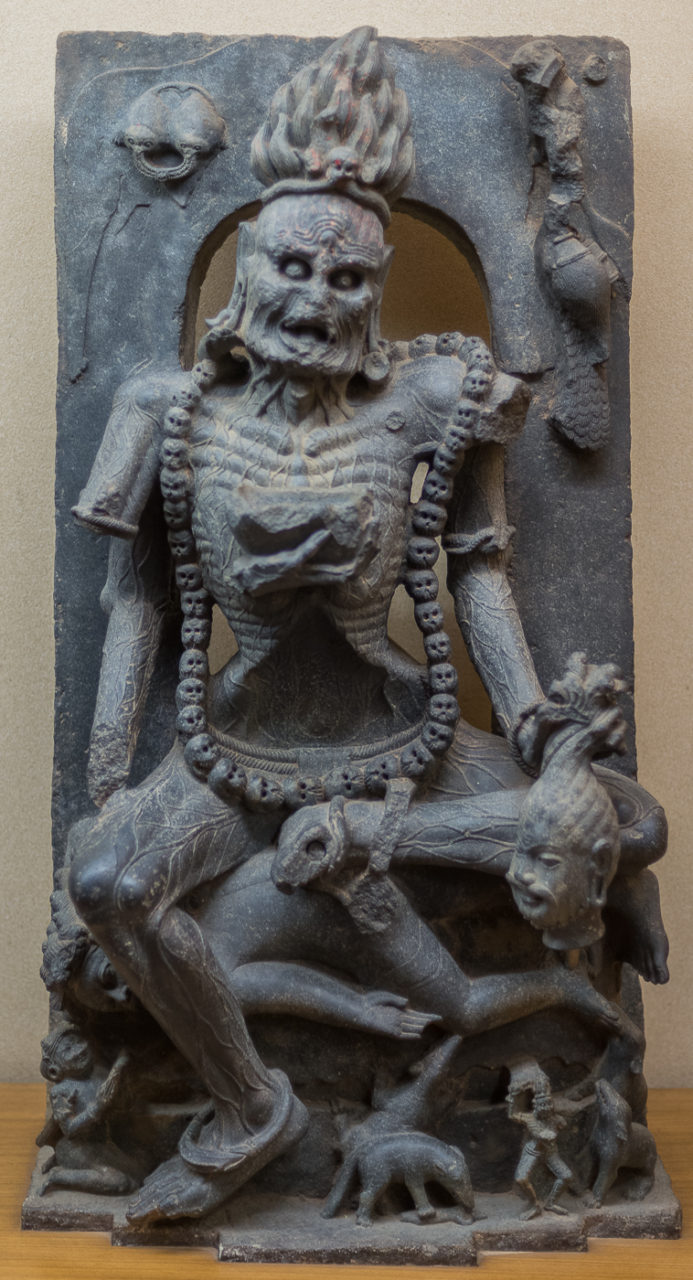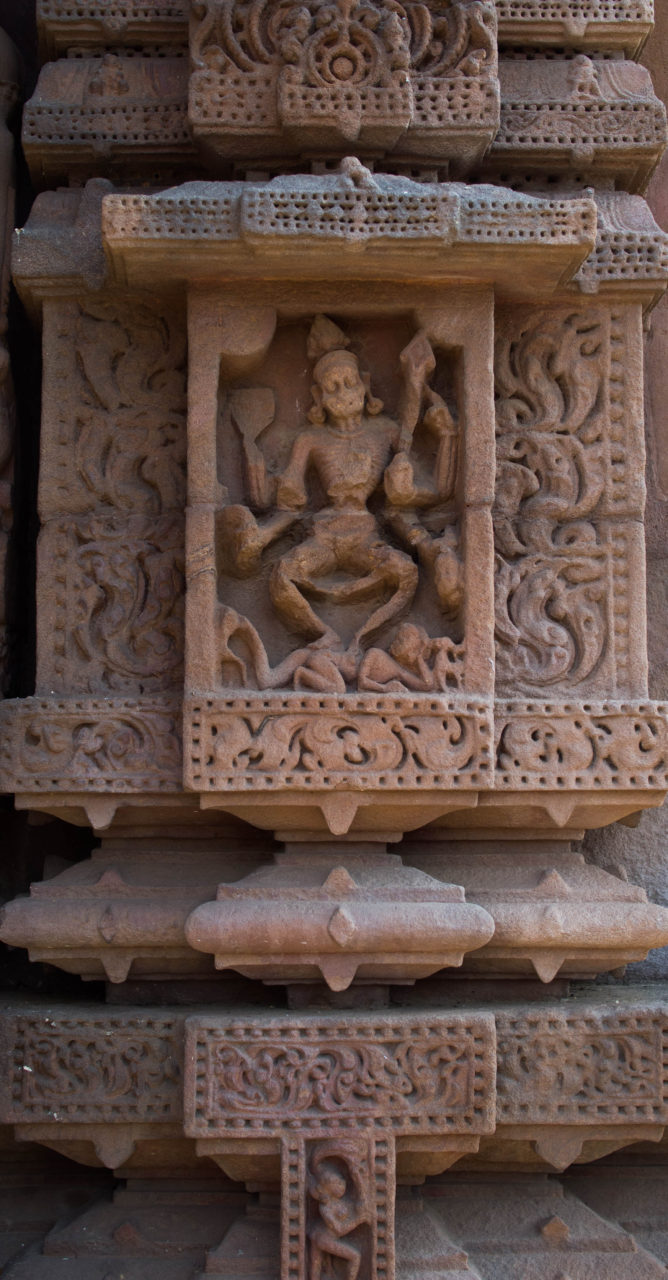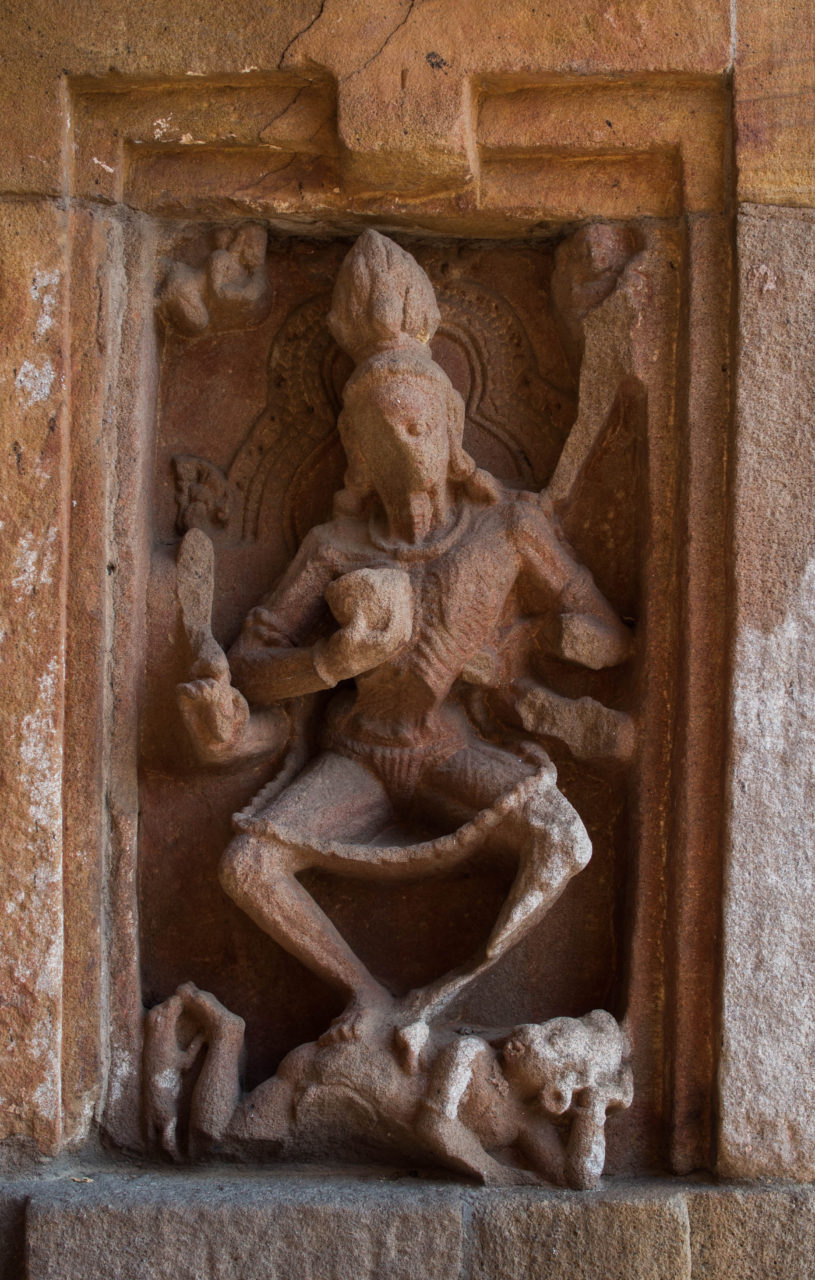 A Tantra is a type of scriptures that delivers teachings of the highest Reality. Tantrism, as Mark Dyczkowski characterized during a meeting, is in its simplest description any teaching coming out of a Tantra. There are many different Tantras, focusing on various aspects of Reality, perception, rituals, or gods, depending on its orientation and time when it was written. Numerous Tantras have not yet been translated.
The Tantric studies entered the academic field at the beginning of the 1900s. Arthur Avalon, at the beginning of the 20th century, soon followed by Lilian Silburn and André Padoux, were the first scholars to be enamoured with the tradition and to shed new lights to this religious aspect of Indian culture. Nowadays, a small group of dedicated western scholars are providing serious translations and commentaries, as well as various studies about the tradition of the "Tantric practices," "Kashmirian Saivism" or "tantrism" — concepts invented to suit academic research (Mark Dyczkowski and Bettina Baumer in Varanasi, Alexi Sanderson in the UK, Shaman Hatley in Boston, Raffaele Torella in Italy, etc.).
Un Tantra est une forme de texte sacré qui enseigne la connaissance de la réalité ultime. Le mot "tantrisme", comme l'éminent spécialiste Mark Dyczkowski le décrit dans une de nos rencontres, signifie simplement tout enseignement, concept, pratique, qui vient d'un Tantra. Il existe bien entendu de nombreux Tantas qui s'intéressent tantôt aux différents niveaux de la réalité, de la perception, alors que d'autres décrivent les rituels ou les déités. L'orientation dépend de la période où le Tantra fut écrit, ainsi que de son pendant plus rituel ou métaphysique. Ne nombreux Tantras n'ont pas encore été traduits à ce jour.
Les études tantriques pénétrèrent les sphères académiques au début des années 1900. Arthur Avalon au début du 20e siècle, bientôt suivi par Liliane Silburn et André Padoux, furent dans les premiers académiciens qui tombèrent amoureux de cette tradition et offrirent de nouvelles lumières sur cet aspect de la culture religieuse de l'Inde. Aujourd'hui, un petit groupe d'académiciens occidentaux passionnés (Mark Dyczkowski et Bettina Baumer à Varanasi, Alexis Sanderson en Angleterre, Shaman Hatley à Boston, Raffaele Torella en Italie, etc.) fournissent des traductions et des commentaires sérieux sur le sujet, ainsi que des études sur la tradition des pratiques tantrique, du shivaïsme cachemirien, la diversité du tantrisme dans le monde indien; concepts inventés lorsque les académiciens commencèrent à s'intéresser à ces sujets et eurent besoin de les catégoriser.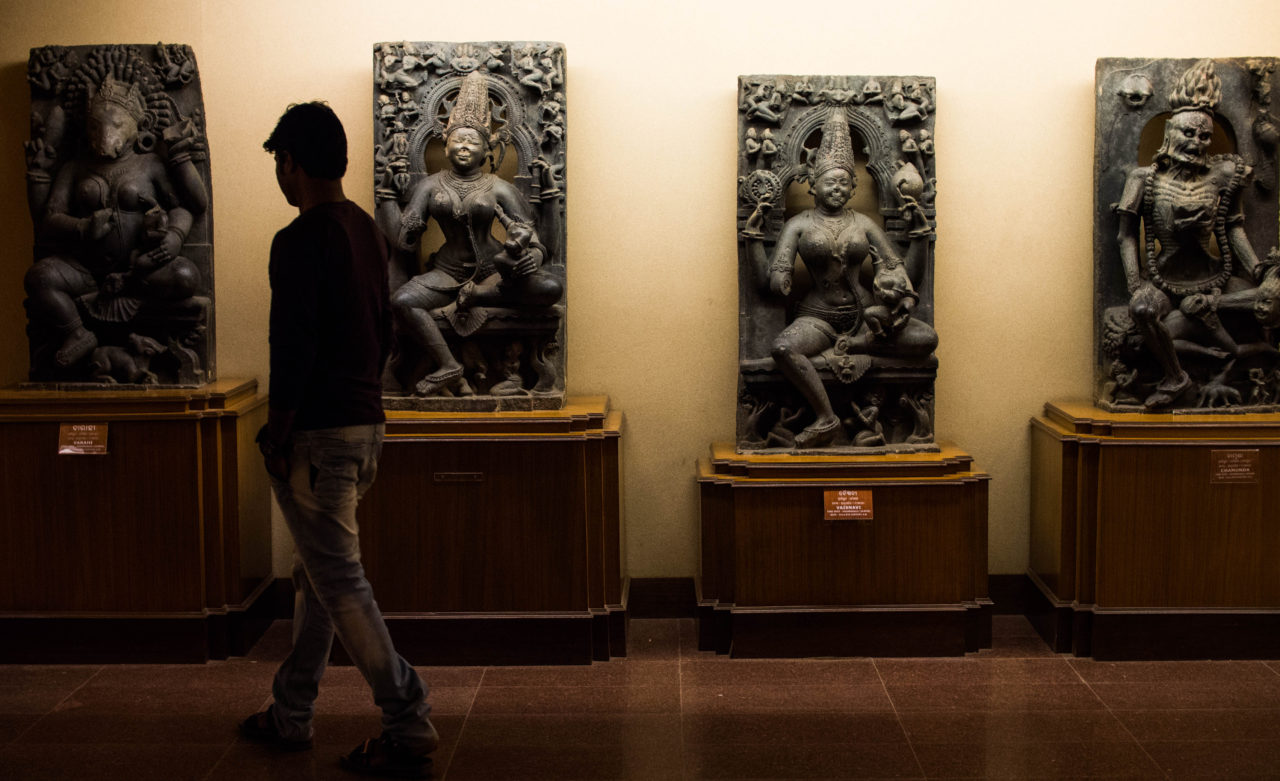 Tantrism quickly became fashionable. Along with the hippie movement, the incorporation of sex and psychedelic substances created a philosophy of life in juxtaposition to the socio-political issues of the moment. Tantrism, along with yoga, became integrated in this philosophy looking for an alternative way of living. Neo-Tantra was born from a context in which its external features had been adopted by the west and given a new meaning according to the need of the moments: sexual liberation, spirituality against a rigid religion and war, and the desire for personal research.
Le tantrisme devint rapidement à la mode. Aux côtés du mouvement hippie, l'incorporation du sexe et des substances psychédéliques donnèrent lieu à une philosophie de vie qui juxtapose les problèmes sociopolitiques du moment. Le tantrisme, avec le yoga, devient intégré dans cette philosophie qui cherchait un mode de vie alternatif. Le néo-tantra naquit  de ce contexte dans lequel ses pratiques extérieures se firent adoptées par la culture occidentale et données une nouvelle signification à la lumière des besoins du moment: libération sexuelle, spiritualité contre une religion rigide et la guerre, et le désir de mieux se connaître.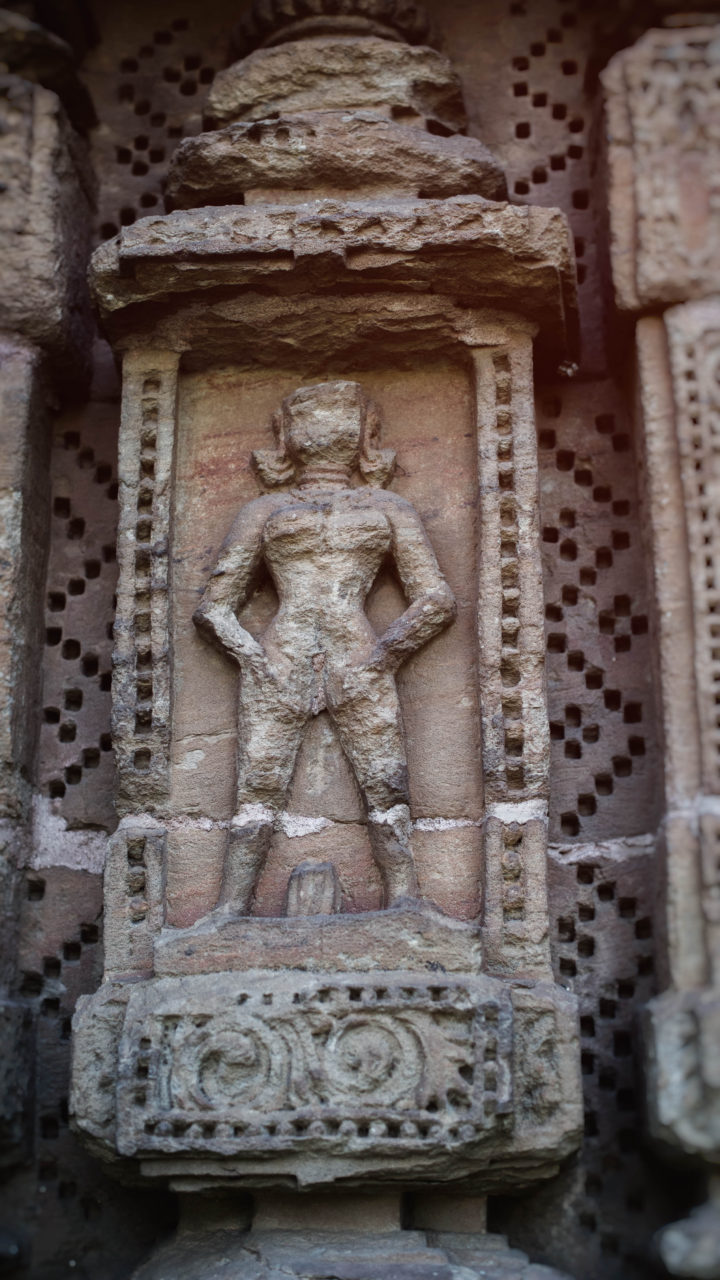 Some elements described, such as the substances used during the rituals, should therefore be understood in their cultural contexts. The five substances, the five "Ms" — madya, māṃsa, matsya, mudrā, maithuna, respectively being wine, meat, fish, grain and sexual intercourse — are highly prohibited in the Brahmanical Vedic context. Those elements used in the course of Tantric rituals were meant to surpass the apparent duality that exists in the practitioner's perception of the world, and reveal that Consciousness that is hidden behind each expression of life.
The scriptures are very clear that there was no personal pleasure or comfort involved. On the contrary, the rituals were effective only when fear and disgust would appear in the practitioner's emotions.
Nowadays, drinking alcohol, eating meat or having promiscuous sex is no longer considered  transgressive, and therefore those practices cannot be a way to question one's dualistic perception of the world anymore. The only way to relate to the traditional teaching is to transpose the essence of the teaching in an adapted form to the given culture and context.
Abhinavagupta, the Tantric master of the 11th century, was among those who best enlightened this orientation. In his Tantraloka, a masterpiece of many volumes, he reinterprets the Tantras that had lost themselves in extensive complicated rituals and explanations from an internal perspective. When the fundamentals of a practice are stripped to its internal meaning, then it can be transposed through time and culture.
The secret Indian teachings, hidden within the temples by inspired sculptors, are the open books for those whose eyes can read.  The dreams, texts, and teachings that come alive through the tradition are portals through time, realized in all epochs, to guide the practitioner towards a knowledge of the Reality.
Certains éléments décrits, tels que les substances utilisées durant les rituels, doivent être ainsi interprétés dans leur contexte culturel. Les 5 substances, aussi appelées les 5Ms (madya, māṃsa, matsya, mudrā, maithuna qui tiennent respectivement pour le vin, la viande, le poisson, les graines et les relations sexuelles) sont très impures pour le monde védique. Utilisés dans les rituels tantriques, ces éléments avaient pour but de faire dépasser la dualité apparente qui existe dans la perception que le pratiquant possède du monde, et ainsi découvrir la Conscience cachée derrière chaque expression de la vie.
Aucun plaisir personnel ou confort n'était recherché, les textes sont très clairs à ce propos. Au contraire, les rituels deviennent effectifs seulement lorsque peur et dégoût apparaissent comme émotions chez le pratiquant.
Aujourd'hui, boire de l'alcool, manger de la viande ou avoir des relations sexuelles n'est plus transgressif, de fait, ces pratiques ne peuvent plus être un moyen de mettre en question notre perception duelle du monde. Le seul moyen de toucher l'enseignement traditionnel est de transposer l'essence de l'enseignement dans une forme adaptée à la culture et au contexte donné.
Abhinavagupta, maître tantrique du 11e siècle, fut probablement l'un de ceux qui mirent en lumière le mieux cette orientation. Dans le Tantraloka, oeuvre monumentale de plusieurs volumes, il réinterprète les Tantras qui s'étaient perdus dans des rituels externes complexes, d'un point de vue interne. Lorsque la signification d'une pratique est retrouvée dans son sens interne, alors elle peut se transposer à travers le temps et la culture.
Les secrets des enseignements indiens, cachés dans les temples par les sculpteurs inspirés sont des livres ouverts pour celui qui sait les voir. Les rêves, les textes et l'enseignant qui vit la tradition de l'intérieur sont des voies au-delà du temps, qui s'actualisent à toutes les époques, pour guider le pratiquant vers la connaissance de la Réalité.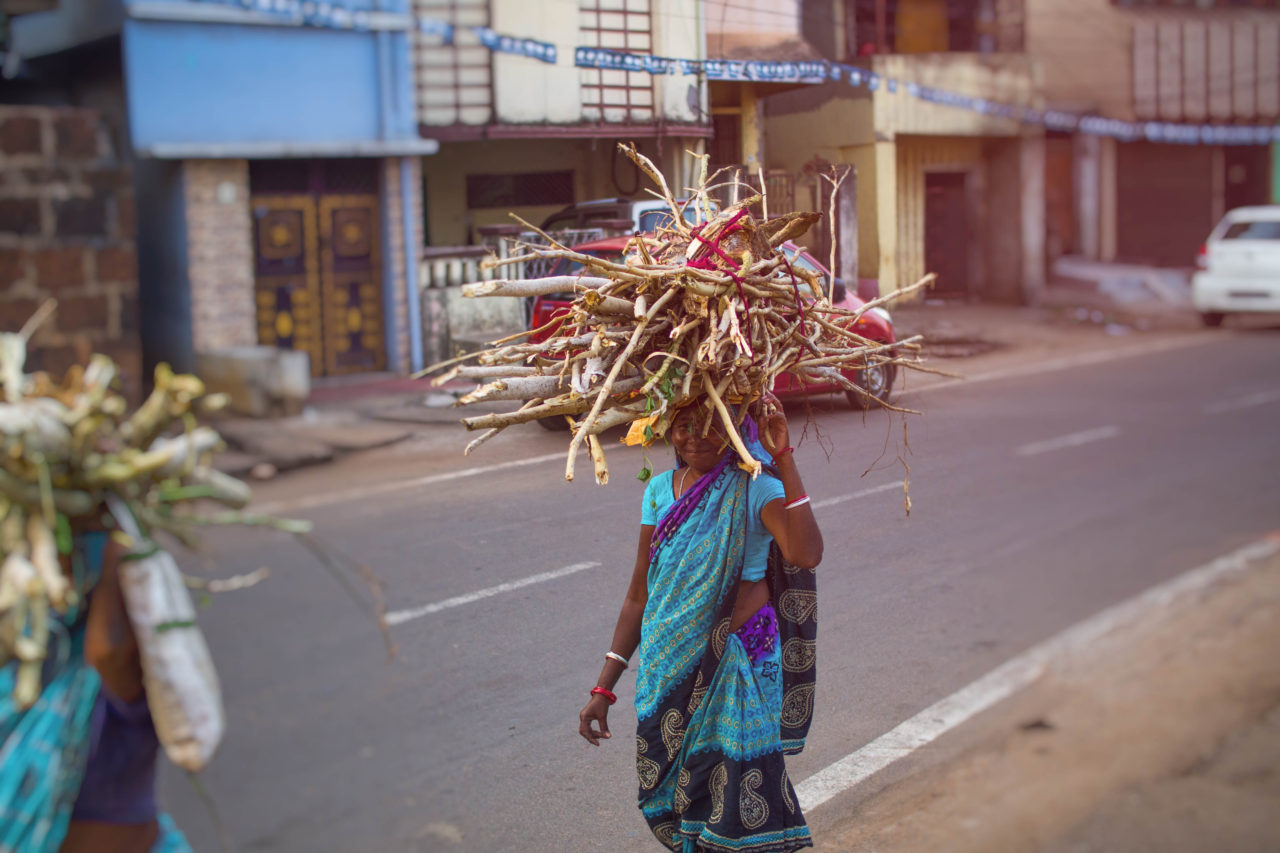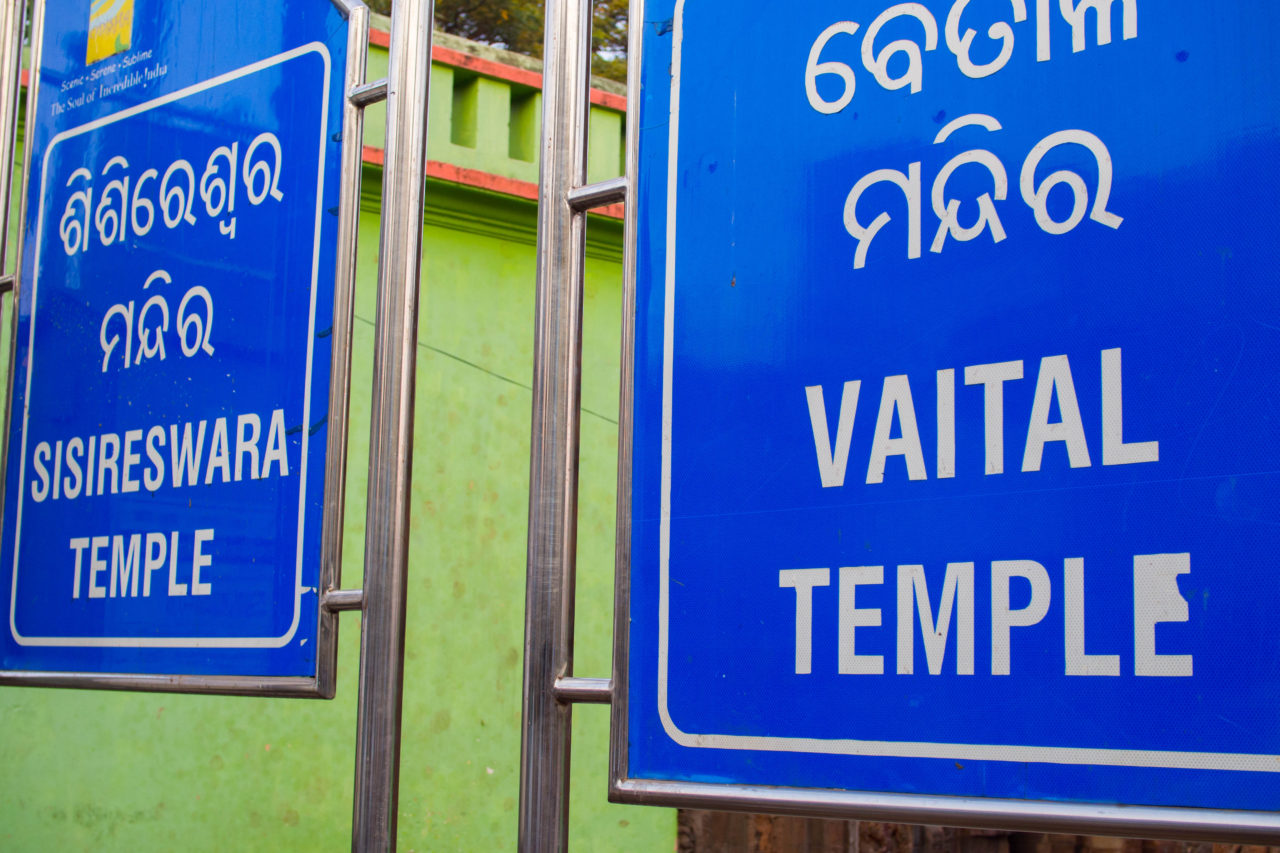 Thanks to Stephane Desmeules for the photos he contributed to the article, and to Kweku and Mamou for the re-reading of the English and French.