Michael Palumbo Interview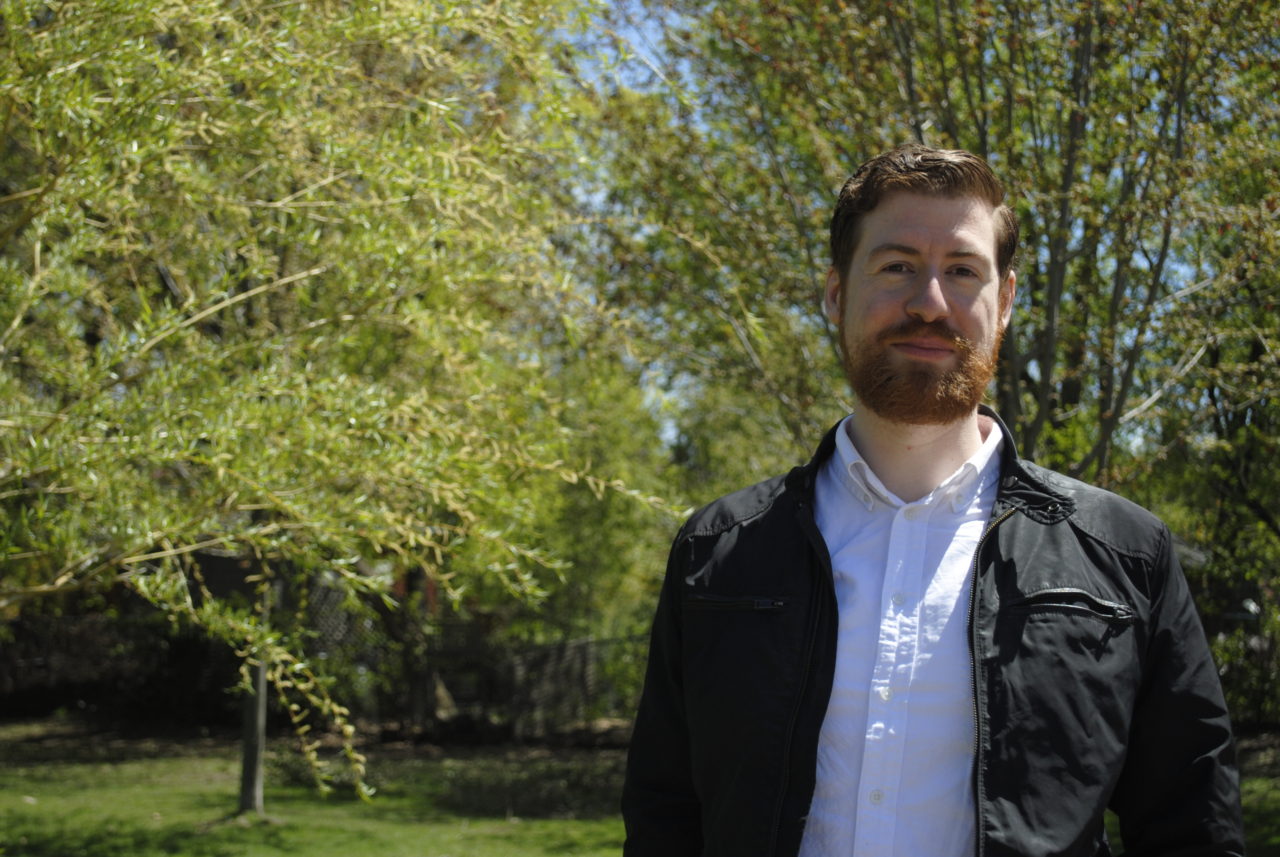 The next noise meditation at Never Apart on June 10th features Michael Palumbo, a sound artist, scholar, and designer from Toronto. Palumbo is doing a PhD in Theatre & Performance Studies at York University, where he researches distributed creativity and collaborative software design. He also works in the Distributed Performance and Sensorial Immersion Laboratory.
Palumbo has been engaged in sound since he was a child. He grew up singing, and learned to play saxophone, guitar, and drums, playing in bands from high school onward. Palumbo always felt like a musical misfit, and it took him until his early 20s to shake his binary assumption that one either sang/wrote songs or played solos. He wasn't that taken by either. Palumbo was drawn to artists who pushed to make their instruments sound different than expected. With guitar, he loved playing with feedback, preparing the instrument, using pedals, circuit bending some, and eventually folded in computer programming. When he moved to Montreal to do a degree in electroacoustic music at Concordia, Palumbo felt he had found a good place for musical misfits. Here, Palumbo was introduced to thinking about the laptop and studio as instruments.
While it's a challenge to name all of the influences on his work, Palumbo says that growing up he was really into Jeff Beck, Glenn Branca, Primal Scream, and Rick White, but took a turn when he heard Fred Frith's first Guitar Solos album. Palumbo was then attracted to networked music and inspired by Concordia professor Eldad Tsabary's work in telematics and the laptop orchestra. This led Palumbo to start thinking through systems. His favourite networked piece is Chris Chafe's Chopper, where three saxophones are located in different cities. Rather than approach the latency inherent to long-distance telecommunications and multi-room acoustics as an unwanted friction problem, Chopper uses it as a compositional parameter, as a geographical multi-tap delay line. More recently, Palumbo has been influenced by his York supervisor Doug Van Nort's improvisation, design, and research practices. Palumbo mentions one generative electroacoustic piece Van Nort programmed that uses a genetic algorithm and evolves the musical output over time. Palumbo quotes, "it sounded just gorgeous, and from a design perspective, is quite elegant."
In recent work Palumbo just completed sound design for Still Still Still by Geoffrey Simon Brown, a Toronto play about a mnemonic with synaesthesia. In this performance Palumbo works on sensorial cross-couplings and playing with the audience's memory.
Palumbo's set for the upcoming meditation at NVA is inspired by Deep Listening, a group-based listening practice developed by the late Pauline Oliveros. His set will encourage attentive listening as a form of meditation by employing acoustics that nod to focal and global listening. Palumbo considers the meditation as a point of opening and hopes attendees allow themselves to continue listening after the set, throughout the rest of their day and into the night. Palumbo's set has a mysterious plan, which he refuses to divulge. He only reveals that it will take advantage of Never Apart's beautiful two-story room.
If listeners are keen to hear more after the set, Palumbo will be playing with Platitudes on June 11 at Brasserie Beaubien. He is presenting a new performance art piece called Data Issues: Please See Attachment, which confronts failure and letting go of unfinished work, using tinkering as an aesthetic.
La prochaine méditation sonore qui aura lieu à Never Apart le 10 juin accueille Michael Palumbo, artiste sonore, universitaire et designer originaire de Toronto. Palumbo fait actuellement un doctorat en études du théâtre et de la performance à l'Université York, où il effectue des recherches sur la créativité distribuée et le design collaboratif de logiciels. Il travaille également au Distributed Performance and Sensorial Immersion Laboratory.
Palumbo baigne dans le son depuis son enfance. Il a commencé à chanter très jeune et a appris à jouer du saxophone, de la guitare et de la batterie ; il a fait partie de différents groupes depuis l'école secondaire. Palumbo s'est toujours senti comme un mésadapté musical : ce n'est qu'au début de la vingtaine qu'il a mis de côté sa présomption binaire qu'une personne doit chanter/écrire des chansons ou jouer solo. Ces deux choix ne l'intéressait guère. Palumbo était attiré par les artistes qui s'efforçaient de produire des sons inattendus de leurs instruments. Avec sa guitare, il adorait expérimenter avec le feedback, préparer l'instrument, se servir de pédales et de circuit bending et même ajouter de la programmation informatique. Lorsqu'il s'est établi à Montréal pour obtenir un diplôme en musique électroacoustique à Concordia, Palumbo s'est dit qu'il avait trouvé un bon endroit pour les mésadaptés musicaux. C'est ici que Palumbo a commencé à envisager d'utiliser le studio et les ordinateurs portables comme instruments.
Bien qu'il soit difficile pour lui d'énumérer toutes les œuvres qui l'ont influencé, Palumbo raconte que, plus jeune, il appréciait beaucoup Jeff Beck, Glenn Branca, Primal Scream et Rick White, pour ensuite écouter le premier album Guitar Solos de Fred Frith. Palumbo a ensuite été attiré par la musique en réseau, en plus d'être inspiré par le professeur à Concordia Eldad Tsabary et ses travaux sur le système télématique et l'orchestre d'ordinateurs portables. Son morceau en réseau préféré est Chopper de Chris Chafe, où trois saxophones se trouvent dans des villes différentes. Plutôt que d'approcher la latence des télécommunications longue distance et de l'acoustique multipièces comme un problème de friction indésirable, Chopper l'utilise comme un paramètre de composition, une ligne de délai multi-tap géographique. Plus récemment, Palumbo a été influencé par l'improvisation, le design et les méthodes de recherches de Doug Van Nort, son superviseur universitaire à York. Palumbo mentionne un morceau électroacoustique génératif programmé par Van Nort qui utilise un algorithme génétique et évolue au fil du temps. On cite ici Palumbo, « la musique était magnifique et, du point de vue du design, très élégante. »
À l'heure actuelle, Palumbo vient tout juste de compléter le design sonore de Still Still Still par Geoffrey Simon Brown, une pièce torontoise au sujet d'un mnémonique synesthète. Pour cette performance, Palumbo travaille sur des couplages sensoriels et joue avec la mémoire de l'auditoire.
Le set préparé par Palumbo pour la prochaine méditation à NVA est inspiré de Deep Listening, une pratique d'écoute collective développée par la regrettée Pauline Oliveros. Son set a pour but de promouvoir l'écoute attentive comme forme de méditation grâce à l'utilisation d'acoustiques qui font référence à l'écoute focale et générale. Palumbo considère la méditation comme un tremplin d'ouverture et espère que les participants se permettront de continuer leur écoute même après le set, et ce, durant la journée entière. Le set de Palumbo a un mystérieux plan qu'il refuse de nous divulguer. Il nous révèle seulement qu'il compte tirer profit du superbe aménagement à deux étages de Never Apart.
Si les auditeurs souhaitent entendre d'autres œuvres de Palumbo, ils pourront le faire le 11 juin alors qu'il se produira avec Platitudes à la Brasserie Beaubien. Il présentera Data Issues : Please See Attachment, une nouvelle prestation qui affronte l'échec et l'acte de lâcher-prise d'œuvres inachevées, sur fond de bruits de rafistolage.