Slut Island Creates Space for Marginalized Artists in the Canadian Cultural Scene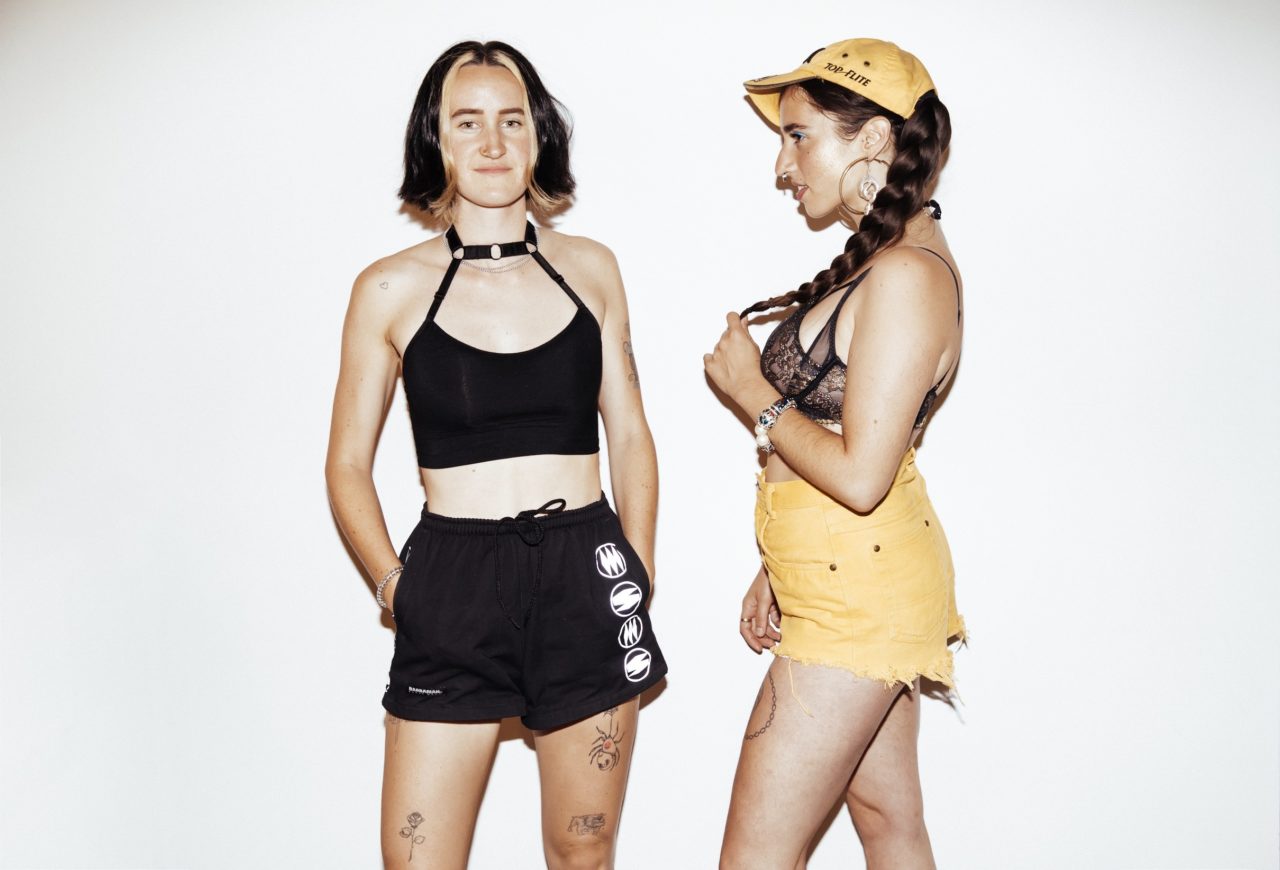 Slut Island Festival is a community initiative led by women, nonbinary and LGBT+ folks that seeks to create space for marginalized artists within the Canadian cultural scene.
In the current moment—when discussions about gender and race in the arts are key—Slut Island also seeks to resist processes of tokenization and commodification, and contribute to the development and maintenance of anti-oppressive community networks. Slut Island shows that "DIY" still means something—a true commitment to forming networks and platforms for marginalized artists to promote their work on their own terms, and in spaces that feel good.
At the wake of the fifth edition of the festival—taking place in Tio'tia:ke, unceded Kanien'kehá:ka (Mohawk) territory, Montreal—we chat with the founders Frankie Teardrop and Sultana Bambino about their project. Be sure not to miss our collaboration with Slut Island and Intersessions for a DJ workshop geared towards women, nonbinary people and LGBTQ+ followed by a panel about running DIY events with a safer space mandate.
How and when did Slut Island start?
Slut Island Festival started in 2013, making this it's 5th edition. We hosted the first year at Cabaret Playhouse in its final sad moments of operation. Frankie was in their early promoter life and ​had an evident knack for it, so they were approached by the manager at the time who asked them to essentially do a double weekend takeover of the P​layhouse in hopes of bringing in some business. Frankie asked me if I'd be interested in collaborating on a series of events there. We were dating at the time and it seemed like a good idea to start a project together. We were both playing in bands and the idea of holding curatorial power instead if being 'included' on cis-bro bills was something that had never even occurred to me at the time so the opportunity excited me. The first year of the festival was kind of just for fun—there was no submissions call out and no posters were made; we constructed bills out of the bands that were usually tacked onto shows in the name of 'diversity' and learned that it created a pretty good vibe.
Frankie, you are also involved with LIP—what are the differences—if any—between those two platforms?
Between LIP and Slut Island, there are many structural differences. LIP doesn't operate on a strict mandate the way Slut Island does, but I host it once a month with the same core values at heart. I like to center my parties around hiring femme/non-binary DJs in this hyper cishet male-dominated industry.
Slut Island is structured mostly around live shows with a dance party starting at midnight. DJ submissions have increased over the years so after-parties are becoming a more integral component to the festival and I am thankful for my experience with throwing dance parties as it is an entirely different pace than live music. ​
LIP is generally just a platform for DJs, mostly local, then sometimes when I can afford it I bring in an inspiring queer DJ from out of town like TYGAPAW! LIP definitely operates differently because I am alone and need to be the one to call all the shots as opposed to Slut Island where Sultana and I have to go back and forth before making any concrete decisions. The festival is curated based off submissions and the curation board is a total of 10 people so any submissions/ideas/collaborations to consider will be a discussion. I use a lot of the knowledge I've acquired through organizing Slut Island to run LIP and vice versa, it's a nice balance.
What was the Montreal scene like at the time you started Slut Island, and how has it changed since? How has Slut Island participated in some of those changes?
​The political climate around the birth of Slut Island feels like it was 20 years ago. Every year is like a new era and it's been an invaluable learning process to evolve our project and continue to stay relevant to the communities (LGBTQ+ and BIPOC) we seek to prioritize on the level of curation, content and audience. With each edition we learn from our previous mistakes and hold onto aspects that worked, consistently making our best efforts to respond to the needs and criticisms of our peers and communities. For example, we now have a curatorial jury as a standard when going through the festival submissions, necessarily representing a larger scope of experiences than the two festival co-founders who are: Sultana Bambino, a queer, cisgendered multidisciplinary creator and child of Moroccan/Italian immigrants, born and raised in Tio'tia:ke (Montreal), unceded Kanien'kehá:ka (Mohawk) territory and Frankie Teardrop, a queer white non-binary DJ, producer and promoter born and raised in Vancouver and currently based here.
I feel like at this point we have a project we're really proud of and which has carved space in festival programming for artists facing identity-based setbacks—either in terms of commodification and tokenization or just straight up invisibility. We've received really good feedback from participants who often reapply the following year as well as a lot of support and collaboration from our peers and other local and DIY initiatives—enough to want to keep going despite the copious amount of time and labour it takes to put on this festival.
It feels like Slut Island Festival is serving its purpose. We can't really pinpoint how it has participated in the evolution of the cultural scene in Montreal, but we hope it has helped set standards and precedents for other promoters along with other rad organizers working towards changing the game such as Taking What We Need, Shemale Reprezent!, MOONSHINE, Glitter Bomb, PLURI, Black Future, Lux Magna and many more. I think we all learn from each other and collectively contribute to redefining concepts of diversity and inclusivity in the local music scene.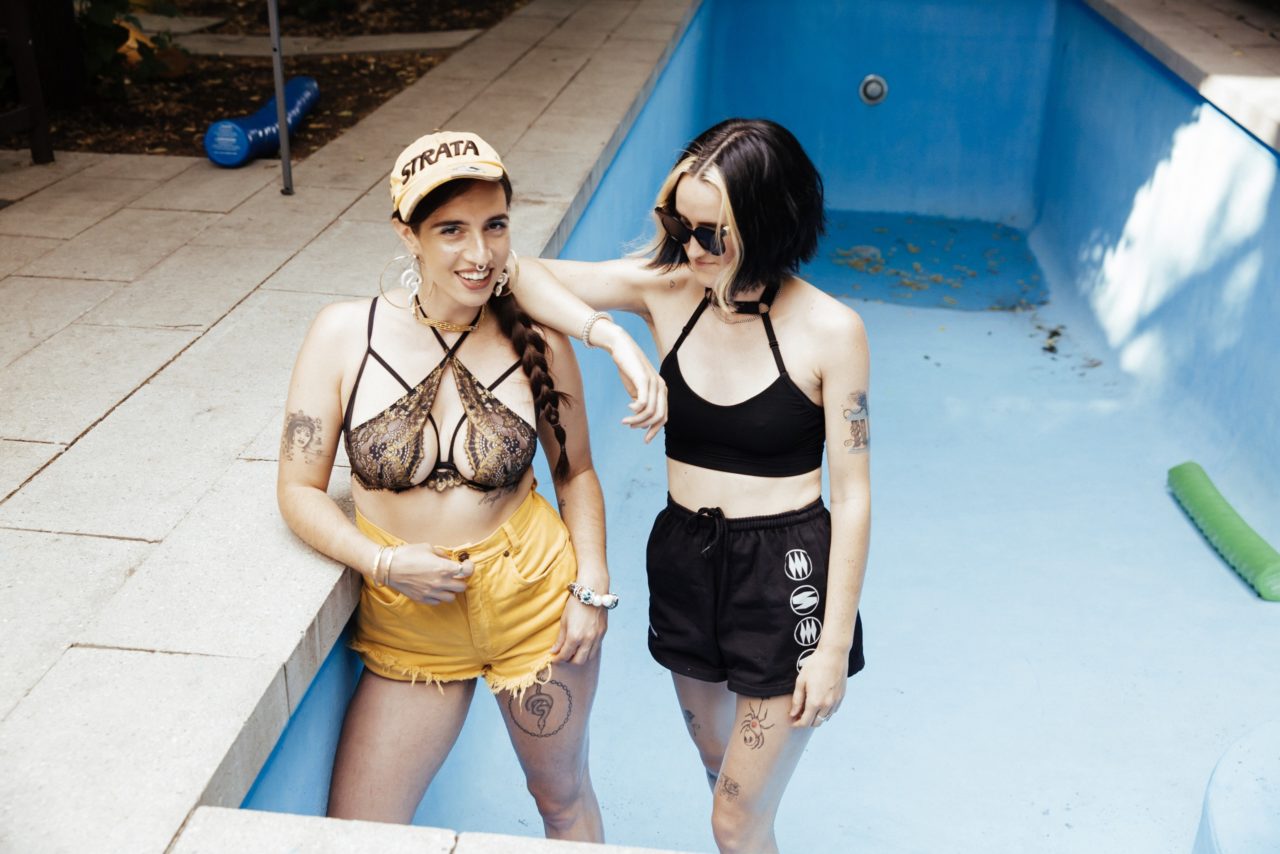 How do you approach musical genre when you program the festival?
As a rule, Slut Island features artists from a wide range of musical genres with no prioritization of one genre over another, as we believe this would be an inherently exclusionary curatorial practice. In terms of cultural visibility, both popular and alternative genres of music have historically been, and continue to be, dominated by artists of particular races, genders, sexualities, and abilities, to the exclusion of those with more marginalized or stigmatized identities.
How does Slut Island select its performers and programming?
Slut Island puts out a call for submissions each year, this way we find out about artists we may never have known about. In the application process, artists share their work as well as the varying degree of struggles they face in music and art communities and in their lives more broadly. When submissions are closed we have a grueling 10 hour curatorial process where the two co-founders and an 8 person jury/board go through all of the submissions (the number of applicants grows substantially each year, this year we had 146!). The jury is also encouraged to suggest acts that they know of who fit the festival mandate and feel we should reach out to. Under the direction and guidance of the board, we create the festival lineup through a combination of festival applicants and invited acts.
In terms of additional programming, we reach out to a local artist each year and ask them to curate a month long group show at Coop Le Cagibi; we're so pleased to have Marcela Huerta: artist, designer and author of Tropico, a collection of poetry and creative nonfiction, as this year's curator. This year we are pairing up with Never Apart and Intersessions to host a day time workshop/panel discussion on Saturday, July 28th for beginner DJs and promoters looking to learn about DIY event organization. This event as well as the daytime show on Sunday, July 22nd at the Loyola Chapel are all-ages events, which we're thrilled to offer in our programming this year.
What are some festivals or events worldwide that inspire Slut Island?
There are a lot of amazing initiatives based in rad event organizing happening everywhere, especially in the last 2-3 years. Some notable promoters/collectives are Ottawa based Babely Shades, Toronto's Yes Yes Y'all, The Black and Brown Punk Show Collective out in Chicago and their sister fest in the Bay Area called The Universe is Lit. Out in Brooklyn there's an amazing party collective called PAPI JUICE (active since 2013), as well as a new Philadelphia based project called SELTZER both centering queer and trans artists of colour. We're so excited to have two organizers of SELTZER, Precolumbian and Bearcat (also on the roster of Discwoman) featured in this year's festival.
As musicians/performers/DJs ourselves, we draw a lot of inspiration from other artists. We run this festival as well as off season shows throughout the year because we want to give local and touring artists a good experience and we seek to cut out a lot of the bullshit that queer/trans/non-binary/POC people are subject to when performing; from micro-aggressions to being misgendered to feeling unsafe or invisible.
What is your most memorable moment of Slut Island over the last few years?
I think every event that runs smoothly feels like a gift. When all the performers feel good after their sets that were presented to a substantial and responsive audience and no one gets hurt, we feel like we did a good job and that feeling doesn't really get old as cheesy as it sounds. There have been so many legendary Slut Island Festival and off season shows over the years brought to you by iconic artists such as Special Interest, Ah Mer Ah Su, Tommy Genesis, Marcelline, DJ Haram, Ellise Barbara's Black Space, TRNSGNDR/VHS, Witch Prophet, DEBBY FRIDAY, Chippy Nonstop, Uniiqu3 and so many more.
Our recent collaboration with Suoni Per Il Popolo featuring Special Interest, Cheap Wig (Sultana's band's last show) and Neighbour's Guitar, (an incredible new punk band fronted by Markus Floats) gave us so much stamina for this years festival. It was one of those nights where everyone involved worked together to create an environment where it felt okay to be in our bodies and enjoy ourselves which is sadly not always the case when so many factors are out of our control.
What are some of the biggest challenges facing Slut Island?
When an event is at capacity, it can be extremely stressful as event planners to feel the weight of how many people you are responsible for. This quote from Rave Ethics by PLURI "Promoters, be responsible for the experience you create" really resonates with us. Curation is one factor in drawing in the right crowd, but we're taking huge risks in hosting events for and by vulnerable people in public spaces. Accepting that you let people down even when you're trying so hard not to has been a pretty difficult aspect to this kind of work. We naively made all sorts of promises that we quickly learned we couldn't keep in our first years of operation (claims of utopic queer, safe and accessible spaces and the likes). We are so thankful for all the constructive criticism we've received, including a couple of public callouts that were extremely valuable and effective in ameliorating the fest despite being hard to digest at first.
I think the biggest challenge we face is continuing to run events when people spread insidious and hurtful rumours about us as individuals or about the festival. It's difficult at times to remain confident and encouraged when we put so much of ourselves into the continued success of this project while dealing with our own trauma from gender/sexuality-based violence (some of it coming from incidents at our own events) and then witnessing how badly people want to see Slut Island fail. Misogyny runs deep and another huge challenge is accepting that when women/femme/nonbinary people are in any sort of significant role, people are going to try to mess with you and make you feel like you're failing because we're easy targets.
Sultana, your artwork is central to the visual identity of the festival, can you tell us how you developed your visual style and what inspires you?
I think it's important to us that the artists we're representing feel valued and I know that the labour I put into each poster is the most effective way for me to show that. I come from a photography background and I think that a lot of my posters have the essence of a photograph in that they feel like documents of a time and place. I think this is enforced by Frankie wheat-pasting about 150 posters for each event all around the city. There are still posters from previous years in various stages of decay alongside the fresh new ones and when I pass them by they really bring me back to the context they were made in and I hope they have the same effect on others.
This year, we reserved a small budget to feature three special edition posters by Ruth Ex (New Orleans), Lia Lepre (Toronto) and Corona (currently based in Mexico City) who are all incredible artists whose work I've admired for years. I was so excited to finally be able to hire them to contribute to the aesthetic of the festival—I knew they'd deliver and I'm so happy with the results!
Slut Island operates on a safer space mandate, can you tell us about what that means for you, and how you implement that in practice?
We try to create a bubble in this wretched cis-hetero-sexist-capitalist-patriarchal world but we are all products of this environment and some ways that violence can happen at our events is by random passer-bys coming in and sometimes it's people within our own community who have not dealt with their own internalized racism, sexism, ableism, transphobia, classism, homophobia, serophobia, and any other violent and insidious prejudices. We cannot ever say that our events are safe; we've both been assaulted at our own parties and Frankie specifically has suffered an extremely violent attack right at Le Ritz P.D.B.
We want it to be clear to the attendees that they are going to a festival that really works on making event spaces feel as comfortable as possible. We're taking every precaution we know of and have the means to implement; harm reduction/safer space and deescalation workers, active listeners and of course on-site naloxone kits which we are trained to administer. We invite dialogue and criticism about how we can do better and we reassess and update our standards constantly.
When attendees are aware of Slut Island's mission/mandate, they tend to enter events with awareness of the space they either occupy or hope to have. This year we will have PLURI staff on site. It is our hope that festival attendees are looking out for each other's safety and let us know when something isn't right. The festival centers artists and attendees who are targets of violence due to their socio-economic positions and we try to create spaces that welcome and protect them and it's an ongoing challenge and project. We're feeling good about what we have in place for this year and are looking forward to working with PLURI!
What are the future hopes and dreams for Slut Island in the coming years?
We always talk about putting on collaborative showcases with collectives and other cities and essentially touring Slut Island through that, but that feels like more of a longer term goal. I think something we want to focus on is a lot more additional programming in the coming years so that we can offer events that don't necessarily take place at night; offering different contexts that might appeal to people in different age brackets or ability levels. If we're trying to reimagine music festivals that should also include breaking away from the formulaic model of them. Events which showcase other forms of art by marginalized artists are the kind of thing we've been brainstorming about as well. We essentially want to continue to establish ourselves enough to have a solid base to build off of; we have a good thing going and we don't want to burn out before it reaches its full potential.