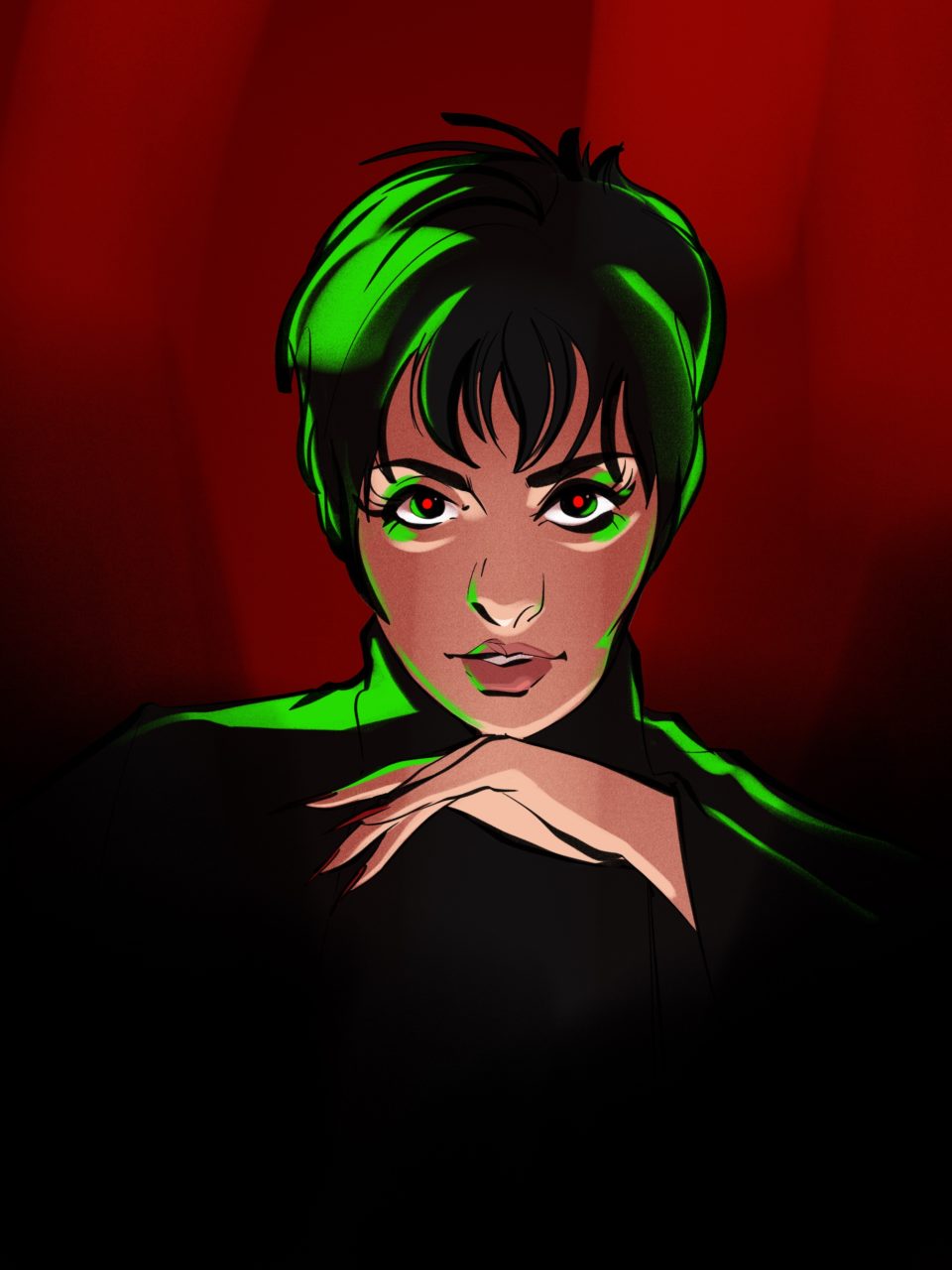 The word gay has always meant more to me than sexuality; I believe that being gay often has more to do with your taste in art than it does with who you sleep with.
In a weird way, as a trans woman who is attracted to men, I am technically straight—but I also own all of Barbra Streisand's albums on vinyl. You cannot own Barbra's entire discography and be straight. It's not possible. Ultimately these labels are largely inconsequential, but to me the word gay represents an aesthetic, a sound, a vibe, a beat. You just know it when your soul when you hear, see, experience it.
One of the few joys I've found in being quarantined has been rediscovering the experience of listening to albums in full, from beginning to end, with no distractions or interruptions and, most importantly, without skipping a track. Fundamentally, it means listening to an album the way the artist intended it to be heard. In the age of streaming we can all pick and choose individual tracks, make playlists, skip what we don't want to hear, but we've lost something in that experience. Listening to an album should be like reading a novel, at least for the first time you listen to it.
With pride festivals all over the world being cancelled this year, I've compiled this list of the 10 gayest albums as a means of celebration. This is a personal list, not a definitive list, so do not come for me if your favourites haven't made their way here! Each album was chosen for different reasons; some were made by queer artists, some were made by cisgender heterosexuals, but all tell a story of queerness in one dimension or another. Each album is a celebration of gay culture, some more advertently than others. They each offer an invitation into a uniquely queer universe. I invite you to take the time to listen to them as the artists intended them.
Results (1989) – Liza Minnelli
Liza Minnelli and the Pet Shop Boys making music together? It sounds like a disaster waiting to happen, but the results are strangely genius. When Liza signed with Epic Records in the late 80s she wanted to do something she'd never done before. She loved the Pet Shop Boys' song "Rent." They loved Liza. And the rest is pop history. There has never been an album quite like Results before or since its release in 1989. It is a dark, yearning, atmospheric album. Results is the collision of two very different but very gay worlds: the Broadway world and the club world. Liza brings a gravitas and theatricality to the musical universe of the Pet Shop Boys; and PSB brought the London club scene to Liza. I can picture this album being turned into a musical, a kind of Sunset Boulevard story about an aging icon finding new life on the dance floor.
The Age of Consent (1984) – Bronski Beat
I cannot think of a pop album that makes a political statement as powerfully and unabashedly as Bronski Beat's debut album. By the early 80s, many European countries had reduced the age of consent for homosexual acts to 16. In the UK, where homosexuality had only been partially decriminalized in 1967, the age of consent remained 21. In Scotland, where the band's lead singer at the time, Jimmy Somerville, was born, homosexuality was only decriminalized in 1981. It's in this political context that The Age of Consent was created. Through dark, pulsing synths the album dives into important queer themes and issues, like queer youth homelessness ("Smalltown Boy"), homophobia, and hate crimes. On "Why" Somerville sings: "Contempt in your eyes/ As I turn to kiss his lips/ Broken I lie/ All my feelings denied/ Blood on your fist/ Can you tell me why?" This is a monumental album.
Light Years (2000) – Kylie Minogue
Is there anything more gay than a sparkly, splashy comeback? After 5 years with indie dance label, Deconstruction, where Ms. Minogue produced some of her most complex, interesting, but least commercially successful work, Kylie was ready to return to pop in a big way. "Spinning Around" and "On a Night Like This" were instantly massive international hits and cemented Kylie as a bonafide icon. While being contemporary and ushering in the new millennium, Light Years is distinctly retro in its approach and more camp than any contemporary pop star has ever gone. Light Years is almost a dissertation in camp as it draws inspiration from ABBA ("Disco Down"), Donna Summer ("Light Years"), and The Divine Ms. M, Bette Midler ("Love Boat"). I feel confident in saying "Your Disco Needs You" is the gayest song ever made. Light Years is a simultaneous summation of the past and a jump into the future.  
Erotica (1992) – Madonna
It kind of breaks my heart when I think that all people see when they look at Madonna now is a tarnished legacy, a woman who has lost touch, and the worst managed Instagram account ever. Maybe I'm projecting, but it's a jarring task to reconcile the Madonna of 1992 and the Madonna of today. At the time, Erotica was a commercial failure by Madonna standards (by anyone else's standards it was a massive hit). With her notorious SEX book, which preceded the release of the album, Madonna went too far for a conservative culture/society that couldn't handle a strong woman owning and unabashedly celebrating and exploring her own sexuality. There was a major backlash against her. Erotica may be the most essential Madonna in the way it covers all facets of her complicated and sometimes infuriating personality. "Why's It So Hard" is activist Madonna, "Rain" is romantic Madonna, "Thief of Hearts" is the cold, vengeful Madonna. The album takes us from her bedroom where she seduces her lover into eating her out ("Where Life Begins"), to the dancefloor ("Deeper and Deeper"), and, in what is possibly her most heartfelt song, to the bedside of close friends dying from AIDS ("In This Life"). Erotica is daring, it's beautiful, it's ugly, it's the most important album she ever made because it changed pop culture… for better and for worse.
Born This Way (2010) – Lady Gaga
Not since Madonna's Erotica has a female pop star made a record so unabashedly about the queer experience. Madonna and Gaga comparisons are tired but where I believe they are truly connected is in what they represent for their audiences—strength, possibility, and hope. While the lyrics to "Born This Way" are clunky and have not aged super well (some of the lyrics now would probably be considered offensive), I still think it's fucking cool to hear the word "transgender" in a number one pop song. While Madonna was a rare, mainstream champion for gay men during the peak of the AIDS crisis, Lady Gaga was a mainstream champion for kids whose identities defied labels and binaries. Born This Way is a loving call to be your truest self out loud, no matter how scary the world is. The album's brilliance was buried under Gaga's oversaturated media presence at the time, but this brilliant album deserves a revisit.
Judy at Carnegie Hall (1961) – Judy Garland
Judy at Carnegie Hall is one of those rare moments where a perfect storm of elements come together to create magic. The recorded performance remains a masterclass in the art of performance and is truly one of the greatest performances ever given by any artist. It won the Grammy for Album of the Year, making Judy the first woman to receive the award. But beyond the brilliance, the triumph, what makes this album so beautiful and special is how it represents the unique relationship that exists between female icons and gay audiences. You can hear it on the record: that audience adores her, and she adores them. And at a time when homosexuality was still illegal, that is pretty damn radical. 
Once Upon a Time… (1977) – Donna Summer
Once Upon a Time… has been described as a disco opera. It's a concept album, divided into four acts, that tells a modern-day Cinderella story through some of the most sophisticated disco ever, produced by Giorgio Moroder. Act 2 is the highlight and constrains the sublime trilogy of "Now I Need You," "Working the Midnight Shift," and "Queen For a Day." In this story, Cinderella is a New York City party girl working as a waitress, just waiting for her shift to end so she can step out into the nightlife. Even though this surely wasn't Summer's intention, I think it's actually the story of a struggling drag queen. "Queen for a day, queen for a night/ Dressed head to toe, so you'd never know it's me, it's me/ Ribbons and lace, shoes made of glass/ Rouge on my face, off to the dance/ To dance/ To dance and dance and dance and dance"—I think that says it all.
Older (1996) – George Michael
Listening to this album it's almost ridiculous to recall that at the time of its release George Michael was still not publicly out—and I mean ridiculous in the sense that this album is so clearly the story of a man coming to terms with his sexual identity and sexual desires. It is also the story of devastating loss and learning to experience life and love again, when for so long it seemed impossible. "Jesus To a Child" was written about Michael's partner, the late Anselmo Feleppa, a Brazilian designer, who was Michael's first true love. Feleppa died of AIDS in 1993, plunging Michael into a deep depression that also coincided with a major legal battle with his record label. The lyrics to "Jesus" are some of the most beautiful ever written: "And what have I learned/ From all these tears/ I've waited for you all those years/ And just when it began/ He took you away/ But I still say/ When you find love/ When you know that it exists/ Then the lover that you miss/ Will come to you on those cold, cold nights." Older became his most successful album ever, spawning a record-breaking six top 3 hits on the UK charts—I just want to know what all the soccer moms who bought the album thought he was singing about.
Step II (1978) – Sylvester
Ultimately, Sylvester blows everyone out of the water. If you are not familiar with Sylvester, you seriously need to discover him. Sylvester was a force of nature, over-the-top fabulous. Transcending gender, he was a warrior in sequins. It's hard to listen to Sylvester without feeling the pang of a broken heart, he died of AIDS at the age of 41. He was a true original and you can hear that on this stunning album. Sylvester's superhuman falsetto takes us soaring through disco, soul, R&B, and even a little jazz and gospel. The album is an odyssey, it's almost a religious experience. The album's biggest hit was "You Make Me Feel (Mighty Real)," which, like Sylvester himself, remains an untouchable, enduring classic—a call to the dancefloor where you can sweat out all your troubles.