NVA x Infinite Machine
7 Year Anniversary Showcase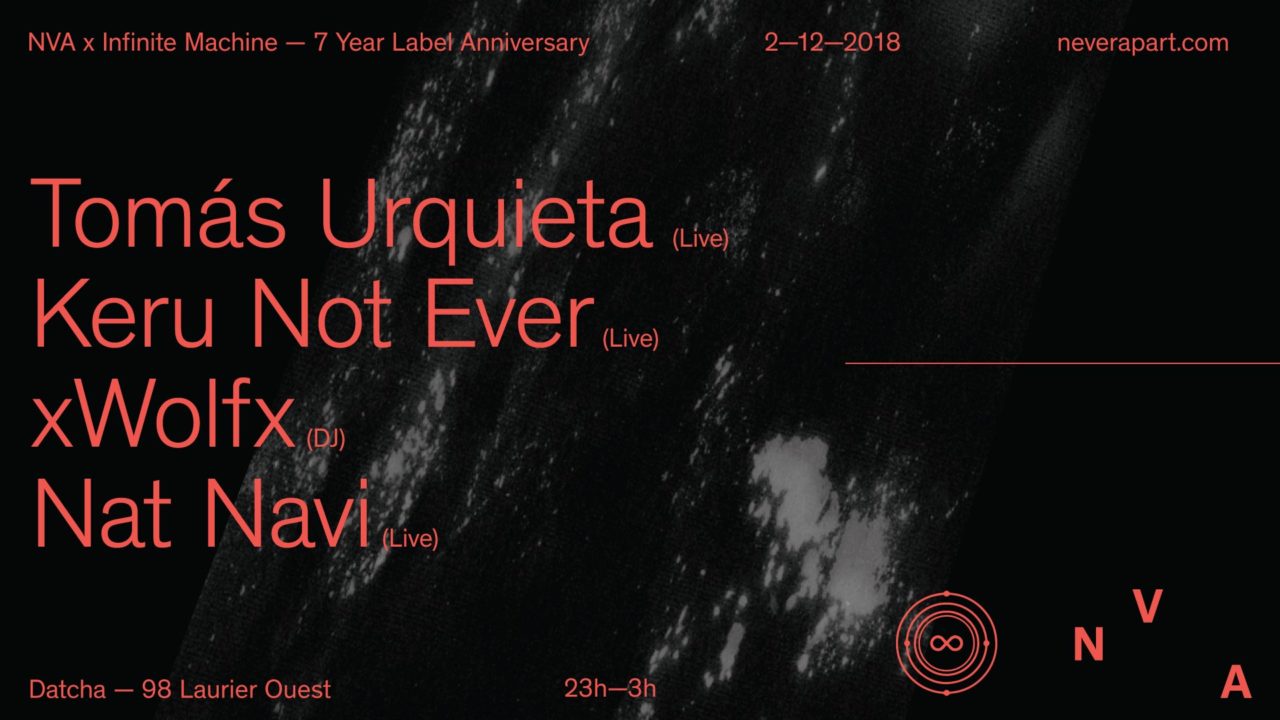 Join NVA to celebrate the 7th anniversary of Infinite Machine, a daring experimental club label based between Montreal and Mexico City. We are showcasing three artists from the roster alongside Nat Navi.
➤ xWolfx (DJ)
➤ Tomás Urquieta (live)
➤ Keru Not Ever (live)
➤ Nat Navi (live)
Founded in 2011 by Charlie Juarez (xWolfx), Infinite Machine slowly and steadily established itself as a force in the electronic music world, making both Mixmag's and XLR8R's top labels of 2016, and being profiled as February 2017's Label of the Month by Resident Advisor. A vector for countless now-established acts (Ziúr, Abyss X, Pixelord, Liar, Tomas Urquieta and more), the imprint is, first and foremost, an odd little family – a networked collective spanning the globe, unifying every conceivable strain of quality electronic music under the banner of a neo-punk movement.
➤ xWolfx
Carlos "Charlie" Juárez embarked on his lifelong musical journey sometime in 2004 – first as a bass player for grindcore outfit El Sueño Del Ranchero, then for emo-violence ensemble Arse Moreira, and finally for screamo troupe Te Lloraria un Puto Rio. He also oversaw the similarly-minded Escucha! Records, between 2005 and 2010, while Arse Moreira would go on to sign with seminal German screamo imprint React With Protest.
Charlie would then move to Montreal, become enamoured with electronic music, and founded Infinite Machine in 2011.
It is with this pedigree that Charlie pivoted into the newfound handle of xWolfx (or sometimes WOLF), first enlisting Liar to coproduce his 2015 Heretic debut – a singular take on the hardcore continuum, via skippy post-dubstep reinvention and crushing techno-jungle hybridization. In 2016, he released the single "Acapulco" in collaboration with Montreal producer Witnessing, along with a KABLAM Remix.
Next, he collaborated with 111x on 2017's "Final Star", which would be his first release on his own label – a brazen, genre-defining testament of the potential for pure ferocity inherent in deconstructed club.
➤ Tomás Urquieta
DJ and producer, his sonority without prejudice has led him to appear as one of the
more solid proposals in the so-called new club music worldwide, leading him to appear in the best blogs of electronic music referring to him as one of the most solid and fresh projects in Latin America. This has led him to tour both Europe and North America. The heterogeneity of the dance music and the rudeness of techno mix in a perfect and powerful osmosis that leaves no one unmoved. He currently lives in Mexico City (CDMX) and has recently released his debut album via Infinite Machine called "Dueños de Nada."
➤ Keru Not Ever
Keru Not Ever works with sounds, words, memory, history, its absence. In 2017 appeared his first album, "Tereza", under the Mexico-based label Infinite Machine.
He is a member and co-founder of the research collective Collection Libérée and he formed, in 2018, the pan-electronic duo Corporation with Montreal's musician Racine.
➤ Nat Navi
Nat Navi is a Latinx experimental techno producer, based and raised in Montreal. Their auditory landscapes take inspiration from nocturnal existence and distorted daydreams.