NVA x Bubblebath: Mobilegirl, DJ Kala, Canhota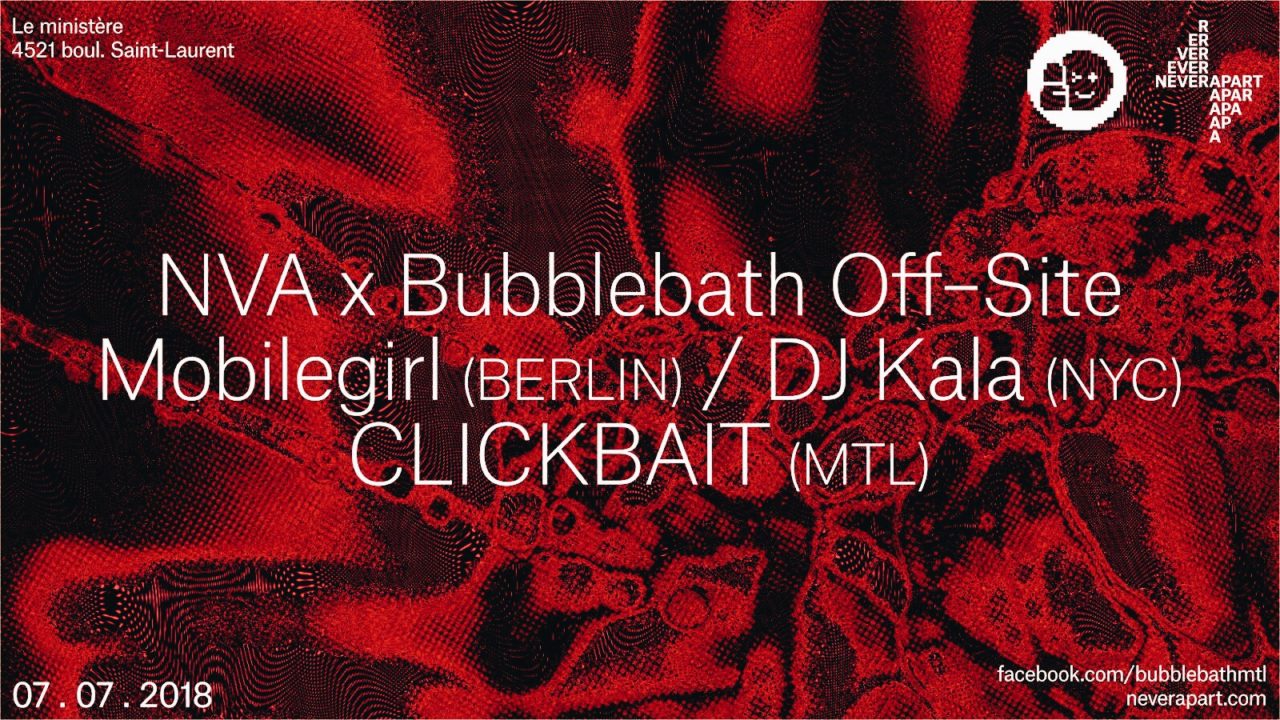 Sweat it off, dance it out, werk! Bubblebath and NVA join forces for a night of hybrid club and RnB-adjacent electronic dance musics with a stack of unique artists, local and international.
• 12$ cash at the door
• Free guestlist before midnight!
Email your name to [email protected] Please note that you must arrive before 12 to benefit from this free guestlist. If you arrive after, even if you sent us your name, you will be charged the regular door price of 12$.
• Mobilegirl (Berlin) — Discwoman / STAYCORE •
mobilegirl is a producer and DJ born in Munich, based in Berlin. She is known for her eclecticism in—and outside of music—with her previous studies including design and computer science.
With just three years of swishing through the Berlin electronic music scene she can easily be counted to one of its most promising young artists. She is known for her disrupting edits of early 2000s R'n'B songs and her dextrous DJ-Sets that manage to create an arc and cohesion between a very eclectic selection. Her mixes are often being called 'collages' for their unusual style.
In fall 2017 she released her debut EP "Poise" on Staycore with a sound previously unfamiliar to this project. It's an exploration of a calmer, soothening side with a more introspective approach. Almost contrary to the high energy of her DJ sets, the 6-track-EP creates a calming atmosphere for one to escape to. The "Poise" remixes were released earlier this year.
• DJ Kala (NJ/NYC) — MAJÍA / Loveless Records / Like That Records •
Jersey-born, Brooklyn-based DJ and producer Kala is a familiar name to the NYC dance scene. He has performed in venues across the country, from New York's Webster Hall to The Lash in LA, to festivals like Bonnaroo and South by Southwest.
Having grown up listening to a mix of reggaeton, Jersey/Baltimore club, metal and hardcore, Kala produces a moody, hybrid sound that blends these influences, crossing genre barriers and landing him releases with labels such as MAJÍA, Loveless Records and Like That Records. His forward-thinking, energetic sound has led to collaborations with other hybrid club artists–Kala's affiliations include Red Bull Music Academy as well as collectives KUNQ, Fake Accent and NAAFI. In 2017, Kala self-released his EP, L.O.T.O. Kala is also an audio engineering graduate from the Institute of Audio Research.
• Canhota (MTL) — VENUS RADIO •
Montreal producer and DJ Canhota draws from disparate influences such as baile funk tarraxo noise hardcore punk and classical music to create boundary pushing dancey and emotive tracks and live and DJ sets. She co-runs Safe & Sound with Aso Ani and is also a member of CKUT's Venus Radio Collective.
• Lochlan Doyle (MTL) — 99FTT •
Founder of 99FTT, a digital content, speculative design, and new media art practice, Lochlan seeks to bring these mediums to a wider audience, focusing the majority of efforts to their integration into realms of music, culture, and public space. Through this practice, he has produced multiple artworks for ambient artist The Dedekind Cut, as well as many live visuals for local event organizations such as Bubblebath, and EMAC.
Most recently, Lochlan co-directed and produced the visual campaign for Festival Chromatic, a non-profit organization promoting local and international artists from a vast variety of mediums. Lochlan is known for his maximalist, haptic visual aesthetic, as well as his tendency to use mass produced / standardised formations as key elements in his compositions.
• • •
The venue is unfortunately not wheelchair accessible.
The bathrooms will be gender neutralized.
No tolerance for violence or oppression.
PLURI party support will be on site.
• • • •
We would like to acknowledge that the land on which we gather for this event is located on unceded Indigenous lands. The Kanien'kehá:ka Nation is recognized as the custodians of the lands and waters on which we gather today. Tiohtiá:ke/Montreal is historically known as a gathering place for many First Nations. Today, it is home to a diverse population of Indigenous and other peoples. We respect the continued connections with the past, present and future in our ongoing relationships with Indigenous and other peoples within the Montreal community.