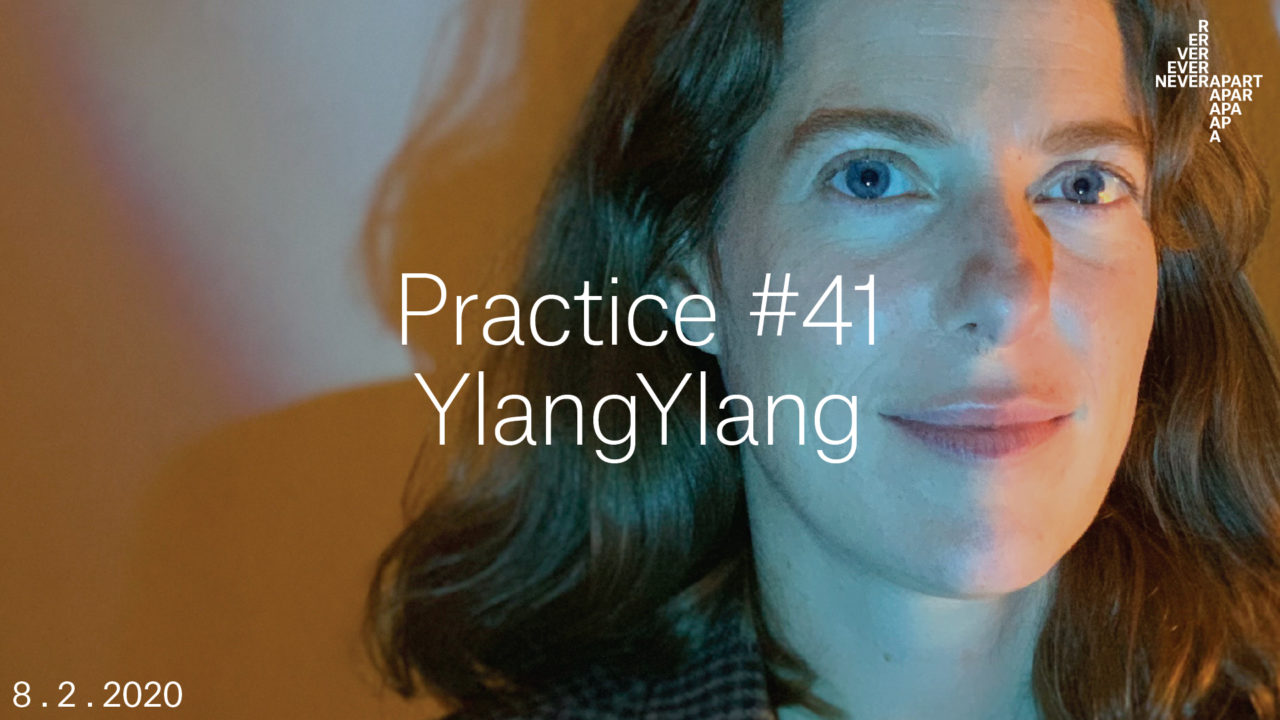 Deeply interested in music as an experiential medium, YlangYlang aims at creating a truly interactive moment in which people are free to engage as they wish.
Everyone's inner mechanisms are intricate in unique ways, and music can be a gentle navigation device each can use to navigate through the depths of the psyche. Sound can caress strange dreams, bring back memories and affect, nourish creative thoughts and colors; it's an intimate exchange of stimuli and feelings. She proposes for this practice an open-ended moment in suspension, a shared sonic landscape, a shimmering of sound and textures to dive into.
ylangylang.bandcamp.com
soundcloud.com/ylangylang
Free entry.
► ABOUT PRACTICE
Practice is a series of sound meditation sessions with a different ambient/noise music performance each time. This event series investigates the capability of sound to induce different transcendental states of awareness and being. Through a series of noise sets, practice explores the experiential application of theories underpinning the transformational properties of sound, such as cymatics, music therapy, sound healing, brain entrainment, and binaural-beat perception.
Each session features a noise artist, who, informed by their own knowledge of sound, creates a immersive set intended to bend consciousness. listeners are encouraged to embrace a receptive, meditative attitude during sets.
We don't mind if you're new or old to noise or meditation.
If you're curious to be engaged, to open yourself to new experiences and to hear some noise, then join us.
We have yoga mats available to use and listeners are invited to bring their own sitting paraphernalia if they please.
We would like all guests to be able to participate, so please arrive on time. Seating is limited: first come, first served.
We have a ramp available for people in wheelchairs. Please let us know in advance if you will need it by emailing [email protected]
Any further questions about the event can be directed to: [email protected]
► ACCESSIBLITY
This event is held on the ground floor of Never Apart, which is wheelchair accessible. The main entrance has a ramp. The ground floor has a large toilet located in front of the Moon Room, note that it does not have grab bars.
► Land Acknowledgement
We would like to acknowledge that the land on which we gather for this event is located on unceded Indigenous lands. The Kanien'kehá:ka Nation is recognized as the custodians of the lands and waters on which we gather today. Tiohtiá:ke/Montreal is historically known as a gathering place for many First Nations. Today, it is home to a diverse population of Indigenous and other peoples. We respect the continued connections with the past, present and future in our ongoing relationships with Indigenous and other peoples within the Montreal community.