Brock Yurich: T-County Interview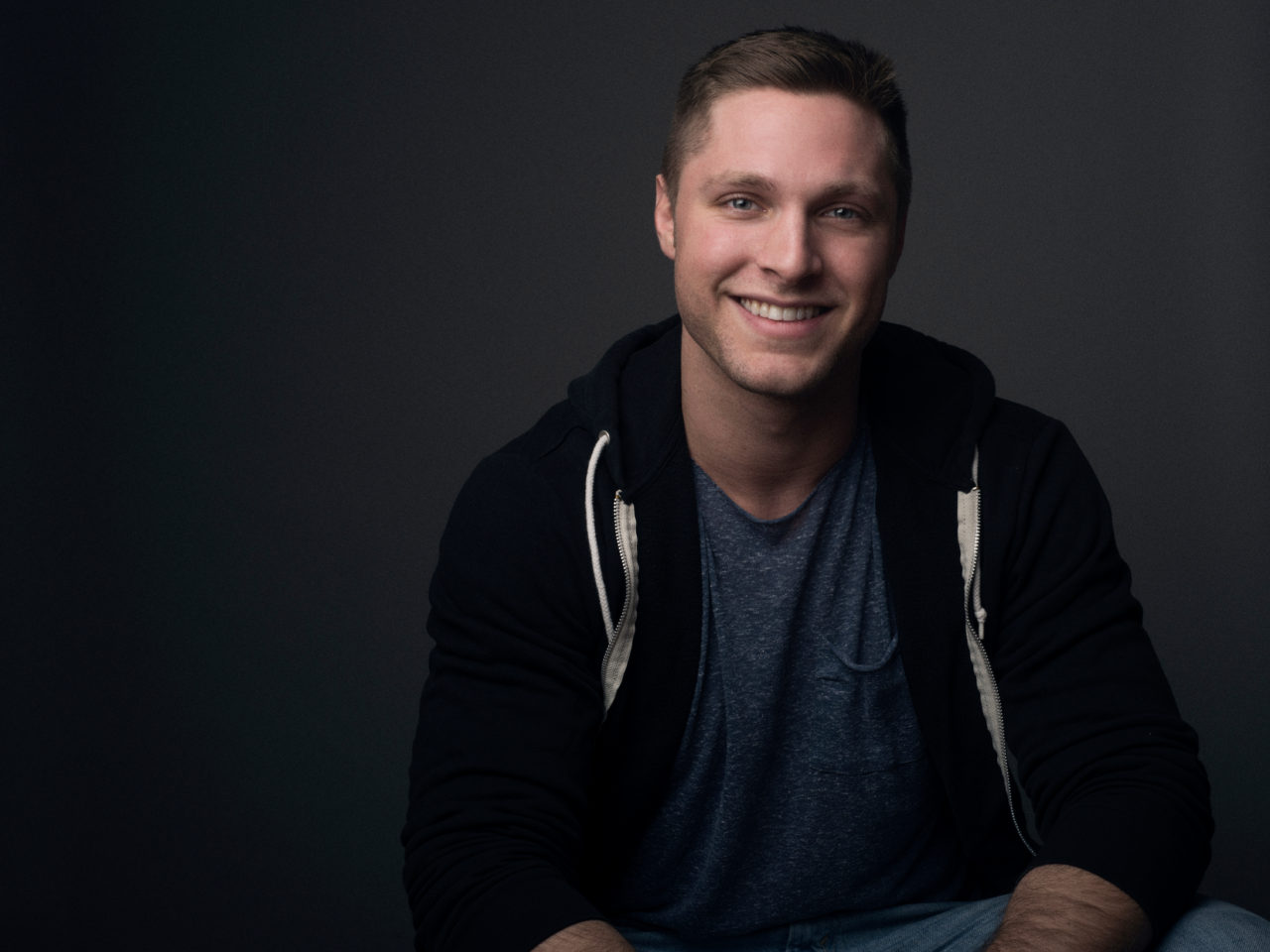 How to be a man, a father, grandfather, son, brother and a friend. Brock Yurich's outstanding short film 'T-County', covers all of the above, and then some. With a stellar cast and cinematography, this story of stories comes to life full of unexpected plot twists, supremely acted with Brock in the lead. I had a chance recently to ask what inspired him to write, direct and star in the film, now playing at the Cinema Room at Never Apart until October.
'T-County' was born from a night Yurich and friends had gathered together, leading to talking about certain "messed up family situations". His roommate at the time mentioned a very dark family secret. "I immediately ran to my computer and began to write. I had wanted to write a script for a while, but didn't know what exactly I wanted to say. It hit me right then that this was my story."
Itching to film around his hometown in Stone Creek, Ohio, Yurich captures its natural rural beauty as one of the main characters in the film. "Every time I visit, all I want to do is roll a camera to capture the backwoods. This was my chance to set this insane story against the beautiful and calm yet dark landscape that I grew up around." To tell a story however, requires actual characters, and along with his phenomenal cast, Yurich more than delivers. Mark Brotherton, as the grandfather, was his acting professor in college. "Having a chance to act with Mark was such a humbling experience." The father, played by Broadway veteran Sean Palmer, is also a mentor of Brock's. "He always told me to write my own scripts. I knew he was a powerhouse, but working with him gave me a new-found respect for his work." Christine Cartell has a beautiful and soft vulnerability as Julie, exuding a strength and confidence Yurich admires. Having worked on multiple projects together, he knew she knows exactly what she's doing. "Christine and I have a really deep connection. We can joke with each other off camera, but she's all business when it's time to work." The fighter in the film is actually Brock's boyfriend Paulo, whom he credits with helping as his right hand the entire production. "Getting to throw fake punches at each other was pretty fun!" When an actor dropped out last minute, Brock's brother Luke stepped in, learning the scene in an hour. "He's never acted on film and he nailed it and stole that whole scene. I was floored!" Brandon Martin as Frank is a fantastic improviser with a magnetic personality, and also a partner of Genesius Studios Productions. "On top of acting, Brandon was our sound man. Jesse and Ourie, the Judy brothers, are film gurus. I was so lucky to have such a reliable team."
Following ten months refining the script, the film took five days to film. Cast and crew stayed at Brock's parents' cabin in Ohio, cooking breakfast every morning for the entire team. "My whole family helped out. My sister and brother-in-law were in the party scene, we used my aunt's and my grandmother's houses. It was incredible." Foad Faridzareh, an accomplished director in NYC, helped with the story's structuring. "I'm from a theater background, so it was difficult to cut dialogue. Film is about pictures, the less words the better. Stage plays are all about the words. That was the toughest part for me, trying to keep the dialogue short."
As a self-taught filmmaker, Yurich dived deep into the process reading books on screenwriting, watching tons of indie films, speaking to as many screenwriters as he could. "You can prepare and prepare all you want, but at some point you just have to sit down and start writing. You beg your friends to read it out loud. I took all their criticism. I went back and worked again. I did this until I knew it was ready." Creating a deep backstory was important, helping to inform decisions he had to make about certain shots and words they used. "When you've sat with something for so long, and you know every in and out, every frame and word, you start to only see the mistakes and think about things you may want to change. But the first time I sat in a theater, I watched the audience watching my film, and I've never felt a feeling like it. Hearing everyone gasp at the same time, I felt like a proud papa." It gave him renewed energy and excitement for his film, having learned more about film making in one week than he feels he would have in a semester of class. Fascinated with the human condition, Yurich loves exploring these themes through scripts and film, wanting to inspire audiences to have in-depth discussions. "Who doesn't love going to the movies and walking out with their friends arguing, "How could he do that?" "How could he not?!" "She was so wrong," "Well, she had no choice!" It's storytelling, raising questions about human nature. Who do you side with? Who do you empathize with? And a little ambiguity goes a long way".

Comment être un homme, un père, un grand-père, un fils, un frère et un ami. T-County, l'excellent court-métrage de Brock Yurich, répond à tout cela, et plus encore. Avec Brock lui-même dans le rôle principal, une distribution et une cinématographie éblouissantes, cette histoire d'histoires prend vie à travers un grand nombre de renversements de situation inattendus joués avec brio. J'ai récemment eu la chance de lui demander ce qui l'a inspiré à écrire, réaliser et tenir le premier rôle du film, présentement à l'affiche dans la Salle de Cinéma de Never Apart, et ce, jusqu'au mois d'octobre.
T-County est né d'une soirée passée entre Yurich et ses amis, où la conversation s'est dirigée vers certaines « situations familiales déjantées ». Son colocataire de l'époque a partagé un très sombre secret de famille. « J'ai immédiatement couru jusqu'à mon ordinateur et ai commencé à écrire. Je souhaitais écrire un scénario depuis un bon moment, mais je ne savais pas exactement ce que je voulais dire. J'ai tout de suite su que c'était ça mon histoire. »
Avec le désir de filmer dans sa ville natale de Stone Creek en Ohio, Yurich en dépeint la beauté naturelle rurale comme un des personnages principaux du film. « Chaque fois que je m'y rends, tout ce dont j'ai envie de faire est de prendre une caméra et d'immortaliser ces contrées boisées. Là était ma chance de présenter ce récit fou avec comme toile de fond le paysage beau et tranquille, mais à la fois sombre dans lequel j'ai grandi. » Toutefois, raconter une histoire nécessite de vrais personnages et, tout comme le font ses acteurs phénoménaux, Yurich relève grandement le défi. Mark Brotherton, dans le rôle du grand-père, était son professeur d'art dramatique au college. « Avoir la chance de jouer avec Mark a été pour moi une leçon d'humilité. » Sean Palmer, un vétéran de Broadway qui interprète le père, est aussi un mentor pour Brock. « Il m'a toujours dit d'écrire mes propres scripts. Je savais qu'il était quelqu'un de haut calibre, mais travailler avec lui m'a fait éprouver un nouveau respect pour son travail. » Christine Cartell possède une belle et touchante vulnérabilité en tant que Julie, dégageant une force et une confiance que Yurich admire. Ayant travaillé ensemble sur de nombreux projets, il savait qu'elle sait exactement ce qu'elle fait. « Christine et moi avons une connexion très profonde. On peut blaguer hors scène, mais elle est à fond dans son travail dès que la caméra tourne. » Le boxeur dans le film est en fait Paulo, le petit ami de Brock qui lui attribue tout le mérite d'avoir été son bras droit durant la production entière. « Faire semblant de se frapper a été plutôt amusant! » Lorsqu'un acteur s'est décommandé à la dernière minute, le frère de Brock s'est proposé pour le remplacer, apprenant la scène en une heure. « Il n'a jamais joué devant la caméra et il a tapé dans le mille et vole la vedette. J'étais époustouflé! » Brandon Martin qui joue Frank est un improvisateur fantastique à la personnalité d'enfer, en plus d'être partenaire de Genesius Studios Productions. « Outre son rôle, Brandon était aussi notre ingénieur du son. Jesse et Ourie, les frères Judy, sont des gourous du cinéma. J'ai eu énormément de chance d'avoir une équipe aussi fiable. »
Faisant suite aux dix mois passés à peaufiner le scénario, le tournage du film a duré cinq jours. Les comédiens et l'équipe ont logé au chalet des parents de Brock en Ohio et ont préparé le petit déjeuner chaque matin pour tout le monde. « Toute ma famille y a contribué. Ma soeur et mon beau-frère sont présents dans la scène du party, nous nous sommes servis des maisons de ma tante et de ma grand-mère. C'était incroyable. » Foad Faridzareh, un réalisateur accompli à New York, a aidé à la structure de l'histoire. « Je viens du théâtre, alors il m'était difficile de couper une partie des dialogues. Les images sont au coeur du cinéma; le moins de mots, le meilleur le film. Les pièces de théâtre tournent autour des mots. C'est ce qui m'a été le plus difficile, essayer de garder le dialogue bref. »
En tant que cinéaste autodidacte, Yurich a sauté à pieds joints dans le processus; il a lu des livres de scénarisation, a regardé des tonnes de films indépendants, a parlé à autant de scénaristes que possible. « On peut se préparer autant qu'on veut, à un certain moment il faut s'asseoir et commencer à écrire. On supplie ses amis de lire le texte à voix haute. J'ai pris en note toutes leurs critiques. Je suis retourné au texte et ai continué à y bosser. J'ai fait cela jusqu'à ce que je sache qu'il était prêt. » Créer une toile de fond élaborée était important, pour aider à prendre des décisions éclairées vis-à-vis de certaines prises de vue et des mots utilisés. « Lorsqu'on s'est penché sur quelque chose depuis aussi longtemps et qu'on le connaît sous toutes ses coutures, chaque prise de vue comme chaque réplique, on finit par ne voir que les erreurs et penser aux choses qu'on aimerait changer. Mais la première fois que je me suis assis dans une salle de cinéma, j'ai regardé l'audience regarder mon film et je n'ai jamais rien ressenti de tel. Entendre les membres de l'auditoire pousser des ah et des oh! au même moment m'a fait sentir comme un papa fier. » L'expérience a suscité chez lui un enthousiasme et un dynamisme renouvelés envers son film, en ayant appris plus sur le processus de tournage en une semaine qu'il ne l'aurait fait selon lui durant une session de cours. Fasciné par la condition humaine, Yurich aime explorer ces thèmes à travers la scénarisation et le cinéma, souhaitant inspirer les auditoires à avoir des discussions approfondies. « Qui n'aime pas aller au cinéma et débattre du film avec ses amis à la sortie, « Comment a t'il pu faire ça? » « Comment pouvait-il ne pas le faire?! » « Elle avait tellement tort, » « Mais elle n'avait pas le choix! » C'est l'essence des histoires que de soulever des questions à propos de la nature humaine. Quel côté prenez-vous, Avec qui sympathisez-Vous? Et un peu d'ambiguïté peut mener loin ».