Practice #19: Water Sine by Nick Schofield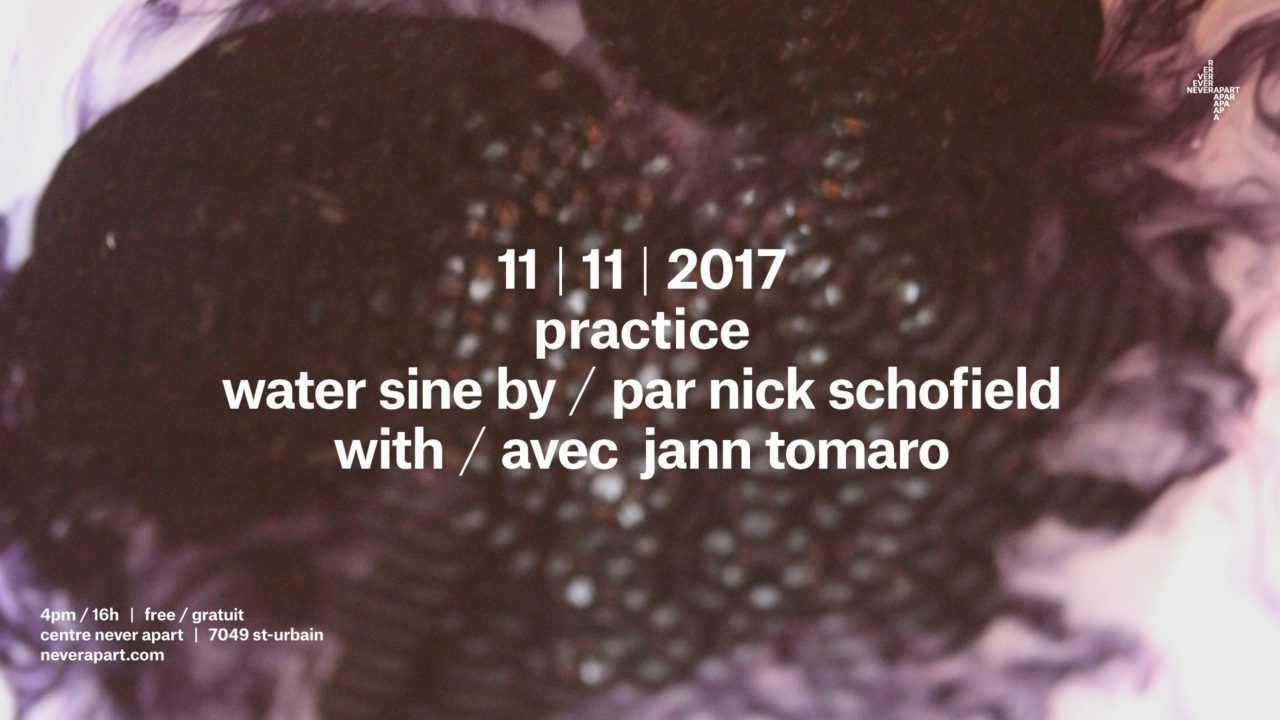 practice #19: water sine by nick schofield
saturday, november 11th, 4pm, free entry, all ages
never apart
7049 saint-urbain
we would like all guests to be able to participate, so pls arrive on time.
seating is limited and first come, first served.
practice and never apart present a meditative first listen of water sine, the debut album by nick schofield, in advance of its 2018 release.
straying from the format of live and experimental sessions, practice nevertheless continues engaging in immersive sonic events at never apart with water sine, a minimal ambient album comprised of one synthesizer and field-recordings. schofield has spent the last year tinkering away during twilight sessions at his home (studio 2X5) in montreal, and what results is his soundtrack for sleep; an antidote to insomnia. we invite listeners to be lulled by the softness and simplicity of water sine, a sound that beckons for tranquility and release.
practice shares this listening session as a way to join together in an experience of calm. we invite you to sit with us and listen to this new body of unreleased work that continues the ambient tradition pioneered by hiroshi yoshimura and brian eno, allowing for the soothing effects to wash over us all.
nick schofield is a montreal based musician, producer and radio host with a BFA in electroacoustics from concordia university.
—
practice is an investigation of the capability of sound to induce different transcendental states of awareness and being. through a series of noise sets, practice explores the experiential application of theories underpinning the transformational properties of sound, such as cymatics, music therapy, sound healing, brain entrainment, and binaural-beat perception.
each session features a noise artist, who, informed by their own knowledge of sound, creates a immersive set intended to bend consciousness. listeners are encouraged to embrace a receptive, meditative attitude during sets.
we don't mind if you're new or old to noise or meditation.
if you're curious to be engaged, to open yourself to new experiences and to hear some noise, then join us.
we have yoga mats available to use and listeners are invited to bring their own meditative paraphernalia if they please.
never apart is a non-profit organization in montréal, québec, canada, determined to bring about social change and spiritual awareness through cultural programming with global reach and impact.
more info on practice, here: http://listpoem.com/practice/
and here: http://listpoem.com/category/listening-series/